A BFOL reader emailed me last week to see if I could help her out with sharing an important fundraiser she is participating in.  
 Recently cancer has struck her family/friends hard, 4 diagnoses in about 6 weeks.  Abby has joined a group called

Team in Training,

which is an athletic organization used as a fundraiser for the Leukemia and Lymphoma Society.  Over the past 20 years, TNT has had over a half-million participants raise over a billion dollars.  Wow!!!  They have changed the survival rate for Leukemia from 65% to 95%, but they want 100%.  They have developed stem-cell research, came up with radiation and chemotherapy which helps all cancers across the board.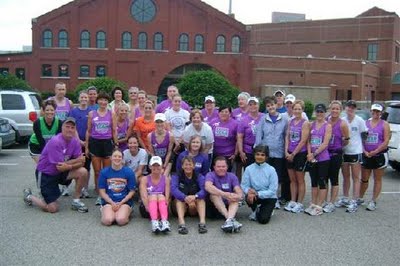 Almost a year ago I went to a women's retreat and met a young lady that was just diagnosed with breast cancer.  She soon had a mastectomy and started chemotherapy.  Her close friends set up care pages; I followed her progress and sent encouraging messages.  That was my 1st personal encounter with cancer.  Then April hit.
            In April, a dear friend's sister found out she also had breast cancer.  A sweet lady in California with a 3 year old little girl.  The next week, one of my high school students, a senior girl all ready to go to college, was out sick for a week and came back diagnosed with Hodgkin's disease (another form of cancer). The last 6 weeks of her high school career she was in and out of school and treatments sessions, fighting to keep some sense of normalcy and trying to mask her thinning hair. 
A week later, on Good Friday, my uncle Gary went to the doctor just because something wasn't quite right, after a scan they found lesions on his brain.  From this they did a full body scan and his chest region "lit up like a Christmas tree" they said.  On Easter Sunday he was diagnosed with stage 4 cancer (later to find out cancer of the esophagus) that has spread throughout his body and had metastasized in his brain.  To think, he just went because something wasn't quite right…  A few weeks later a great uncle of my husbands finally lost the fight to cancer.
            Being a person who had never been exposed to cancer a year earlier, my mind couldn't believe what was happening.  But a week before our loss, I received a postcard in the mail from a group I had heard of years ago in college called Team In Training (TNT) and I just knew I had to join.  I just had to. 
            TNT is a program dedicated to raising money through athletic events for the Leukemia and Lymphoma Society (LLS).  Over the past 20 years, TNT has had almost 500,000 participants raise over a billion dollars.  At least 75% of every dollar received by TNT goes toward the mission:  to cure leukemia, lymphoma, Hodgkins disease and myeloma, and improve the quality of life in patients and their families.  Even though they have changed the survival rate from 65% to 95% for leukemia in the past 20 years, they are not stopping until they reach a 100% survival rate for cancers.  This blood cancer research is what developed radiation treatments, chemotherapy, and stem cell research for all cancers.
      This year, in honor of my uncle Gary and our great uncle Harry, I am training for my first marathon ever with the help of the TNT program.  My original goal was to run a ½ marathon, but my sister says "go big or go home" so now I have increased that to a full marathon run (that's 26.2 miles) on October 16th at the Nike Women's Marathon.  I have also committed to raise $3200 for LLS cancer research.  It is a big challenge, but I know I can do it with the help of others.
            If you want to help out and make a difference in the lives of people fighting cancer, you can place a tax-deductible donation on my personal LLS webpage:
Remember that a donation of any amount can help this fight.  Little bit by little bit I have just reached 40% with my fundraising goal!  And… this Saturday I ran 16.4 miles (just so you know, 2 months ago I was struggling to run 3 miles)
I will personally be running in honor of my uncles.  If you have a friend or family member that you would like me to run in honor of for you, send me a message on my website with their name and your address or email me at
ahisel3@msn.com
  I will include their name on my race jersey. 
You can continue to check my
website
as I try to update my training every couple weeks.  Thanks so much for your support.
Abby Hisel- Louisville Kentucky
I hope you will at least take a minute to check Abby's progress on her fundraising website. Its pretty neat. Last time I checked she has raised $1285.20.  She is about 40% there!  Good luck Abby.

Blog Posted in One comment