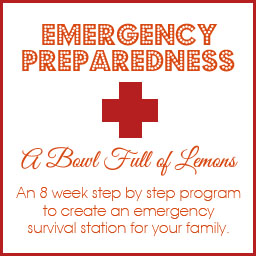 EMERGENCY PREPAREDNESS:
WEEK 5 – SUPPLIES
During a disaster or emergency situation, you may need to survive an extended period of time without power, city water, or gas. This could happen (very likely), so you should gather up supplies to survive this time, well in advance. You will need certain tools & supplies that you may not be able to find after a disaster. Now is the time to get prepared. You never know when an emergency will occur & it could take hours, days, or even weeks to regain utilities, so your family needs to be ready!
You should keep all of your emergency supplies in one location, in your home (the emergency survival station). If there ever comes a time when you need them, you will not have to go searching around to find them. It wastes valuable time. I created a list of supplies you may need in an emergency situation.
This week your goal is:
1. Collect 2-3 bins to keep your supplies in. By doing this, the weight is evenly distributed so if you have to leave your home, it will be much easier to transport them. Older family members can each carry a bin.
2. Shop for your supplies. There are many stores that carry these items. Dont forget to look online.
3. Organize the supplies into the bins & backpacks.
– A WORD FROM FEMA –
"Try to assemble your kit well in advance of an emergency. You may have to evacuate at a moment's notice and take essentials with you. You will probably not have time to search for the supplies you need or shop for them. You may need to survive on your own after an emergency. This means having your own food, water and other supplies in sufficient quantity to last for at least 72 hours.
Local officials and relief workers will be on the scene after a disaster but they cannot reach everyone immediately. You could get help in hours or it might take days. Additionally, basic services such as electricity, gas, water, sewage treatment and telephones may be cut off for days or even a week, or longer. Your supplies kit should contain items to help you manage during these outages."
GETTING STARTED:
SUPPLIES LIST (Adjust to your needs)
The following contents are items I found important to have on hand, from my research on emergency preparedness. Many of these are from FEMA or Red Cross. You can add or take away to suit your families needs.
NOAA weather radio (we keep ours on my husbands night stand)
Local & US map & compass
N-95 Mask
Mess Kits & Dish soap (Great to have if you are away from home)
Flashlights & batteries
Pocket knife/multi knife
Wrench to turn off utilities
Extra cell phone (charged)
Paracord (emergency uses here)
Fire starter (magnesium & water proof matches)
Whistle & signal flare
AM/FM radio & batteries
Camp Stove/propane (for power outages)
Dutch oven (if you run out of propane)
Emergency Preparedness Manual
Faraday Cage (great details here)
Duct tape & plastic sheeting (to shelter in place)
Work gloves
Extra can opener
Ponchos
Hand axe & shovel
Tent
Sleeping bags/blankets
Walkie talkies & batteries (if phone doesnt work)
Lantern
Spare batteries
Biodegradable trash bags (for sanitation)
Toilet paper/qt ziploc bags
Hand sanitizer/moist towelettes
Plastic bucket with tight fitting lid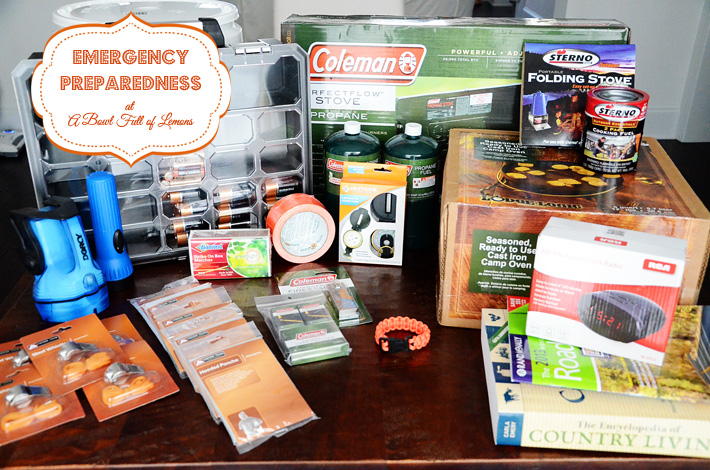 I am still purchasing supplies for my station. I still need to get a lantern, mess kits, hand axe, and make a faraday cage. I am constantly purchasing batteries as well.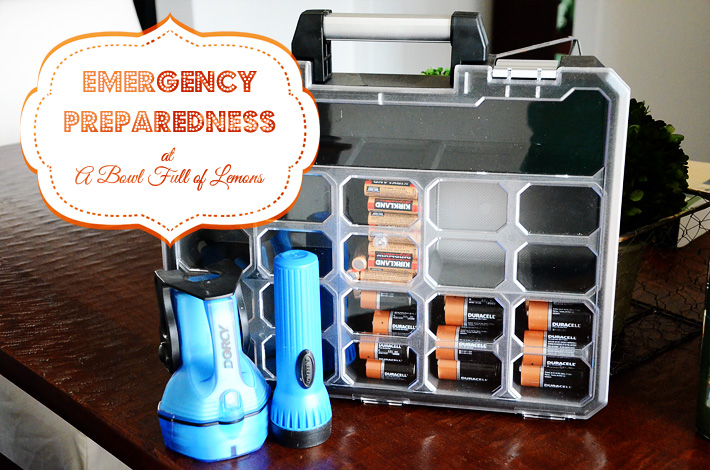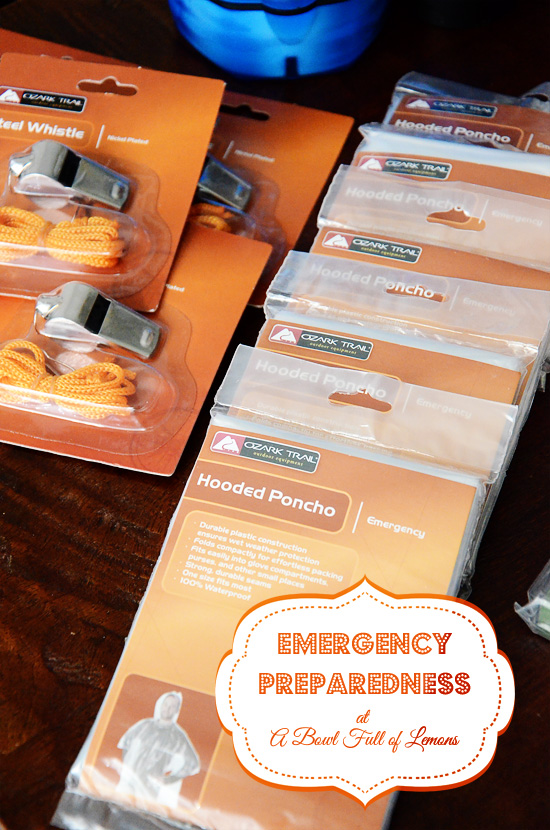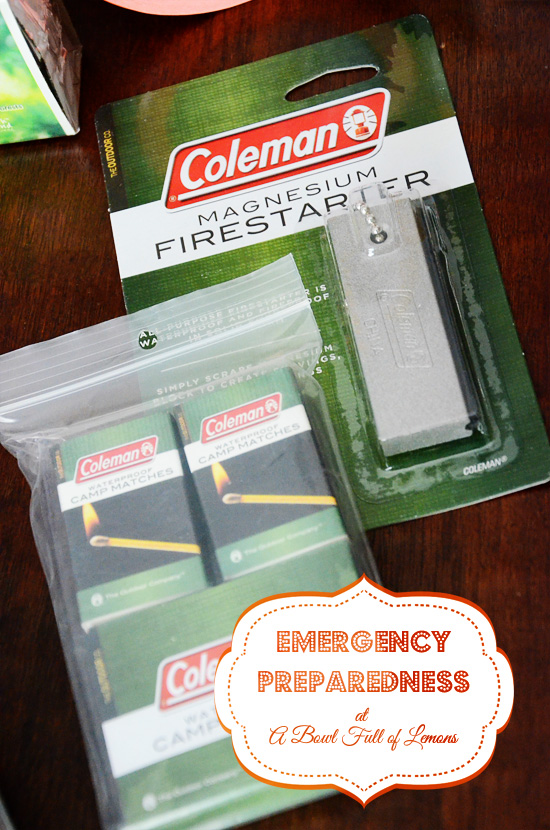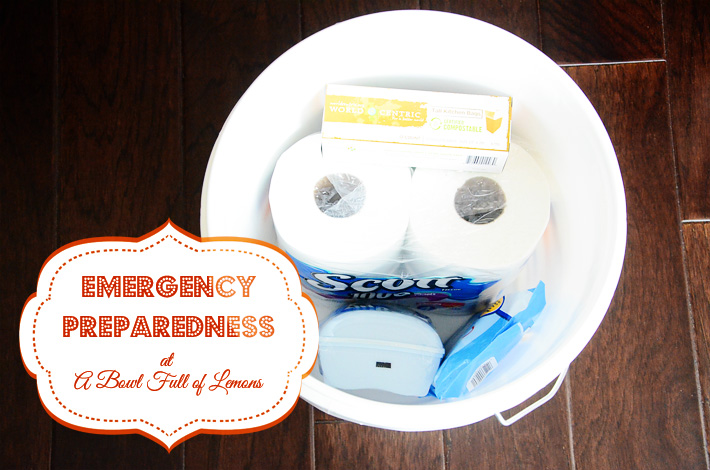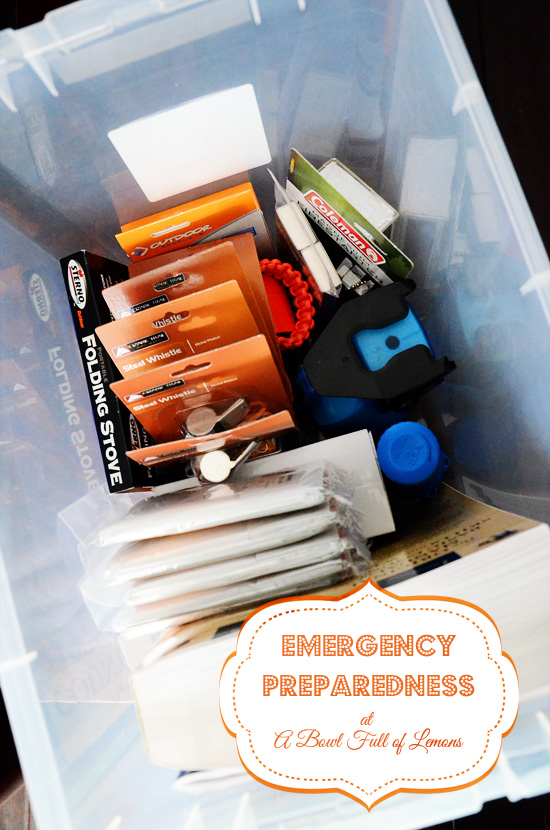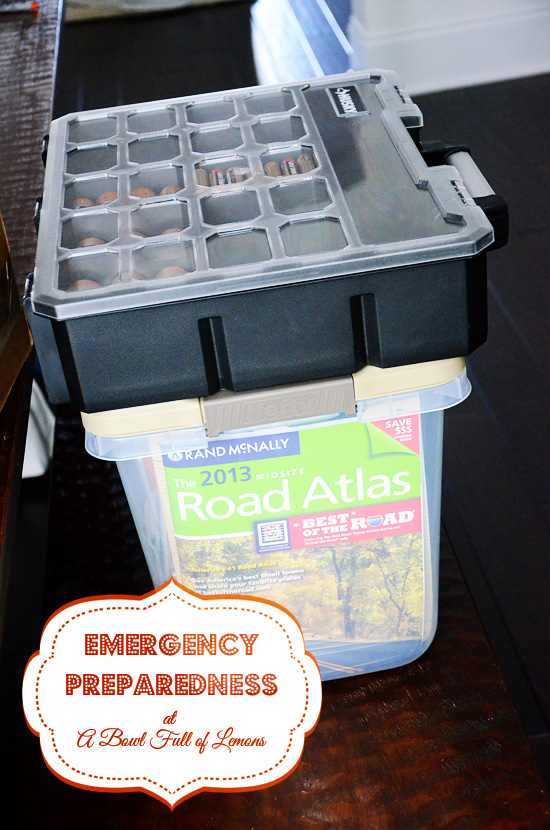 *I will share how I organize my supplies in week #8 of the program.
MONEY SAVING TIPS:
When purchasing supplies, look for sales in stores & online. I found many of my items at walmart (very inexpensive). You may not have the extra funds to go out and purchase everything at once. If that is the case, you can make your list and purchase a couple of things each week. Also, look around your house. You may already have most of the items needed for your emergency survival supplies. You just need to gather them up and put them all on one place. You dont want to have to go looking in an emergency.
"EMERGENCY PREPAREDNESS" E-BOOK
If you would like a copy of the 8 week series, you can purchase my "Emergency Preparedness" E-Book below. It includes the entire 8 week series, along with
several
Emergency Binder Printables. The E-Book is a great tool to refer to while setting up your station. (
Here
) are the details of the E-Book.
Purchase your copy for only $10.
Items included for week #5 – in this book:
1. Facts sheet & tips
2. Emergency supply checklist
3. How to make a faraday cage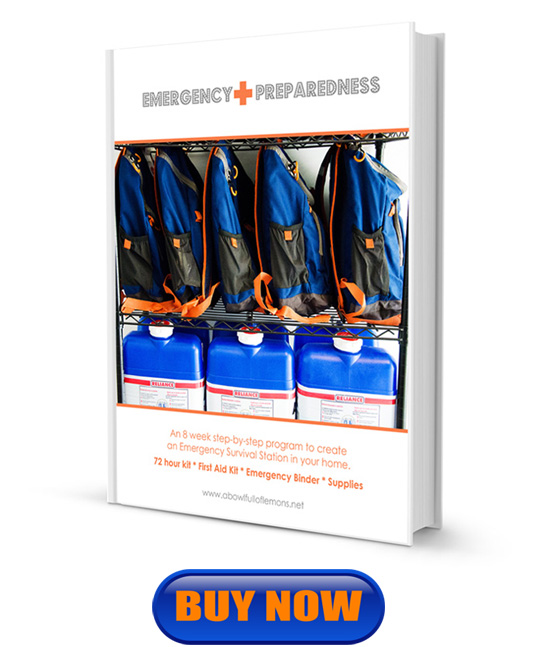 GRAB A BUTTON IF YOU ARE PARTICIPATING IN THE CHALLENGE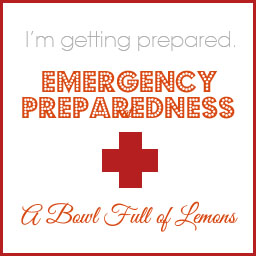 <div align="center"><a href="https://www.abowlfulloflemons.net/2012/11/emergency-preparedness-8-week-program.html" title="A Bowl Full of Lemons" target="_blank"><img src="https://www.abowlfulloflemons.net/wp-content/uploads/2012/12/imgettingprepared250.jpg" alt="Ask Anna"  width="250" height="250" style="border:none;" /></a></div>
Tags: emergency preparedness, emergency preparedness 8 week series, supplies
Blog, emergency preparedness Posted in 20 comments