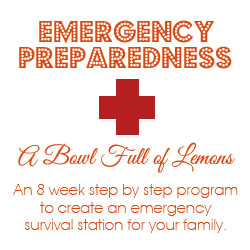 Welcome to our final week (before the big reveal) of the Emergency Preparedness Series.  This week we are going to be putting together comfort kits & fun kits (if you have children) for each of our backpacks.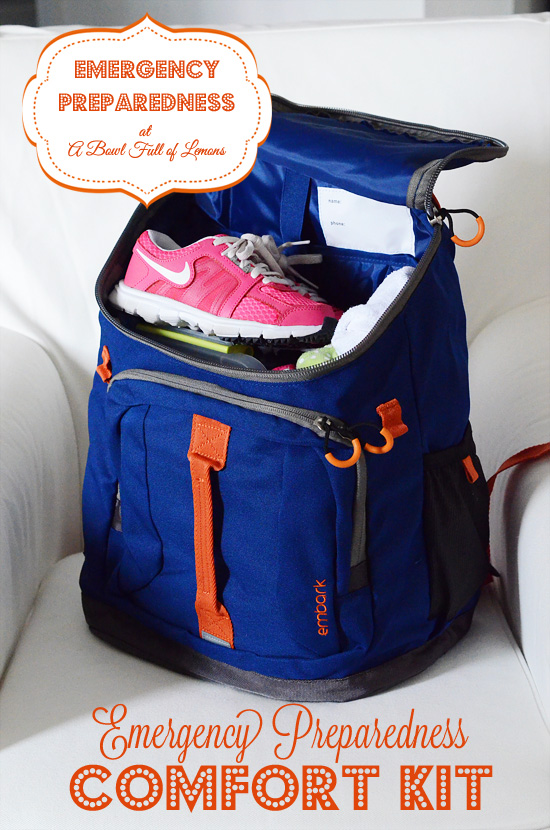 What is a comfort kit?
A comfort kit contains a dry set of clothes & shoes, a favorite toy or book, and a game to pass the time.  If you have children, you can also include a "fun kit".  Stock your comfort kit with items your family may like to have while away from home. The purpose of this kit is to "grab and go" if you are in an emergency. If you are in a true emergency (like I was), you may not have time to pack a bag.  When we were in a hurricane in 1999, we were rescued from our home with only the clothes on our back. We didnt have a "72 hour kit" or a "comfort kit".  We ended up sleeping on the floor of a gymnasium with the soaked clothes on our back. I wish I had a comfort kit during that time.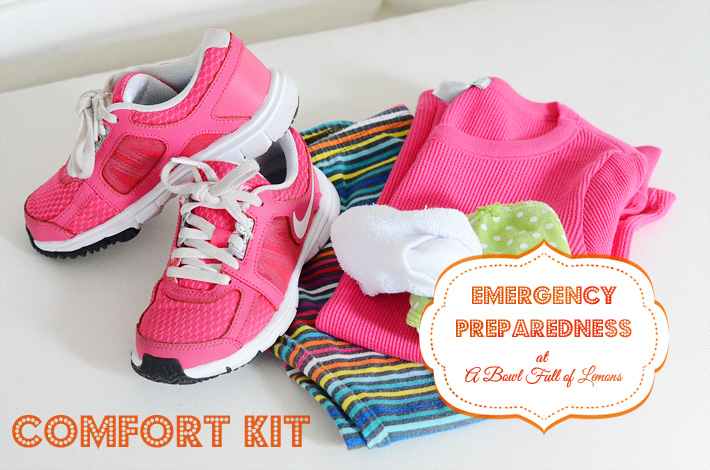 Contents of Comfort Kit: 
1 outfit per person
1 pair of shoes per person
Games & cards
Books
Puzzles
Extra pair of socks per person
Fun kit for each child (see print out)
Toys for infants & toddlers
1 comfort item per child
*Adjust to your liking
What is a fun kit?
After a natural disaster or emergency, children may not have access to toys or games. They will get bored easily and its best to keep their minds busy during a stressful time like this. You may be away from your home for a few days or even weeks. So, its nice to have something for your kids to do.  Creating a fun kit for each child will help to pass the time.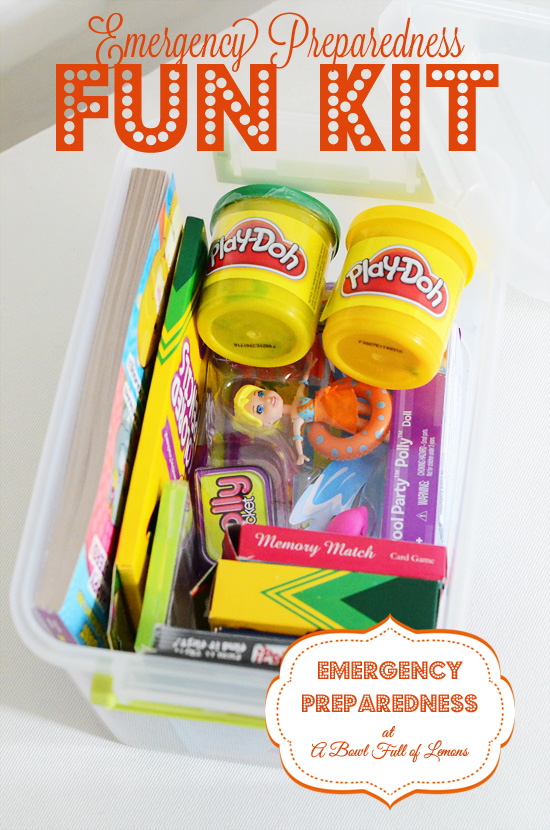 Contents of Fun Kits:
Coloring book
Crayons, markers, & pencils
Notebook
Deck of cards
Play-doh
Crossword Puzzle Book
A small toy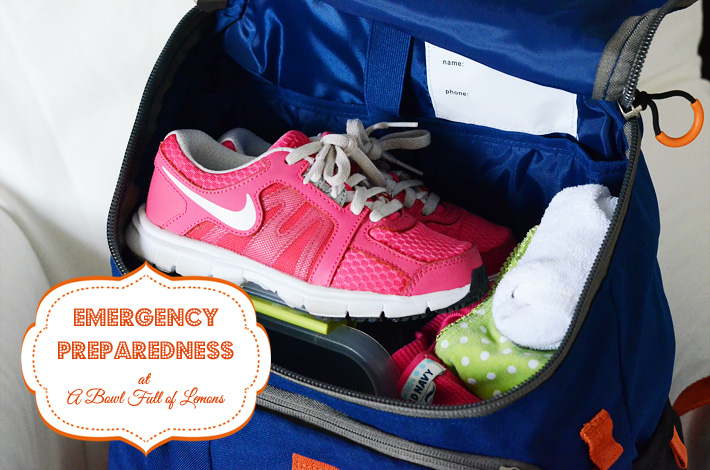 Once you have put together your comfort and fun kits, place one in each backpack. Next week I will reveal my Emergency Preparedness Station. I will also have a link party so you can share your's too!  Are you prepared?  Show us what you got next week.  There is also a giveaway!!
MONEY SAVING TIP
This should be your least expensive week of the series.  Use what you have in your home.  Old socks, old shoes, old clothing can be placed in everyones' backpacks.  Put some crayons in a baggie and print out a few coloring pages from the internet. Use your imagination. You can get prepared on the cheap this week!
"EMERGENCY PREPAREDNESS" E-BOOK & PRINTABLES
If you would to print out a paper copy of the 8 week series, you can purchase my "Emergency Preparedness" E-Book below.  It includes the entire  8 week series, along with several Emergency Binder Printables.  The E-Book is a great tool to refer to while setting up your station.   (
Here
) are the details of the E-Book. 
 Purchase your copy for only $10.
Below are the printables included in the E-Book.  Just purchase, print and fill them out!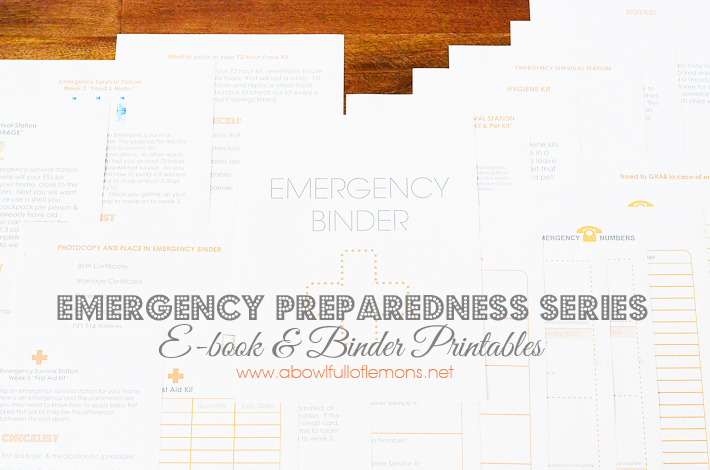 Buy Now!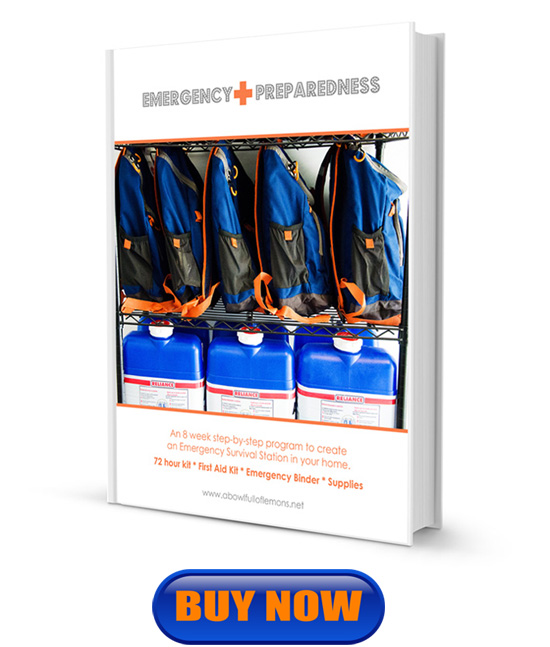 Tags: comfort kit, emergency preparedness, emergency preparedness 8 week series, fun kit
Blog, emergency preparedness Posted in 4 comments