January is the time of year when many of us turn inward and reflect on becoming better people.  It's also the time of year when many of us make resolutions and set new goals for ourselves.  The most common goals typically revolve around eating clean, healthy, less-processed foods, exercising more, organizing homes and offices or spending less/saving more.
One of the best ways to reach our goals is to become more aware of our actions and intentions and that means making conscious decisions about how we spend our time, our money and our energy.  This is the exact opposite of, "going with the flow" or having a, "whatever" attitude.  Living a more purposeful, goal-oriented life is about living in the present moment and not looking back on what could have been or should have been.  (In organizer language, that means if you have single-digit size jeans sitting in your closet and you're wearing double-digits, consider letting the "trophy-sizes" go.  Ditto if you still have a wedding dress in the closet but got divorced years ago.)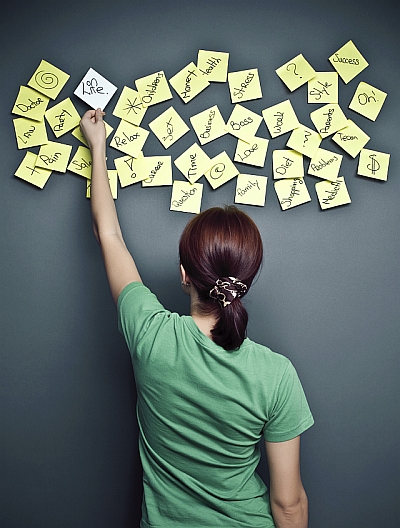 Photo Source – http://onlinelearningtips.com/tag/making-a-goal-list/
Today is the day to stop daydreaming so much about what might happen.  Stop rehearsing conversations in your head before they happen. Stop replaying old conversations and over analyzing who said what.  Stop spending mindlessly on stuff you don't truly need; shopping isn't a sport.  Discontinue sitting on the sofa night after night watching other people, on TV, live their lives; get up and live your life.  Be intentional.
This month, spend time deciding on what to focus on in 2013.  It's a brand new year and the prefect time to tackle all those small projects that have been on your to-do list for too long.  Take another look at that to-do list:  prioritize what matters most.  Set a timer and either destroy it (take it off the list) delegate it to someone else or just do it!
It's also worth noting that mindfulness is a gentle, forgiving and inclusive practice.  It's about being compassionate toward yourself as well as others.  One way to become more compassionate is to practice purposeful listening.  That means disconnecting from electronics, suspending judgment, giving full attention to what isn't being said as well as what is being said. Practice not thinking about how you will respond; just listen deeply.
Oh, BTW, did you know that January is Be On Purpose Month and Get Organized month?  Wonder if that's intentional; LOL

Visit Geralins Website (here) for more information on how to obtain your goals.
Blog, contributors Posted in 4 comments