Welcome back to A Bowl Full of Lemons "Daily Cleaning 101" Series. Today I am sharing my 4th step to "keeping a clean home", the bathrooms.  "Keeping" your bathroom clean on a daily basis is much easier than cleaning it every once in a while. There will be less scrubbing involved and an much easier clean up.  Below I share 4 steps you can follow to clean your bathroom daily. These steps should only take you about 5 minutes per day.   Super easy!!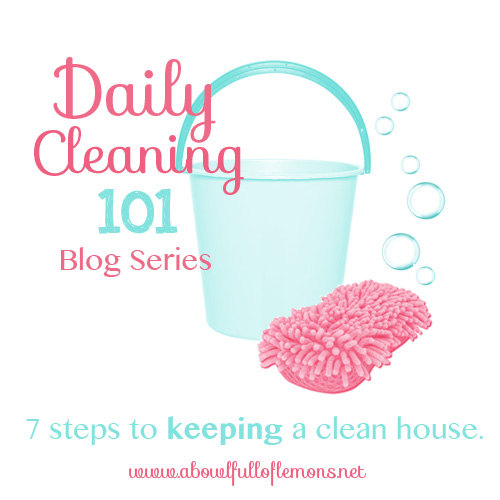 Step 4 – "Freshen up Bathrooms Daily"
Spray & wipe down sinks & counters
Swish Toilets
Spray showers with daily cleaner (right after you shower). This will prevent soap scum build up.  Using a shower squeegee on glass walls/doors helps tremendously.
Pick up dirty clothes and put them in the hamper
Wipe down counters & sink daily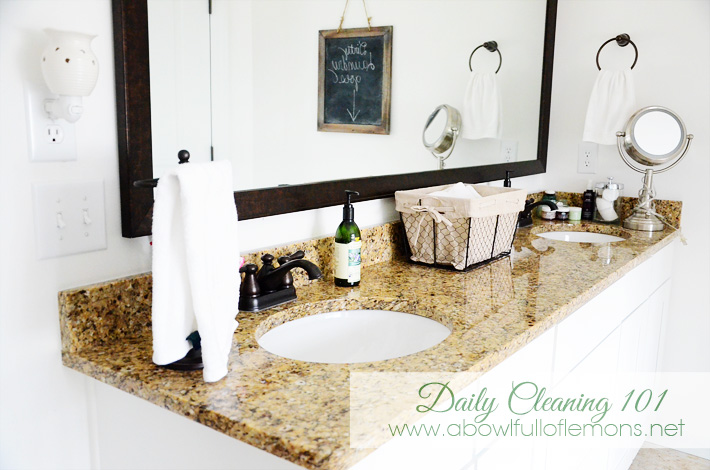 Spray showers with daily shower cleaner.  Squeegee after each use.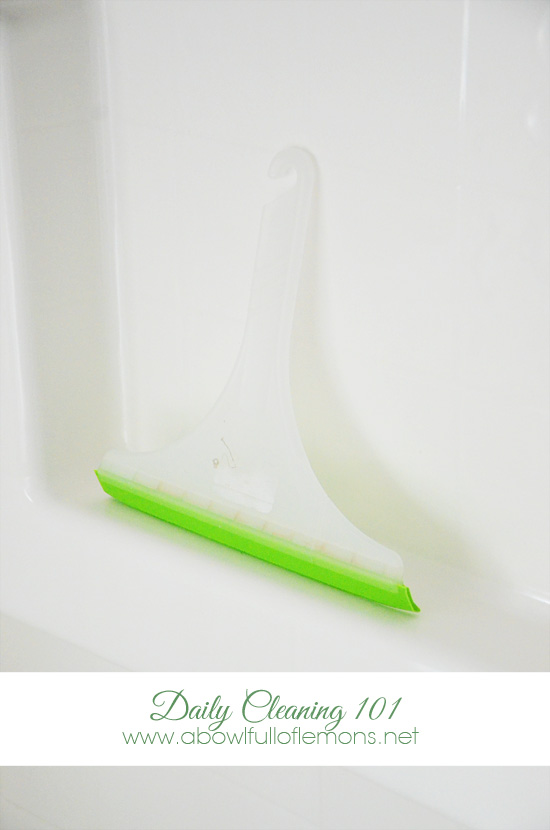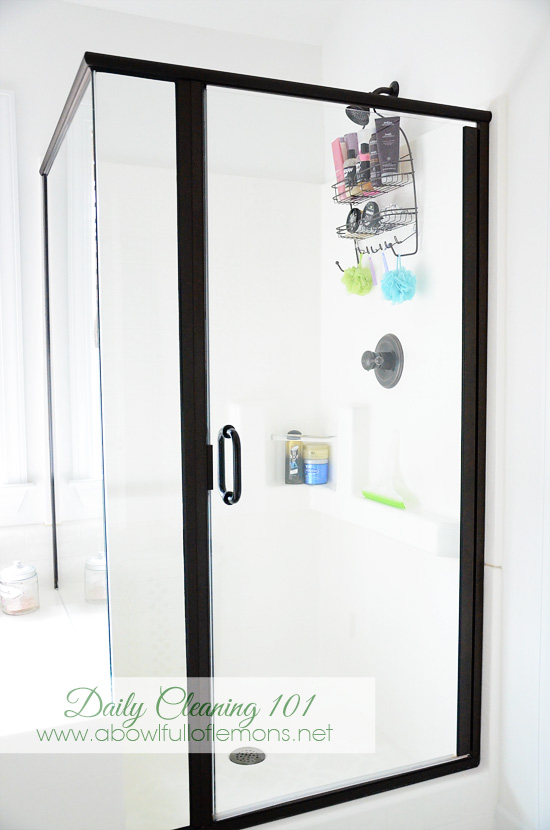 Swish toilets daily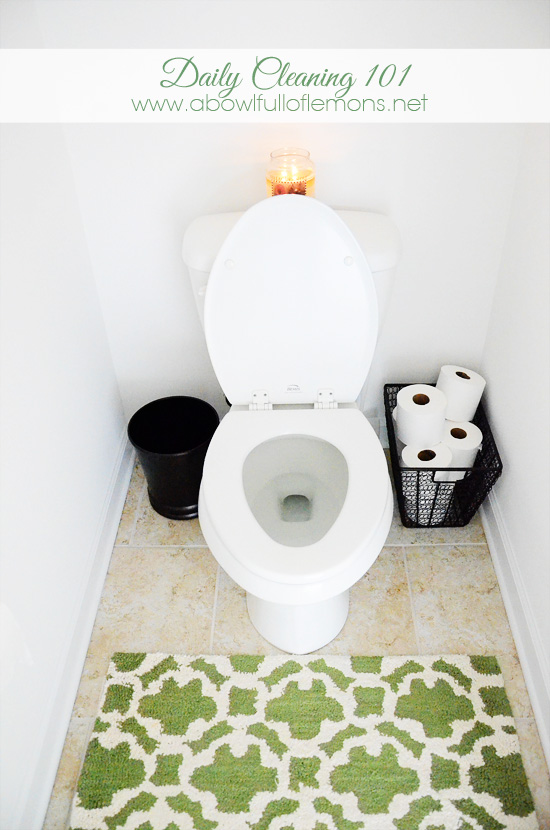 Tips
– Keep your toilet cleaner near the toilet, the shower cleaner in the shower and the sink cleaner below the sink.  If its within reach, you will be more apt to complete the task.
 – If you love to "smell" your cleaner (like I do), add a few drops of pure essential oil to a cup of baking soda and put it in a cheese shaker. Keep under your sink.
Natural Cleaning Solutions
Sink:
Baking Soda – Sprinkle around the sink and scrub with a wet sponge.
Basic H –  Spray sink & counters with Basic H and wipe down.
Showers:
Vinegar – Use damp cloth soaked with vinegar to scrub shower doors.
Baking Soda – Scrub shower walls with a wet sponge covered with essential oil infused baking soda.
Daily Shower Cleaner – There are many homemade recipes for this cleaner. Use it daily after your shower.
Toilets:  
Basic G – To sanitize the toilet, spray Basic G around the seat, rim, and bottom.  Pour a teaspoon into the bowl, swish and let sit for 10 minutes. Wipe down with damp sponge.
Nature Bright – Add 2 scoops of Nature Bright & 1/4 tsp of Basic H to the toilet. Scrub.
Baking Soda – Sprinkle around the rim and scrub with toilet brush.
Stains: 
Wet a sponge. Dip into Nature Bright powder. Rub onto surface then wipe off. Let stand 5 minutes for stubborn stains. Use gloves.
Free Printable
Click on the picture below to print the Daily Cleaning 101 checklist out. It will remind you of what needs done and how little time it takes. Please do not redistribute. Personal use only.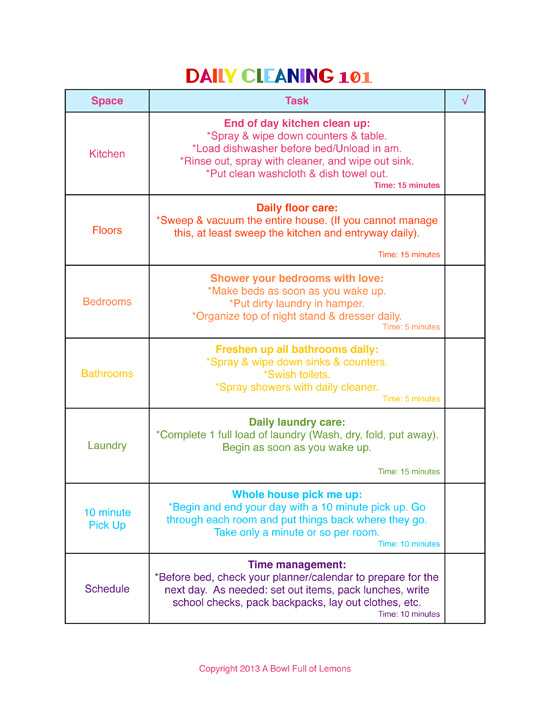 My favorite cleaning products
Cleaning Plain & Simple by Donna Smallin (My "go to" book for cleaning tips, how to's & recipes)
Get Clean Starter Kit (Contains everything in my cleaning kit minus Scour Off)
Scour Off (To clean my sink weekly)
Real Simple microfiber cloths
Oreck Magnesium Vacuum (Giveaway at the end of the Series)
Basic H (Multi purpose cleaner)
Nature Bright (Stain remover/brightener)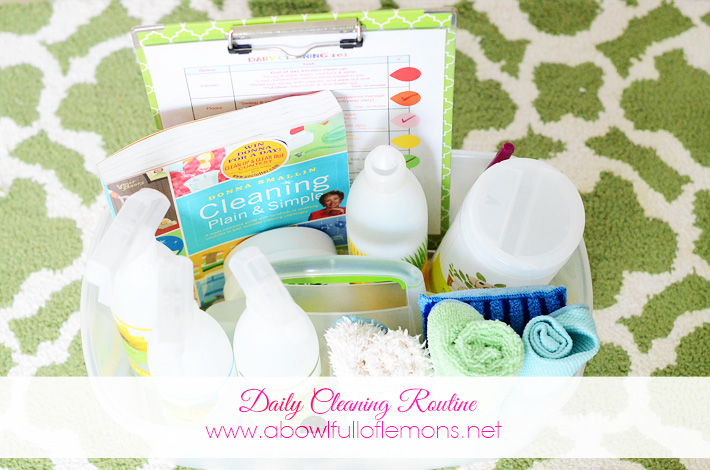 Conclusion
Daily bathroom "maintenance" cleaning is so easy, takes only a few minutes, and will make your life easier in the long run.  How is your house looking this week?  Do you notice a difference by using my steps? I will be back tomorrow to share step 5, the Laundry.
Tags: bathrooms, cleaning, daily cleaning 101
Blog, Clean, Cleaning, Daily Cleaning 101 Posted in 38 comments