When I'm working on-camera, for the A&E TV show, Hoarders, the question I'm asked most often is, "Where do we begin?"  My answers vary depending on the client but I think for most people, with or without a hoarding disorder, the fridge and the pantry are both good excellent starting points.  Neither the fridge nor the pantry is too large and the ingredients (ha) are easily put into obvious categories. Plus, all the keep-or-toss decisions are determined by expiration date which has nothing to do with sentimental value.  In short, this means the process is much less stressful for most of us. The pantry is also one of the quickest ways to get your family organized, save money, save time, and free-up shelf space.
Below you'll find a few tips to get started and get your pantry organized in a jiffy.
Begin by discarding rotten, stale, spoiled, and expired items.
Wash and dry the shelves and walls.
Use glass or sturdy plastic containers with tight fitting lids to hold dry goods and remember, square containers take up less space and fit better on shelves.
Group like items together just like the grocery store does it:  breakfast items, snacks, baking goods, etc.
Whether your home is sleek and sophisticated or warm and traditional, there are many options for containers, which can help make your kitchen pantry appear more stylish and organized.  Splurge on containers; they are an investment and will last a very long time.
Make sure your lighting is excellent. Install a stick-on light if necessary.
The back of the door is the perfect spot to hang a lightweight shelf for spices; don't let that vertical space go to waste.
Have a basket that your children can reach; stock it with kid-friendly snacks. Examples include: applesauce cups, pudding, fruit chews, pretzels, and fresh fruit.
Restock your pantry with only the most commonly used items such as: Canned Goods, Baking Supplies, and Pasta.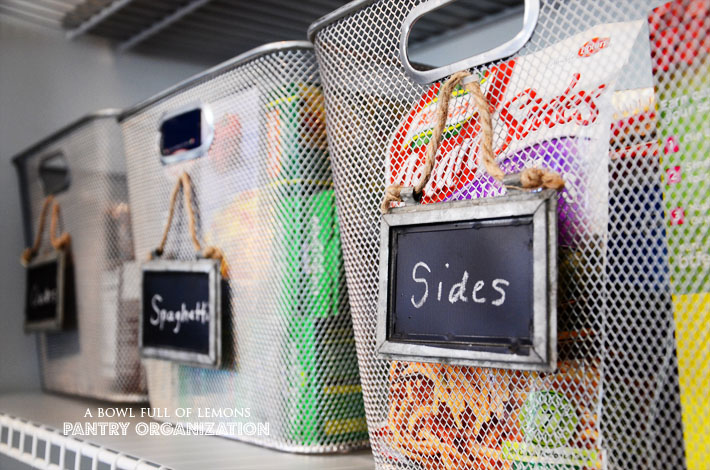 Finally, a list of helpful places + products for organizing products:
Stacks and Stacks
The Container Store
Tupperware
California Closets
Rubbermaid
Lowes Home Improvement
Target.

Geralin's Website:  http://metropolitanorganizing.com/freebie/manage-your-modern-life/
Tags: organization, pantry
Blog, contributors, Kitchen, Organize, pantry Posted in 7 comments