"Let food be thy medicine and medicine be thy food".  
-Hippocrates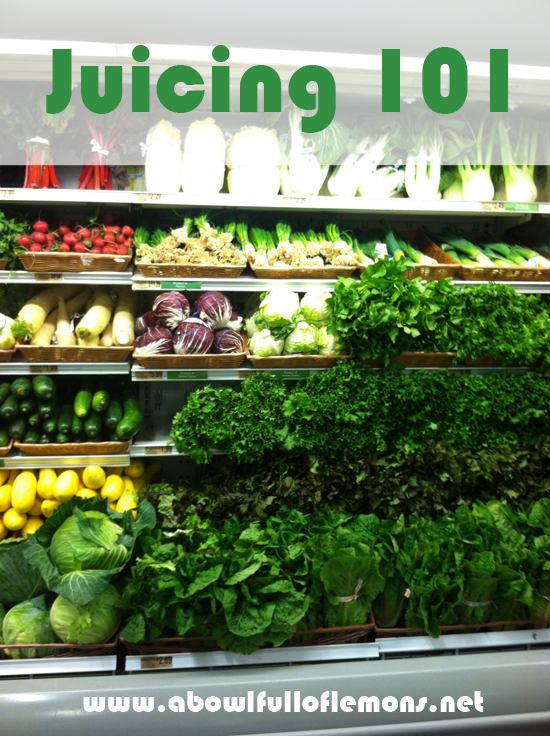 I've been juicing on and off for about 6 years.  Sometimes I will go months without juicing, then I will begin again.  I have my ups and downs. I have spent countless hours researching the health benefits from juicing and let me tell you, they are endless. I have experienced them first hand. When I am juicing, I feel so much better. I have more energy, my moods are elevated, and I am more alert and focused. Today I want to share some of the health benefits with you and get you motivated to improve your own health & try juicing as well.
What is Juicing?
Juicing is the process of extracting juice from fruit and vegetable plants. Cooking and processing food destroys micronutrients by altering their shape and chemical composition.  Juicing protects those  vitamins, minerals, antioxidants, and phytonutrients.  It also removes damaging toxins from the body. Juicing is the fastest way to absorb nutrients into your body.
Benefits of Juicing
"There is lots of research that shows the healing properties of juicing. Not only will juicing facilitate weight loss, increased energy levels, strengthened immunity, strong bones and a glowing complexion, it may also reduce chances of heart disease, cancer and strokes, three of the leading causes of death. A growing body of research suggests that most vitamin supplements don't help prevent chronic disease. A synthetic vitamin or mineral is a laboratory simulation of the real thing. Natural, plant-based vitamins and minerals are more easily and completely absorbed by the body."  Source
Why go Organic?
"Conventional produce is laced with toxic industrial chemicals and additives because of the way it is grown, packaged, produced and manufactured. Its nutrient density (the amount of good stuff you get in the food you eat) is much lower than organic food while all of those industrial toxins act as poisons to the enzyme systems which life depends upon."  Source.  Its important to use organic produce. If you cannot afford the extra cost of organic fruits and veggies, grow your own organic garden & follow the dirty dozen rule.  As a rule, always purchase these fruits and veggies organically.  Remember to shop your local farmers market!
THE DIRTY DOZEN
Peaches
Apples
Sweet Bell Peppers
Celery
Nectarines
Strawberries
Cherries
Pears
Grapes (Imported)
Spinach
Lettuce
Potatoes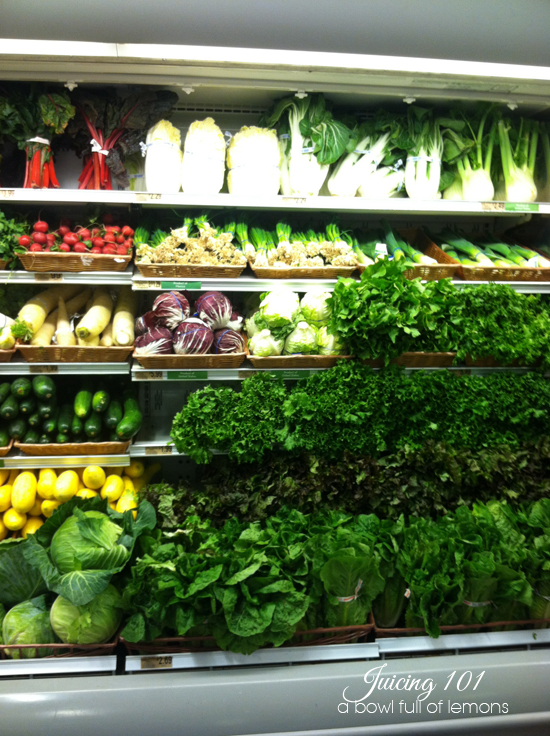 Where to buy your produce?
There are many places to shop for fresh produce. The freshest place will be in your back yard, by growing your own organic garden. Second, local farmers markets (usually open from April – october/november) are a great alternative to growing your own food. Supporting our "local" organic farmers is always a good thing. There are also CSA's (Community Supported Agriculture) programs that you can join. Sometimes they will deliver right to your door or you can pick up your veggies from a designated spot. With CSA's, you work at the farm to care for the garden and help harvest the vegetables, or you can pay a certain amount of money and just reap the benefits. Finally, the grocery store has fresh fruits and vegetables. Just remember to buy organic. Also, shopping twice per week ensures you have the freshest produce for your juicing needs, if you are shopping at the store.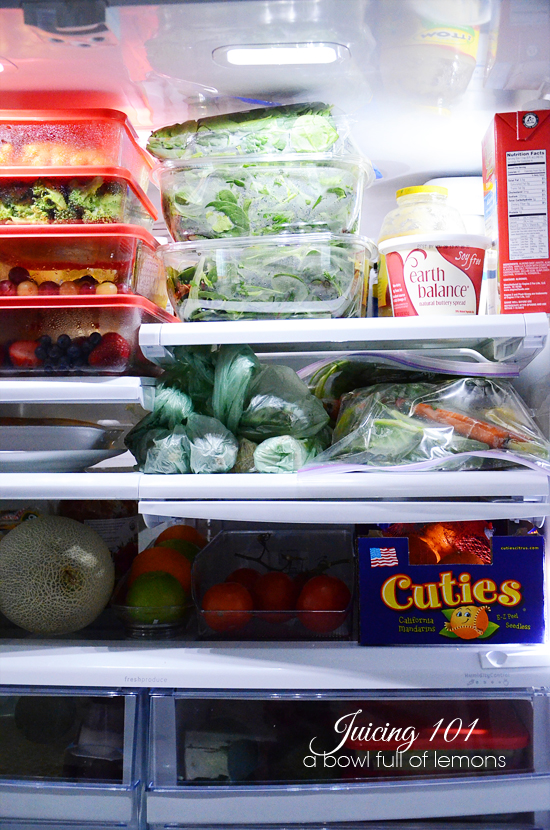 In order to be successful with juicing, you must have a fully stocked refrigerator, full of fruits and veggies, at all times.

Tips on getting started:
1.  Buy a juicer.  I use the Breville Juice Fountain.  Its easy to use and easy to clean.
2. Clean out your fridge.  If you are going to adapt a healthier diet and begin juicing, you need to eliminate the processed and toxic food.
3.  Go grocery shopping.  Remember to buy organic.  I shop twice per week for fresh produce.
4. Prepare your juice bags twice per week.  I wash all produce that I will be juicing for the next 3-4 days. Below I share my "go to" recipe for juicing.
5.  Juice at least once per day, 2-3x is even better.  I juice in the morning and blend a green smoothie in the afternoon.
6. Get creative with juicing.  Look for new juicing recipes to keep it fun.  One of my favorite juicing books is The Big Book of Juices.
7. To stay motivated, watch a juicing related DVD. One of my favorites is Fat, Sick, and Nearly Dead (you can watch it on netflix).  It's a total wake up call!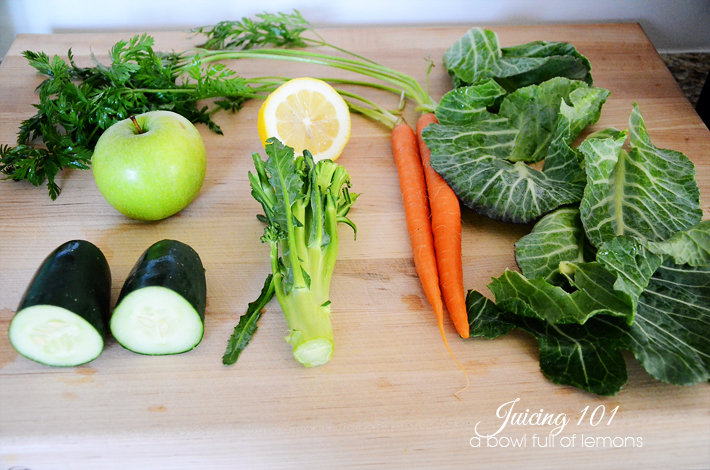 My "go to" juice:
1 Green Apple (cored)
1 Cucumber
2 Carrots (with tops)
1 Broccoli stem
2 Handfuls of Kale
1/2 Lemon (peeled)
*Wash and place in large ziploc baggie.  Store in fridge until ready to juice. Drink immediately after juicing.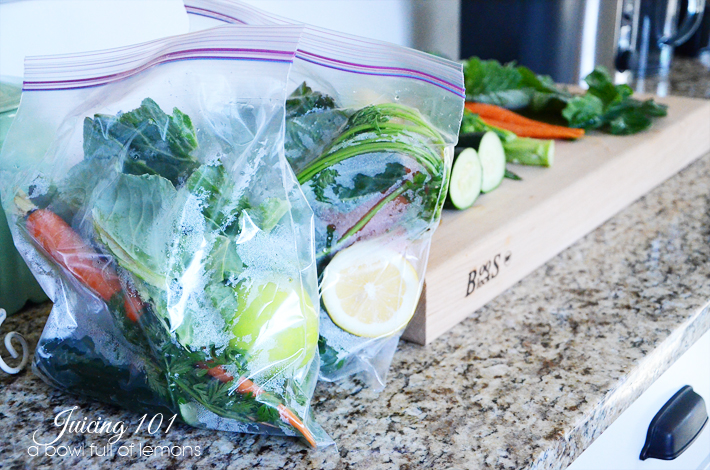 Below are my kitchen tools.  I juice and blend my fruits and veggies.  As I mentioned before, I use the Breville Juice Fountain as well as the Vitamix blender.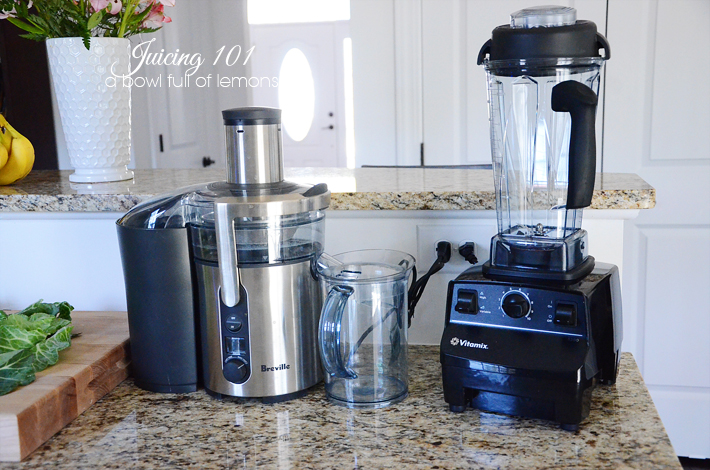 If you prepare your produce twice per week, juicing only takes a few minutes each morning. It takes about the same time to cook eggs & toast, but juicing is much healthier for you.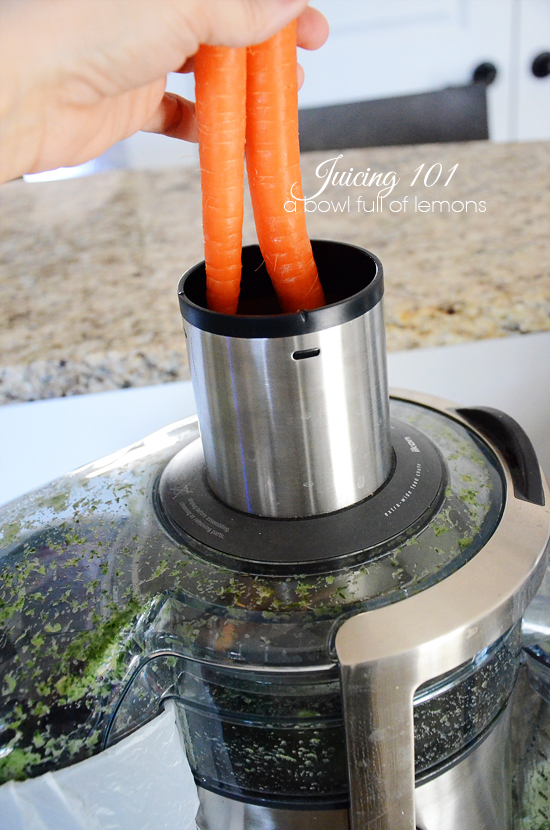 Make sure to put a grocery bag in the pulp catcher. It's easy clean up.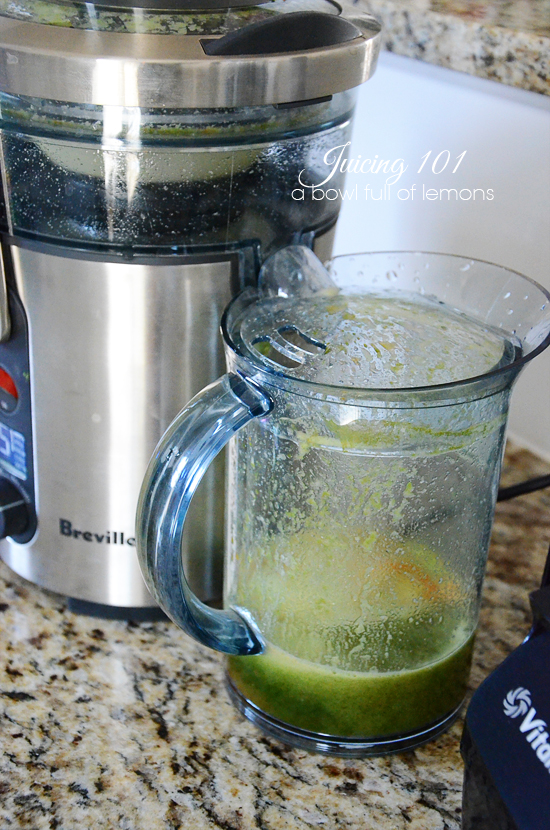 Mmmm… As they call it "liquid sunshine" There's nothing healthier than a fresh glass full of green juice.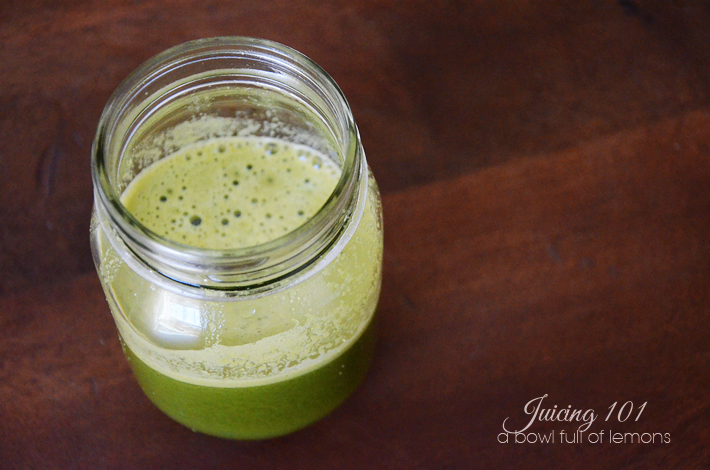 Clean up with the Breville is super easy.  I use a scrub brush filled with soap to wash it out. Then I leave it to air dry for  a few hours.
That's juicing in a nutshell. Its pretty straight forward. If you put in a little time & effort to care for your health each week, your body will thank you. I would love to hear about your juicing experiences. Do you juice? What's your favorite recipe? Would you like to see more about Healthy Living, juicing, smoothies, or using pure essential oils, etc. on the blog?
Tags: healthy living, juicing
Blog, healthy living, juicing, March 2013 Posted in 32 comments