This week our weather has been just beautiful (in the 80's) and beach season is getting really close. I have prepared my beach bag in anticipation for my favorite time of the year. I can't wait to put my toes in the sand and feel the cool ocean breeze. I love reading a good book while listening to the waves crash. I also love watching my kids boogie board and build sand castles. There's nothing like summertime with kids!
Is your beach or pool bag ready to go? Below are some essentials you may want to keep in your bag. If you have it prepped and ready to go, all you have to do is grab it and head out! I keep my bag stored in my garage.
Beach/Pool Bag Checklist
Ziploc Baggies – After you are finished swimming, you may want to take off your swimming suit (before getting in the car). The baggies protect your other contents from getting wet.
Baby Powder – Sprinkle baby powder on your legs and feet to help remove sand.
Sunscreen
SPF Chapstick
First Aid Kit – You never know when you may need a bandaid!
Sunglasses – I keep a designated pair of sunglasses in my beach bag. They do not leave the bag (except for when I am at the beach).
Water Bottles – One for each person. I prefer using glass. The thought of melting plastic bottles in the hot sun doesn't sound appealing to me.
Snacks – Save your $ and pack your own snacks.
Pocket Change – Our public beach is pay to park, so I always need cash. The kids also like to grab a cold lemonade on the way down the boardwalk. Its good to keep a little extra cash stashed in your beach bag at all times.
Toys – Sand or pool toys. Frisbees, beach balls, etc…
Books/Magazines/E-Reader- You can't go to the beach without a good beach read.
Beach Towels
Large Sheet – I prefer a sheet since its lightweight and easy to shake off the sand.
Trash Bag – Use this to place wet beach towels in, when you are ready to leave.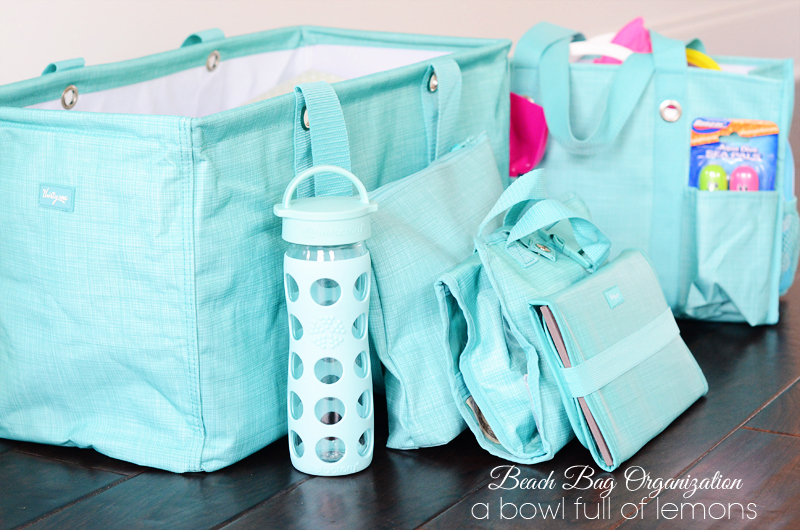 This year, I went with the "tiffany blue" theme for my beach bag and accessories. It's one of my favorite colors. All of my bags are from Thirty One.
My beach bag is the "Large Utility Tote".
The snack bag is the "Zipper Pouch".
My accessories & sunscreens are kept in the "Timeless Beauty Bag".
My e-reader is kept in the "Fold-n-Go Organizer".
The beach toys are kept in the "Organizing Utility Tote".
The aqua blue water bottle is from (here).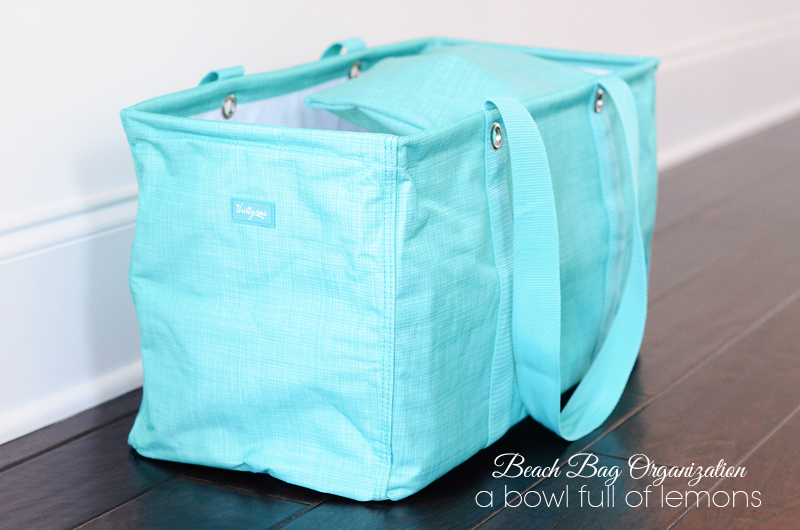 Tags: beach, beach bag, organization, totes
April 2013, beach, Blog, giveaway, Organize, Other Spaces, reviews, summer, thirty one, totes Posted in 26 comments