I spent an entire day reorganizing my filing system into new categories, with updated hanging folders and a brand new filing unit.  It was a long process, but one that I'm glad I did.  With the help of Office Depot, I was able to transform my filing system into a more manageable unit.  My old system was functional but didn't have all of the categories that I needed.  This system (with a ton of space) allowed me the room to add what I needed.  Today I am sharing my "zone" system with you.  I hope it helps you get your files just as organized.  Happy Organizing!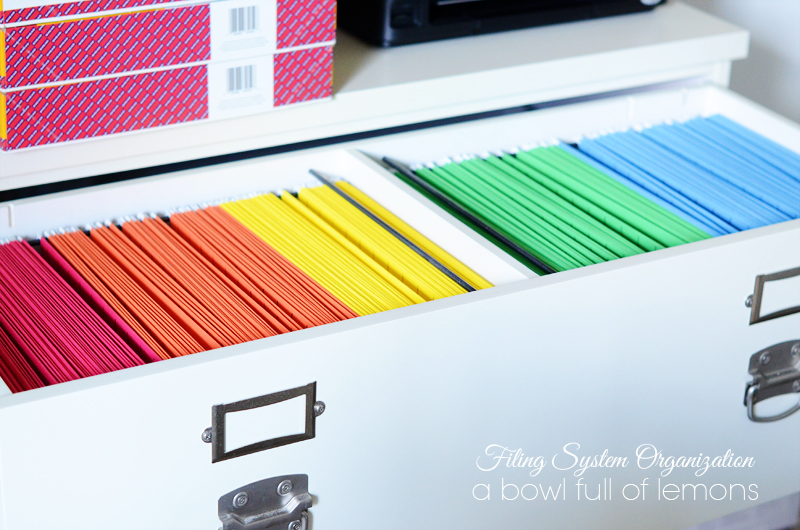 I took the above picture before I started categorizing my files into "Zones".  Color coding your filing system is a great way to organize your files, making it much easier to find what you need.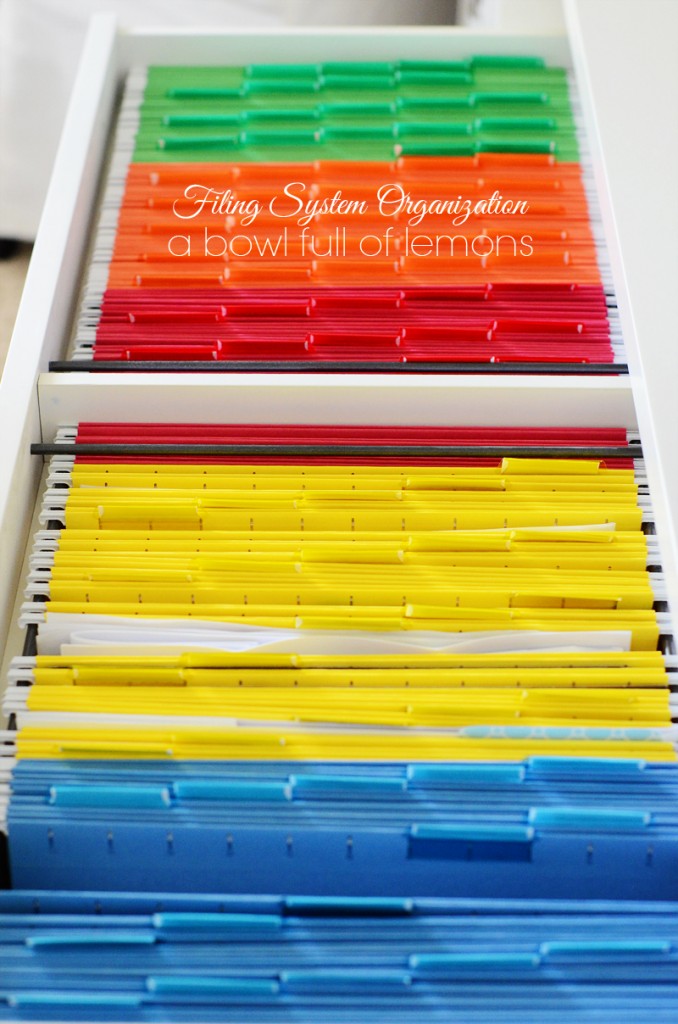 My filing system is the Pottery Barn Bedford lateral file cabinet.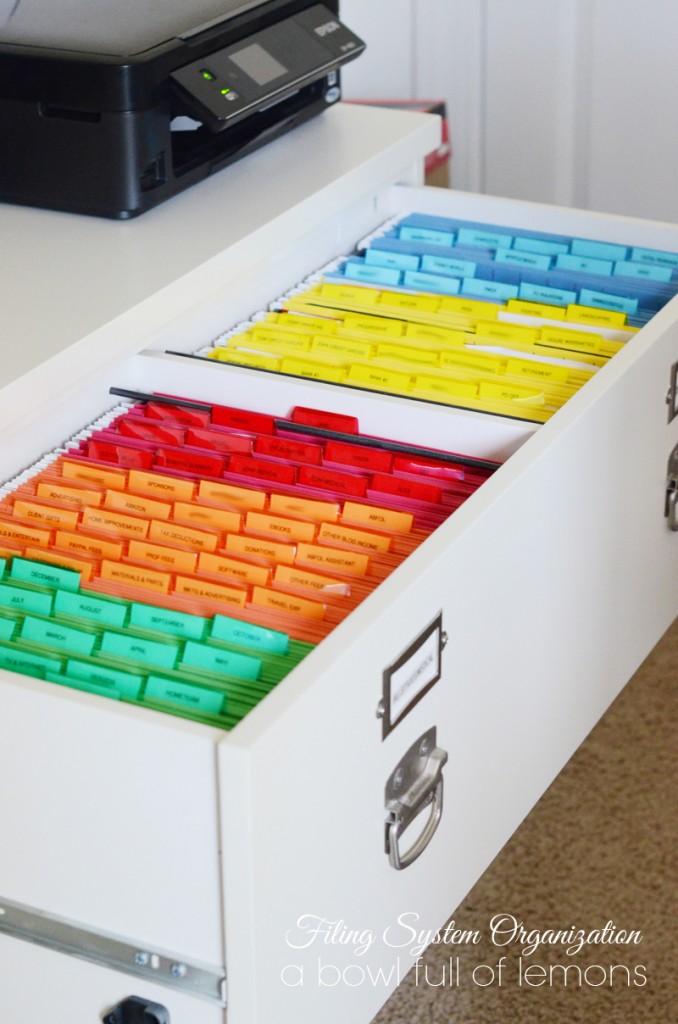 I use the PTouch (Model 2730) labeler by Brother.  It's my "go to" labeler for all projects.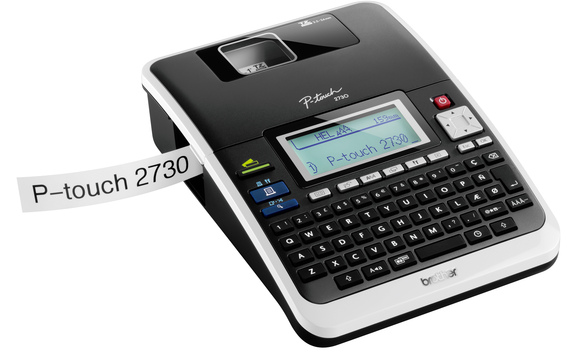 To organize our paperwork, I used the Smead "Brights hanging file folders.  Each box comes with 5 colors.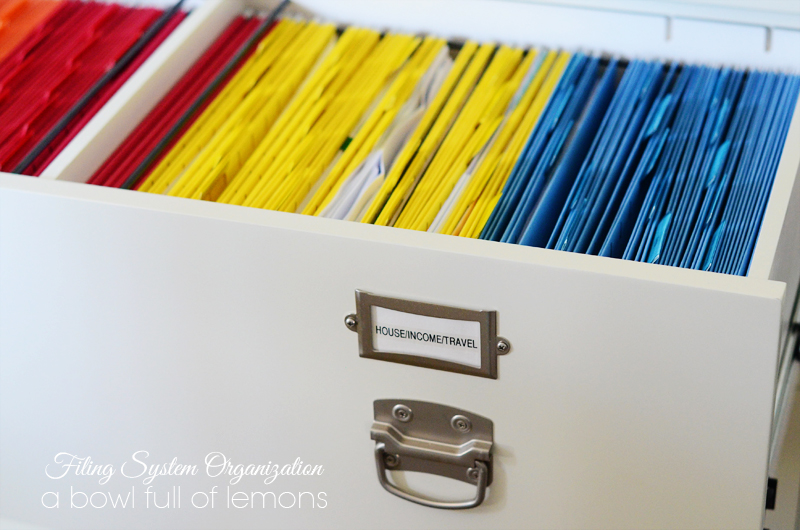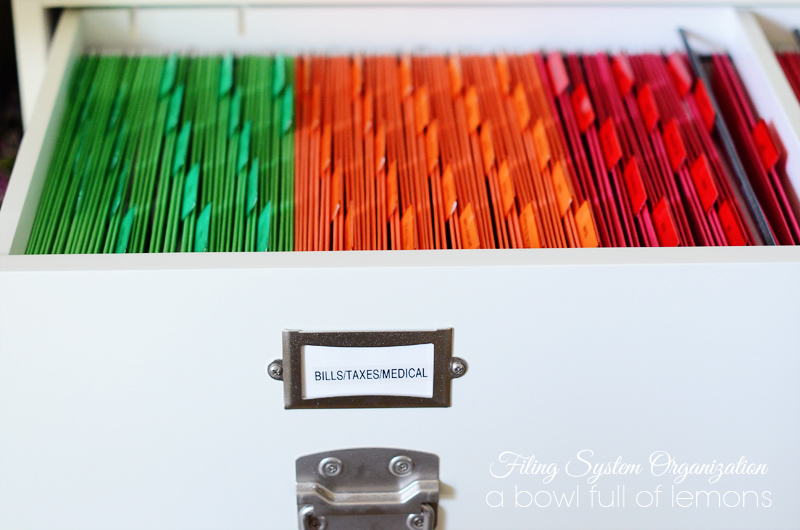 The label tape that goes with the labeler is the TZ tape.  The black on clear 1/2 inch tape fits well for hanging folders.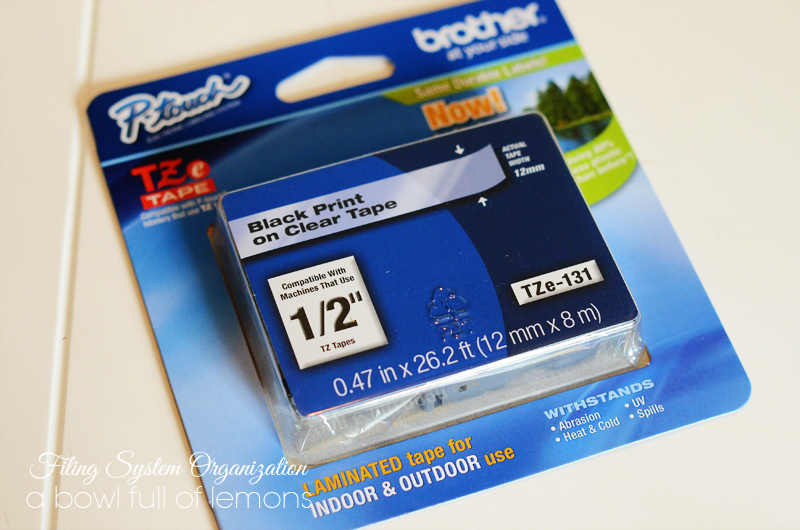 FILING SYSTEM ORGANIZATION
Categorizing your filing system into color coded zones:
Write out all of your filing needs onto a piece of paper, then categorize each of them into 5 main colored sections.
1.  Green – Bills & Banking
2. Orange – Taxes & Income
3. Red – Medical & Pets
4. Yellow – House & Auto
5. Blue – Memberships, School, Vacation & Other
Green – Bills & Banking
– All bills (Account folders)
– Monthly folders for paid bills (Jan-Dec)
– 1 folder for each Credit Card Company
– 1 folder for each loan (Mortgage, Auto, etc)
– Paid Off (Any letters from loans, etc that are "paid off".)
– 1 folder for each bank account/savings account
Orange – Taxes & Income
– All "current year" tax related documents (1 folder for each – Tax deductions: donations, office expenses, travel expenses,  etc).
– All work related folders (I have one for each of our jobs)
–  Annual tax paperwork (1 folder for each year).
– Retirement (401K, Roth IRA's, etc)
Red – Medical & Pets
– Doctor Bills (Paid)
– Benefits Summaries
– 1 medical folder for each family member
– Prescription
– Vision
– Dental
– Vet
– 1 folder for each pet
Yellow – House & Auto
– Homeowners Insurance Policy
– Auto Policy
– House folder (paperwork pertaining to the house you currently live in)
– Homeowners Association
– House related warranties
– 1 folder for each automobile
– Contractors (1 folder for each: painting, landscaping, pool, etc)
Blue – Memberships, School, Vacation & Other
– 1 folder for each school (if necessary)
– 1 folder for each club or membership (YMCA, Zoo, gym, aquarium, etc…)
– 1 folder for each city you frequently travel to (vacation folders to keep flyers, hotel receipts, etc)
– AAA, Sams Club, Costco, etc…
– Hotel Rewards
– All other categories not listed
My bottom drawer is still a work in progress. I have began putting my annual taxes in there. I will also be using it for paid off bills from the previous year.  I hope I have helped you sort out the "filing system" anxiety. Its really not that bad once you get started.  Good luck!  I would love to see pictures of your filing system and how it works for you too. ** If you are unsure of how long to keep paperwork, there are many websites out there that share this information. I follow Dave Ramsey's guide (for the most part)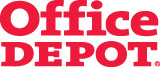 Note: This is a paid post by Office Depot. All opinions are my own.
Tags: filing system, office, office depot, organizing
Blog, Featured Posts, filing, June 2013, Office, Office Depot, Organize Posted in 42 comments