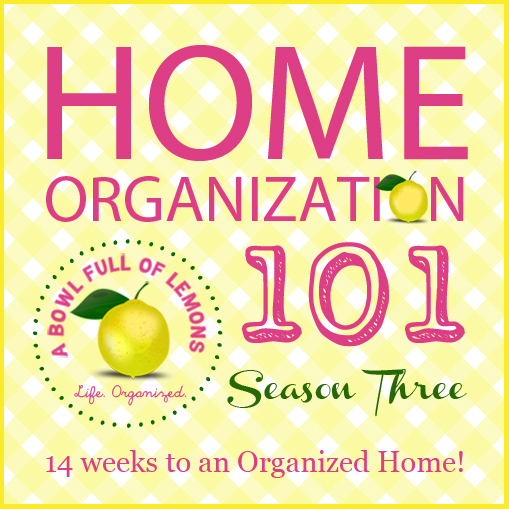 Welcome back to Home Organization Season 3.  This week we are cleaning out the garage or shed.  The best way  that you can accomplish this is by emptying the entire space and starting from scratch.  I share 3 options below, for those who may not have the time to do this.  Pick the best option for you.  Don't forget to share your finished space on our facebook group page here.  Happy Organizing!
WEEK #2 – THE GARAGE
During week #2 we are headed into the dreaded garage!  If you are like me, this place gives you a headache just thinking about it. For some of you, this may be a task thats just too much to handle in one week.  Please don't be discouraged.  Do what you can.  Attempting something is better than not trying at all, right?  I broke this week into 3 options.  Those of you who want to dive in head first will complete option #1.  Those of you who are hesitant, don't have the time, or if its too much work for one week can choose option #2.  Option #3 is for those of you who do not have a garage or storage building.  Okay, thats it. Now its time to get organized! Good luck.
*Choose one.
1.  Call your local charity organization to schedule an appointment for them to come with a truck and pick up your "junk". Sometimes it takes a week for them to arrive.
2.  Make sure you have boxes, bins, etc… before you get started. You will need them. I purchased mine at Target.
3.  Line up your empty bins (in a row) in the driveway.
4.  Go through all of your junk, once piece at a time, organizing your stuff into categories (bins).
 (Sports, garden, tools, car maintenance, painting, pets, light bulbs, grilling, beach/pool, etc.)
5. Go through each item, emptying the garage… completely!
6. Make sure to place the items you no longer want or need into "donation" boxes.
8.  Place all of your neatly organized bins & boxes back into your garage (on shelves if you have them).
9. Label each bin with a labeler.
10. Hang things on wall hooks.  Try to keep everything off the ground. Spiders like to hide behind stuff on the ground & so does dust!
11. Pat yourself on the back. Your done!
*This process should be repeated at least twice a year (spring and fall), to keep things clean and organized.
1.  Collect boxes & bins. You will need them.
2.  Survey your garage. Do you see things that are not in there place? Put them back.
3.  Categorize things. Place like items together into bins.
4. Throw away any trash thats laying around.
5. Look for things you no longer need or want. Donate them.
6. Sweep the garage floor.
Our garage is pretty simple.  Its not "decorated" fancy or anything. Its plain, organized and functional, which is how we like it. I park on this side.
The cupcake bucket on the right side has my 5 year olds sidewalk chalk in it. My husband parks on the left side.
Its always a good idea to hang the ladder. It takes up valuable space!
They hold everything from beach chairs to sporting equipment.
This basket sits right by my van. We live by the beach so whenever we want to go for the day, I just grab the boogie boards and put them in the trunk!
To hang our bikes, we use the "Monkey Bars" system.  I love this thing. Its so functional and easy to use. Below the bikes, we keep our generator, power washer, and carpet shampooer.  We also have our folding tables, saw horses and our corn hole.
I am a member of an organic produce home delivery service. I keep the box on top of my freezer and place it on the porch every Tuesday for a new box of goodness.
This door takes you to the mudroom in our home.
We keep on top of sports schedules with this chalkboard!
My recycle box is placed right by the mudroom door, so I can easily unload the recyclables form the kitchen.  We also have a cubby for shoes (if needed). We usually keep our shoes in our closets.
This shelf is right outside of our mudroom door.  I keep items we use often on here:
1. Extra food containers for school parties.
2. Packaging tape.
3. Sunglasses.
4. Grooming items.
5. Grilling items.
6. Coolers.
7. Empty bags.
8. Sunscreen.
Grooming supplies.
Sunscreen.
Sunglasses.
Coolers & empty bags.
 It's baseball season here now so we like to keep stocked up on sports drinks.  On top of the mini fridge is a perfect place to store them for easy access.
This fridge holds our "on the go" drinks.  Its super easy to grab a drink on my way out, since I park my car in the garage.  We also keep our alcoholic drinks here.
Happy Organizing!
Tags: garage, home organization 101 season 3, organize
Blog, Garage, Home Organization 101 Season 3, June 2013, Organize Posted in 21 comments