Going back to school can be overwhelming for a budget if you don't have a plan. Here are a few tips for managing those expenses so that they don't manage you.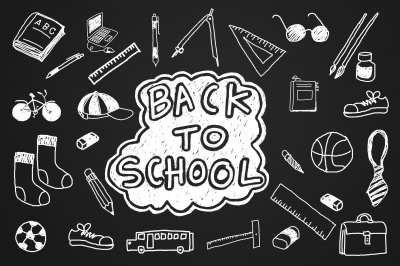 1. Delay the purchase of some school supplies
If your kids are in public or private school, there may be some things on the list that they don't actually need until later in the year. Find out what those are and wait a few months to purchase. You may even find them on clearance between now and then!
If you homeschool, don't feel like you have to buy every single book up front. For example, if your child's math curriculum consists of two workbooks for the year, purchase the first one now and then budget for the second one later. In the meantime, try to find it for less than retail on a site like homeschoolclassifieds.com.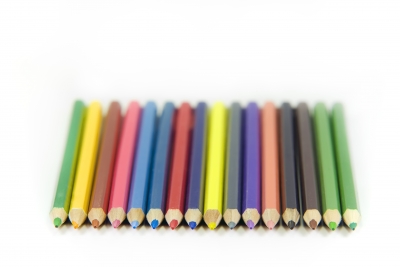 2. Buy mix & match clothing
When shopping for clothing, help your children (especially daughters) choose items that can be combined for different looks so that you're able to purchase less and save money. Think about how the pieces can be combined in layers for different seasons, and add in a few accessories like belts and scarves to help keep outfits fresh. Don't be afraid to shop thrift stores, garage sales, and local online buy/sell/trade groups for gently used items.
Discuss the clothing budget with your kids ahead of time and look at sales ads and coupons together as you plan your shopping. To encourage both savvy spending and giving to others, consider splitting the difference with them if they come in under budget–half to your child and the other half to purchase items for kids who are in need of school clothes or supplies.
3. Bring a list and stick to it
This one sounds like a no-brainer, but it's important to emphasize. It's really easy to give in to back-t0-school impulse buys–especially if your kids are shopping with you–because everywhere you go right now, you're bombarded with fun products and colors. And let's face it, shopping for supplies can also be very tempting to some of us adults who love to organize!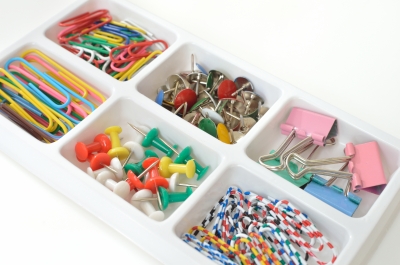 4. Add a line in your budget for school activities
Whether it's sports participation or attendance, school dances, clubs, field trips, AP classes, etc., these expenses are going to occur, so be sure to budget for them throughout the year. First, sit down as a family and prioritize activities. Your budget may not allow for your child to participate in every single one he'd like, and it's wise to be realistic about that rather than going into debt for them. For the ones that are "extras," institute a way for your child to perform tasks in exchange for the fee. When possible, shop for secondhand items (such as musical instruments or football cleats) in order to save money.
5. Help your college student establish a budget
I graduated from college with $800 in credit card debt. It doesn't sound like much, but 20 years ago it was suffocating for someone who wasn't going to be starting a full-time job for three months! Looking back, I see that while I'd faithfully paid all my monthly bills such as rent and utilities, I had a habit throughout college of not being intentional with the rest of my money. Even then, credit card companies were soliciting college students, and I took the bait instead of making a plan for the little income I had.
Sit down with your student, make a list of things she'll be expected to pay for with whatever forms of income she'll be receiving (part-time job, monthly stipend, etc.), and help her come up with a budget  and envelope system for those areas. For the purpose of this discussion, I'm focusing on the areas that are above and beyond tuition, room & board, and books, which are often covered by a variety of sources.
Here are some possible budget categories for a student living on campus and eating in the cafeteria:
gas
car insurance
phone
personal care
laundry
clothing
entertainment
eating out
school supplies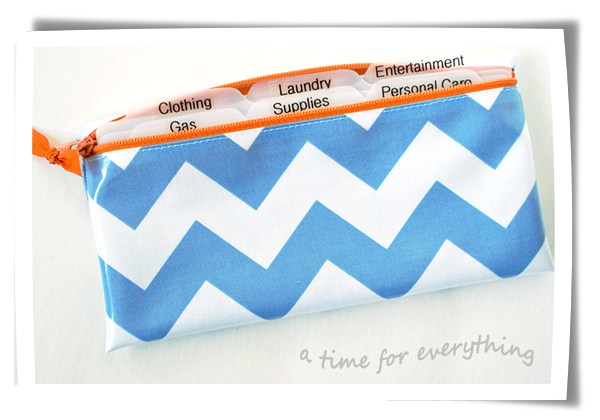 via ATime4Everything
If your child is living off-campus and not paying room & board in one lump sum, he will need to also add lines for:
A college student budget worksheet like this interactive one may be helpful.
P.S. High school students can benefit from starting a simple budget and using an envelope system as well. Help them cultivate this healthy habit before they move out of the house!

Visit A Time For Everything to learn more about budgeting!
Tags: budget, budgeting, contributor, school, supplies
August 2013, autumn, back to school, Blog, Budget, budgeting, contributors, envelope system, family, finances Posted in 10 comments