Hurray! It's week #14. That means we have conquered the clutter and organized all of the rooms in our homes. This week is the last week of HO 101. Today we are organizing the toy room or bonus room. Then you can finally take a break! Thanks for joining me in this journey. If you missed the challenge, don't fret. You can start from the beginning and go at your own pace. Follow the link below to revisit each week.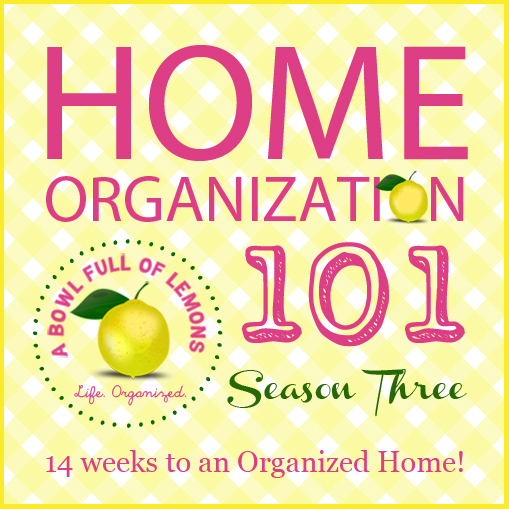 Home Organization 101 – Overview
To revisit weeks 1-13, visit HERE.
Week #14 – THE PLAYROOM
This is it!  We are at the end of the challenge.  The room where our kids play with their toys can become a war zone if we dont get control of the clutter.  Find a system that works and utilize it.  Below I will share some tips on what you can do to get your playroom organized!
THE PROCESS
1. Take a picture of your space "before" you start & share it with the facebook group here.  One of the best rewards of organizing a space is seeing the before and after pictures side by side.
2. Gather up 4 baskets:  Keep, Donate, Trash, Other Room.
3.  Start sorting & purging!  At this point go through everything on all shelves, floor, drawers, etc.  Divide it all into the 4 baskets (or more if needed).
4. Once you have sorted through everything, you are ready to clean your play room. Dust, wipe down, vacuum, windex, etc.  Make it shine and smell good.
5. Now its time to organize.  Get baskets, bins, use drawers, etc… The point is to containerize so the room doesnt look "messy".
6.  Categorize like items.  Similar toys can go into the same basket or bin.  Use baskets for everything.
7. Label the bins so the kids know where their toys go.
8.  Now take an "after" picture. You're done!  Come back here to share your hard work.
OUR PLAYROOM

The Expedit shelf from Ikea is the perfect organizer for a playroom!  My children keep a lot of their toys in their bedrooms so the playroom only has their board games & game systems, barbies, and baby dolls.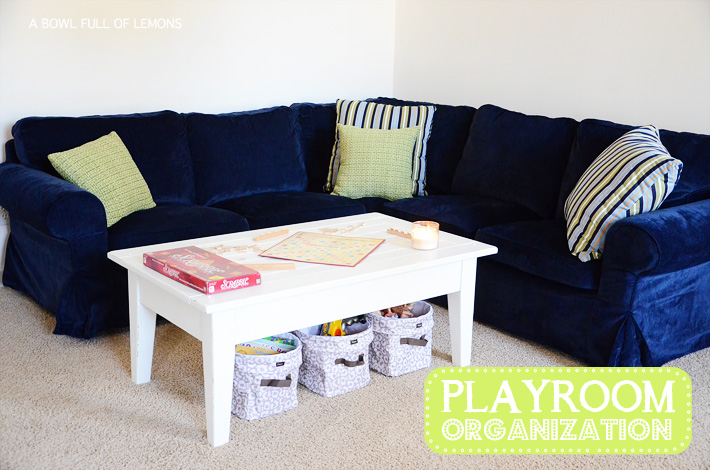 I found these bins at Walmart.  They are stackable and come in different sizes.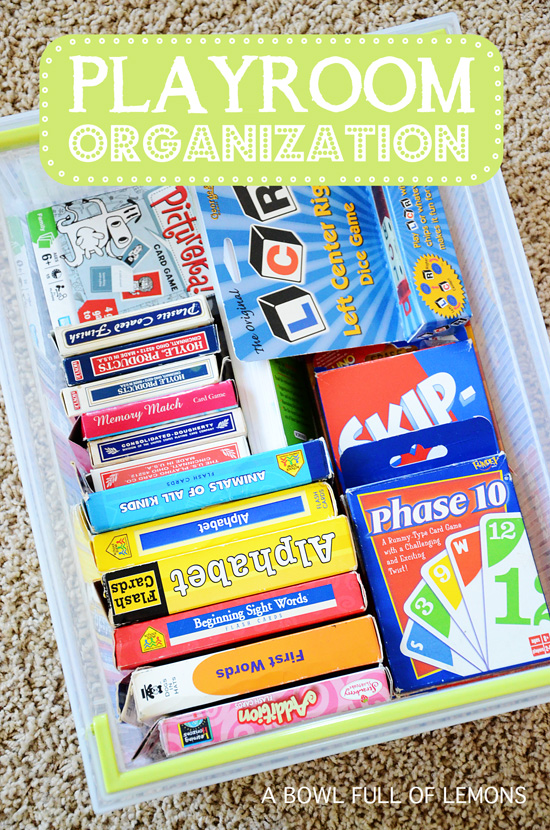 Puzzles can get out of control & the different size boxes can be a pain to organize.  I purchased these boxes with lids and transferred all puzzles to them. I then cut out the (small) picture from the box and threw it in with the puzzle peices.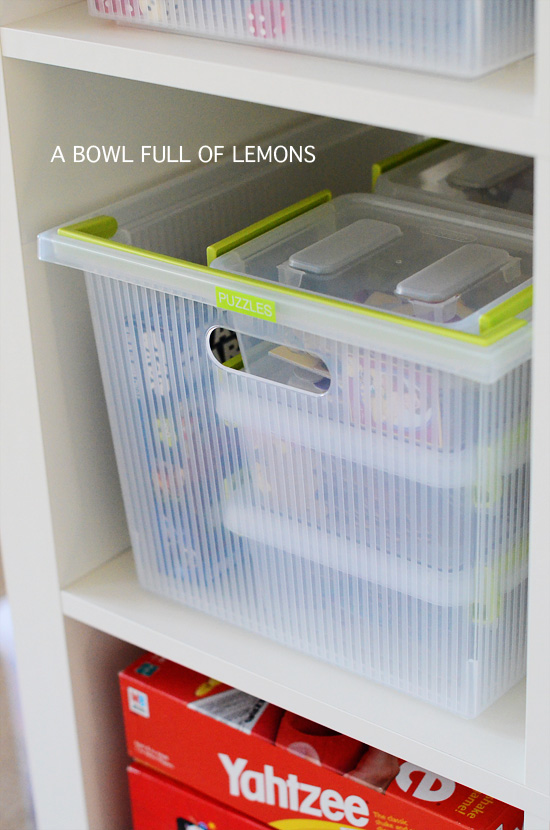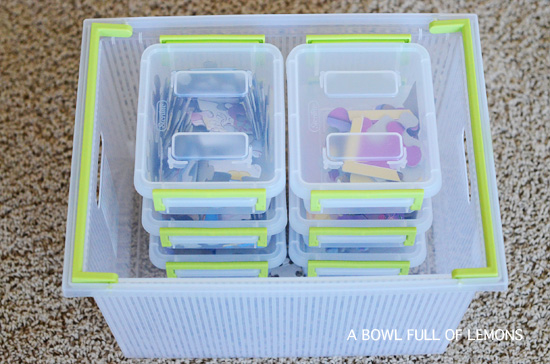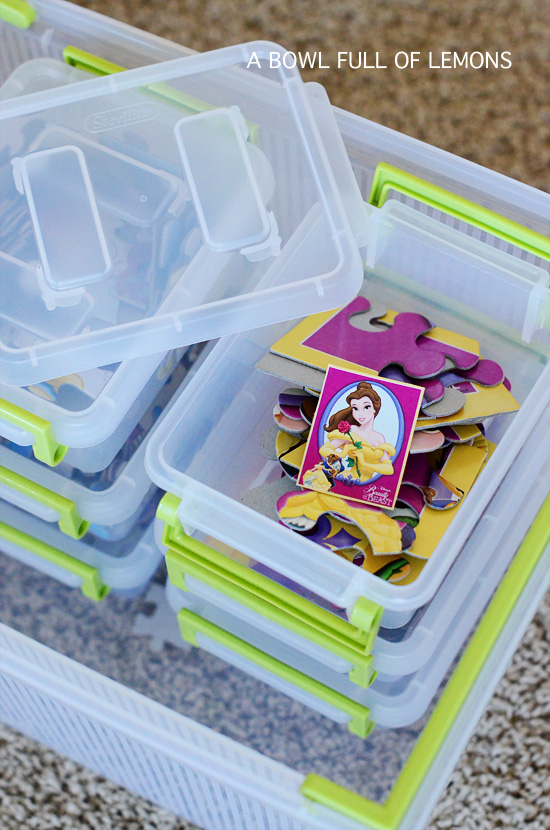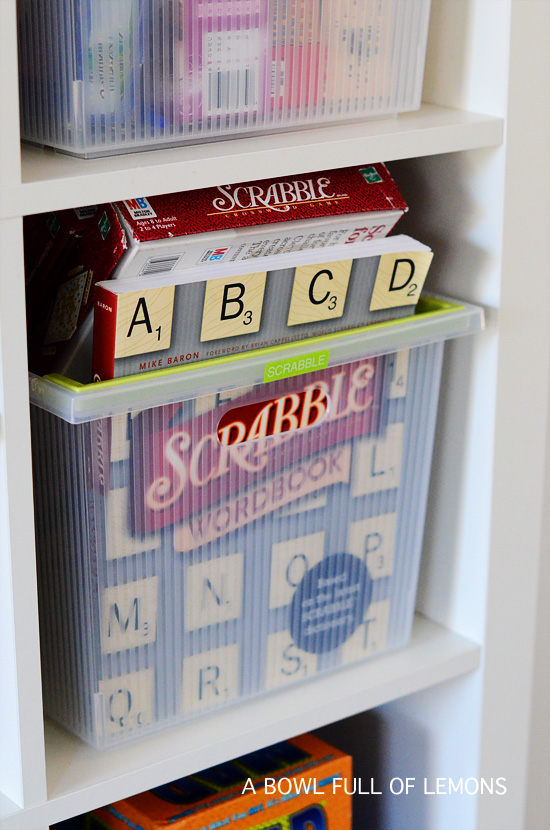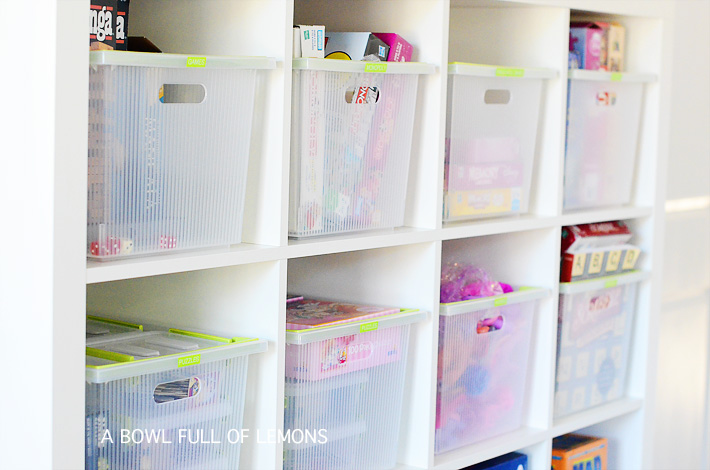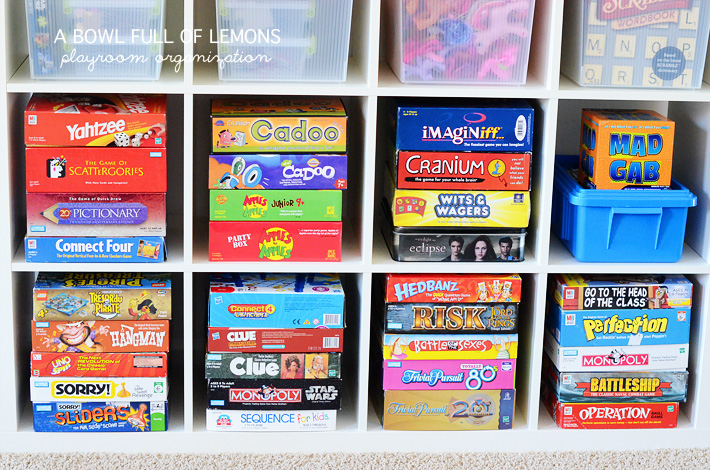 I store my 6 year olds barbie clothes in a file box with a handle. She can carry it from room to room, to play with her barbies.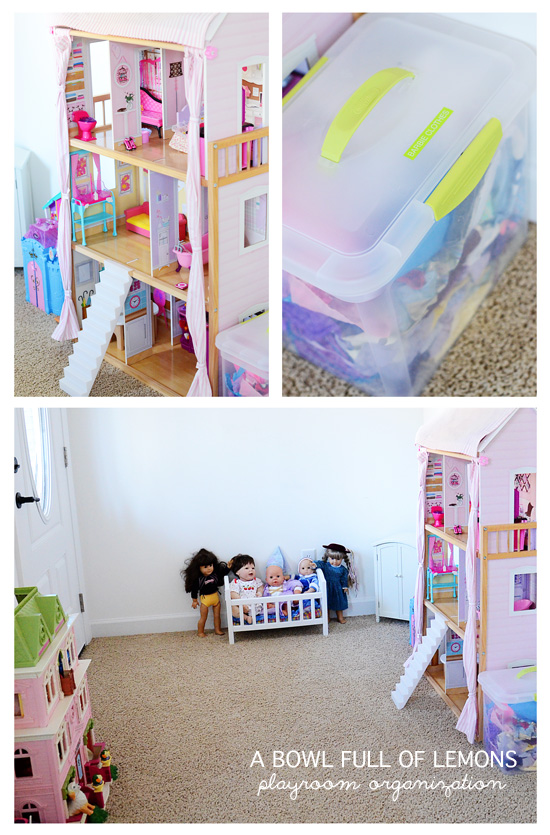 My favorite organizing tip for playrooms is to use a dresser with drawers to organize your dvd's, games, and accessories. I purchased this one at Ikea.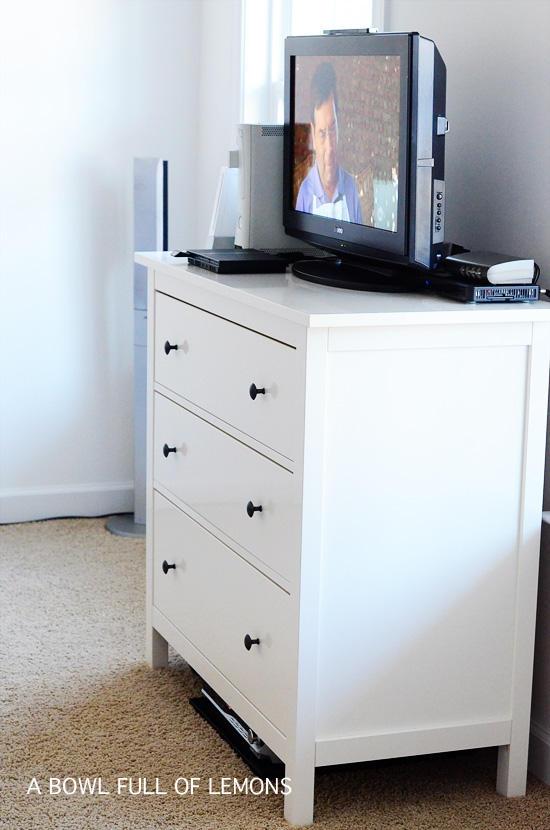 I organize our movies in acrylic dvd organizers from the Container Store.   I threw out most of the cases. The boxes are organized by categories.
Box 1 – Kids movies
Box 2-4 – Mom & Dads movies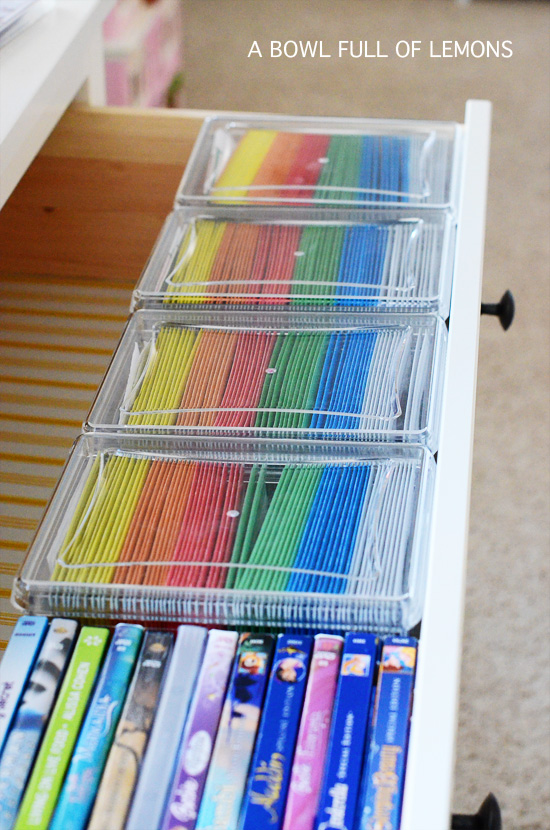 Games & accessories are kept in the second drawer.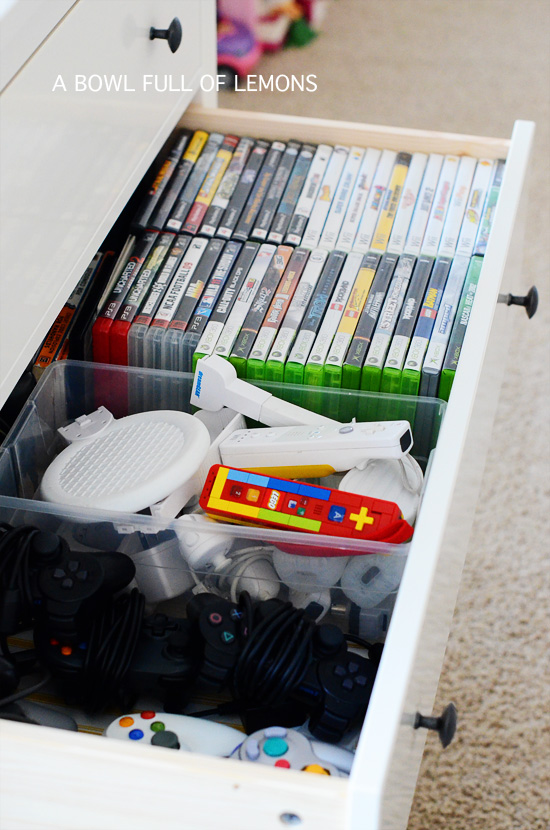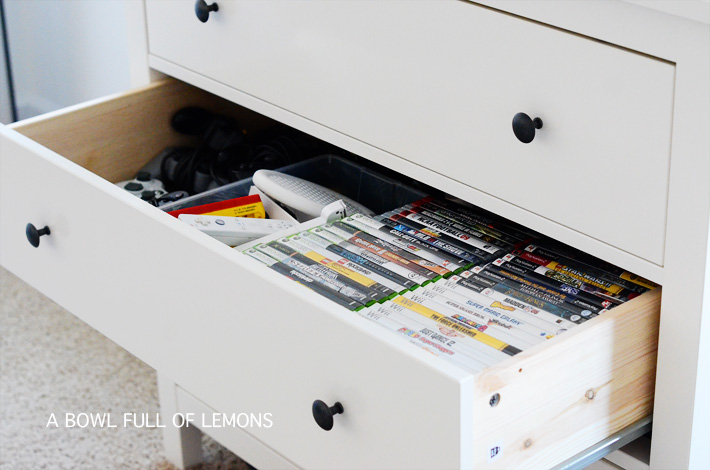 Guitar hero things are kept in the third drawer.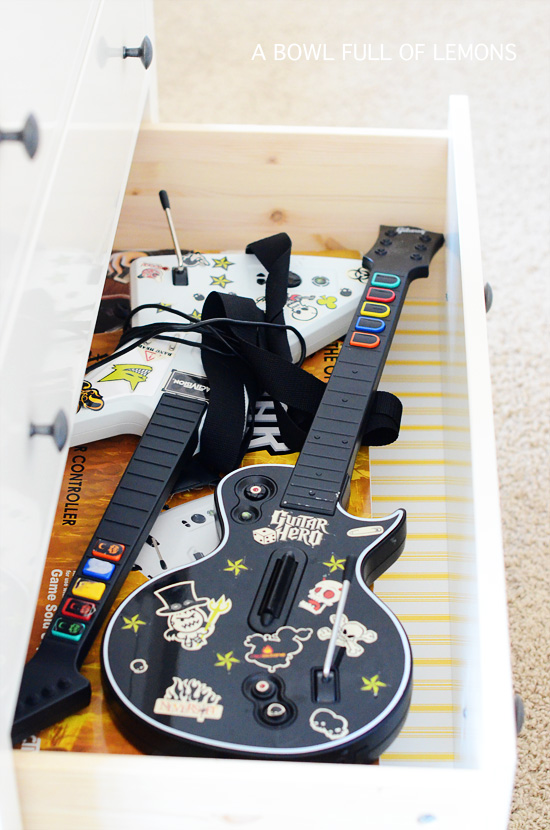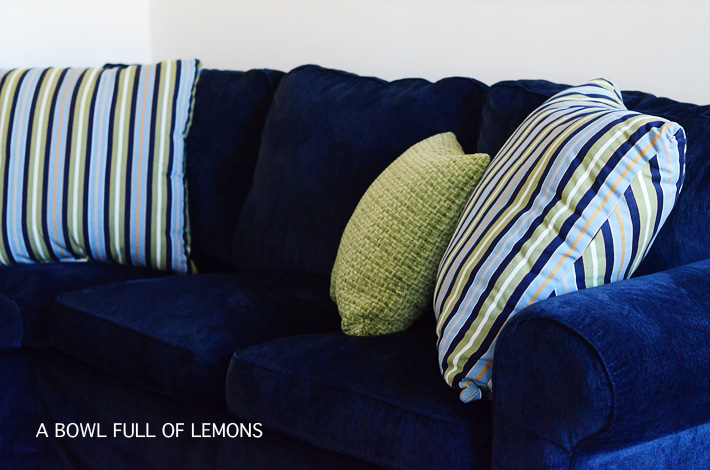 Loose toys that the kids play with regularly are kept in these bins under the coffee table.  The kids use them to clean up and carry their toys from room to room. You can find these at Thirty One.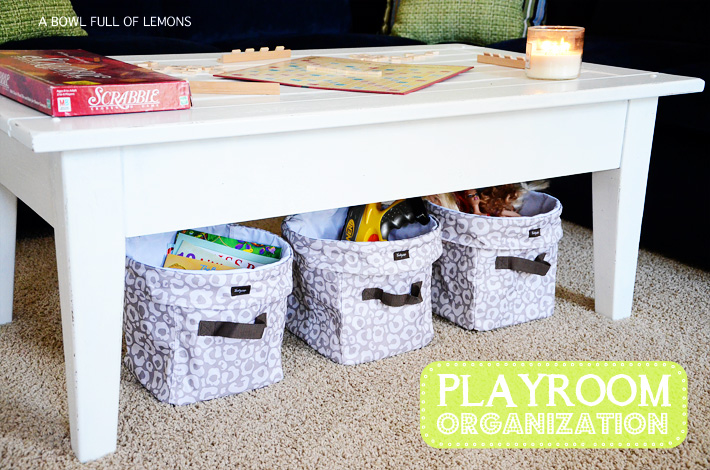 HAPPY ORGANIZING!
Tags: home organization 101 season 3, organize, toy organization, toy room
August 2013, Blog, Home Organization 101 Season 3, Organize, Other Spaces, toy organization, Toy room Posted in 6 comments