September was a month full of inspirational planner pictures.  In a few days, I will be hosting a giveaway for those of you who participated in the September's photo of the day planner challenge. You won't want to miss it. There are lots of great prizes.   If you are new to the challenges, join us for October's challenge (beginning tomorrow). You participate in the challenge by taking a picture and sharing it on Instagram.  If you use Instagram, make sure to hashtag your picture with #planneraddictspotd.  Today I would like to introduce our "OCTOBER" challenge!!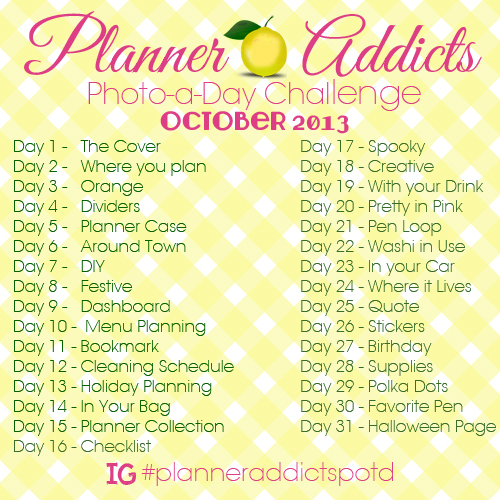 Challenge Rules:
1.  You must complete all 31 days of the challenge.  You don't have to do this in order.  As long as all 31 days are completed by October 31st, you are good to go!  Make sure to use the hashtag #planneraddictspotd when sharing on IG.
2.  You must be able to show me all 31 days, if you win. (The planner giveaway will be after the October challenge has ended).
3.  In order to win a prize from ABFOL, you must be ABFOL blog subscriber  (top right of the blog) as well as ABFOL Facebook fan.
If you would like to print out a challenge checklist, click on the links below…
Tags: challenge, planner addicts, potd
Blog, planner addicts, planners Posted in 19 comments