From clever containers to inventive purses, our sponsors seem to have all the bases covered when it comes to the necessities of an organized life. I invite you to take a moment to visit them, patronize them and thank them for sponsoring A Bowl Full of Lemons! Without their support, we wouldn't be what we are today and so with that, I thank you each, my dear sponsors, for your support.
OUR SPONSORS
Purse Gummy

 The Purse Gummy™ accessory was invented by a busy mother of 2 who was fed up the the annoyance of purse slippage. The Purse Gummy™ has been tried and tested by hundreds of women.  We are confident that this product will make your life easier and you will experience a noticeable difference of wearing your purse or handbag more securely on your shoulder. The Purse Gummy™ is a grippy concealed strip which discreetly adheres to the underside of your purse or handbag strap, thus preventing the strap from slipping off your shoulder!  It is virtually undetectable and will not alter the fashionable look of your pure of handbag.  In addition, The Purse Gummy™ also prevents your purse from slipping off a stationary hanging location, such as a chair back.   You wear your purse on a daily basis; Why not wear it more securely and comfortably on your shoulder?  The Purse Gummy™ –  It's the perfect accessory to your favorite purse or handbag!
 You can contact Karen via http://www.pursegummy.com/
 CLEVER CONTAINER

Clever Container Company is dedicated to helping people take control of their lives by providing high-quality, innovative and functional tools—along with practical techniques and useful information—for organizing the world around them and by offering business opportunities to motivated individuals who share our belief that an organized environment can lead to a more productive, fulfilling life for each of us. Visit us <HERE> today!
IT WORKS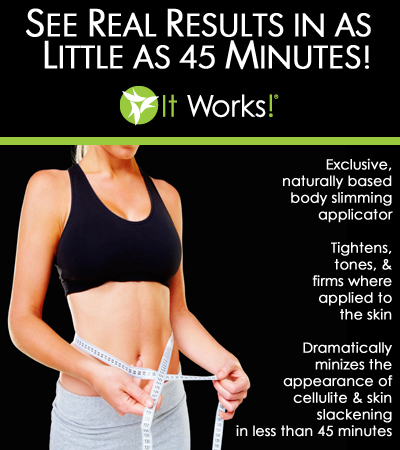 I am passionate about helping other people achieve not only their weight loss goals, but to feel good in their own skin. If you recently lost a lot of weight, had a baby, or you simply want to tighten, tone, and firm your skin, feel free to take a look at our best selling product, the Ultimate Body Applicator. This all natural applicator helps to tighten, tone, and firm skin in only 45 minutes. It also helps with cellulite, stretch marks, and skin slackening. It Works Global also offers a variety of all natural products to help with weight loss, skin care, and nutrition.
 For more information, click <HERE>
FRIDGE COASTERS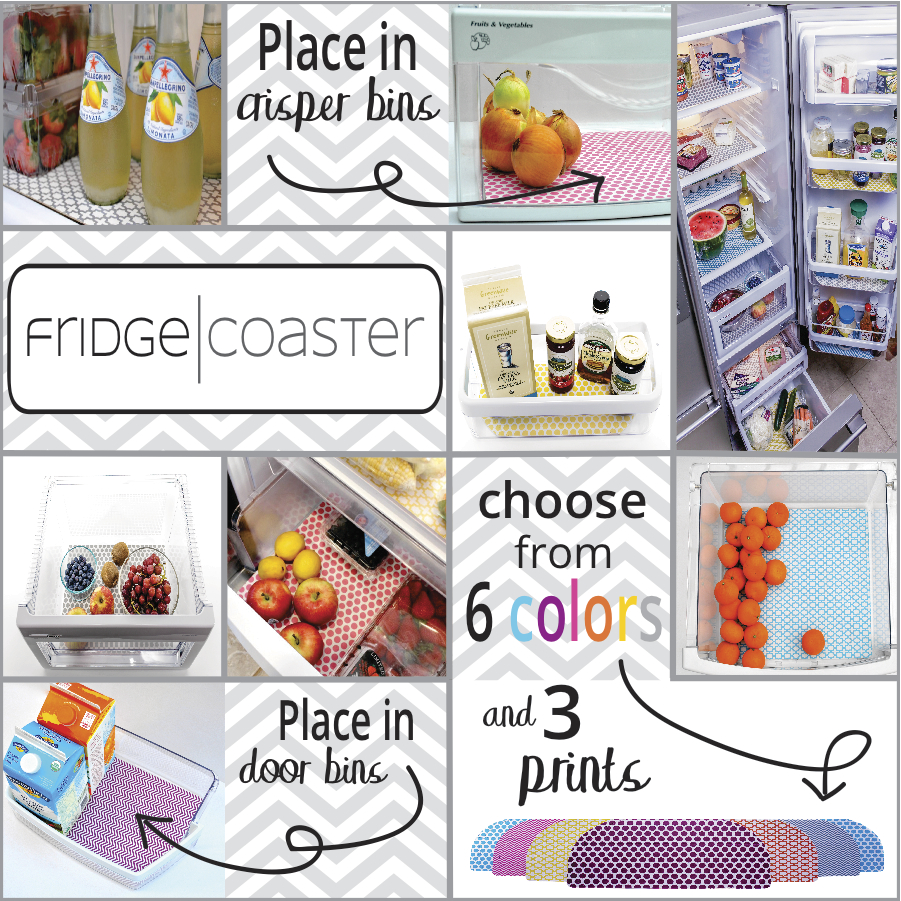 Don't you hate scrubbing your refrigerator bins and surfaces? So do we! And now you don't have to. We're the husband and wife duo behind Fridge Coaster. Fridge Coasters are super absorbent "liners" that come in different sizes to fit all high traffic areas of your refrigerator. Place under produce in the crispers to keep your veggies fresh longer, or under milk and salad dressing in the doors to absorb drips that would normally dry to the bottom of your bin, ewww. Fridge Coasters provide time saving function and fashion to the inside of your refrigerator. In addition, we're really proud to say that our sustainable product is made 100% in the USA of 30% (or more) post consumer product. We then use a UV-dried printing process which means the ink never bleeds beyond its original printed shape even when fully submerged in water! How awesome is that? Long story short, Fridge Coasters will save you a ton of time and put a smile on your face every time you open the fridge.
  Visit www.fridgecoaster.com to see their amazing products!
CLEAN MAMA PRINTABLES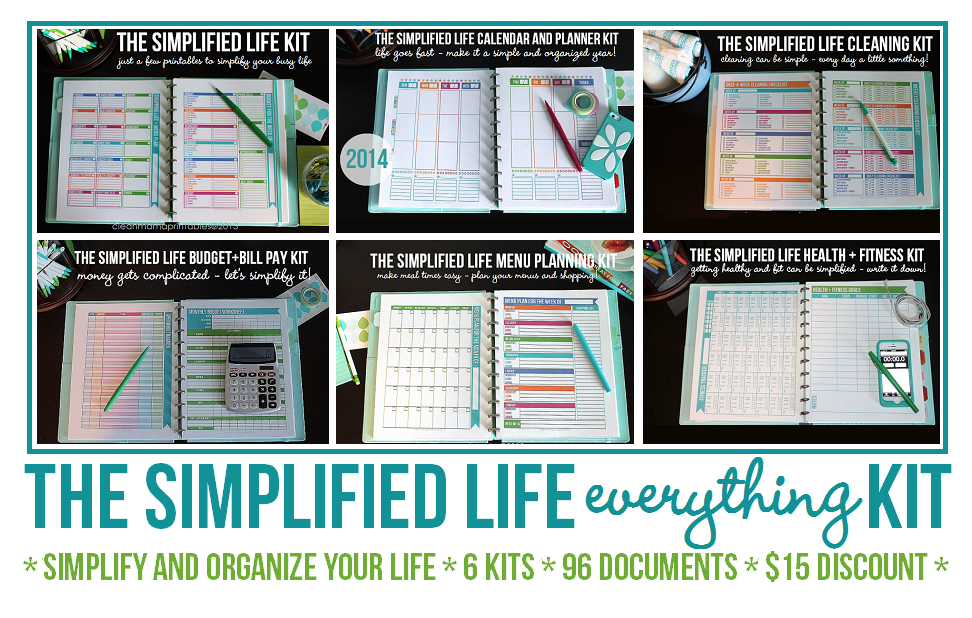 Clean Mama is the best place to get homekeeping printables that REALLY work for you AND make your life easier! Clean Mama Printables specializes in original organizational documents designed to take the *WORK* out of organizing your life. WHY choose Clean Mama Printables? All printables are designed by an artist/graphic designer – that's Becky! Who says homekeeping and organizing can't be adorable, fun AND easily implemented into your life? Clean Mama has been featured in HGTV magazine, BHG.com, and Oprah.com. Come to the CLEAN MAMA BLOG to meet Becky: http://www.cleanmama.net/. She has oodles of FREE printables, including FREE monthly cleaning schedules.
Make sure to check out her latest kits:
The  Simplified Life Everything Kit
The Simplified Life Resolution Kit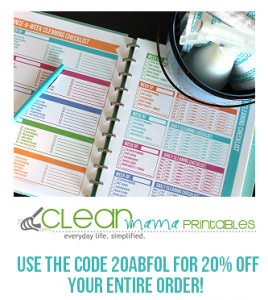 A TIME FOR EVERYTHING
 I am passionate about people living within their means and getting out of debt, but I don't believe a cash system of budgeting has to mean tattered paper envelopes reinforced with packing tape or a plastic organizer that falls apart! I offer a variety of lovely and durable cash envelope system wallets with the hope that each of my customers can find a product that fits her budget, appeals to her personal taste, and functionally suits her needs. My wallets are designed and handmade by me using laminated cotton which is lightweight, CPSIA compliant, and free of BPA, PVC, and phthalates. It really is possible to live within your means with style!
Join me here!
Blog
     Visit the esty store to see all the cute products!
SCENTSY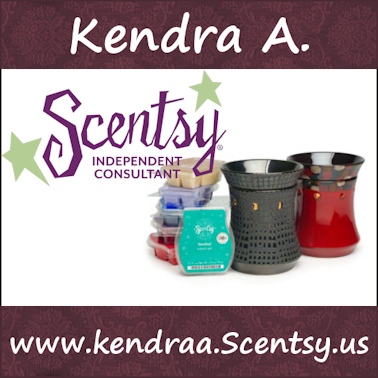 Love the way candles smell but not all the risks that are involved with candles? Scentsy is a safe alternative to traditional wicked candles. Scentsy leaves your room, car, laundry and more smelling great without the risks that go with wicked candles. Scentsy warmers use a low watt light bulb to melt a food grade wax which means there are no toxic chemicals, lead, or soot left in the air. With the low watt bulb, there is no open flame to get burnt on or start fires as well the wax is not hot enough to burn. Kendra has a huge selection of warmers to match your décor and tastes as well as over 80 different fragrances to choose from. She also has bath, body, and laundry items as well as to go items like scent circles and travel tins.
ALEJANDRA. TV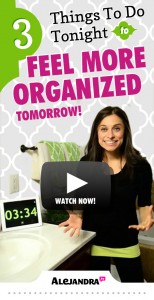 Alejandra Costello is a Certified Professional Organizer who shows individuals how to become more organized and productive on a daily basis by setting up systems that work for their own organizing style. Neet to get organized, but just can't get started? Alejandra's free video series shows you 3 e-a-s-yyyyy things to do tonight to feel more organized tomorrow morning. How's that for starting the day off right?! You can sign up to watch the free videos here
 Feeling stuck with clutter & can't get started? Alejandra's video series shows you 3 e-a-s-yyyyy things to do tonight to feel more organized tomorrow morning. How's that for starting the day off right?! You can sign up to watch the free videos here.
 Latest Videos:
Morganize With Me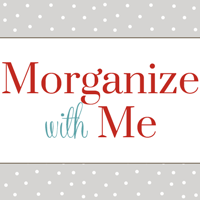 Morgan Tyree is proud to announce the launch of her Virtual Consulting Services. Specializing in Personal Organizing and Personal Training. She is the energetic and motivated, but also realistic girl, behind Morganize with Me. Her mission is to share tried and true techniques that she hopes will encourage her readers and clients as they focus on their health and homes. She believes in simplifying, prioritizing, and measuring progress one day at a time.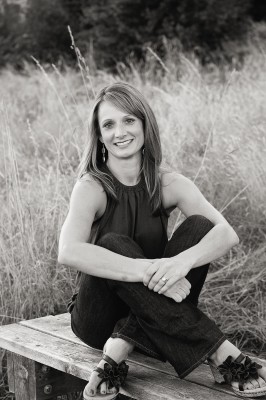 Her Virtual Consulting Packages include the following: a specific written plan, consultations via phone/video chat, support, encouragement, motivation, accountability, and continued communication via email throughout the entire consultation package.
If you would like to become a sponsor and advertise your business on A Bowl Full of Lemons, visit the advertising page here.
Tags: sponsor shout out
Blog, December 2013, Sponsor Shout Outs Posted in 0 comments