Here we are, the last day of 2013. It's hard to believe another year is coming to a close! Needless to say, it's with great anticipation that I look forward to all the wonderful new things that 2014 has to hold. But it's with great comfort and delight that I look forward to the consistency of things that will remain. That includes our Tuesday link party! Over the past year, I have gained some wonderful tips and tricks, learned how to better decorate my house, found new recipes to try, been inspired to tackle my own 'to do' list after seeing all of your DIY projects come to completion and let's not forget to mention all the crafts and pinterest-worthy projects I'm eager to try (if I haven't already!).
If this is your first time joining the party, a special welcome to you. I'm so glad you joined us. If you're wanting to catch up a bit, you can click <HERE> to see all of this years Link parties!
F
a
v
o
r
i
t
e
L
i
n
k
s
:
Kelsey, at Organzing Life with Littles, has some really great tips to share to help us all get our new year started off to a great start, financially speaking. I haven't yet (eck!) but need to sit down and make my list and get started on my 2014 budget, especially when it comes to my gift-giving category. In years passed, I would start my Christmas shopping on Dec. 26th and loved how it spread out the financial toll the holiday can pay on the wallet.  This year, I'm going to take Kelsey's advice into account and make next year even better!  Click <HERE> to get your new year started off on the right foot as well!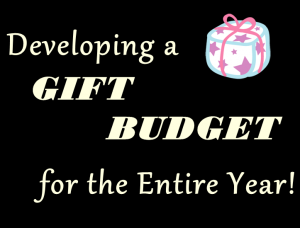 This year, I ran out of wrapping paper… on Christmas eve, around midnight. How that happened is beyond me. Thankfully, I had one roll left over from last year, stashed up in the attic. Up I went to find the dusty, sort of beaten up roll. Thankfully, it was for my kids and they were none the wiser! That won't happen next year, I promise you that. Right now, all the stores are slashing prices on all things holiday and so I headed out and stocked up for next year. That's all good and well, but that poor roll of paper got me thinking about how I store my wrapping supplies. We've shared some fantastic ideas for gift wrapping stations and caddies but what about during the off-season or how about just the items you need for birthdays or weddings or other gift giving occasions throughout the year?  That's where my next favorite comes in.  Daisy, from My Maple Hill Farm, had a great start to storing her wrapping supplies but needed to take things up a notch (one of my favorite things to do!). Click <HERE> to see how she took her fairly organized storage to the next level.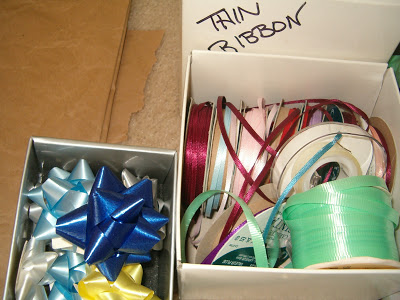 Now it's your turn to link up! Make sure you grab a button first.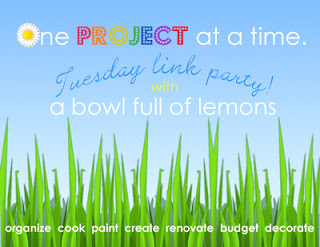 Tags: budget, gift wrapping, one project at a a time, storage
Blog, December 2013, One Project at a Time Posted in 14 comments