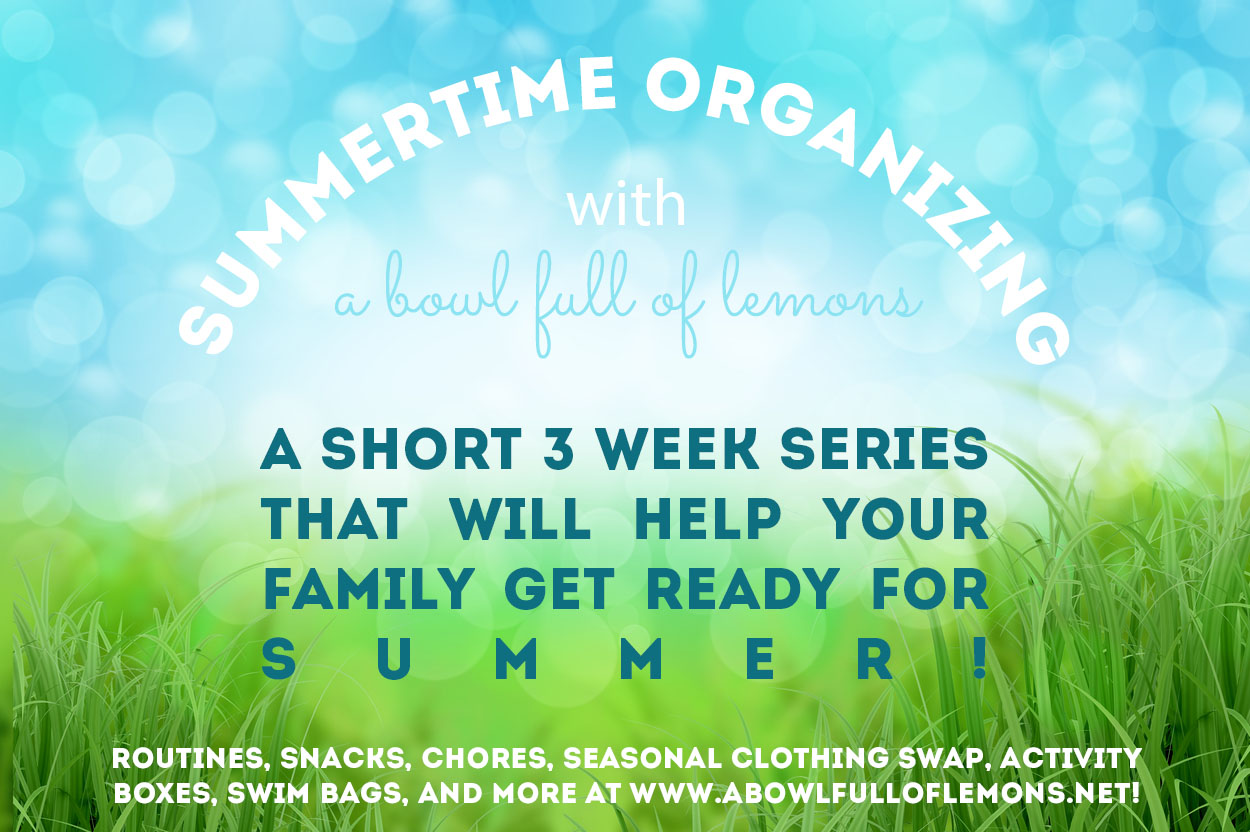 Summertime is just about here and if you have kids, you know that you need to get the "snack" situation in order – fast.   In our home, I have a "snack station" for my kids (both in the fridge as well as the pantry).  In between meals & throughout the day, they get hungry.  Because I work from home, I don't always have time to prepare the snacks so I have them packaged up and ready to go ahead of time.  Whatever your kids like to eat, you can make in single serve portions.  I'm sharing the types of things my kids like to snack on.  Yes some of it's processed.  It's what makes them happy so I allow it (in moderation).   You can decide what to allow in your "snack station". It's all up to you.  🙂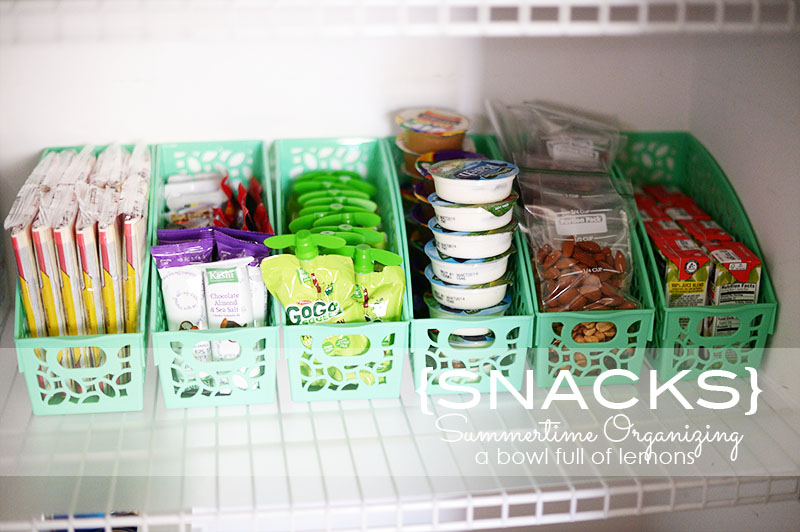 Find a shelf in your pantry or cabinets that you can devote to snacks.  Gather a few baskets and fill them with snacks your kids like to eat.  To save money, you can prepare single serve snacks at home.
Pantry snacks you can fill with single serve baggies:
Freshly popped popcorn
Granola
Nuts & Seeds
Pretzels
Crackers & Chips
Cereal
Dried Fruit
Cookies
Raisins
and much more!
Fridge snacks you can fill with single serve baggies & containers:
Fruit
Veggies
Cheese cubes
Diced or sliced meat
Hummus
Salsa
Yogurt
and much more!
I purchased these single serve baggies at Target. They are already pre-measured for you.  They are great for just about all snacks!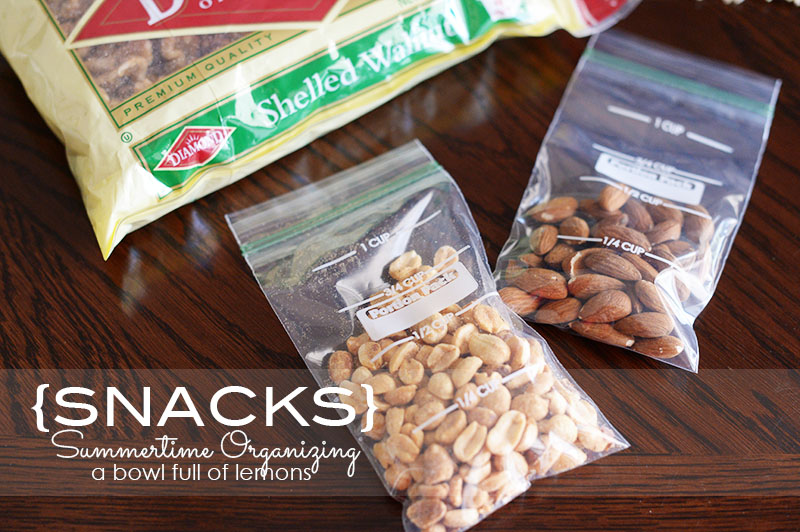 I keep crunchy snacks in large storage containers. I use a measuring cup to scoop out the snacks for lunch time.  My kids like to eat something crunchy with their lunches.  You can also pre-measure these types of snacks and place them in the "snack station" baskets.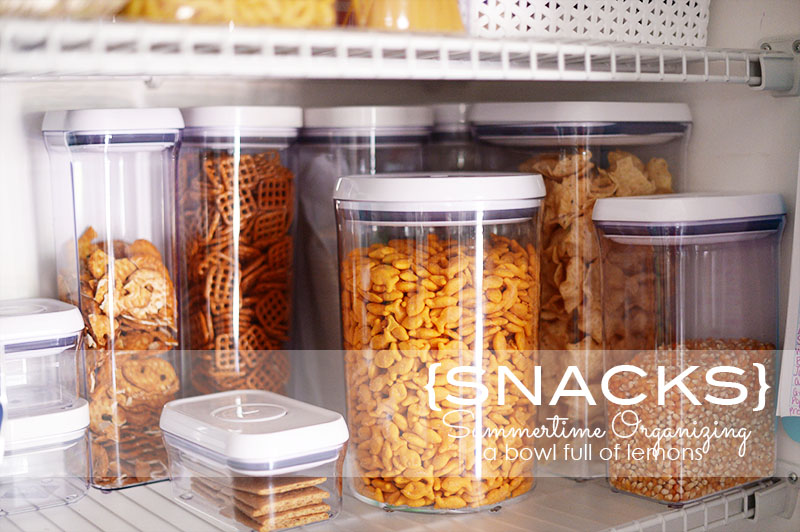 I always have single serve fruits and veggies in snack baggies (in the fridge).  By keeping these bins full, the kids are more apt to eat them when they are hungry.  If they are not washed, sorted, and ready to go, the kids are not likely to eat them.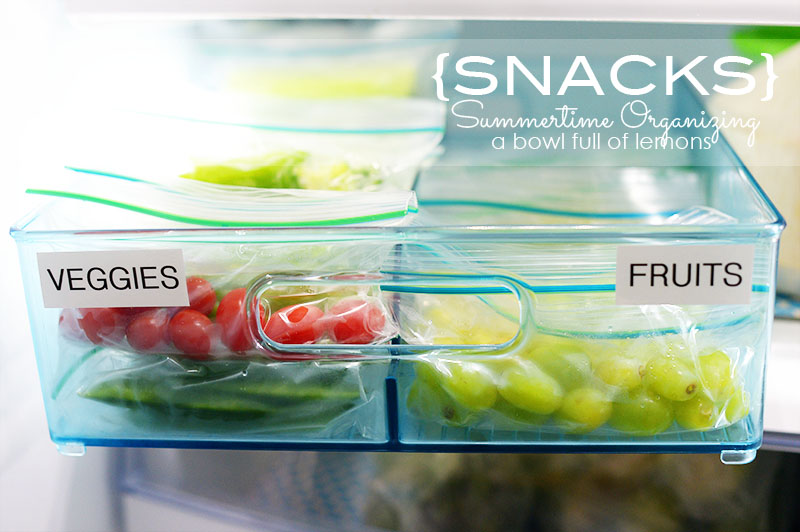 Another must have snack in my fridge is fresh whole fruit.  They are washed and ready to go.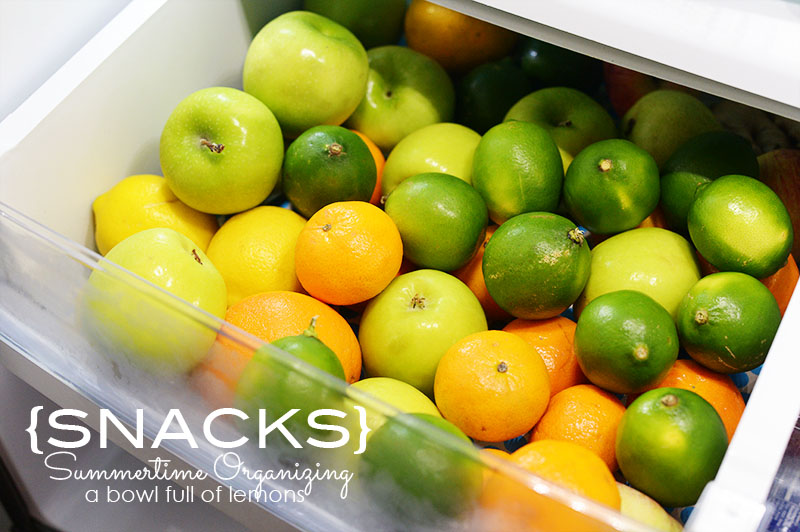 Keep cold juice, fruit cups, cheese & yogurt in the fridge.  When you go out for the day, pack them in a cooler. You will be less likely to visit a fast food restaurant if you have snacks on hand.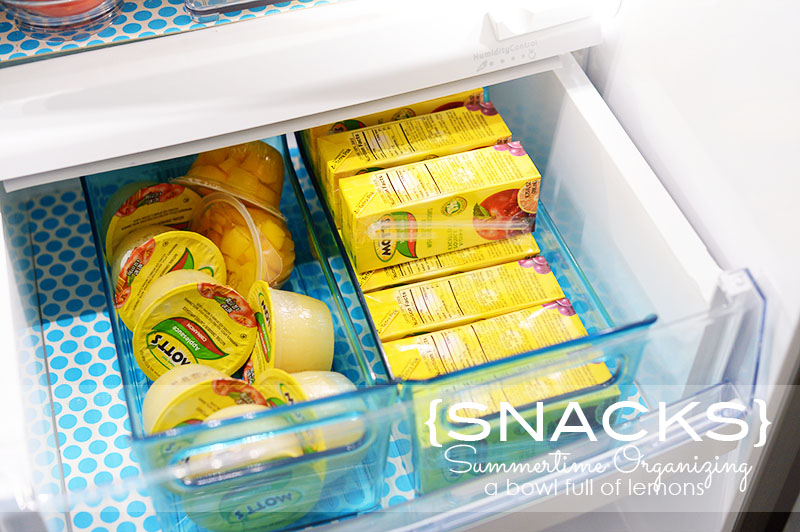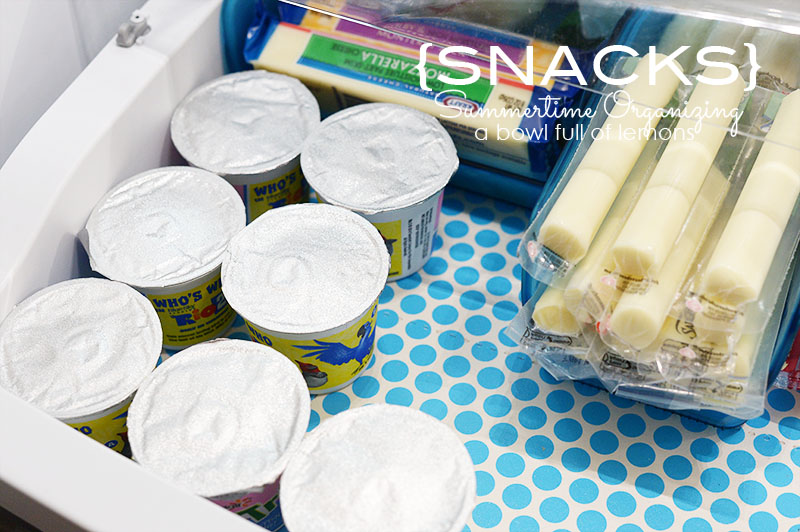 And always have fresh fruit (in a bowl) on your kitchen counter. If your children see fresh fruit, they will eat it – Simple as that!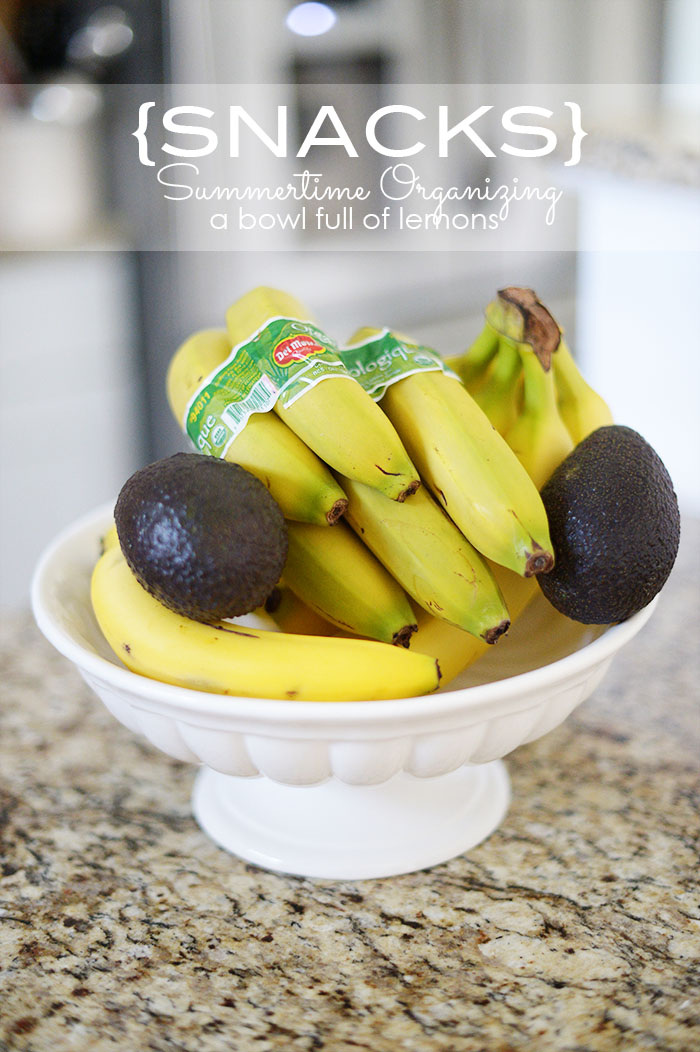 Just for fun – Here is my snack shelf in the pantry. 🙂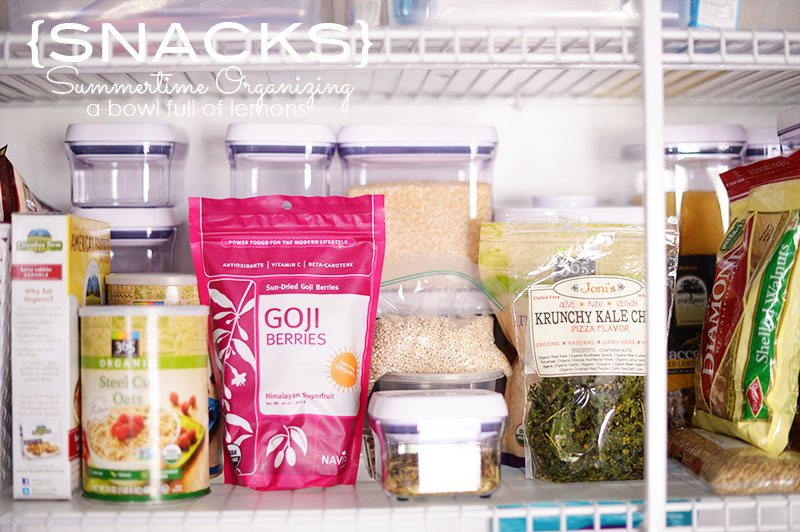 Below is a free printable full of summertime snack ideas!  Print it out and take it to the grocery store with you.  Just click on the picture to download.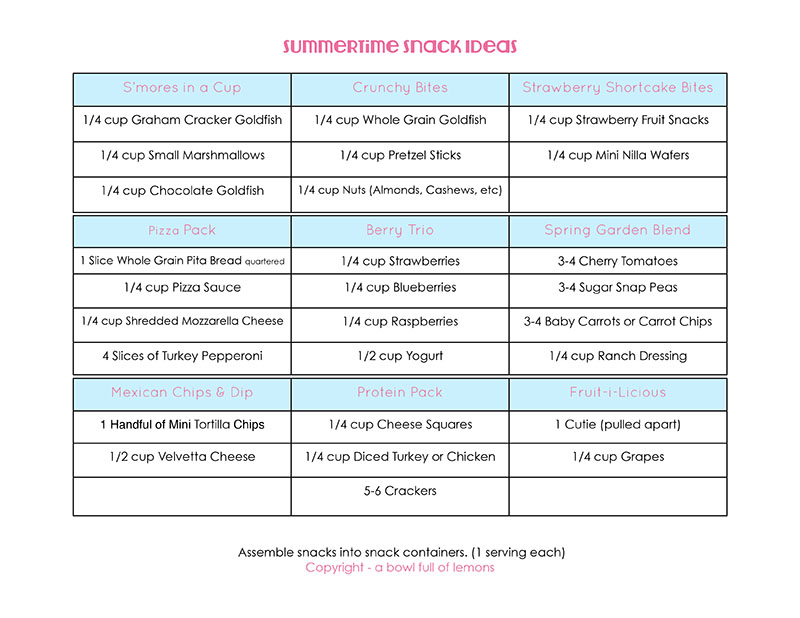 For more ideas on snack time, visit my blog posts here and here.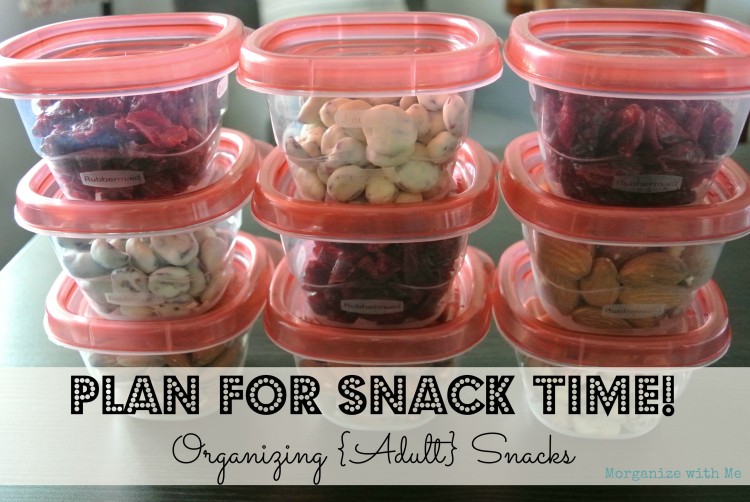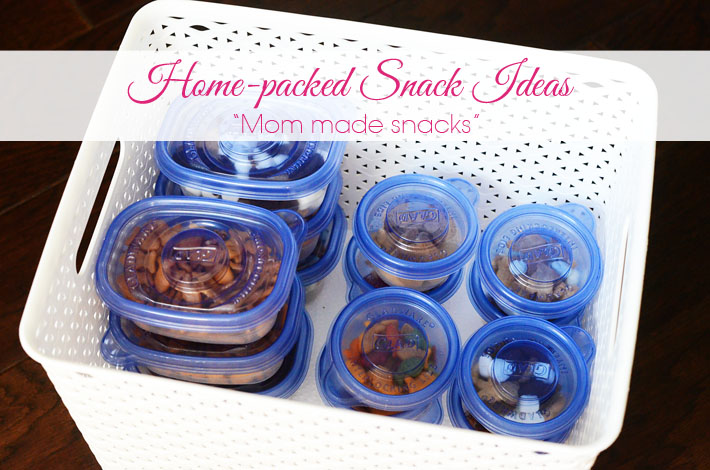 I hope you have a great summer. May it be filled with many fun memories.  I will be back in a few days to share some more "summertime organizing" tips with you.  Happy Organizing!
Tags: kitchen, kitchen organizing, organize, snacks, summertime organizing
Blog, food, food storage, Kitchen, lunch station, May 2014, menu planning, Organize, storage, summer, summertime organizing Posted in 31 comments