Has your family asked you what you want for Mothers Day this year?  What was your response?  You may have responded with a clean house, breakfast in bed, a massage, manicure, pedicure, flowers, date night with your spouse, etc…  According to a recent survey[1], seventy-five percent (75%) of moms would prefer a clean home on Mother's Day to being served breakfast in bed.  In addition, sixty percent (60%) of moms would most prefer a clean house over other gift options like candy, flowers and a card.   [1] OmniBus Scotch-Brite Survey, April 2014. "French toast and freshly squeezed orange juice is sweet, but a clean home is what moms really dream about for Mother's Day".  In my opinion, a Gift of Clean is definitely the perfect Mothers Day gift & Scotch-Brite has a tool for every cleaning job, making it the perfect gift for cleaning.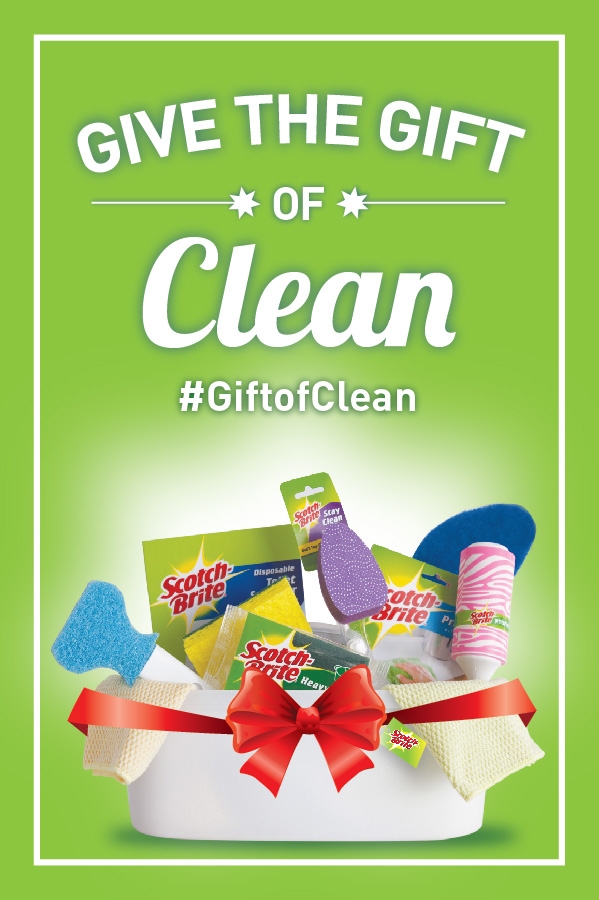 This year, I got the "Gift of Clean" from my family. I will be sharing details about my gift on the blog soon, and I'll also be giving the "Gift of Clean" to a very lucky ABFOL reader.  So be sure to check the blog for updates.  Below are some of the items you may see in my upcoming #Giftofclean giveaway. Oh how I love a good giveaway. 🙂
The full line of Scotch-Brite tools includes:
Scotch-Brite Heavy Duty Scrub Sponge – Removes tough, baked-on messes for quick, tough jobs
Scotch-Brite Stay Clean Scrub Sponge – Won't trap food – even eggs & cheese won't stick
Scotch-Brite Brand Family of Dishwands – Keep hands out of the mess
Scotch-Brite Printed Dishcloth – Controls odors and resists bacteria in the cloth
Scotch-Brite Premium Kitchen Dishcloth – Absorbs more than ordinary cotton dishcloths
Scotch-Brite Toilet Scrubber – All-in-one cleaning that fits under the rim
Scotch-Brite Non-Scratch Shower Scrubber – Sturdy extendable handle cleans hard-to-reach places
Scotch-Brite products are available at mass retailers, drug stores and home improvement centers. For more information on the product or where to buy them, visit Scotch-Brite.com.
DISCLAIMER:
*Scotch-Brite sponsored this post, however all opinions are my own & I only recommend products that I personally use and love. See disclaimer for full details.
Tags: scotch brite
Blog, May 2014, scotch brite Posted in 5 comments