Clutter.
We've all got it.
You may have clutter that is out in the open or you may have clutter that is neatly tucked away. However you manage the clutter, there is always going to be some clutter in your life. It's just a part of life. Life sort of IS clutter. Life is messy and there are always things happening that we just don't plan for or anticipate.
Am I saying that you will always have some clutter?
Yes, that is exactly what I'm saying. Especially if you have more than one person living in your home. The more people in your home usually means the more stuff in your home. And, more stuff = more clutter. You've probably heard the term "cure the clutter". Well that saying implies that you can actually get rid of it entirely, and I don't think that you really can.
What is the good news here?
You CAN maximize your peace and simplicity by minimizing the clutter in your home. You can't necessarily avoid the clutter but you can tame the clutter.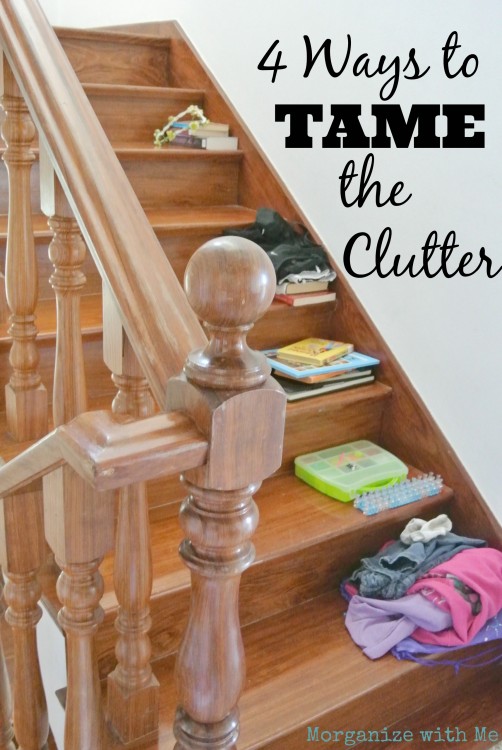 Here are four ways that you can greatly minimize (or TAME) the clutter in your home.
T – Take only what you NEED.
Stop bringing home unnecessary paperwork. Leave that take out menu at the restaurant. Only take home one program flyer from the school play (and file away immediately). Grab a business card, punch card, or schedule only if you really NEED the paper copy. In this day of technology, snap a photo, jot down the website, or bookmark your favorites. We have the luxury of going much more paperless, so look for every opportunity to leave the papers behind. In addition, just because something is "free", don't just grab it. A free item, that is something you don't have a need for or let alone a place to store, is not free. It will end up costing you some time and energy.
A – Always shop with intention.
It's easy to use shopping as emotional therapy. It feels good to buy stuff. However, much of what we buy can over time end up costing us time. Time that has to be spent maintaining what we purchased . When we buy things that we simply don't need or don't have the room or space for, we end up having to manage the stuff rather than just being able to simply enjoy the purchase. Try to shop with intention, rather you are doing your grocery shopping, home shopping or clothes shopping. Shop for specific needs and always have a plan. You will minimize extra trips, unnecessary returns, and have much more time for other more important activities. (Insert hobbies and relaxation!)
M – Move the clutter.
Always be on the move. When you walk through you home be constantly on the look out for items that need to be put back to where they belong. (If you have children hold them accountable for their things as well.) Never miss an opportunity to take something upstairs with you or to tidy a junk drawer while on the phone. If you keep a clutter taming mind-set, you'll be better able to stay on top of it. Try to touch things only once, rather than moving things from corner to corner or pile to pile.
E – Expect (and plan for) the clutter.
School just ended for my kids and I can't begin to tell you how much paperwork, artwork, and pure randomness came through my front door. I get a headache just thinking about. I wasn't ready to deal with it immediately, so I set up a corner station in our dining room for a future date to go through everything. It takes a lot of energy to focus on a project like that and I wanted to make sure that we could find a good time to go through things and sort appropriately. The plan being to recycle what we don't need to keep, to store school items that can be used the following school year, and then to file away school paperwork that falls into the memories category.
Try these four ways to tame your clutter! The more you anticipate clutter and the better you plan to minimize what you bring home, along with a daily focus to stay on top of it, you will be able to experience a more peaceful home. (Even if there is a pile of unaddressed schoolwork sitting in the dining room corner!)
Embrace a little clutter and then work to tame it by making intentional daily choices. For more information I also shared my De-Cluttering Do's and Don'ts with you. That post will give you even more tips on how to stay on top of it all. (Or at least mostly on top of it all.)
Remember, there will always be some clutter in our lives, but we can tame it by taking some deliberate daily steps!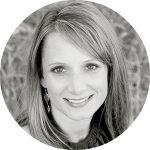 Morgan is the energetic and motivated, but also realistic girl, behind Morganize with Me. Her mission is to share tried and true techniques that she hopes will encourage her readers and clients as they focus on their health and homes.  She specializes in Personal Organizing and Personal Training via her Virtual Consulting Services.  And she also offers regular Organizing Challenges to her readers that help to motivate and encourage organization in their lives.
Tags: contributor, de-clutter, home organization, organization
Blog, contributors, decluttering, July 2014, Morganize With Me, purging clutter, time management Posted in 11 comments