Over the past 4 years, I've hosted several blog series covering cleaning, organizing, budgeting & emergency preparedness.  But there's one topic I haven't gone over – Purging.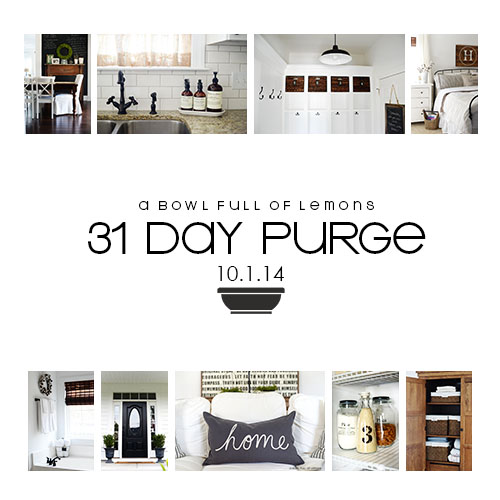 THE NEW SERIES:  A Bowl Full of Lemons "31 Day Purge"
THE PROBLEM:  We have too much stuff & it's taking over.  We're organizing clutter and it's time to simplify our lives & purge it once and for all.  I share a lot about organization on my blog, but after 4 years (and a lot of testimonies), I have come to the conclusion that the real issue lies within the amount of stuff we have to maintain & organize.  I have come up with a solution to the problem at hand (too much stuff), and once we face it & do something about it, organizing our lives will fall into place a little smoother.
THE SOLUTION:  To help you clear your homes of clutter, I will be hosting a 31 day series.  Each day, I will post an assignment on my blog, prompting you to sort through the clutter, in specific areas of your homes.  Then on the last day of the month, we will donate our clutter to a charitable organization (or you can sell it on Craigs List or at a garage sale).  It's all up to you.  The purpose of this series is to purge your home, a little at a time.  It can be overwhelming to purge all at once.  By allocating a few minutes to your schedule each day, you will see a huge difference by day 31.
THE DATES:  The 31 Day Purge will begin on October 1st and last 31 days, ending on October 31st.
THE DETAILS:  The first thing you need to each morning is visit my blog to get the "daily task".  After you complete the assignment, you can share your pictures & see everyone else's photos, in a couple different places.
Home Organization 101 Facebook Group: Head on over to my Facebook Group Home Organization 101 & share your purge pictures with the 30,000+ members.  The group is all about homekeeping and the members are there to support each other & give great advice on questions you may have.
Instagram:  If you are on Instagram,  you can join the purge there!  Share your purge pictures by using the hash tag

#abfol31daypurge

.  Don't forget to follow me!  I will be posting the daily reminders on my Instagram page HERE.
GETTING PREPARED:  There are a few things that you need to do, to prepare yourself for the 31 day purge.
Gather 5-6 sorting bins
Print out my free "sorting signs" (below)
Call a donation center to set up an appointment for the last day of the month (see below)
SORTING SIGNS: I've included the following FREE signs, for you to use during our month long purge.
Label each bin with a sign.  If you want, you can laminate them & use them over and over.  Once you are finished purging a space, move the contents of each box into the designated area. If you are donating, place items in a trash bag & take to the garage (start a purge pile).  If you are saving for a garage sale, store items in large cardboard boxes or rubbermaid totes (in the garage) & add to the boxes as you purge each day.
Print the signs HERE!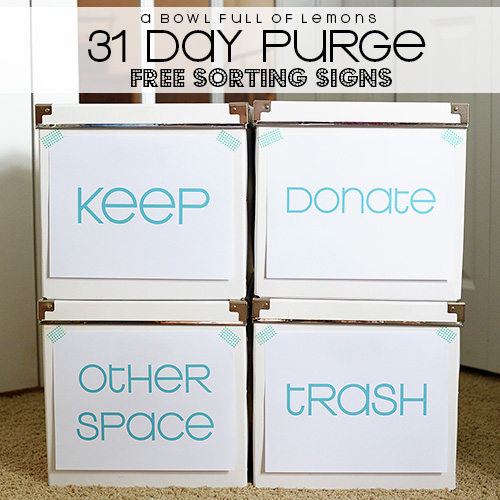 WAYS TO DONATE:
Habitat For Humanity will come to your home & pick up all donations (for free).
Salvation Army  will come to your home & pick up all donations (for free).
Goodwill  Do it yourself. Pack up your car and take your donations to goodwill.
*As with all donations, don't forget to collect a receipt. You can deduct this from your taxes.  You will need to call ahead to make an appointment, for the truck to come.  It usually takes a least a week or 2, from the time you call, so plan ahead!
SHARE THE LOVE:  If you're joining me this month, I would love-love-love for you to share this post on social media (FB, Twitter, Pinterest & Instagram), to let others know about the new series.   <3
Happy Organizing!  You can begin the purge HERE.
Tags: 31 day purge, blog series
Blog, Clean, decluttering, decluttering, October 2014, purging clutter Posted in 151 comments