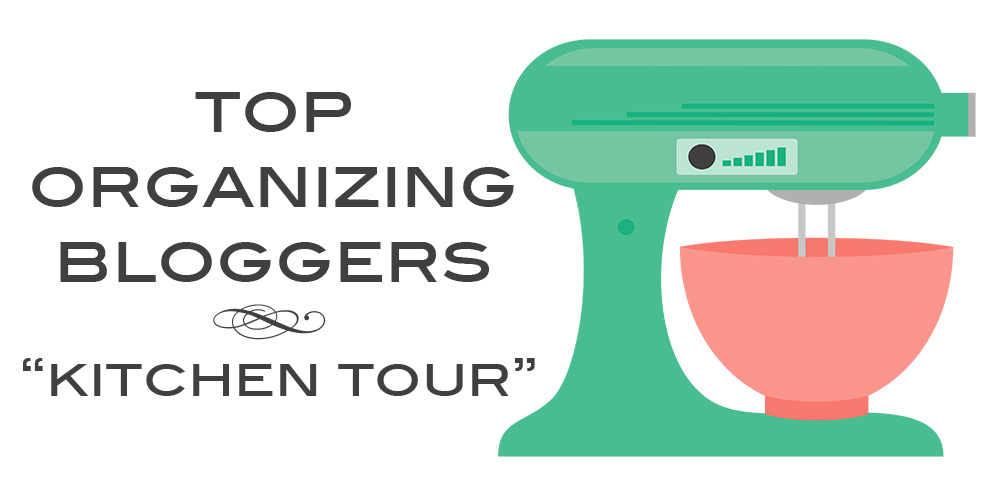 Today is the "Top Organizing Bloggers"  Organized Kitchen Tour.  Each of us will be sharing an organized area in our kitchen, so don't forget to click on other bloggers links at the end of this post.  You will see some awesomeness today, so lets get started!

Welcome to my kitchen.  Are you a coffee lover? I happen to love coffee & spent a little too much time & money at Starbucks, so I decided it was time to invest in a quality coffee/espresso machine & start making my own at home.  Once I got my machine, I set up a "coffee station" in my kitchen & you can do the same!  Today, I'm going to show you how you can organize your very own Coffee Station in your kitchen.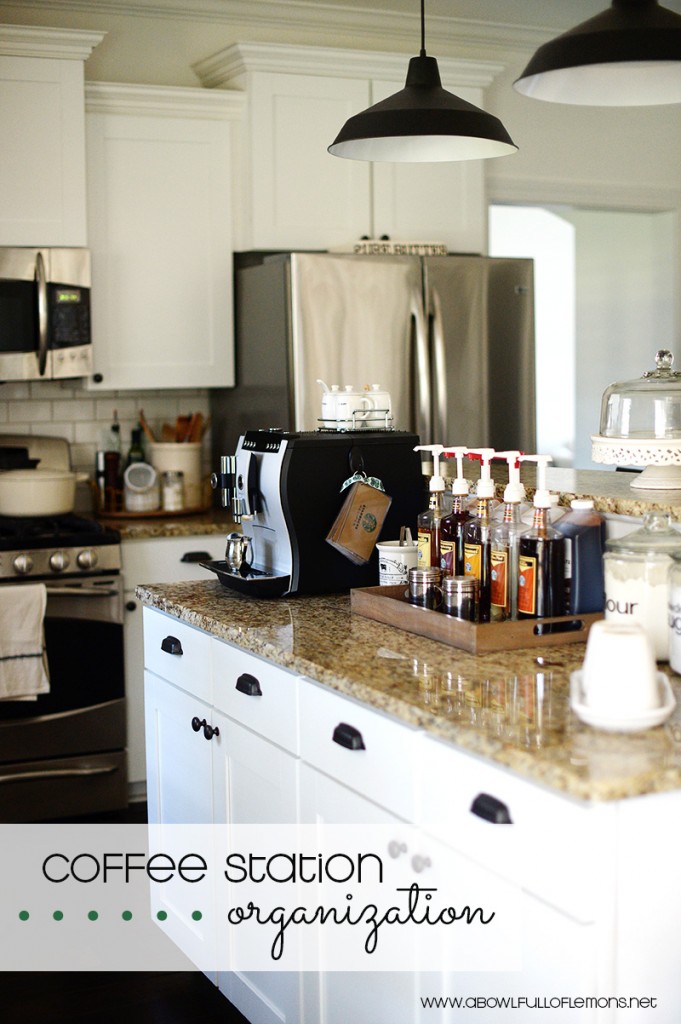 DESIGNATE A SPACE:   Find a spot in your kitchen, either on your countertop or on a stand or hutch that you can use for your "Coffee Station".
PLACE YOUR COFFEE POT/MACHINE IN YOUR SPACE:  You don't need an expensive coffee machine.  Anything will work for this project. You can use either a coffee pot, Kerug, or coffee machine (whatever you prefer).  I have a Jura coffee machine.  The taste is a-m-a-z-i-n-g!  It's not for everyone and it was very expensive. But I love it and it will last for many years.  My family agrees.  My daughter said to me, "this is my favorite thing you have ever purchased".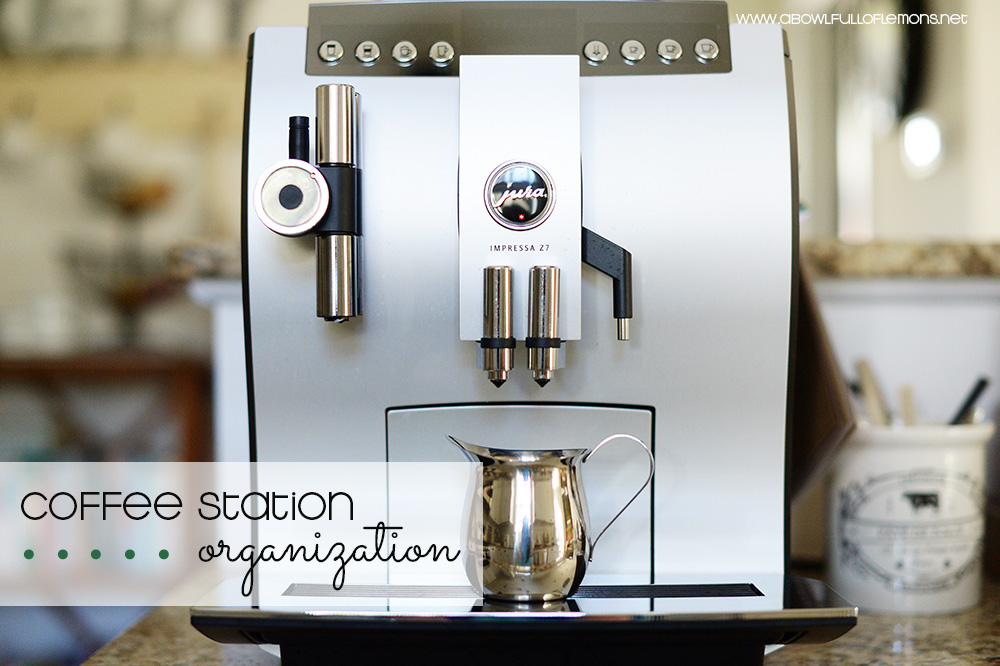 PRINT OUT RECIPES: To go with my coffee machine, I created "Starbucks" recipe cards.  I found the recipes here.  Just click on a recipe and download the 5×7 recipe card. I printed them on kraft paper card stock & trimmed them down.  Then I laminated & hole punched them.  Finally, I clipped them together & tied a Starbucks ribbon on the clip.  I found the ribbon here.  They were easy to make.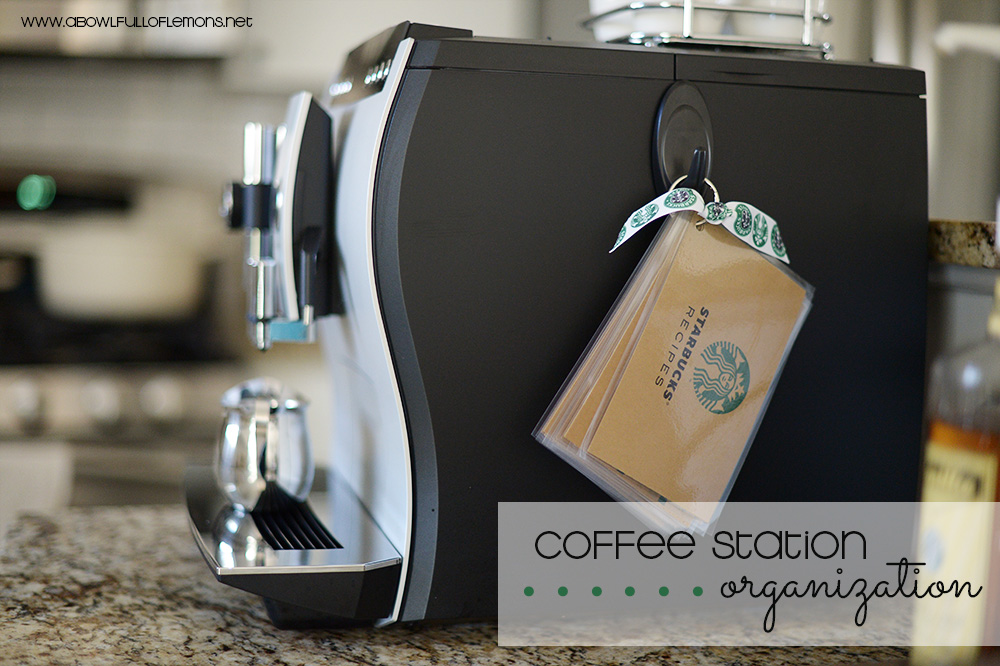 I hung the recipes on a Command hook and attached it to my coffee machine.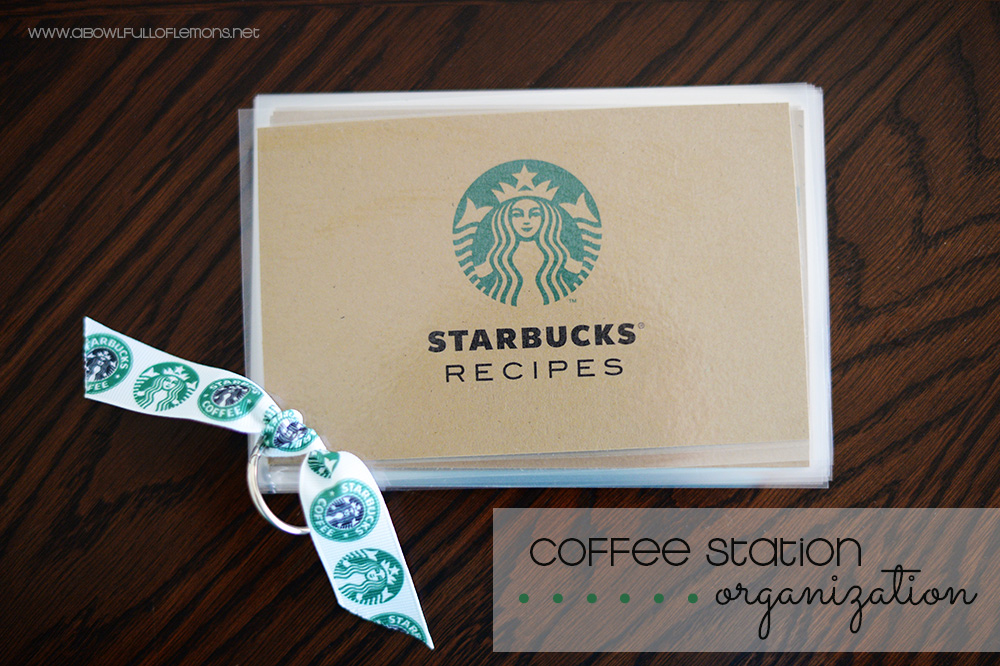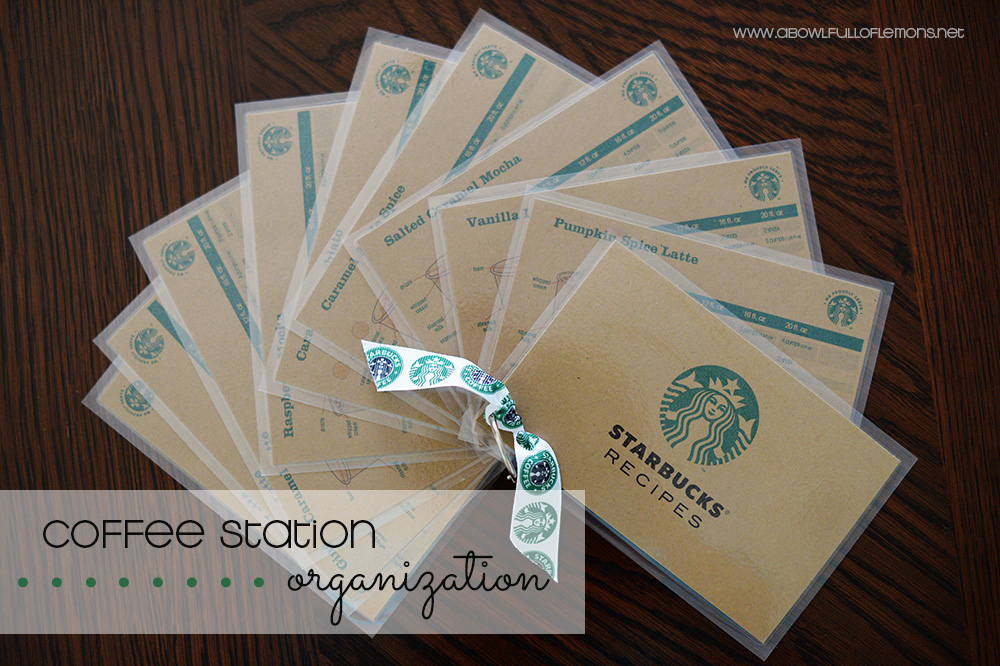 GATHER YOUR CONDIMENTS: Next, you need to find something to keep your sugar, cream, and honey in. I found this adorable Pottery Barn coffee condiment set on Ebay…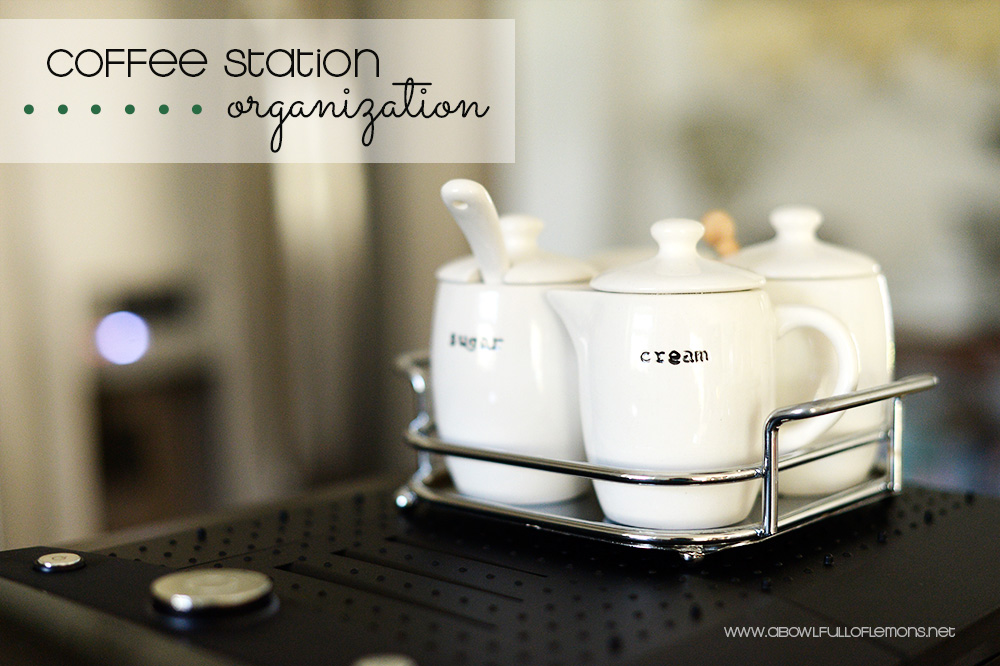 … and to top off those lattes & cappuccinos, you need some cinnamon & cocoa shakers.   I found these at TJ Maxx.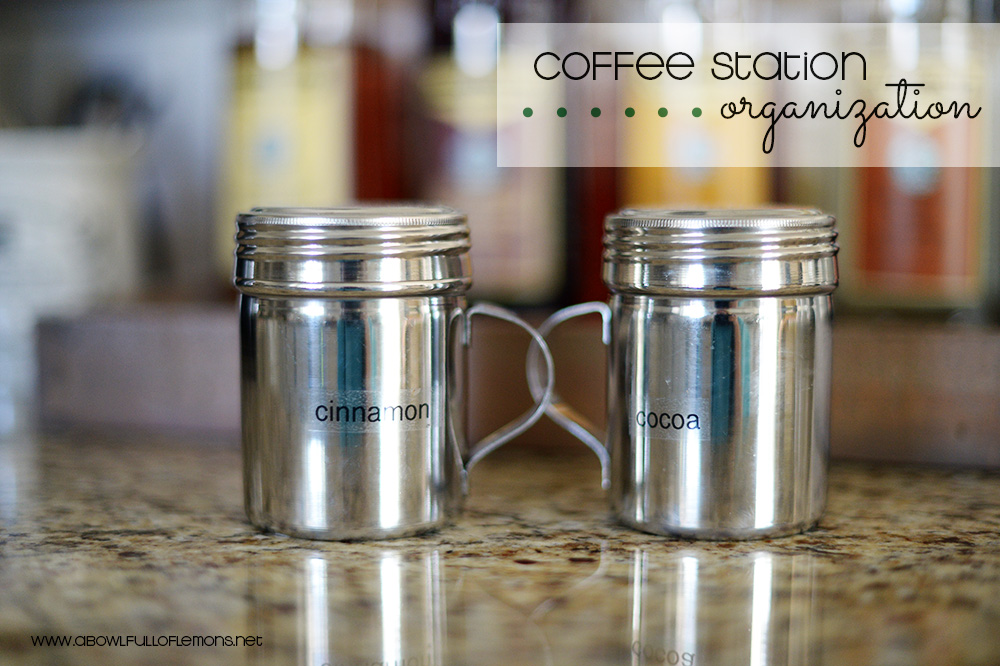 ORGANIZE YOUR COFFEE MUGS: I keep my coffee & tea mugs on a Fiestaware bread plate.  Any type of plate or tray will work just fine.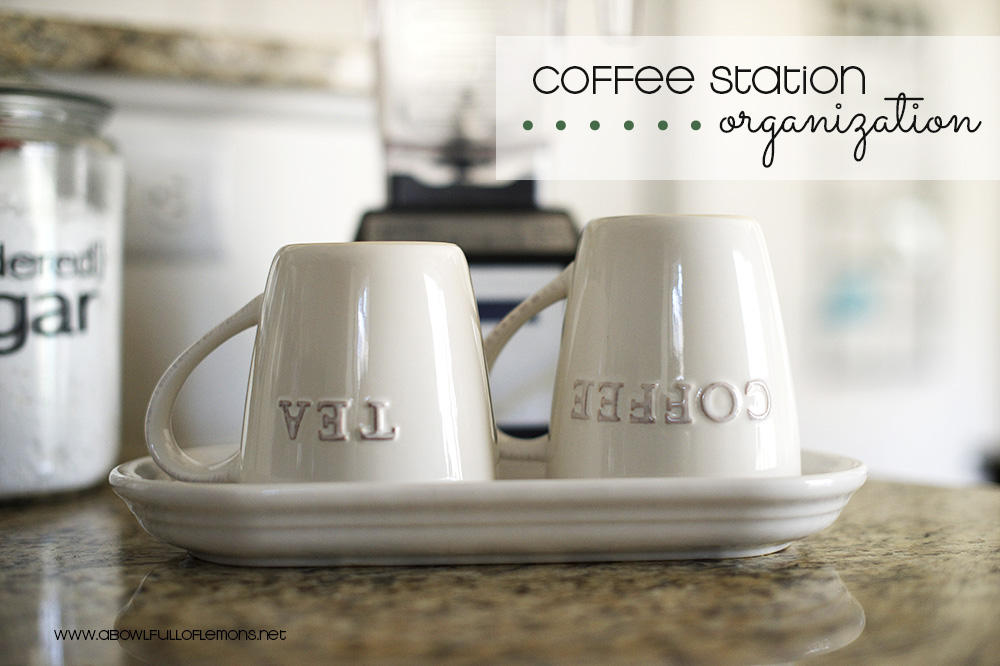 JAR OF STIR SPOONS: One of the things I find convenient is keeping a jar with stir spoons near my coffee machine.  It's so handy.  The spoons are from Pottery Barn & the jar is from TJ Maxx.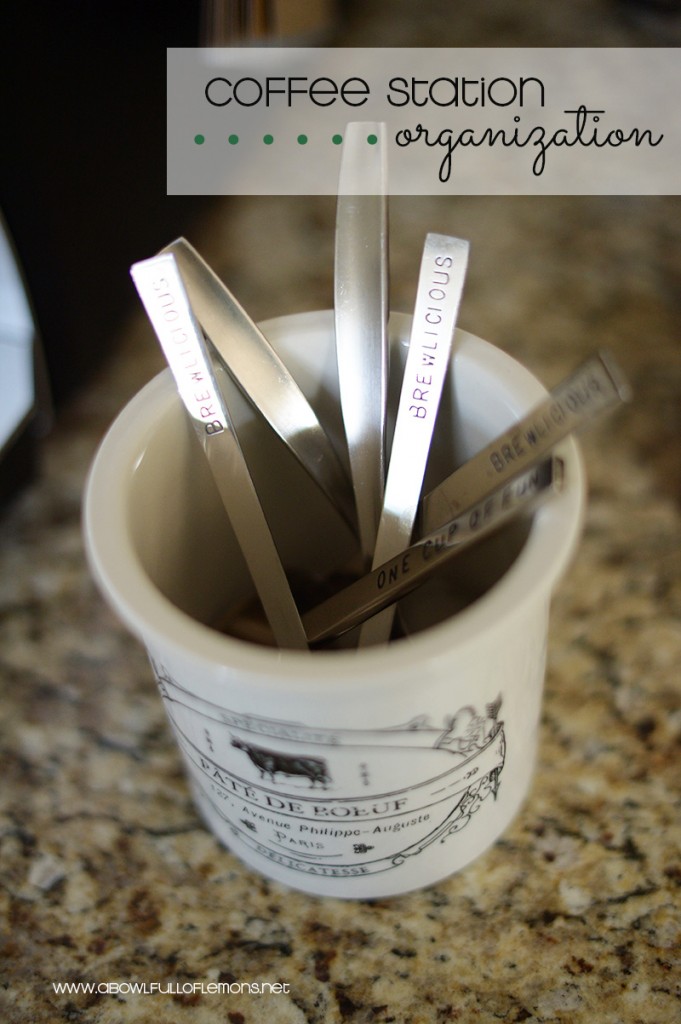 SYRUPS & SAUCES:  Now its time to stock up your "coffee station" with yumminess.  I ordered all of my coffee syrups and sauces from Starbucks.com.    I keep them on a tray (easy to move if I need to use the counter).  You can also find (less expensive) coffee syrups at World Market.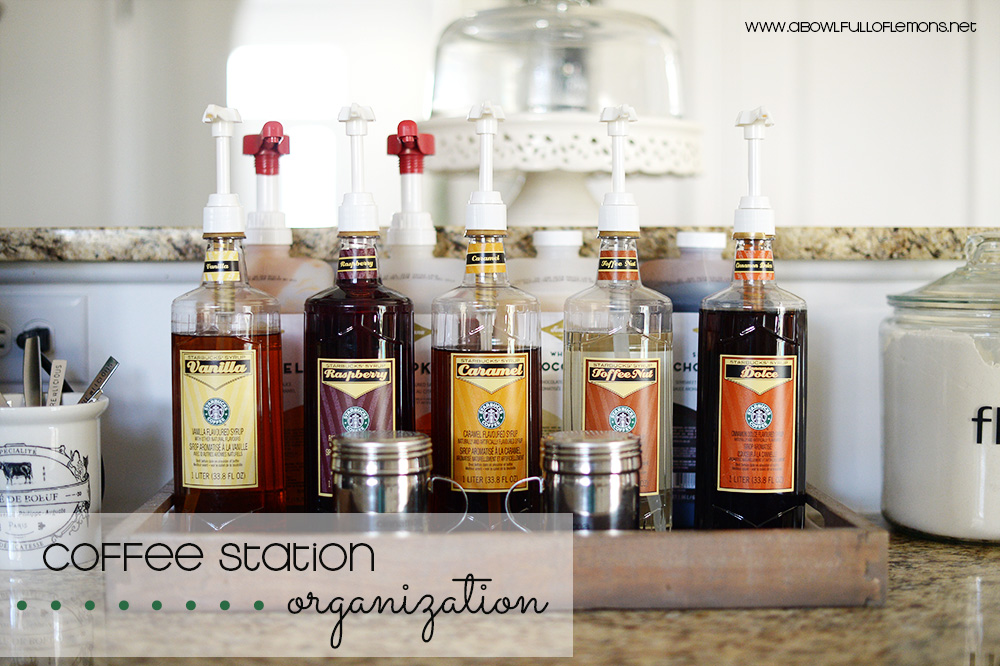 COFFEE:  My machine stores my coffee beans, but if yours doesn't, you can keep your grounds, beans, or k-cups in a large (sealable) jar at your coffee station.  You can use something similar to what I store my flour and sugar in.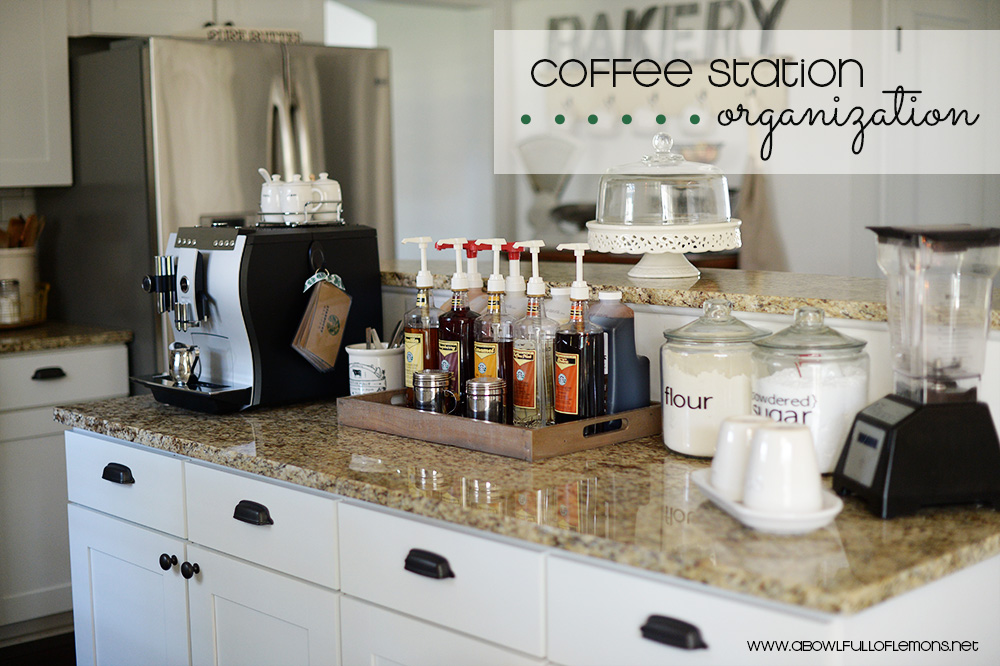 That's it!  It's easy and the rewards are fabulous.  Now pin this post and get started organizing!  I hope I've inspired you today!
GIVEAWAY TIME:  To celebrate our "Top Organizing Blogger" Kitchen Tour, we are giving away $100 in cash to one lucky Instagram follower.  Visit my Instagram page here or click on the picture below, to find out the details about our "Round Robin" giveaway.  It's simple to enter. (The giveaway will be posted on Instagram at 8:00 am EST on 10/1/14).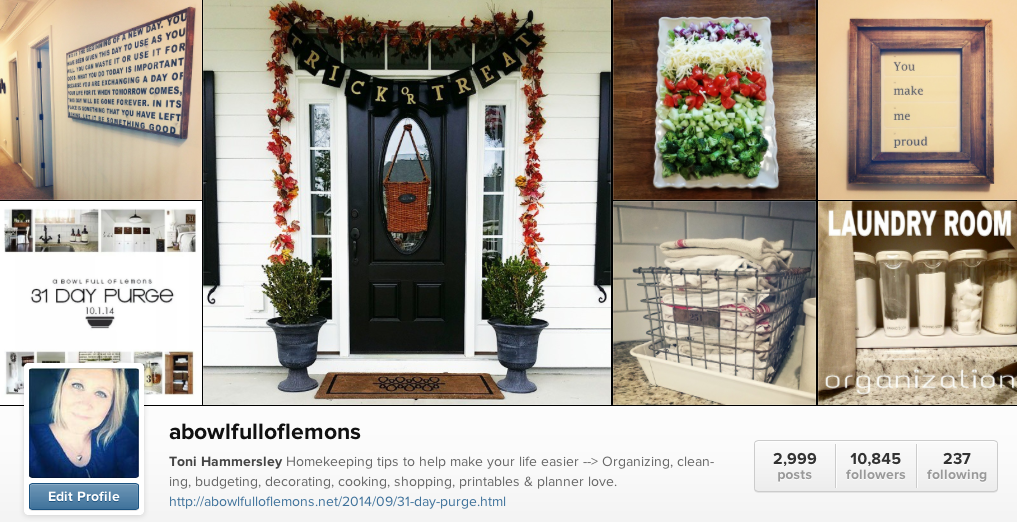 THE KITCHEN TOUR:  Click on the bloggers below, to finish the organized kitchen tour.
TOP ORGANIZING BLOGGERS PINTEREST BOARD:  And don't forget to see what we are pinning, over at our "Top Organizing Bloggers" Pinterest Board HERE & A Bowl Full of Lemons Pinterest board HERE.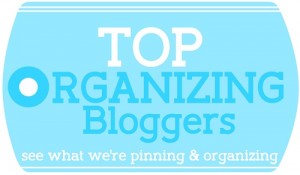 Happy Organizing!
Tags: coffee organization, kitchen, kitchen organizing, organization, organize, organized, starbucks
Blog, Kitchen, kitchen decorating, October 2014, Organize Posted in 21 comments