Welcome to part 2 of my 4 part garage organization series.  Today's all about creating space when you don't have any.   Are you lacking a mudroom?  Do you have limited space for coats, shoes, and bags?  If so, you can create your very own "mudroom" in your garage (even if you're on a budget).  As autumn approaches, now is a great time to get your garage organized for the necessities that come along with it (coats, boots, umbrellas, etc).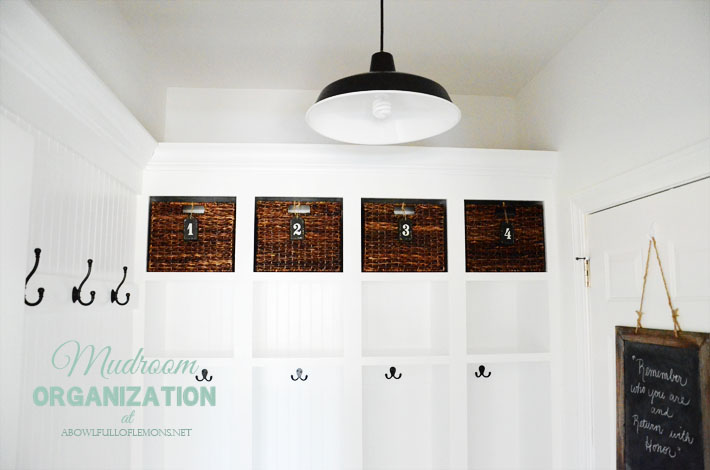 We have a very lovely mudroom (pictured above), but our pets have pretty much taken over (more on that in another post).  So we needed somewhere for our kids to place their things after school each day.  The garage was the only option, so that's what we chose.  Pictured below is what our garage entryway looked like before I began.  It was very basic and not being utilized to its full potential.  If you are in need of a "mudroom", I hope you'll find this post useful.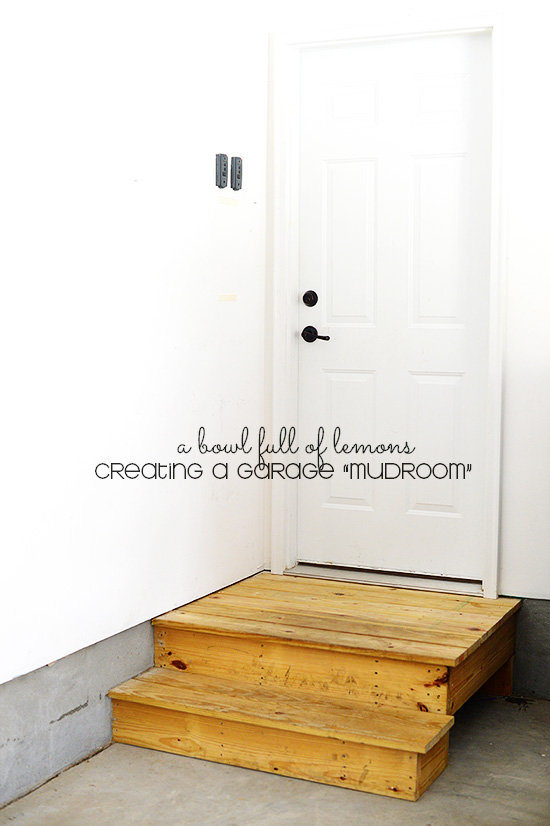 The first thing I did was build a wall organizer to hang our coats and bags on.  It took me under an hour to complete.
TOOLS NEEDED:
2  pieces of 1x 4 of pine (you will need to measure your space)
Decorative trim
Scotch™ Extreme Fasteners
3M Command Wood stabilizer strips – this project used three of the same size
Paint & paint brush
Name Tags
Nail Gun or Nail & Hammer
Saw to cut wood (or have the store cut it for you)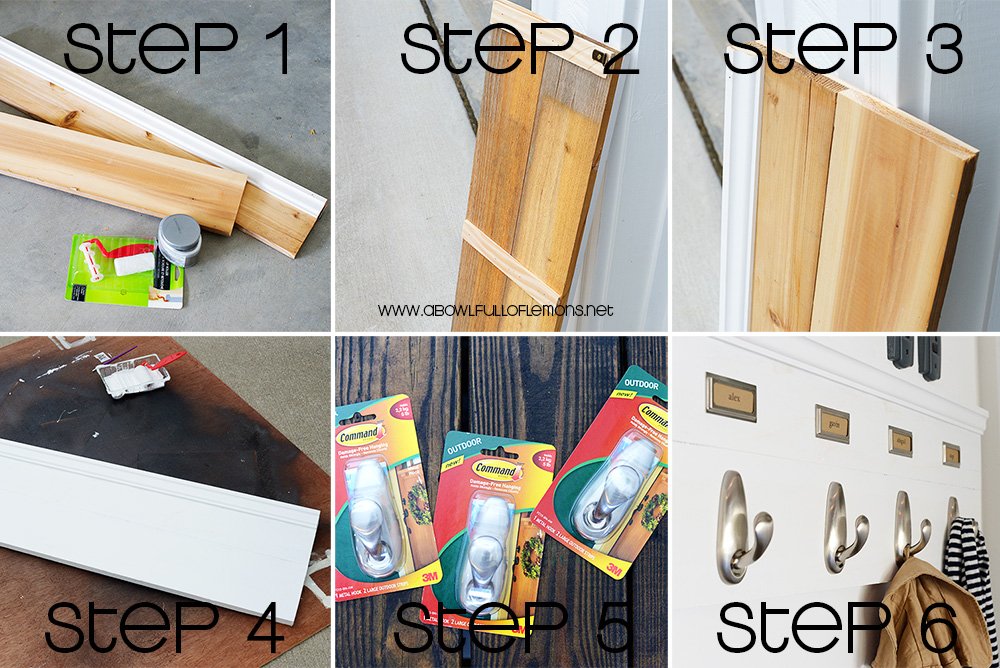 HOW TO BUILD
Step 1 – Gather your supplies & measure the space
Step 2 – Assemble wood pieces together with a nail gun & Wood stabilizer strips
Step 3 – Add the decorative trim at the top of the wood
Step 4 – Paint the wood & let dry
Step 5 – Hang with Scotch™ Extreme Fasteners & apply Command Hooks (following the package directions)
Step 6 – Hang your accessories & jackets (Each Command hook holds up to 5 pounds)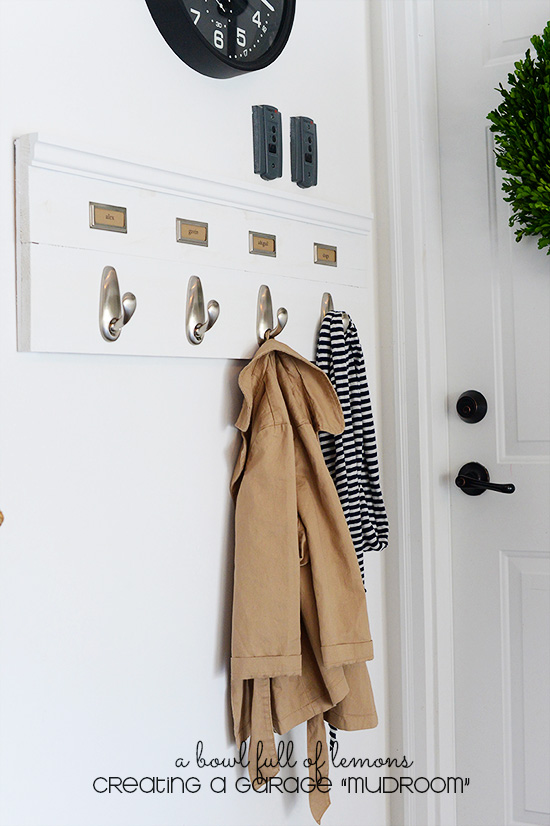 I love the way it turned out.  It took me less than an hour to complete! The Command Hooks stand out and give a chic look to the piece.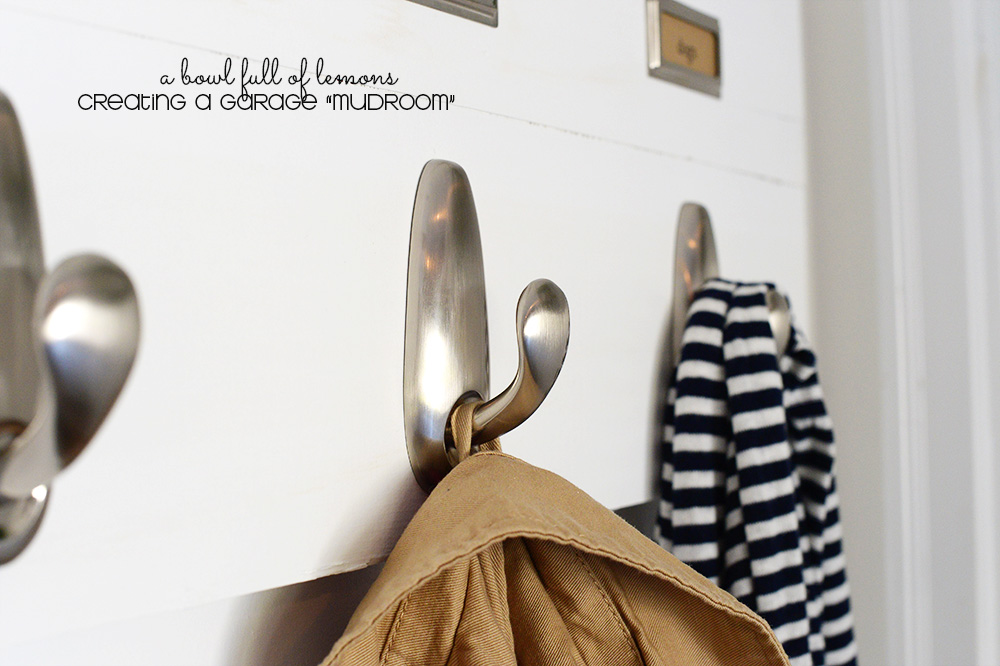 Once you install your wall organizer, it's time to accessorize.  Hanging a wall clock gives the space a homey feel.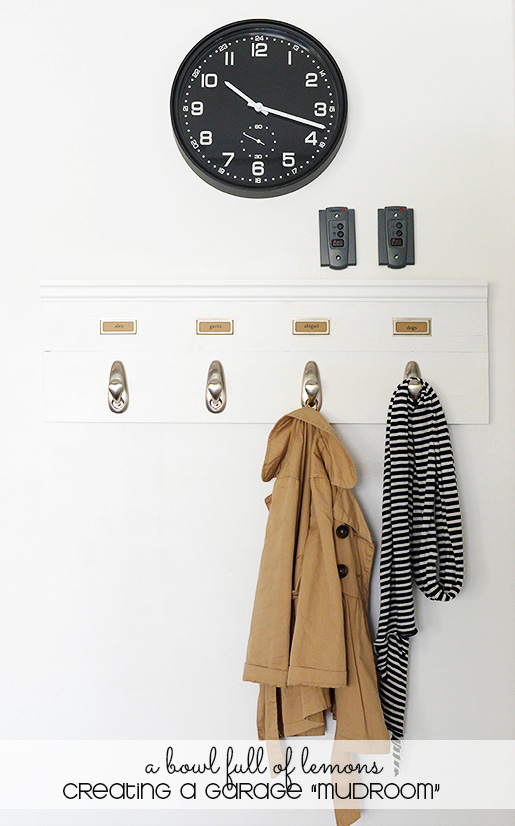 Hang wall baskets to store your grocery bags & umbrellas, and whatever else your family uses often.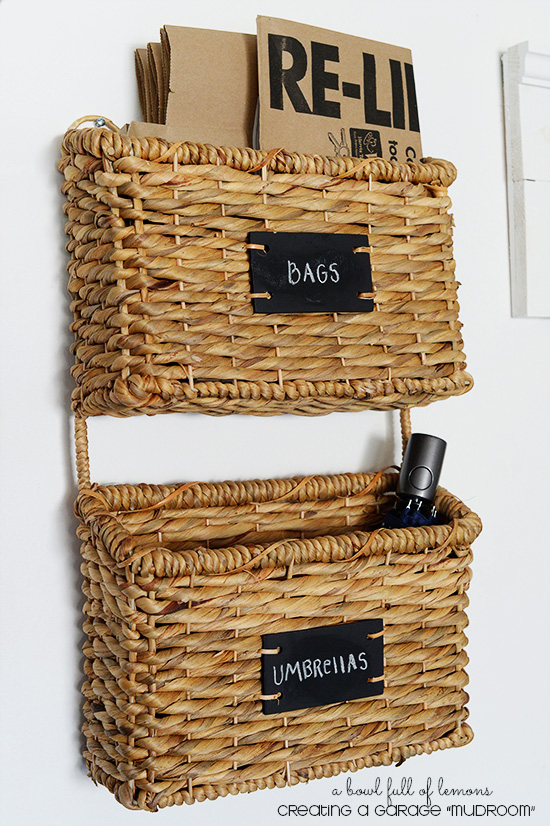 Place a large basket near the steps to keep kids shoes in.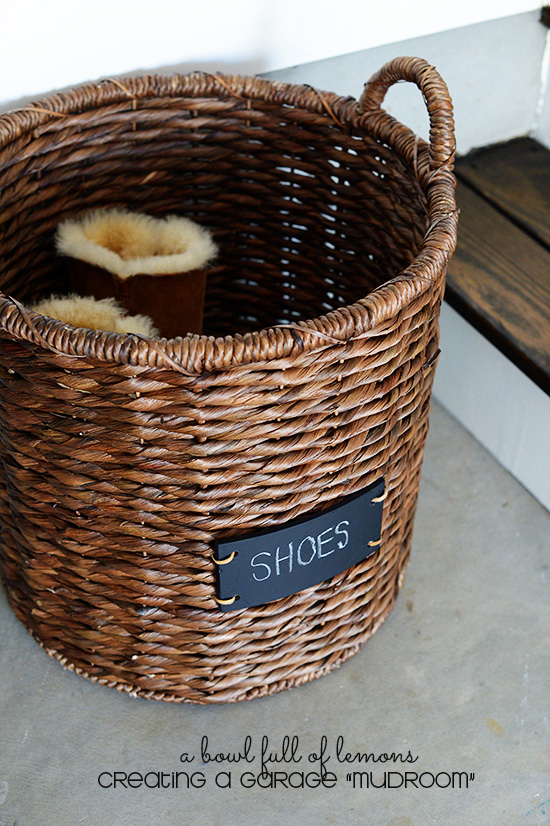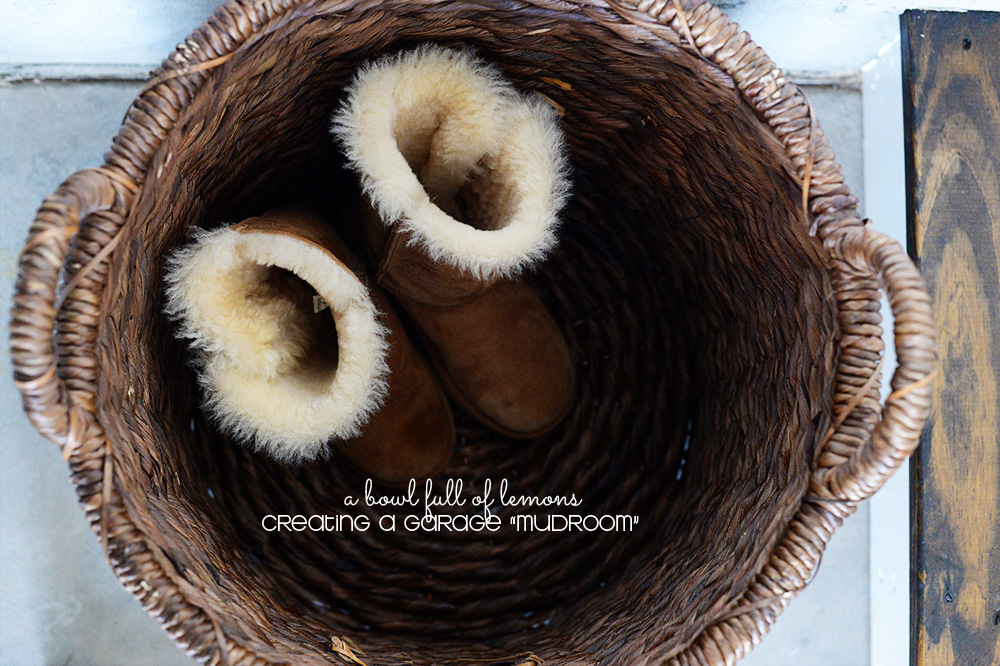 Stain & paint your steps, because why not!  I LOVE the way it turned out.  I even decorated the steps with mailbox numbers.  By doing this, I brought my interior decor out to the garage.  It's totally my style.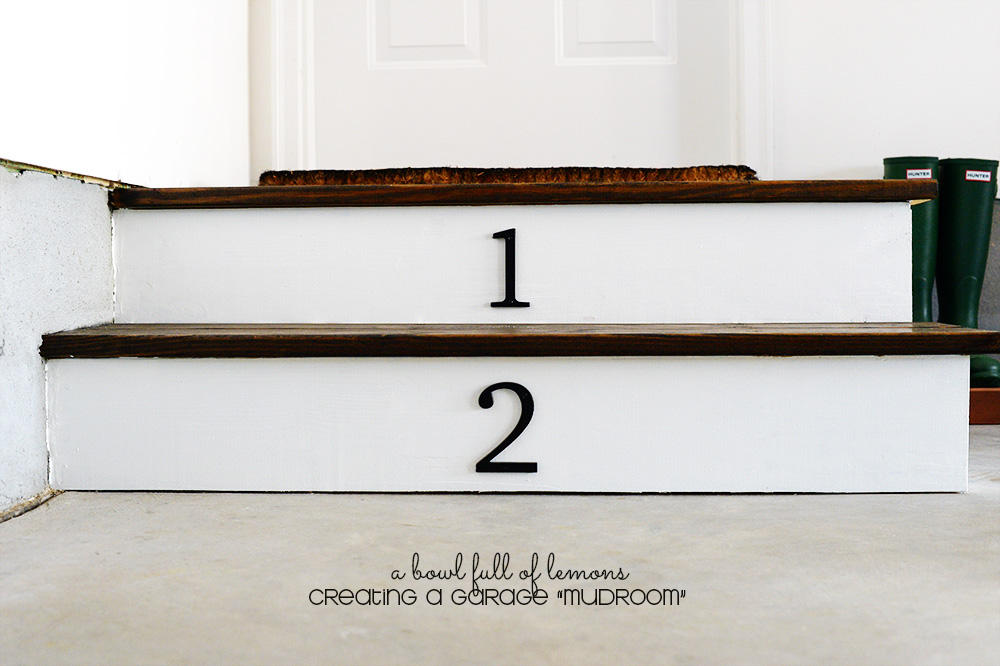 Of course you have to lay a rug outside of the door, so the kids don't track the autumn weather in.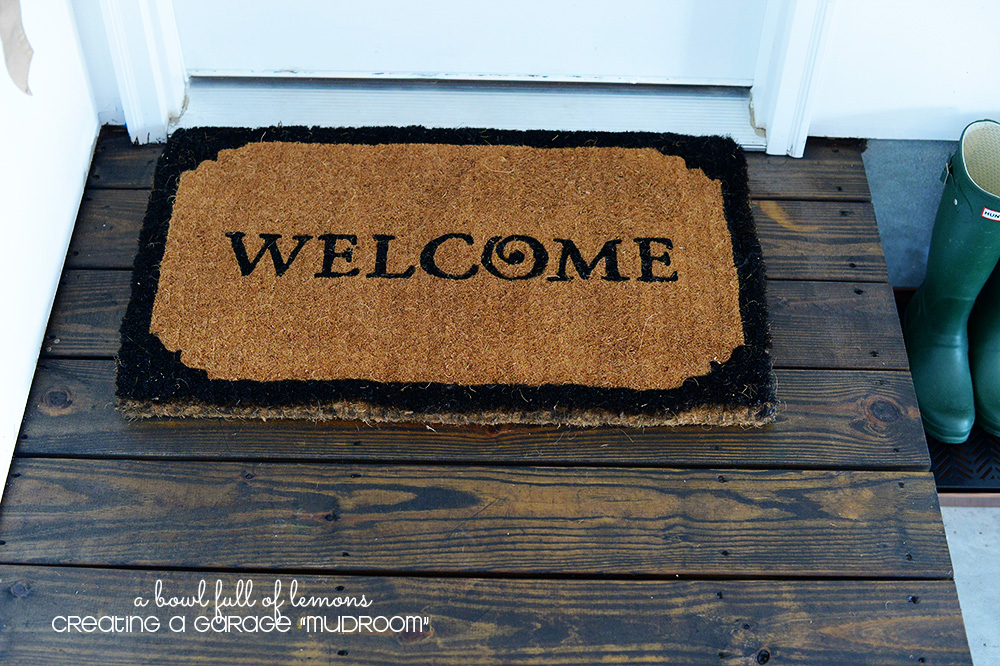 And a boot tray for the rainy & snowy weather is a must!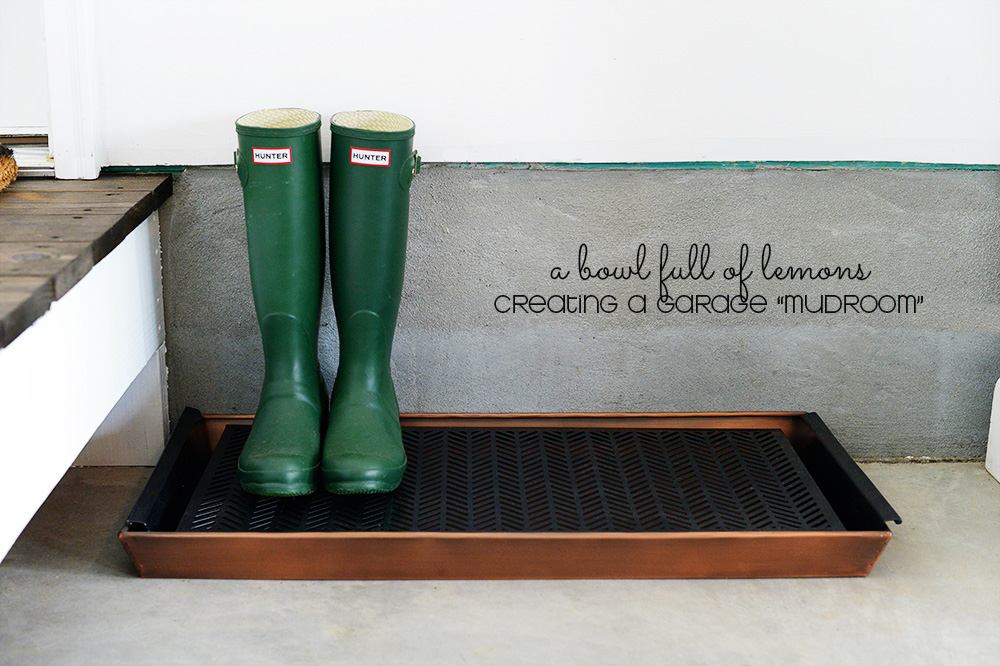 I created a beautiful garage "mudroom" with little effort, not a lot of space and a whole lot of style.  As you are decorating your mudroom, why not hang a wreath on your garage door, to welcome you home?  Nothing says "home" like a boxwood wreath.  I love them.  (If you don't have an over the door wreath hook, you can use a 3M Command wreath hook.)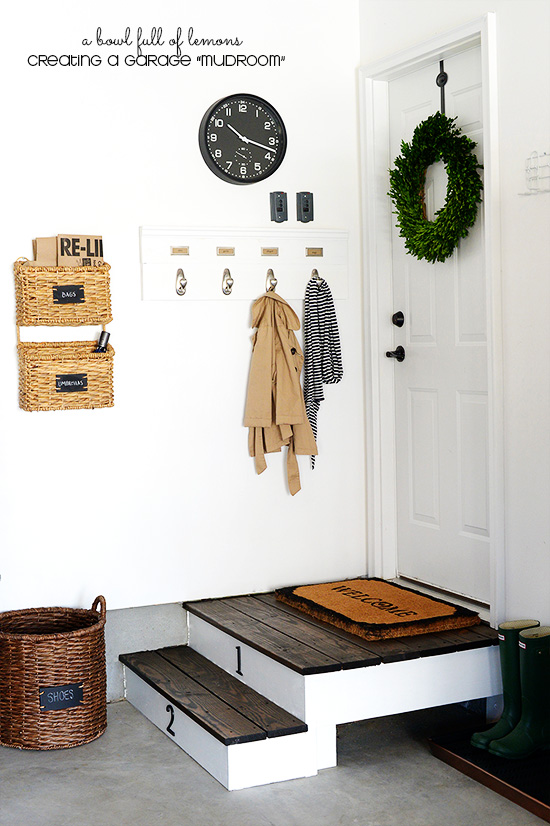 One last look… What a transformation!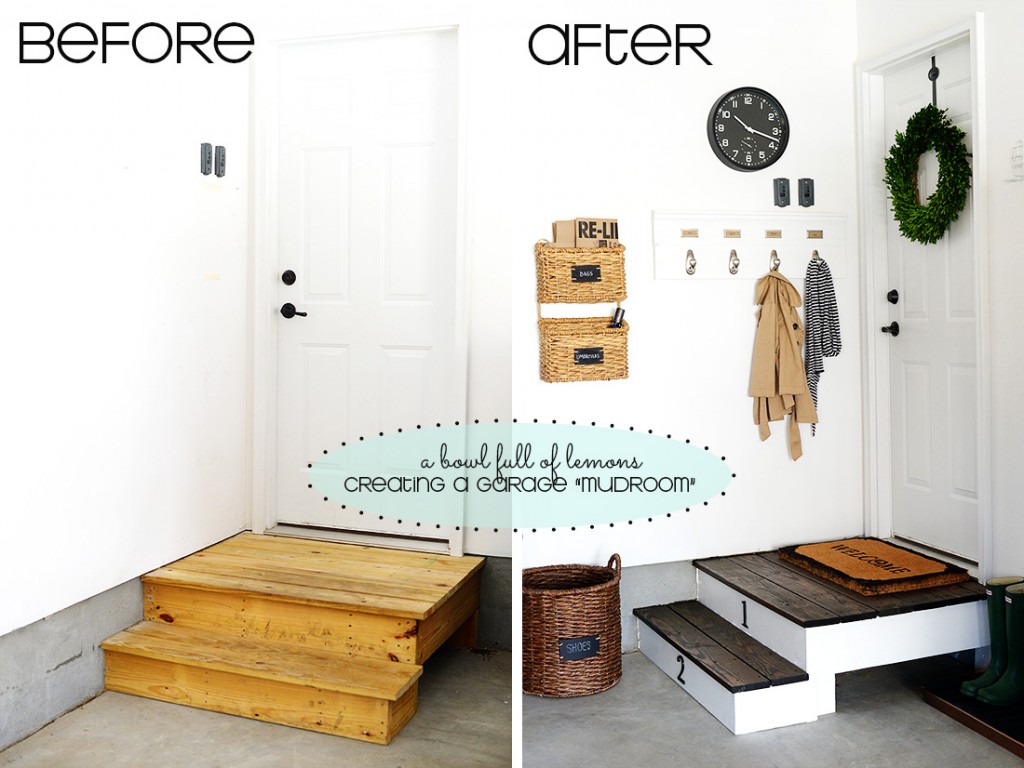 If you missed it, HERE is the first part of my garage organization series.  Stay tuned for part 3 & 4, coming soon.
HAPPY ORGANIZING!
Disclaimer: This is a sponsored post by 3M Command Brand. All opinions are my own & I only recommend products or services I use personally and believe my readers will enjoy. I am disclosing this in accordance with the Federal Trade Commission's 16 CFR, Part 255: "Guides Concerning the Use of Endorsements and Testimonials in Advertising.  Please click here for full disclaimer.
Tags: command, garage, mudroom, organize
Blog, command, Decorate, diy, Garage, Mudroom, October 2014, Organize, painting, Tutorials Posted in 17 comments