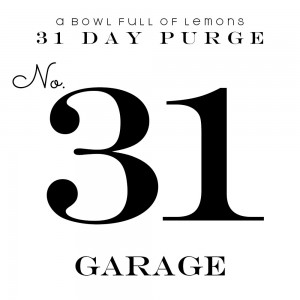 YOU MADE IT!  Today is the very last purge.  This has been a long yet rewarding month.  We have cleared the clutter from our homes.  If you missed the purge, begin anytime you want and go through the 31 days at your own pace.  If you participated, revisit the purge when  you start to see things piling up or you are running out of space again.  Thanks so much for participating!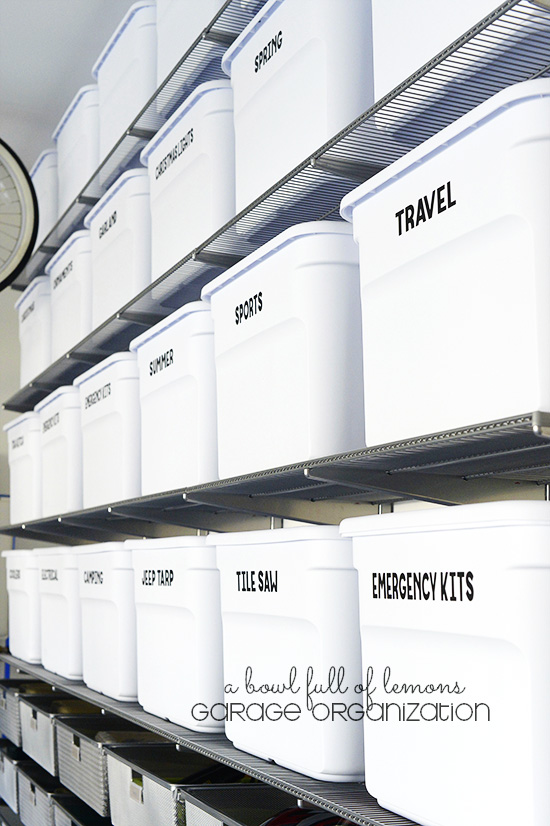 Purge Day 31:  Garage
Task:  Today's the end of our 31 day purge.  It's the most fulfilling day, because you get to send your "purge"  away.  Your task is to clear out your garage of all donations (and everything else in your garage, that you don't want anymore).

Ways to Donate
Habitat For Humanity will come to your home & pick up all donations (for free).
Salvation Army  will come to your home & pick up all donations (for free).
Goodwill  Do it yourself. Pack up your car and take your donations to goodwill.
Local charities, churches, and shelters.
Family & Friends.
*As with all donations, don't forget to collect a receipt. You can deduct this from your taxes.  Also, you will need to call ahead and make an appointment for the truck to come. It usually takes about a week from the time you call.
Organizing Tip:  After clearing out your garage of donations, you can now begin to organize the space.  Use large and small rubbermaid totes & label clearly with the contents.  To see my organized garage, click here.

If you are new to the purge, start at the beginning HERE. Don't forget to share your purge pictures on Instagram using the hashtag #abfol31daypurge.
HAPPY PURGING! Thanks for joining me this month!
Tags: 31 day purge, declutter, garage
31 Day Purge, Blog, Clean, decluttering, decluttering, October 2014, purging clutter Posted in 3 comments