You all are absolutely amazing. So inspiring! The amount of creativity, talent and know-how you each possess is truly admirable.  I'm honored that you each have stopped by today to share your passion and love for your specific craft; recipes, crafts, decorating and so much more!
If this is your first time partying with us, welcome! Every Tuesday we stop what we're doing and turn the spot light on all of you, our wonderful readers and fellow bloggers. Our link party is where you're invited to share your crafts, home projects, organizing and purging tips, recipes galore and everything in between…Please, link up and share your pride and joy, your sweat and your tears as you showcase your hard work. Here's how it works
Use the linky at the bottom of this post to link your blog to ours, feel free to share whatever has been keeping you busy lately.
Share this party on your Facebook page so your readers know to come join in the fun.
Visit your fellow linking blogs and leave them a comment so they know you're a part of the party too.
Comment here and tell me which was your favorite blog to visit. You never know, it could end up being featured.
Make sure you check back throughout the week. This party lasts all week long, until our next party, next Tuesday.
Please refrain from linking up posts that have the sole intention of selling a product. Such link ups will be removed.
 TONI'S PICK:
Joan from Nicer Than New is ready for Spring gatherings with her fresh and satisfying layered salad. Imagine the backyard gatherings, baby and wedding showers, church potlucks and more that you can bring this lovely dish to.  Stop on by Joan's blog and get inspired to eat fresh, colorful, healthy food!
RACHEL'S PICK:
Just recently, a friend posted about her memory jar filling up. It got me thinking about my own memory jar and how I would want to create and execute such an activity. Then, Tiffany from The House Down the Lane shared her post on how she and her family are preserving family memories and now I know this is one activity I have to do with my kids. It may be April, but that I'm going to go with the 'better late than never' mindset. How about you? How are you preserving your families memories?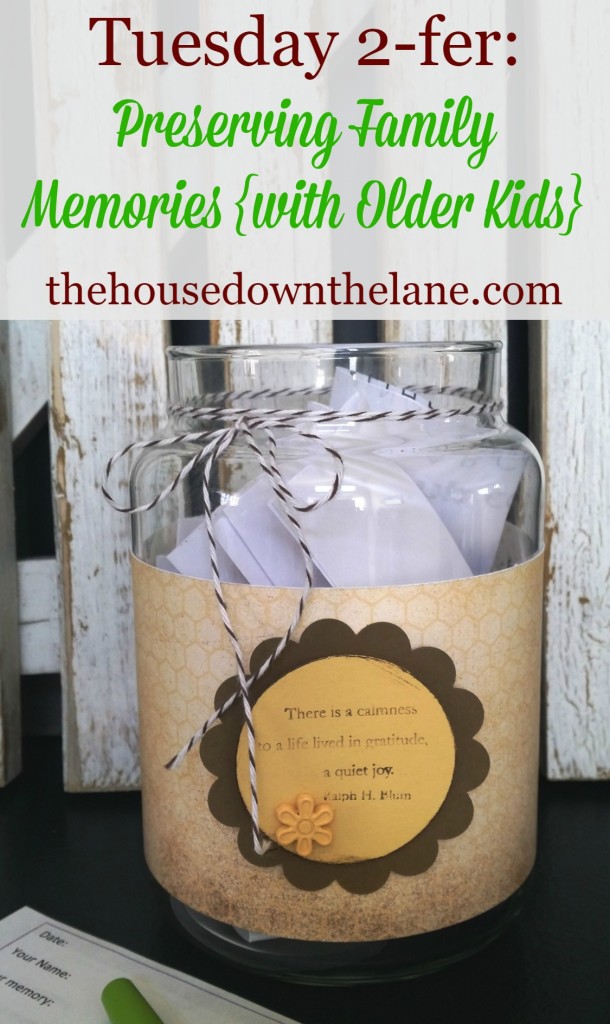 Tags: craft, DIY, link party, recipe
Blog, link party, March 2015, One Project at a Time Posted in 33 comments