I can't believe it's time for me to make this huge (to me) announcement. I've been anticipating this day for so long! Over the last several months, I've been out of the loop and not blogging as much and here's why –> I wrote a book!! I've been behind the scenes typing away at my computer, shooting pictures, and slowly transforming my blog into a book, while at the same time trying to find my way around piles of dirty laundry and miraculously getting dinner on the table at a decent hour. My kids may have missed a packed lunch or two, but in the end we all survived. Writing an organizing book has definitely had its' ups and downs and it's been quite an experience for me, but I would do it over again in a heartbeat. Nevertheless, I'm happy to say the time has finally come to announce the launch of my very first published book "The Complete Book of Home Organization".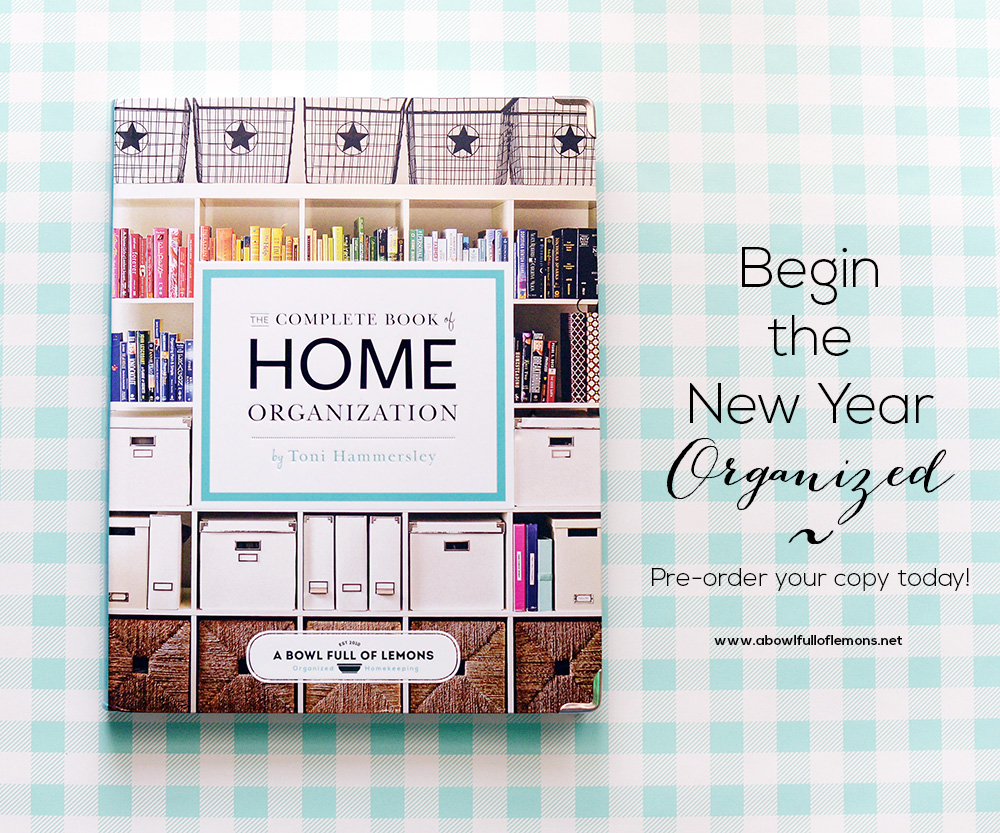 WHAT'S INCLUDED?
This book covers it all. Learn how to organize the 30 main spaces of your home, including the living and dining spaces, bedrooms and bathrooms, guest areas, baby and kids' rooms, utility spaces and garages, entryways and offices, patios and decks, closets and pet areas! Keep track of your pantry, holiday and craft supplies, weekly menu planning, keepsakes, and schedules. From the basement to the attic, this book covers every nook and cranny. If you are a fan of A Bowl Full of Lemons or just need to get you life in order, this book is for you!
You'll also find:
Hundreds of organizing tips and tricks (see below)
The complete 14 week Home Organization 101 Challenge & corresponding weekly checklists (plus a bonus weekly challenge)
Seven fabulous guest blogger before and afters
and so much more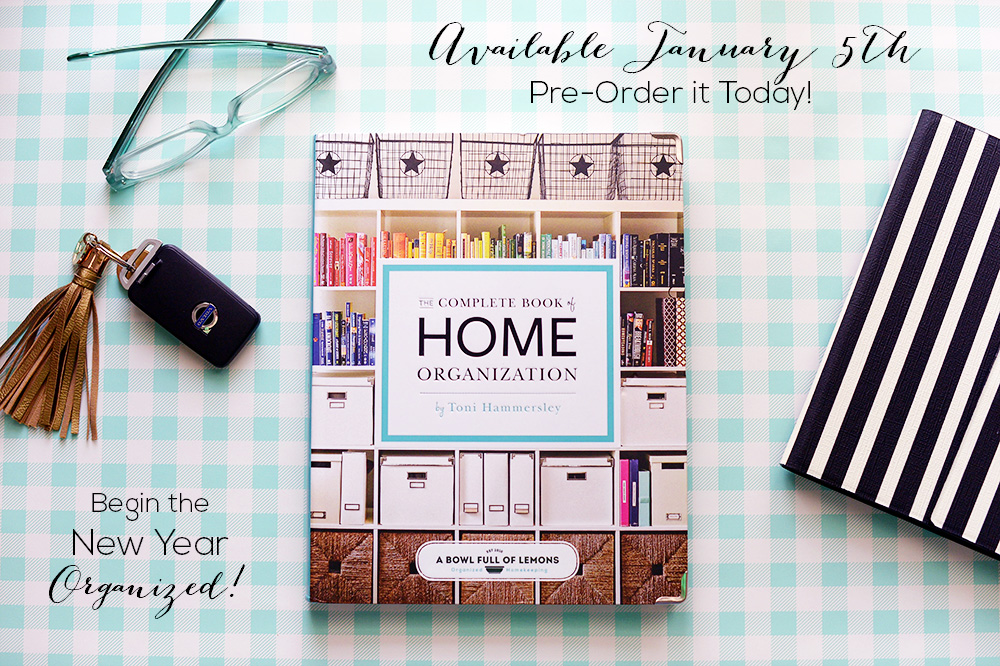 PRE ORDER TODAY
The book will be available online and in select stores on January 5th, but I'm excited to announce that you can pre-order it today! If you order now, you'll get it just in time for the first week of the 2016 Home Organization 101 Challenge. Begin the New Year out right and get your home organized once and for all! Click here to order through my Amazon affiliate link or click on the image below. Pre-orders are an important part of launching a book and I'm so grateful that my book has been a #1 new release on Amazon since its arrival. Thank you so so much to everyone who has already purchased!

Happy Organizing!
Disclaimer: This post contains affiliate links. Thank  you for your support to A Bowl Full of Lemons!
Tags: organization, the complete book of home organization
Bathrooms, Bedrooms, Blog, Checklists, Closets, Dining Room, Garage, Kitchen, Laundry Room, Living Room, Menu Planning, Mudroom, November 2015, Office, Organize, Other Spaces, The Complete Book of Home Organization Posted in 24 comments