Happy New Year friends!!! A new year means new beginnings, a time of home organization and the fun task of resetting your schedules with a brand new planner. It's my favorite month as a home keeping wife and mother. This month also marks the beginning of my yearly home organization challenge (1/6/18). Be sure to check back for the schedule. If you have any organizing projects you'd like to share with us this month, link them below. You just might be featured next month.

Our organized space of the month comes from The Dedicated House. Kathryn created a beautifully organized cabinet under the kitchen sink to store all of her cleaning supplies. Head on over to her blog and get the details.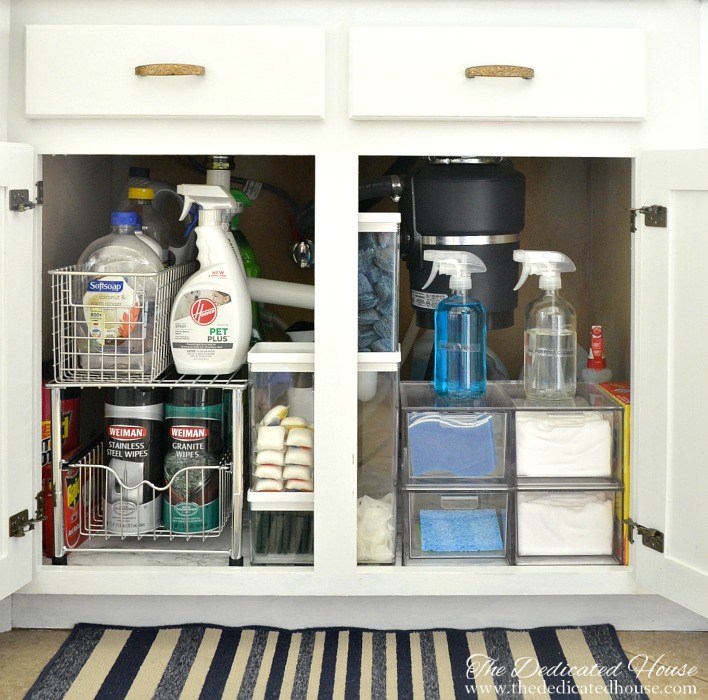 WANT TO BE FEATURED?
If you have an organized space in your home and would like your blog to be featured here at A Bowl Full of Lemons,  take photos and link up to One Project at a Time!  You do not need to be an organizing blogger to share your organized space. If you love to cook, share your pantry or baking cabinet, or if you homeschool, link up your homeschool room. There are so many ways to share.  I will be highlighting organized spaces at the beginning of every month here at One Project at a Time.

Tags: kitchen, one project at a time, under the sink
Blog, Kitchen, One Project at a Time, Organize Posted in 4 comments