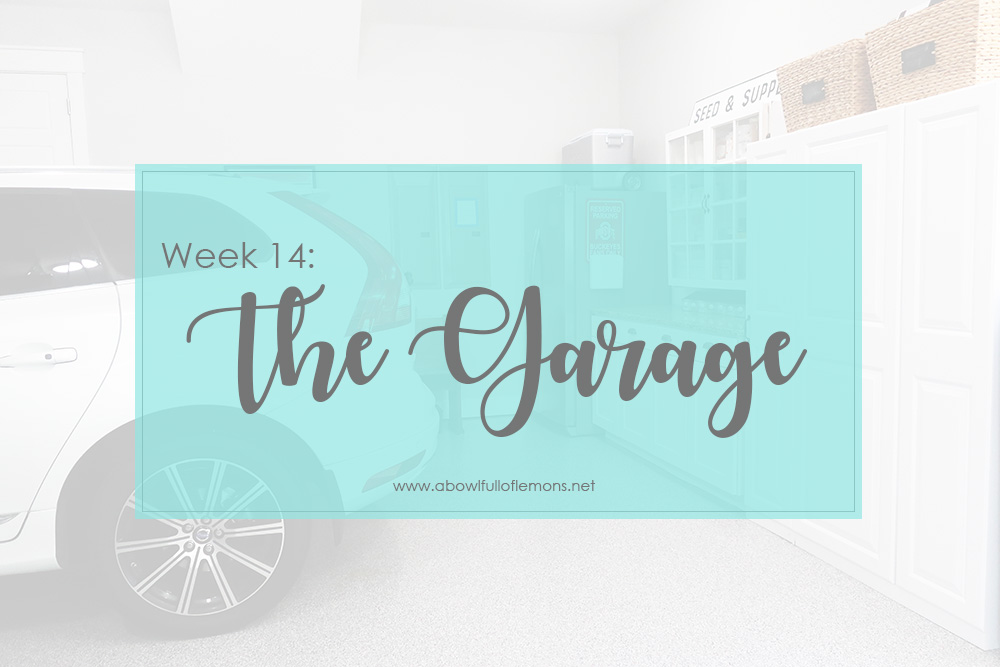 It's week 14 and that means it's our very last Home Organization Challenge of 2019. If you made it this far, congratulations! What an amazing job you've done. This week closes out our series and we saved the hardest (and most rewarding) challenge for last. We are cleaning out the clutter from our messy garages! Don't skip this week. It is so important to finish. You will be glad you did. Spring is here, the weather is nice, and you have no excuses. Let's get busy.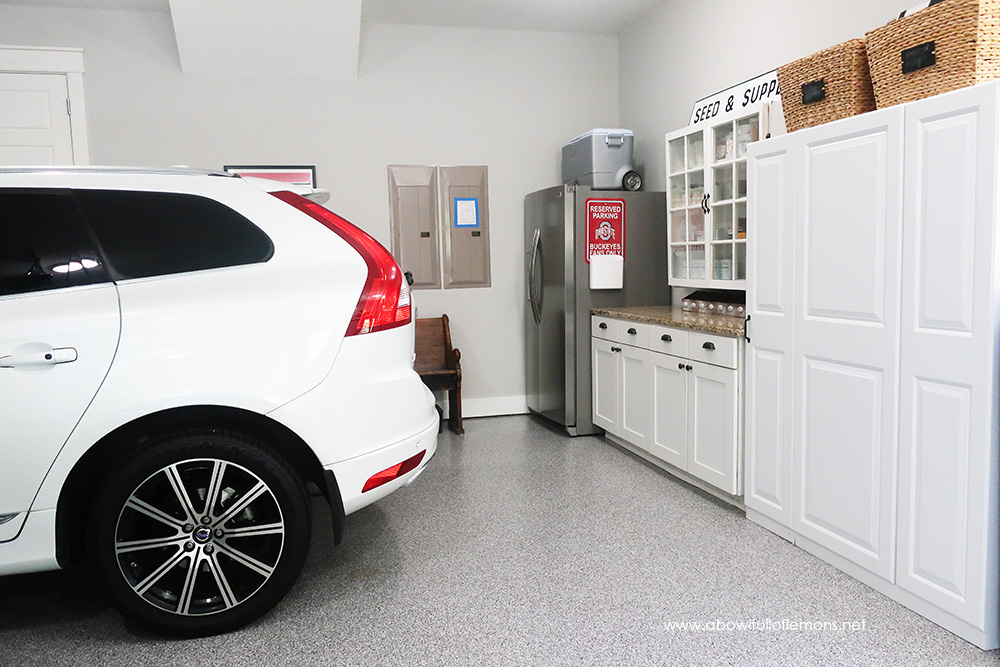 If you're just joining us, print out the schedule and checklists below and begin on the current week. For encouragement, join our Home Organization Facebook community to share your progress, or struggles, or questions. Or simply look through the photos and read how others are doing.
WEEK #14 CHECKLIST:
1. PREPARE – Call your local charity organization ahead of time to schedule a pick up. Gather several boxes, bins and trash bags. Label boxes to sort items: keep, donate, trash, house.
2. SORT – Sort through everything in the garage. Empty it out completely (weather permitting), going through one item at a time, and placing it in the designated bin or box.
3. CLEAN – Once you've sorted trough everything, the garage should be empty. At this point you can sweep, leaf blow, or hose down the floor. This is an important step. You don't want to organize a dirty garage. If you have a problem with spiders or ants, you can spray the perimeter of the garage with insecticide. Living in the south, we have to do this every three months.
4. ORGANIZE – Once you have sorted through everything and cleaned, its time to set up a system of organization. Label plastic totes to contain items that will remain in the garage. Place the organized bins and boxes back into the garage. Hang things on wall hooks. Try to keep everything up off the ground. Spiders like to hide behind stuff on the ground and so does dust.

Our 3 car garage is very simple. I used tall white cabinetry and our old kitchen cabinets to store our things. We purged a lot of stuff, when we moved. So we just have the basics in here now. Our bikes and lawn mower are in the middle bay of the garage. Let me take you on a tour and show you what we have in here.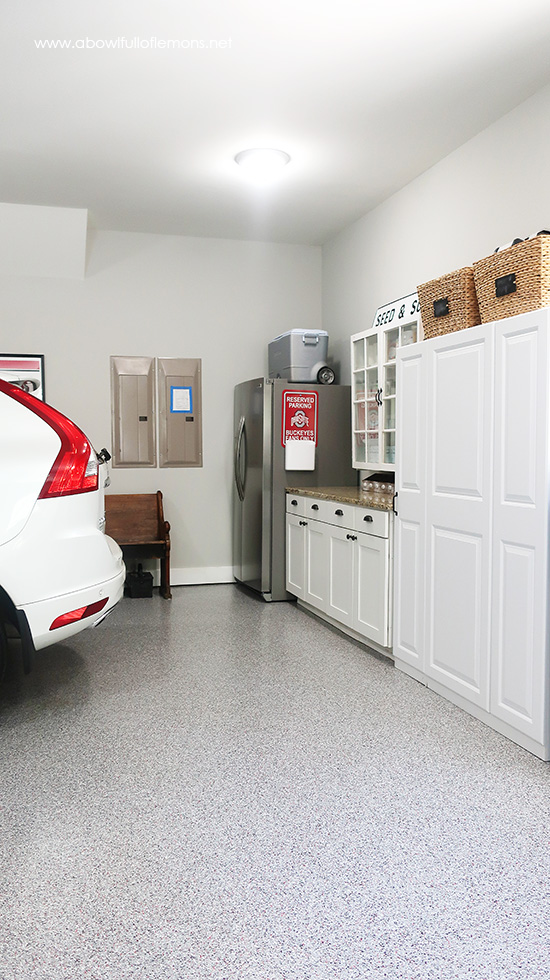 Since we are Ohio natives, we had to show our team (and state) spirit by decorating the garage in Ohio State gear. Go Buckeyes!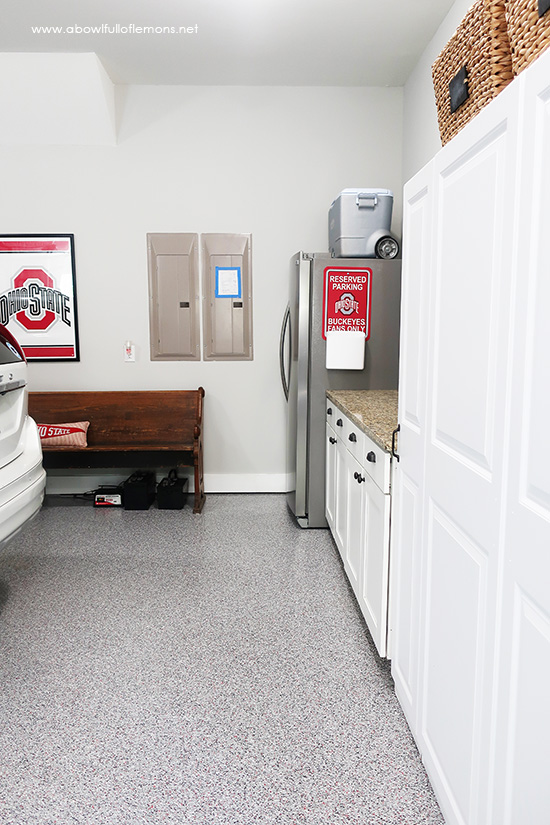 I found this old church pew at Vintage Market Days a couple years ago. It's great to have in the garage. We sit on it while we take our shoes off. The wall color is Repose Gray by Sherwin Williams. We keep an extra refrigerator in here for overflow food and entertaining. It also has a water line hooked up so we can get water when we're in the home gym or outside doing yard work.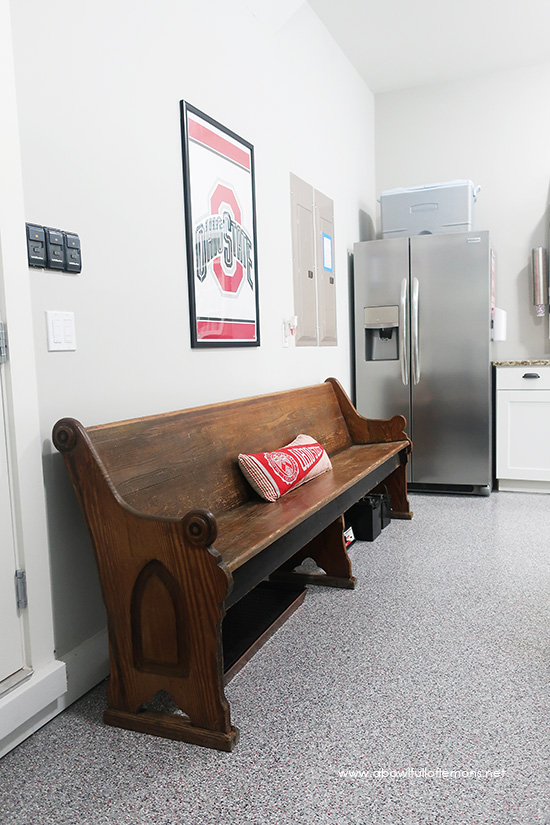 We keep grocery bags in these organizers. I've had the bins for years but I think I got them at TJ Maxx. The numbers are from Lowes.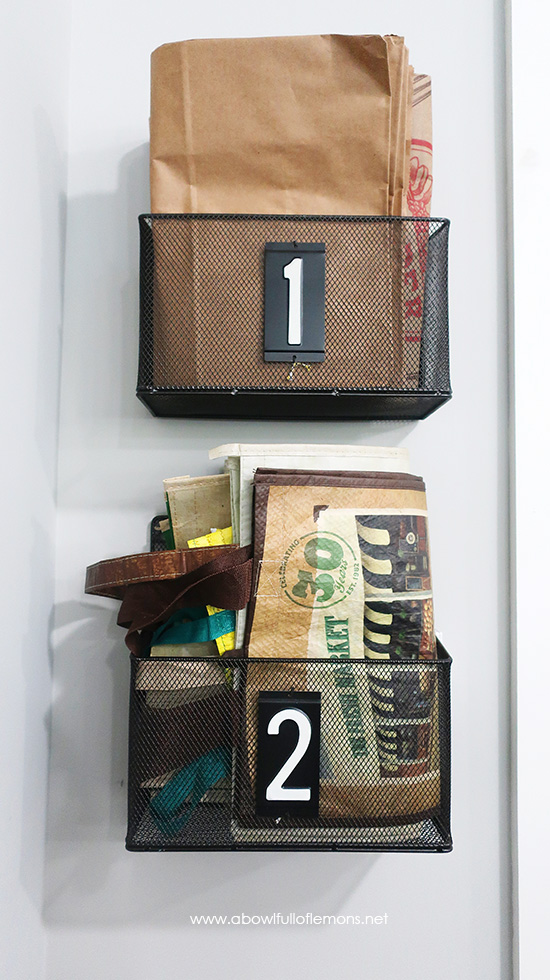 The glass cabinet is from Facebook marketplace. I use it to store paint and plant food. The Seed & Supply sign is from Michaels.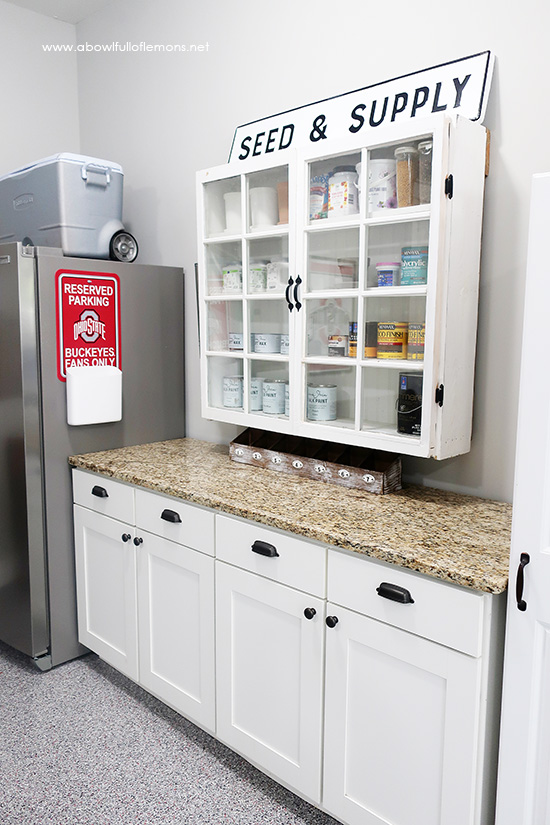 It's a good idea to categorize your cabinets. This cabinet contains our gardening items.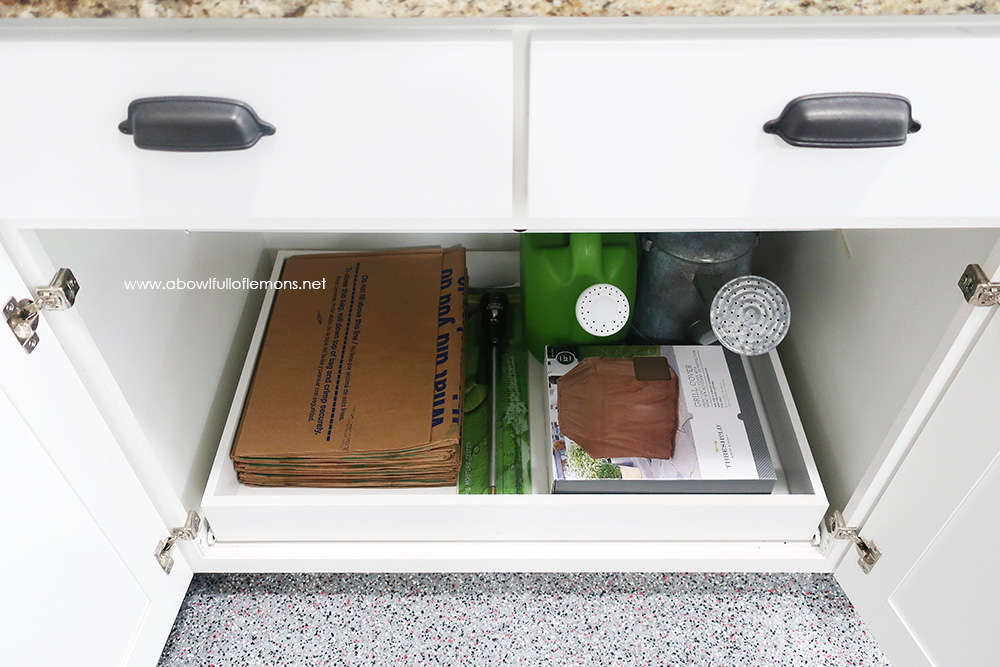 On this side of the cabinet, we store power tools, oil supplies, ropes/bungee cords, and paint supplies.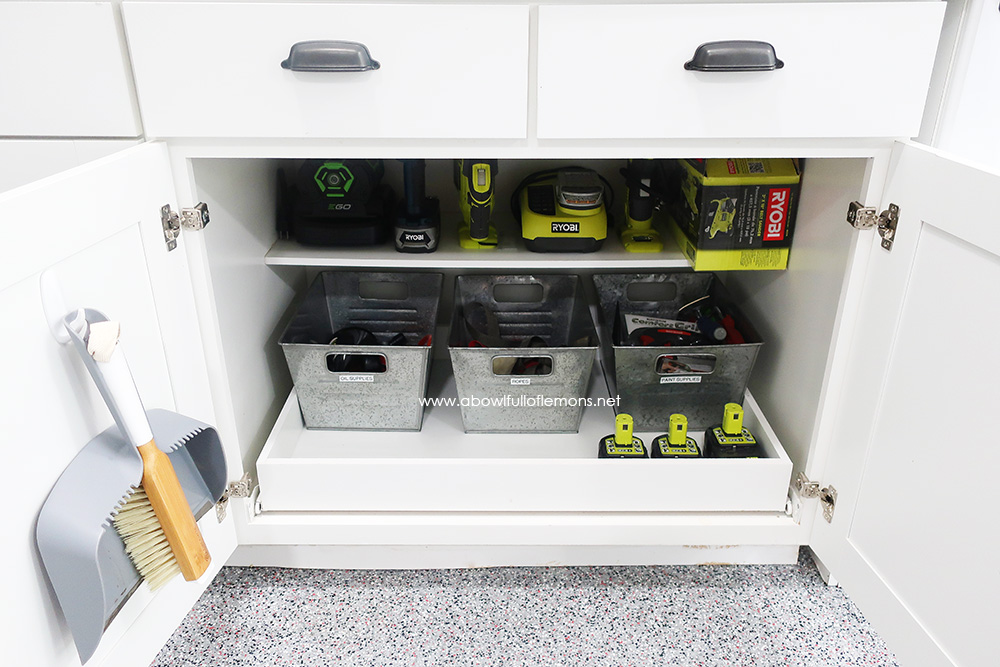 I have a drawer devoted to my gardening tools & gloves.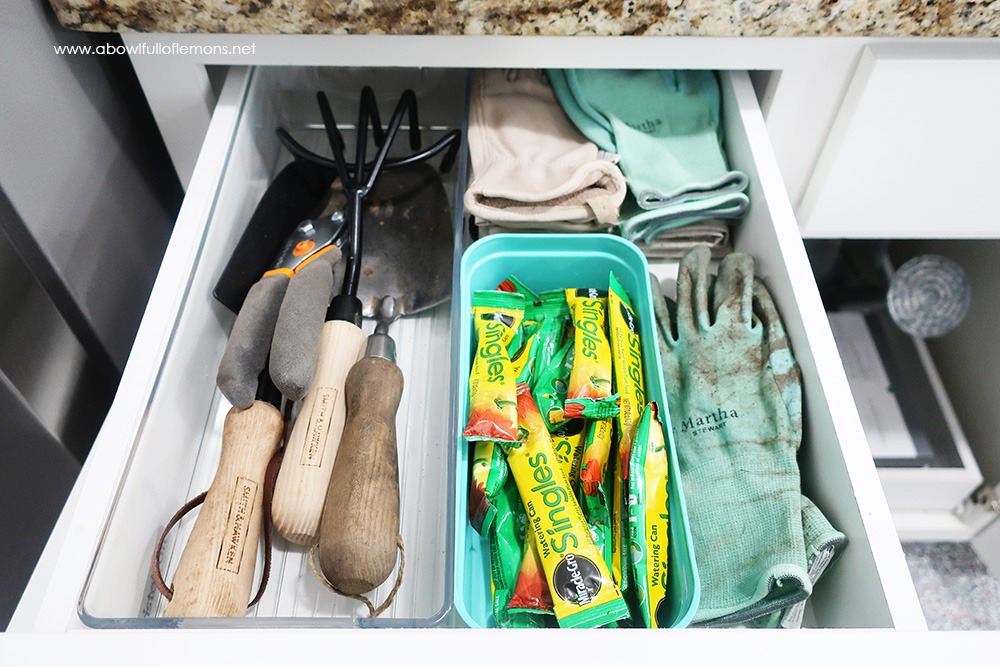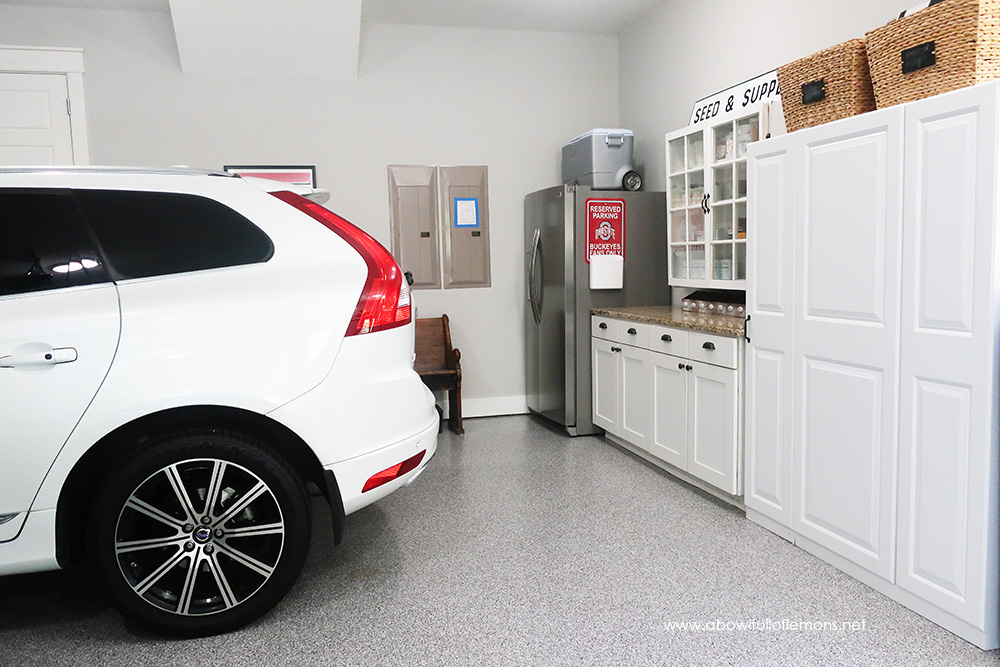 The large white cabinet holds a lot of stuff! It's great because it hides clutter.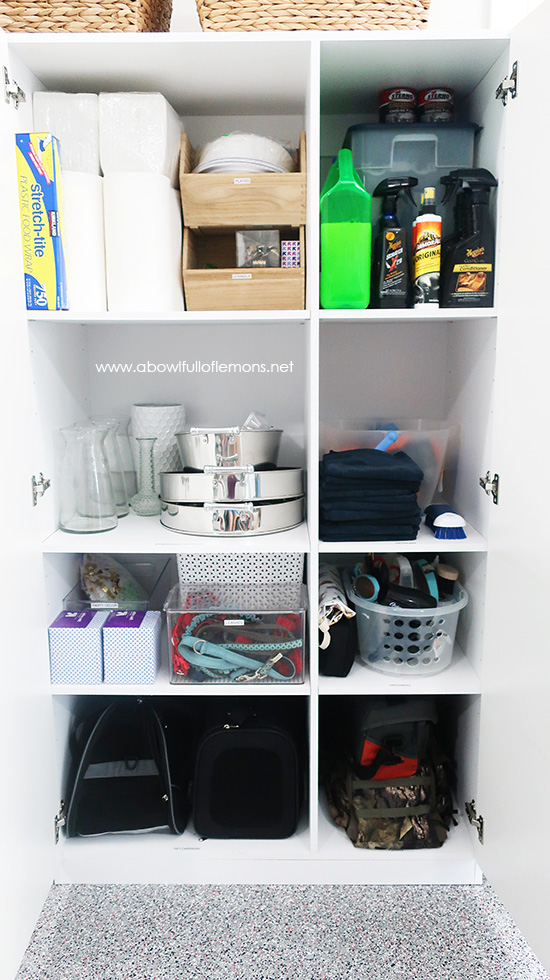 We keep car care and detailing items on these 2 shelves. I found the black microfiber cloths here. We use them to dry the cars.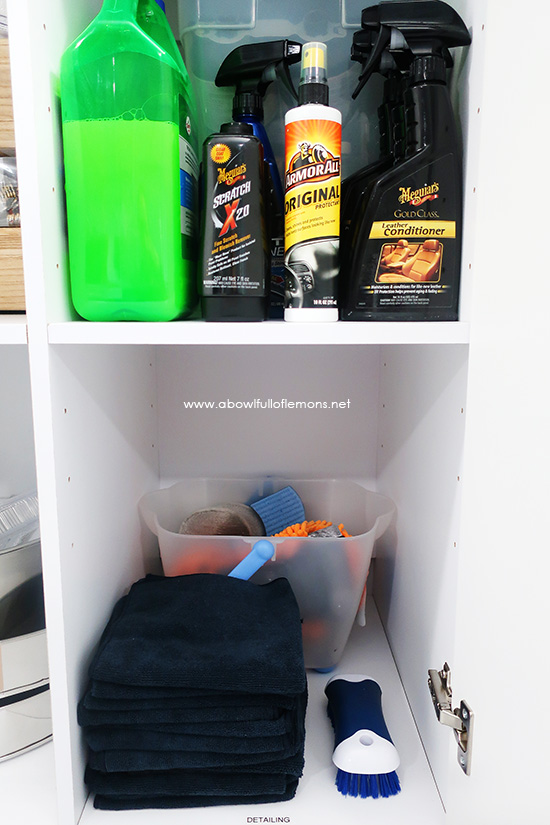 This shelf contains our disposable paper products. I found the bins at Target.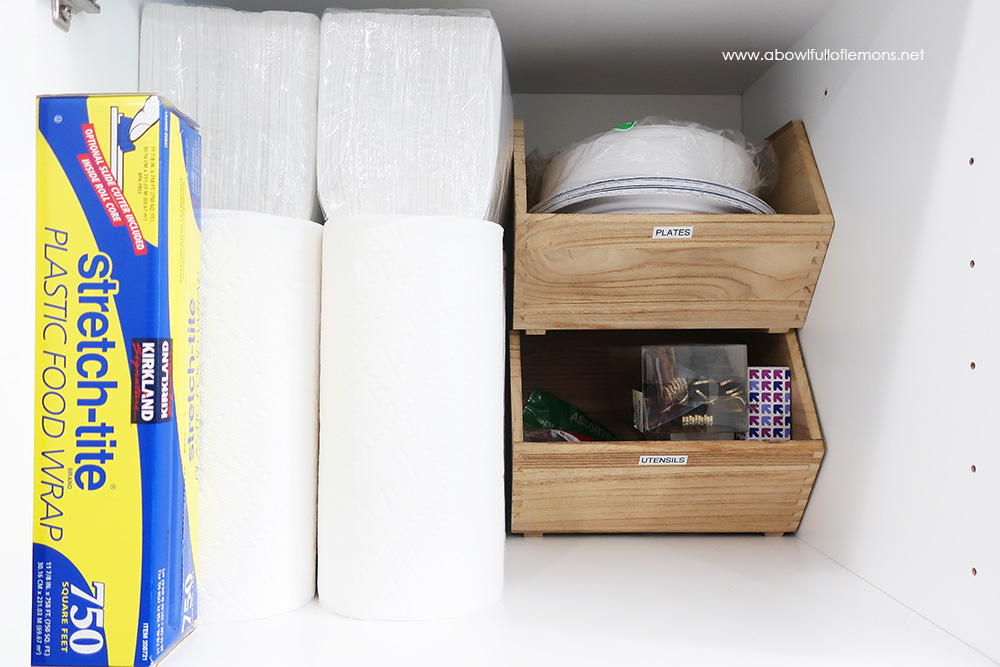 Below, we have our pet carriers, grooming caddy, party decor, and my sons fishing bags.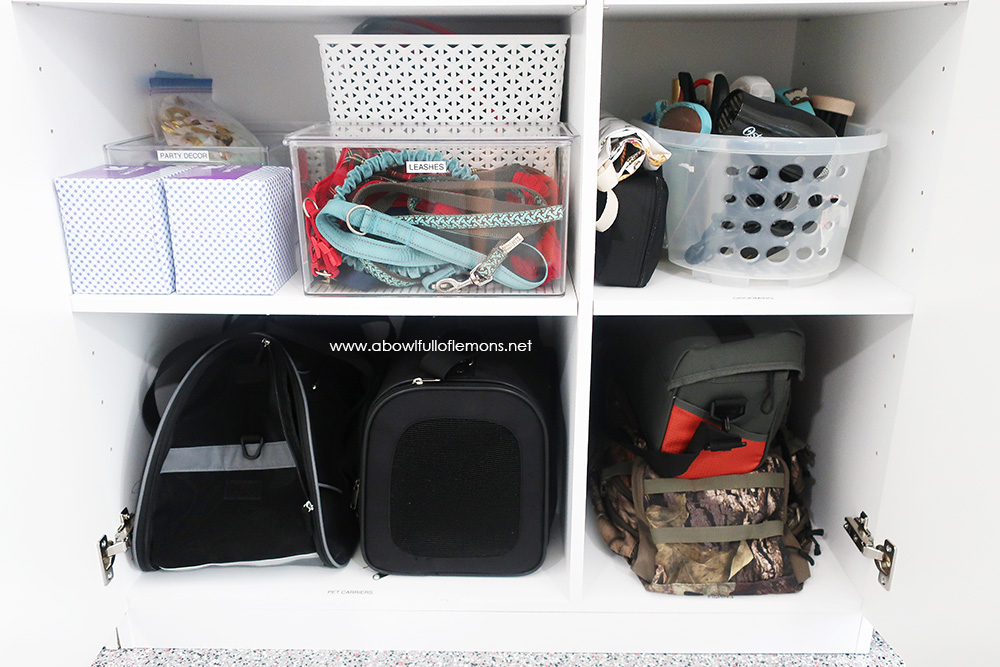 The tall shelf holds a lot of things! The basket at the top contains our gardening mixes and plant fertilizers. The bin at the bottom contains a variety of tape.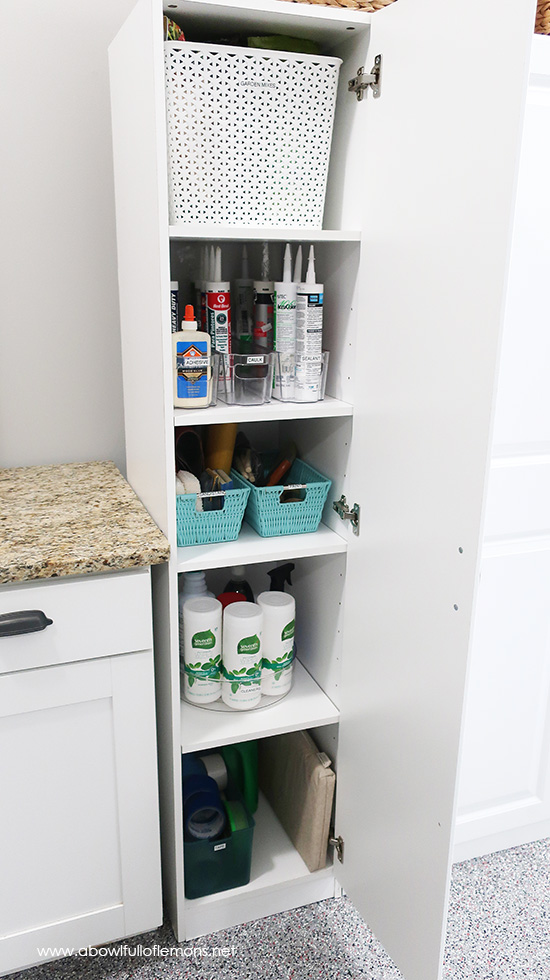 I found the long clear containers & teal baskets at TJ Maxx. Labeling everything clearly keeps things tidy. There should be no question as to where things go.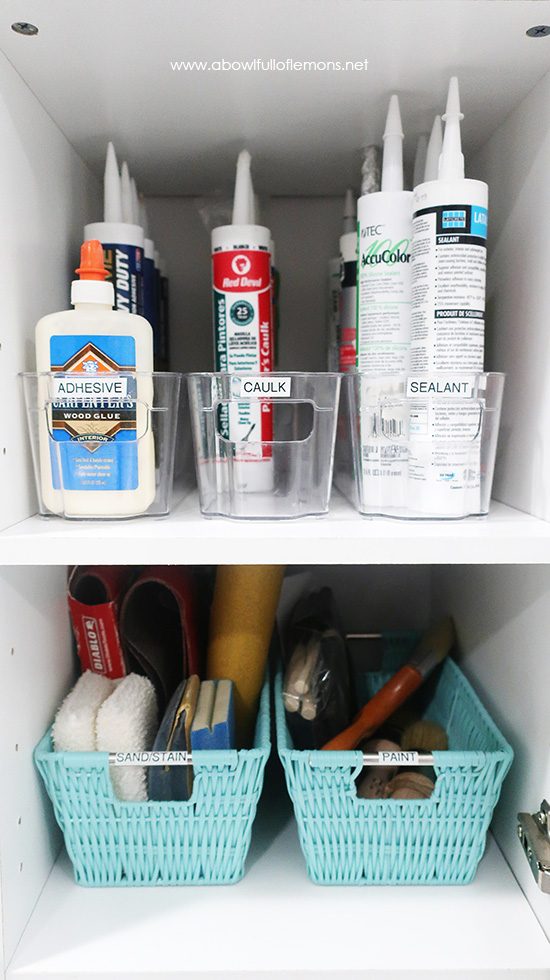 Store a few cleaning supplies in the garage to use on car messes. The lazy Susan is from here.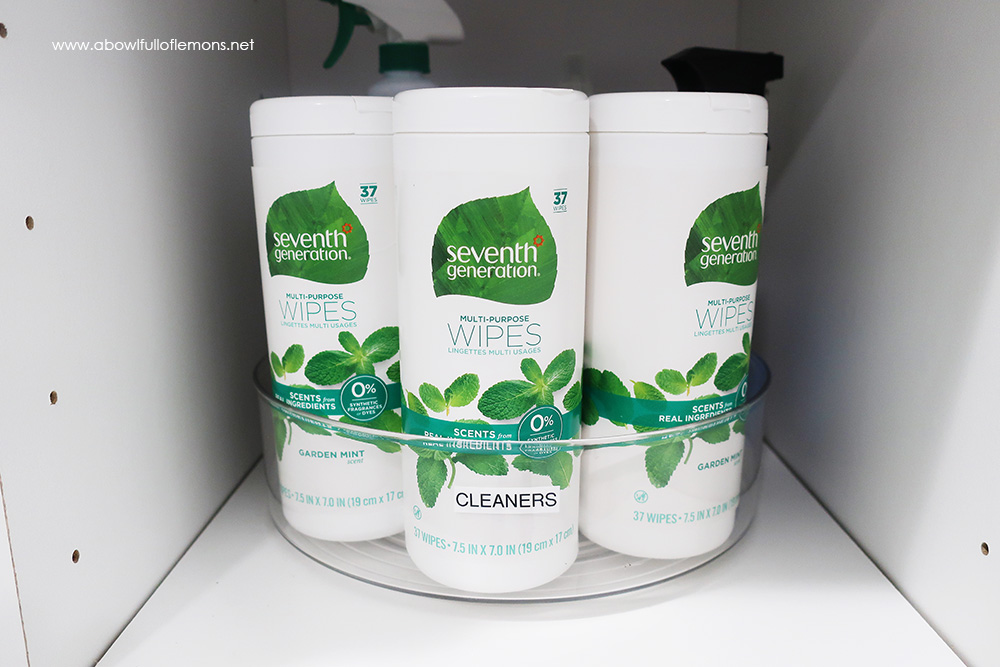 The double doors lead to our back patio and pool. The folding table leaning on the cabinet is our dogs grooming table. We found it here.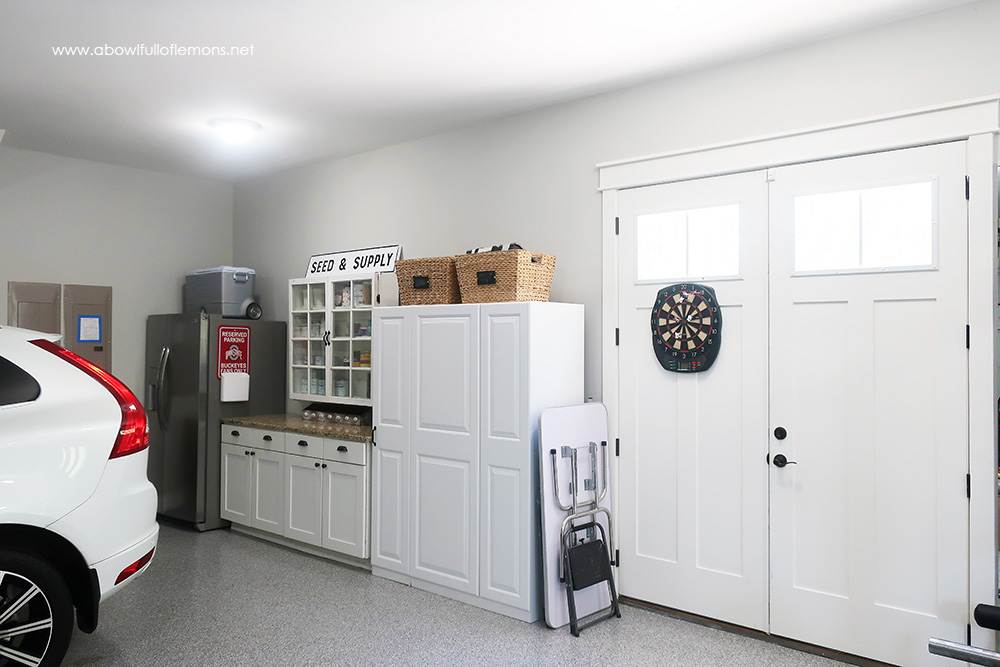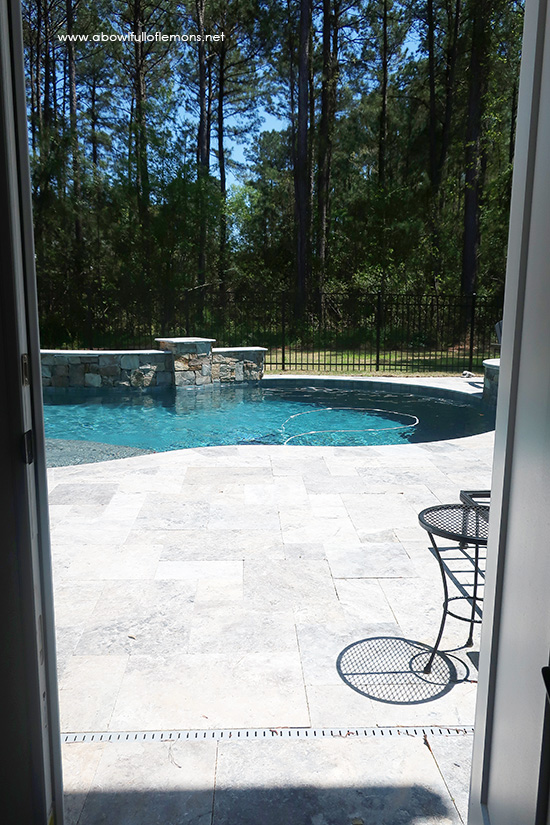 On the other side of the garage is our home gym. Take a tour here.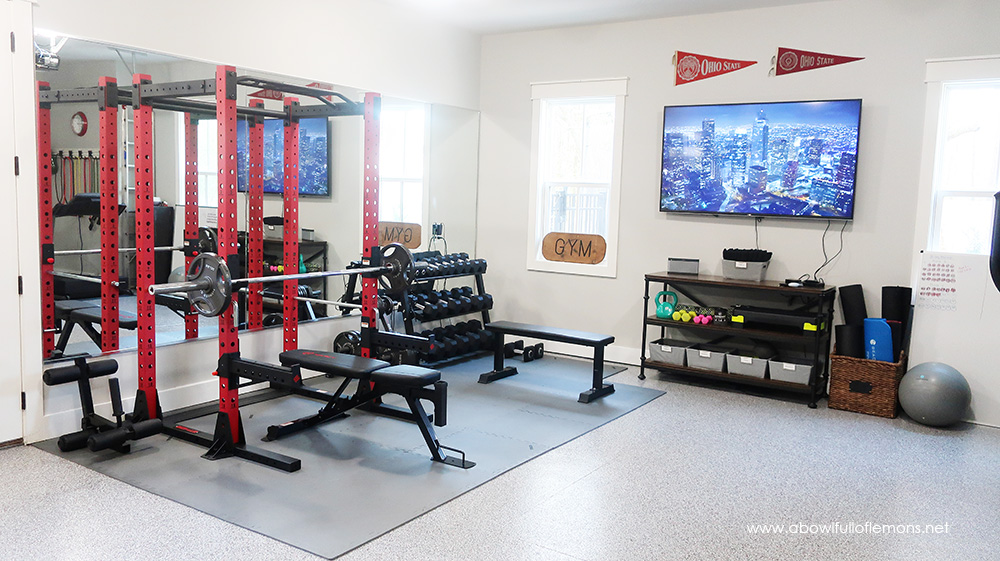 Here are several blog posts that will inspire you to get your garage organized.

For the perfect companion guide to our challenge, purchase The Complete Book to Home Organization. It includes all 14 weekly challenges as well as a ton of inspiration and tips about the spaces we will be organizing. No need to log onto the computer for ideas, this manual has it all!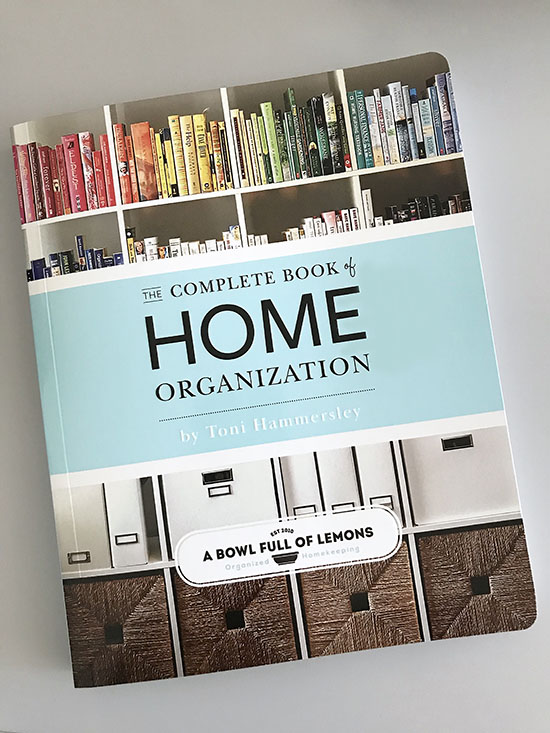 If you need more guidance on cleaning your house, be sure to pick up The Complete Book of Cleanf. It has tons of tips and checklists that will teach you how to get your homes sparkling clean.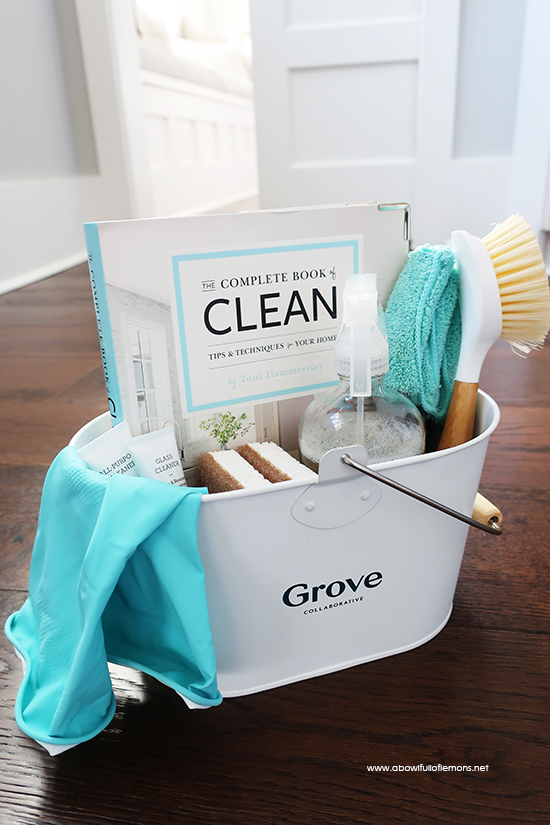 Take a few days this week to clean out and organize the Garage. Purge as much as you can. Share your progress on Instagram using the hash tag #abfolchallenge, blog about the weekly challenges, and share your before and after pictures over at my Home Organization group here. Thanks for joining me this year!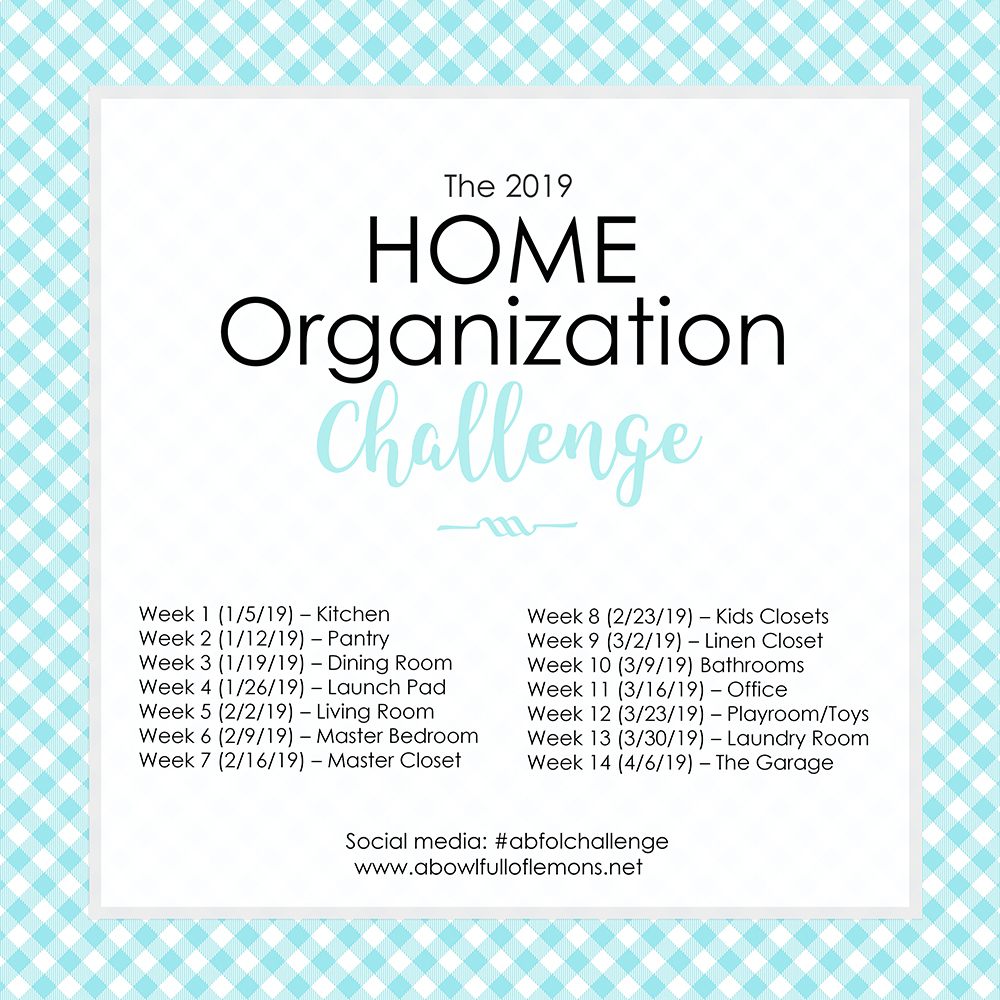 Tags: declutter, garage organization, home organization, organize, organized
2019 Home Organization Challenge, 2019 Home Organization Challenge, Blog, Garage, Organize Posted in 0 comments