WHAT IS PROJECT LIFE?
I'm sure you have heard Project Life mentioned at some point over the last 4 or so years, but do you know what it is?  Project Life is a type of simplified scrapbooking that you can do, to create memory albums for your family (in less time than traditional scrapbooking). To put it simply, it's streamlined scrapbooking.  The creator of Project Life Becky Higgins explains… "Project Life® is a solution-based approach to scrapbooking that was created to simplify the process in order to allow you more time to enjoy life! It requires no glue, no scissors, no tools, and no skills of any kind. The design of our products takes the guess work out of layout design so that you can focus on recording your everyday moments through your photos and journaling. The simple design is stylish and makes it possible for you to complete more pages in less time."  To learn more about Project Life (the full overview) and how it came about, visit Becky's blog here or her website here.   She gets all the glory for creating such an amazing system.  I'm here to show you how to organize it in your home & where in the world to begin with Project Life.
Here is one of the layouts that I created this month.  Its crisp, clean and exudes the feeling of what my son will remember from that sunny October day.  With Project Life, I want to wrap up all the memories that my children experience, and display them in colorful layouts.  Years from now, they will be able to flip through the pages of their books and reminisce on their childhood memories.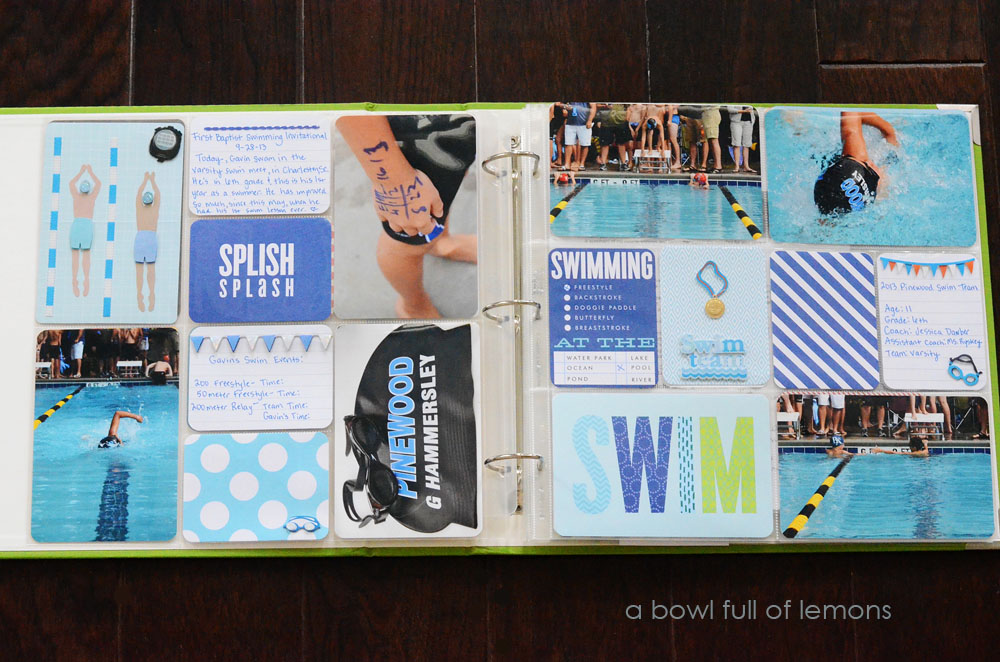 WHERE TO BEGIN
So many of my fans have expressed interest in wanting to learn Project Life but have no idea where to begin.  As an organizer and someone who has to have a system in place for everything, I am laying it out for you, step by step.  You will learn what it is, how to set up a space in your home, where to print out photos, how to organize them, and what products you will need in order to begin creating your own pages.  I will also share a couple of my own Project Life layouts.
There are 5 main components to "Project Life".
1.  Pictures – Taking pictures, ordering prints, and organizing them.
2. Journaling – Writing thoughts and memories down onto journaling cards, using archival quality pens/markers.
3. Decorating – Using PL cards, embellishments, stickers, and keepsakes
4. Page Protectors
5. Albums – 12×12 or mini albums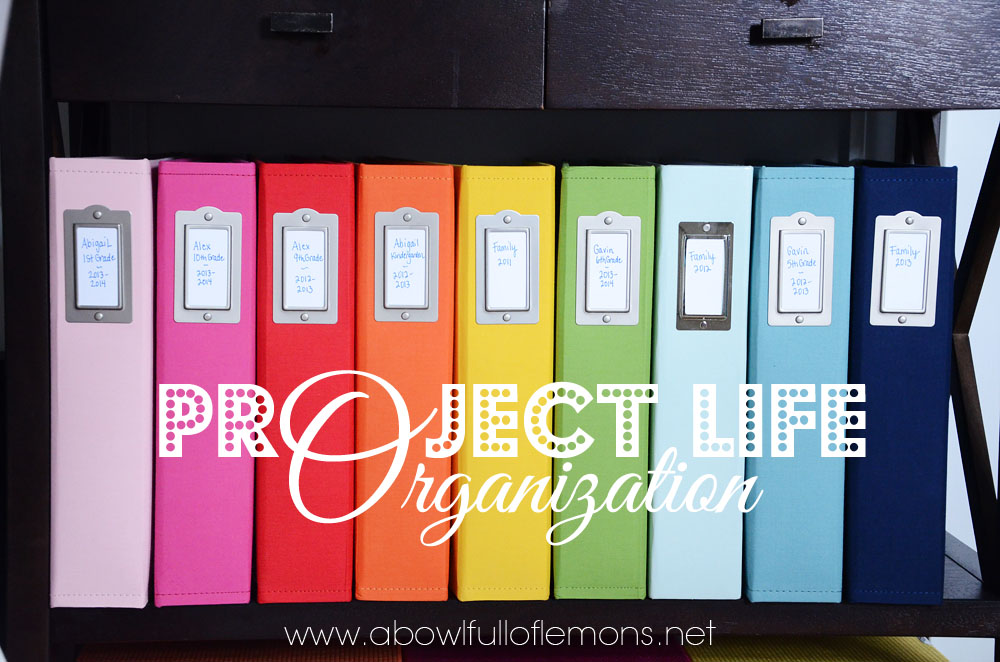 MY STORY
I began scrapbooking back in 1998, when my first daughter was born.  I loved it. It was a creative outlet for me. I needed that outlet while my husband was overseas in the Navy, months at a time.  I was at home with an infant, alone.  Soon, scrapbooking became my haven. I spent hours at the kitchen table, with my best friend (& neighbor): cutting, pasting and laying out memories for my newborn baby.  We also spent countless hours visiting scrapbooking stores, perusing the isles, looking for the next best thing to add to our albums.  I created several albums, documenting her newborn, baby, and toddler years. I enjoyed it immensely. Then all of the sudden, one day she decided that she wanted to HELP me!  Yep… she wanted to cut up the beautiful sheets paper that I just spent 50 cents each on (that was a lot of $ for us at the time), and paste glue onto the pictures that I just had developed.  She wanted to add stickers and ribbon to each page, and she was determined to help me with every single page.
Soon, I found that it was more work than it was worth. I could no longer work on a page because she wanted so badly to "help".  That was when I decided it was time to hang up my scrapbooking scissors and move on.  I bought a new digital camera and began taking better pictures, but the scrapbooking faded away.  A few years later, I became a professional photographer and still have a love for creating artistic pictures.  But all of the pictures either stayed on my computer or were packed away in boxes. When I heard about Project Life, I knew that I needed to revisit my love for creating memory albums. I now have 3 children and 2 of them have no memory books to show for their childhood. So my mission is to order prints of the digital pictures I have taken over the last 10 years, and create beautiful albums for each of my children.  I hope you gain some tips on how you can create memory albums for you family too!
MY PROJECT LIFE ORGANIZATION (& OFFICE REVEAL)
Last year, I shared my brand new office with my readers. Since then, I have switched offices with my husband & my new office now resides in our master suite.   Its perfect for me, albeit smaller, but still perfect!  One of the You Tube subscriptions I watch, Organized Jen, shared her craft room organization a while back (Jen also has a fabulous organizing blog that you may want to check out).  When I saw her video, I knew that the furniture and shelving set up would be perfect for my small office. So I ordered the Bedford Pottery Barn Desks, shelving & the Reisenthel boxes to go on the shelves (no longer available). There are not too many options for baskets/bins that will fit on these particular shelves. They are very narrow.  I have yet to find anything else to fit on them.  Im still searching though, since I like to change things up a bit, from time to time.  I found the white slipcovered chairs from Ikea.  I love my new set up.  Thank you Jen, for the inspiration for my new office. <3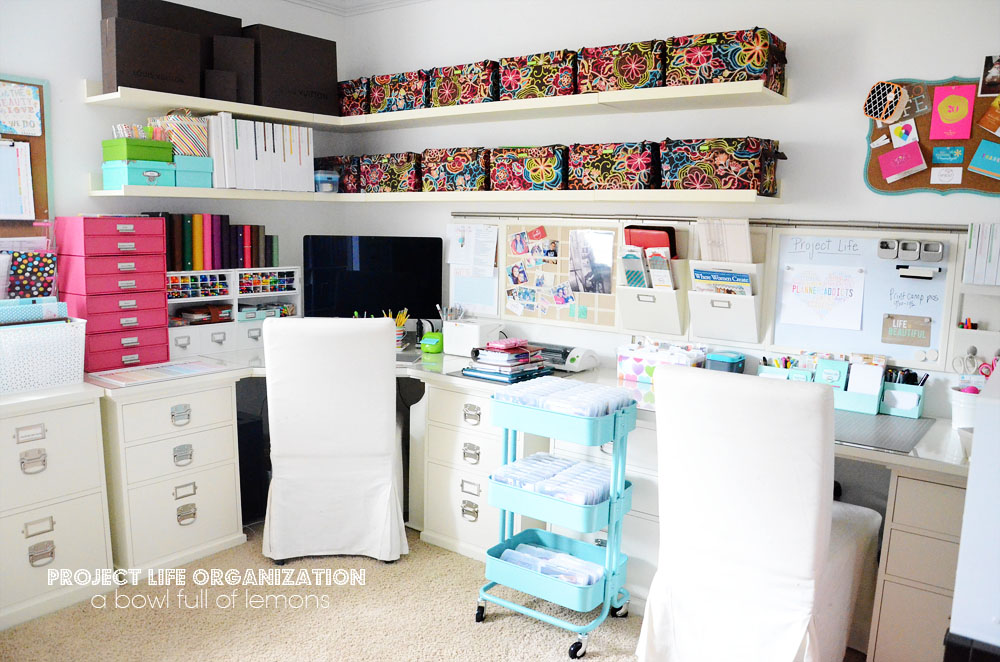 The right side of my office is my Project Life desk.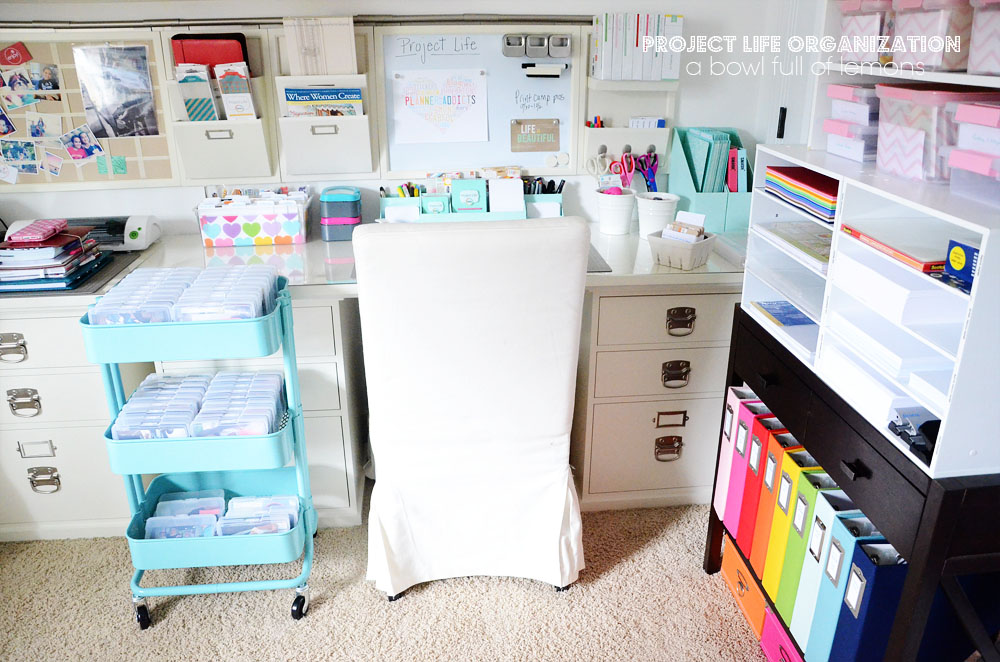 This is where the magic happens.  It's where I document the memories for my children.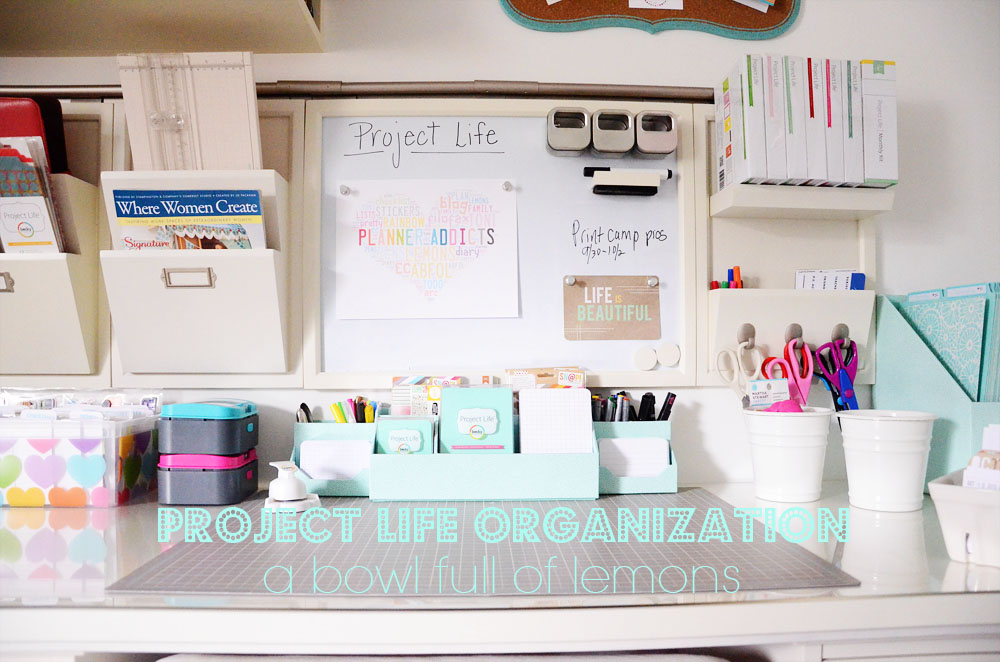 I found this robins egg blue organizing system at Staples. It's Martha Stewart.  I keep my journaling cards and archival quality pens in it.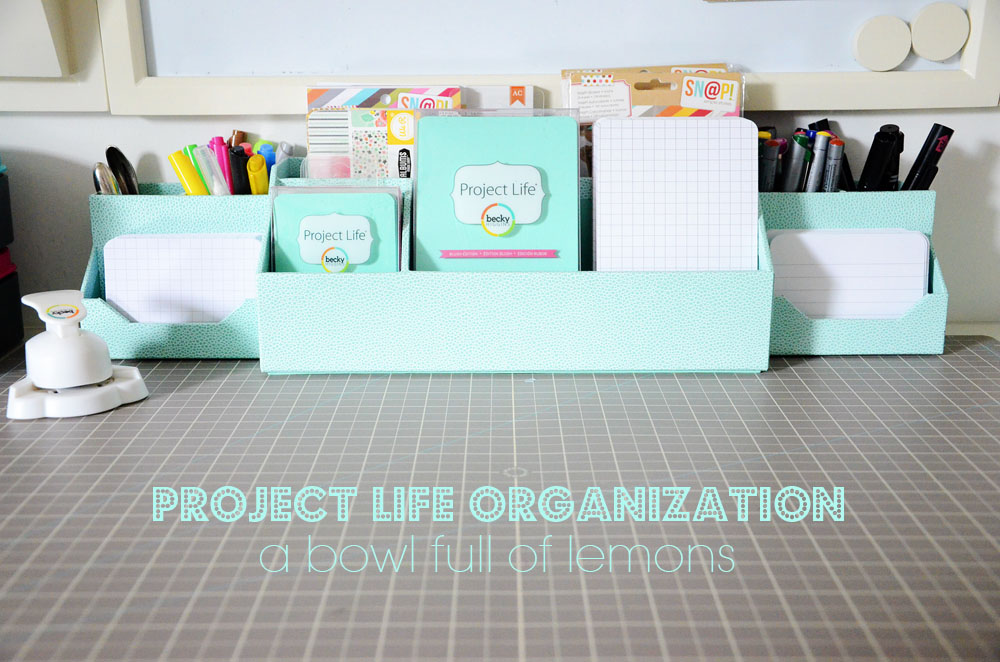 The  Pottery Barn wall system is perfect for organizing many things. My scissors hang on the hooks below.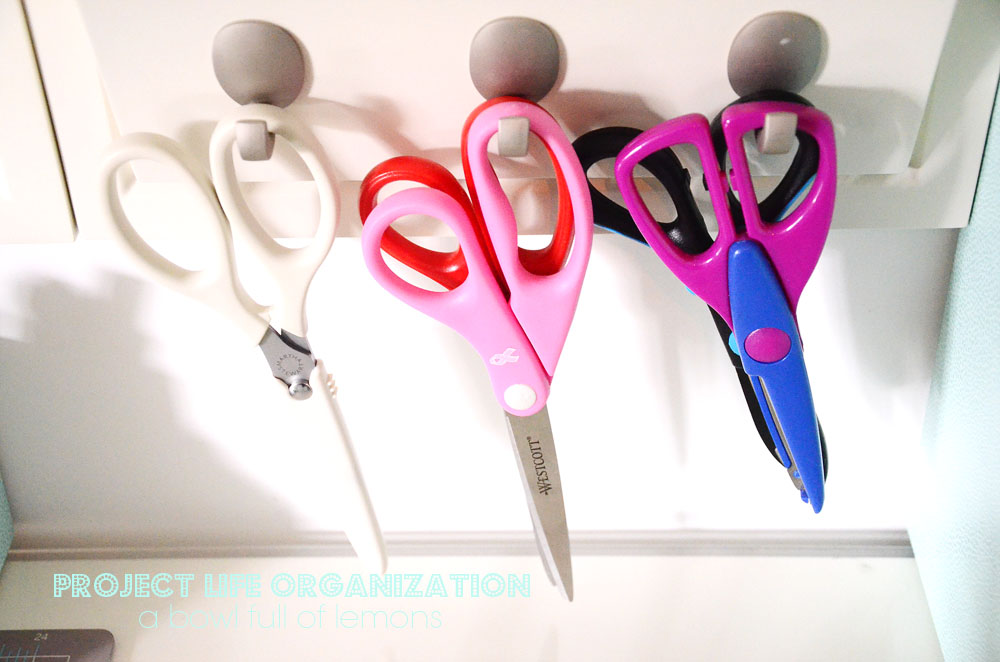 Project Life comes in either core kits, theme kits or mini kits.  You can also subscribe to a monthly Studio Calico subscription.  A subscription is $19.99 per month and they will send you a different layout kit each month.  You also have the ability to add embellishments to your kit.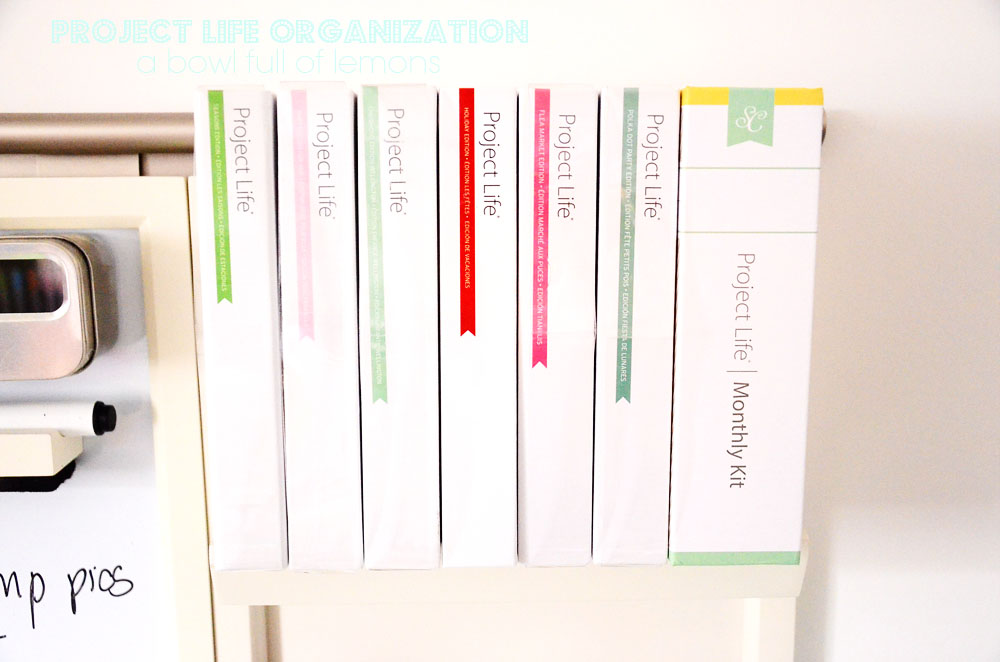 The cubbies below contain…
1. My Project Life Planner (used to document happenings each day that I want to include in my albums).  I do this so I dont forget details from each day.  I have a horrible memory and this helps keep me on track.
4. Magazines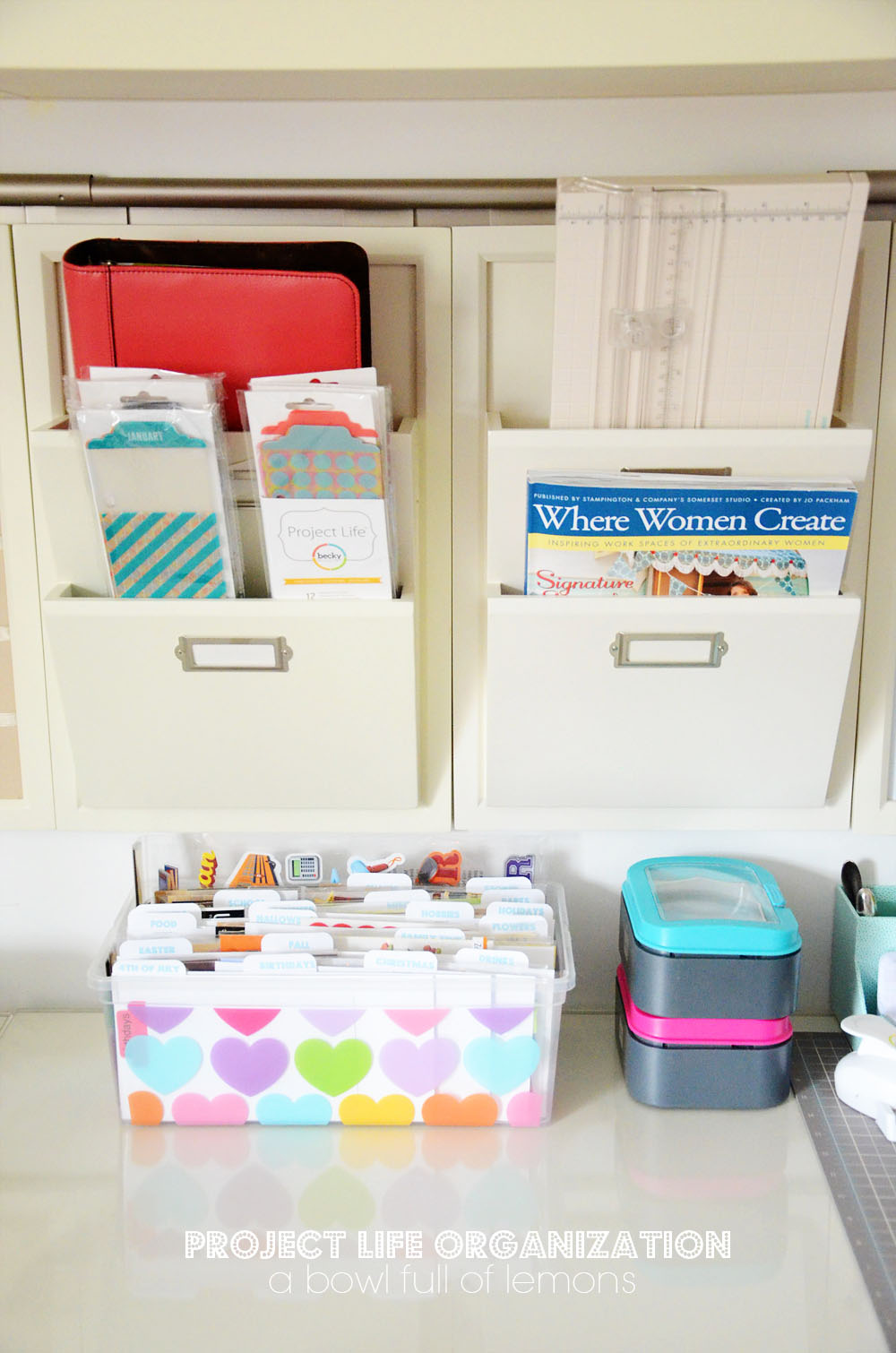 STICKERS
I embellish my Project Life pages with high quality stickers from Michaels & Jo Annes.  I spend a lot of money on stickers because they are what gives my pages the "feel" I am going for.  I organized the stickers into sections. I created the labels in photoshop and printed them out. Then I cut them with the "Tab" label punch & stapled them to a sheet of white card stock.  (I found this tip from someone on Instagram. I tried to find the picture, but I don't remember her name).  I would love to give her credit if anyone else has seen her post on IG?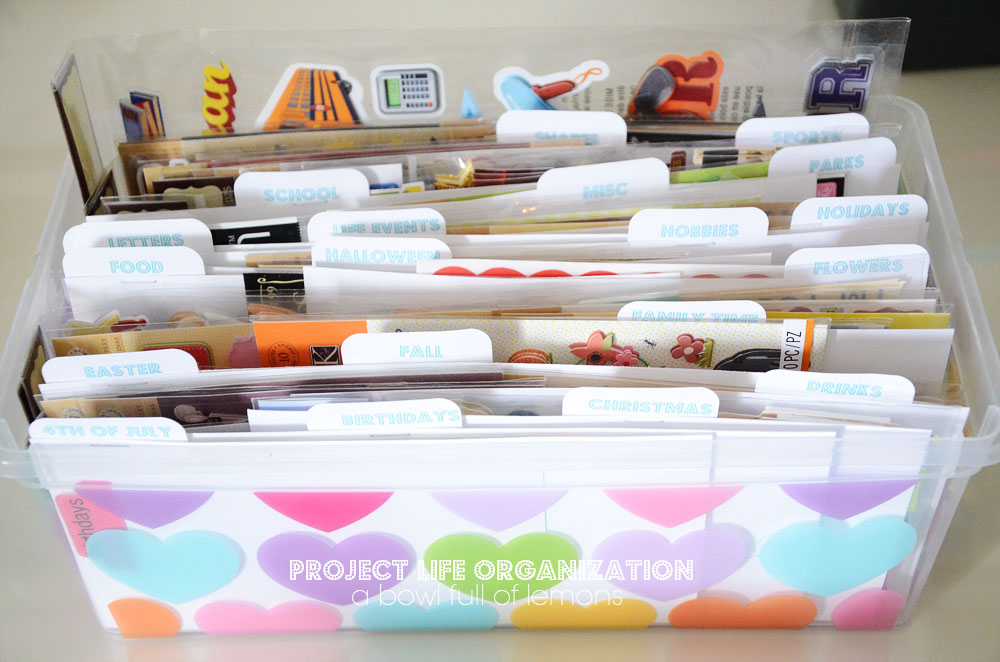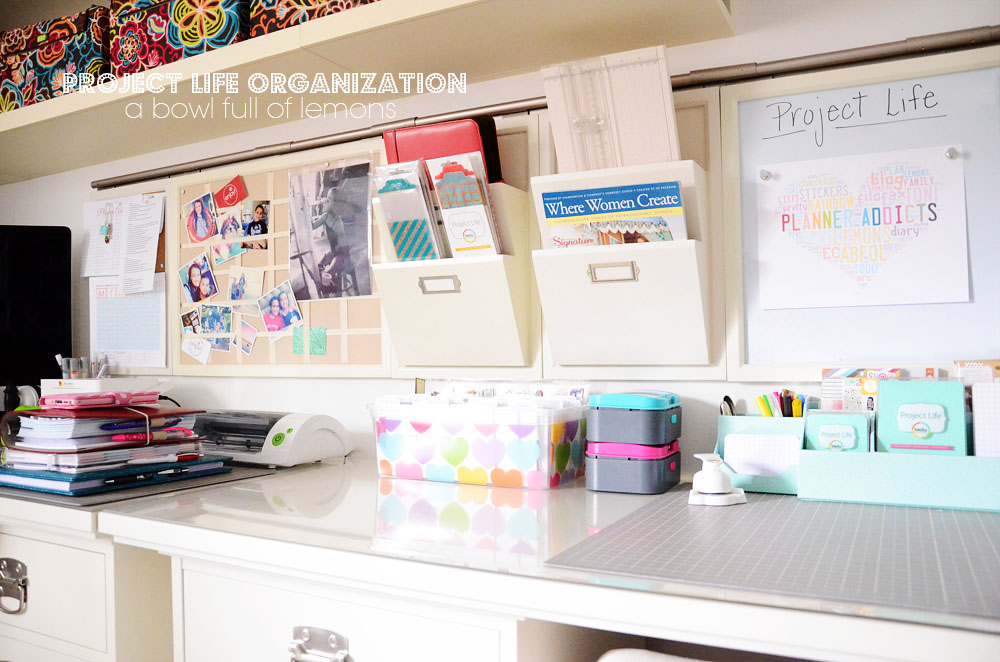 PRINTING AT HOME
If you are looking for a convenient way to print your pictures at home, below I listed a few photo printers to choose from. (I have not tested all of these out. Please research for yourself). On occasion, I  print pictures out at home, when I dont want to wait for the photos to arrive in the mail.  This is a very expensive way to develope the pictures, but its also very convenient. I do not print all of our pictures out at home.  Every once in a while, if I want to hurry up and finish a page, I will print some. The Epson Picture Mate is a fantastic home printer that prints out 4×6 images. You can also choose to print 2-2×3's or film strips.  Its a great printer!
1. Epson PictureMate Charm – $164.85
2. Selphy  – $77 – $83
3. Canon Pixma MG8220 – $149.58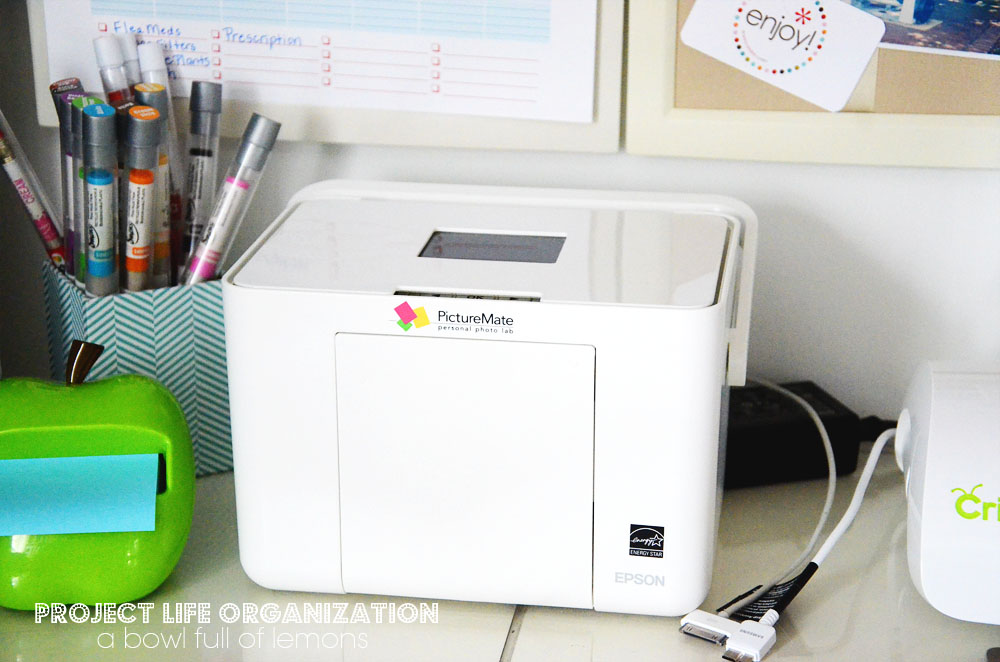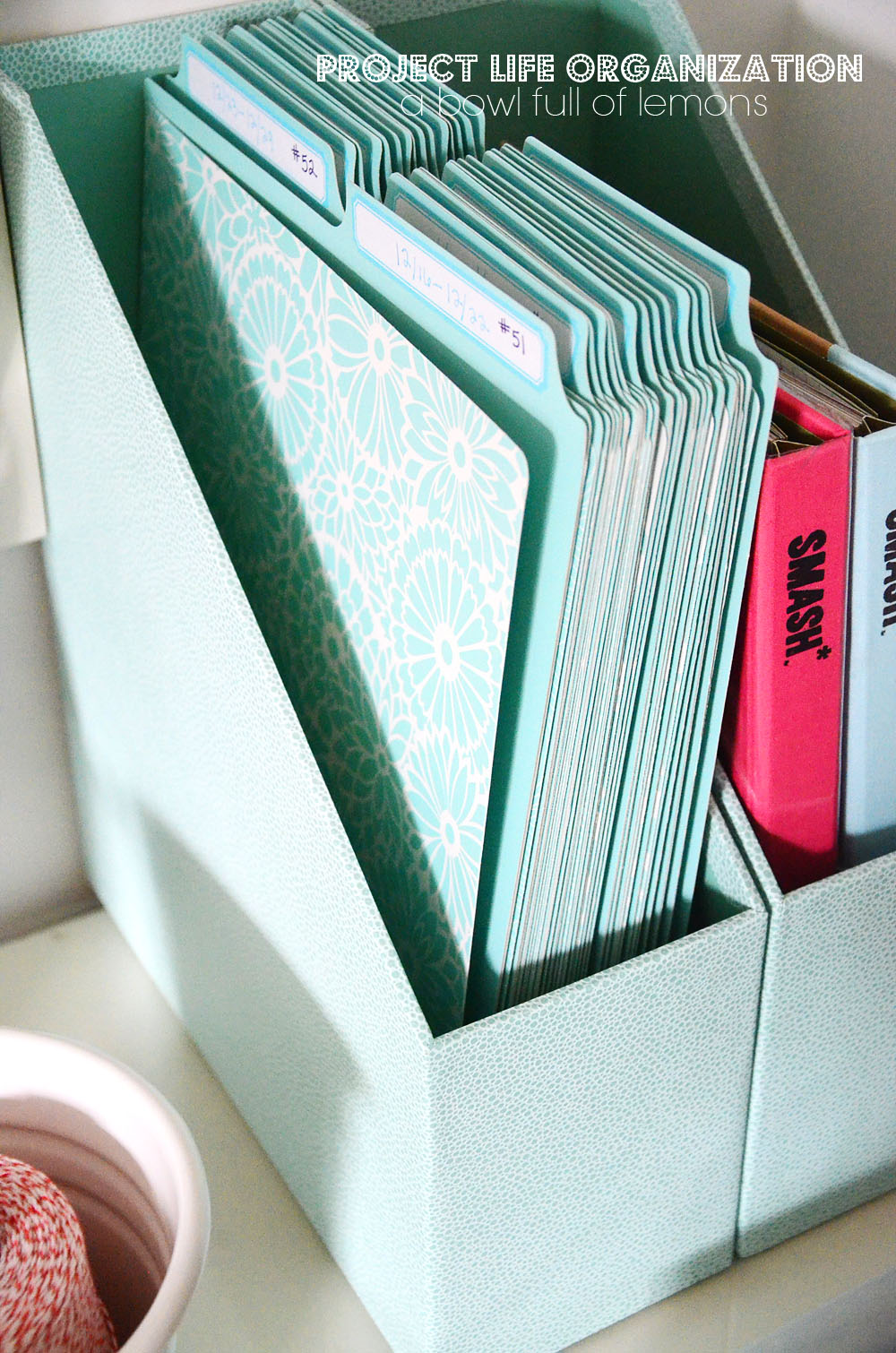 HOW TO ORGANIZE KEEPSAKES
If you choose to document your project life in weekly increments, the system I use (above) works great.  When the kids bring home an A+ test, an award, a ticket stub, artwork, etc…  you can add it to the file that is labeled for that specific week.  Then when you are ready to work on a week, just grab the folder (which will be labeled) and you are ready to go.
What you will need to organize weekly keepsakes:
 1-2 magazine or file boxes
52 File Folders
Label stickers
Pen
* Label each folder with 52 weeks for the year and you're ready to go!  The robins egg blue folders and boxes above are from Staples. (Martha Stewart)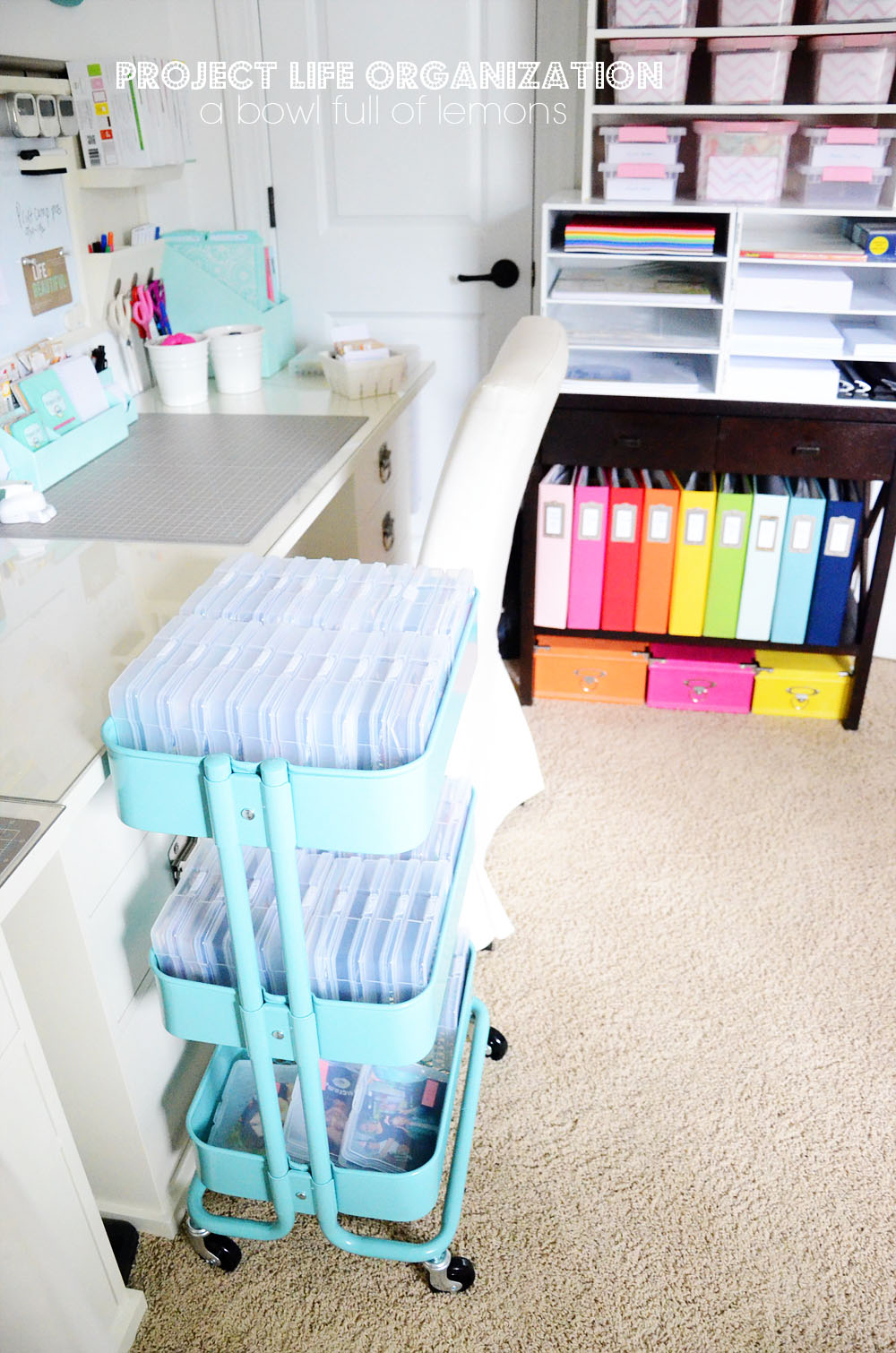 WHERE TO ORDER PRINTS
There are many places to order prints for your albums.  Here are just some examples…
1.  Mpix – They are probably the best (non professional) online photo lab.  Here is their pricing.
2. Walgreens
3. CVS
4. Snapfish – Most reasonable pricing
5. Shutterfly – Also very reasonable pricing
6.  Printsgram  -(For ordering Instagram pictures)
7. Origami – (For printing Instagram pictures)
*I do NOT recommend Walmart because of their poor picture quality.
HOW TO ORGANIZE PHOTOS
I take pictures most every day.  Once per week, I transfer all of the pictures from my memory card to my computer (iPhoto).  Then I place a weekly print order to iPhoto's lab.  To do this,  I look through all of the pictures. I add the photos that I will be using in my PL albums, into one weekly file folder in iPhoto.  Then I order prints of that entire album (by clicking on "share" then "order prints"). Its pretty simple to do. Once you try it a few times, you will get the hang of it.  After I receive the prints in the mail,  I automatically divide them into events and place into plastic photo boxes & add a sticky note with the date of the event.  If I forgot the date, I go into iPhoto and look it up. IPhoto keeps track of dates for each event. Pictures can be very difficult to contain.
 I am currently using a cart from Ikea that I store my pictures in.  It works well for me.   Once my photos are ordered and organized, all I have to do is grab a box of photos and find the file folder that matches that date that coresponds to the photos, and Im ready to start creating a layout.  Not all of my pictures  fit into the plastic boxes.  When I am finished with a layout, I will re use the plastic box for a new event.  The events that dont fit, I keep in a drawer in my desk, until a box becomes available.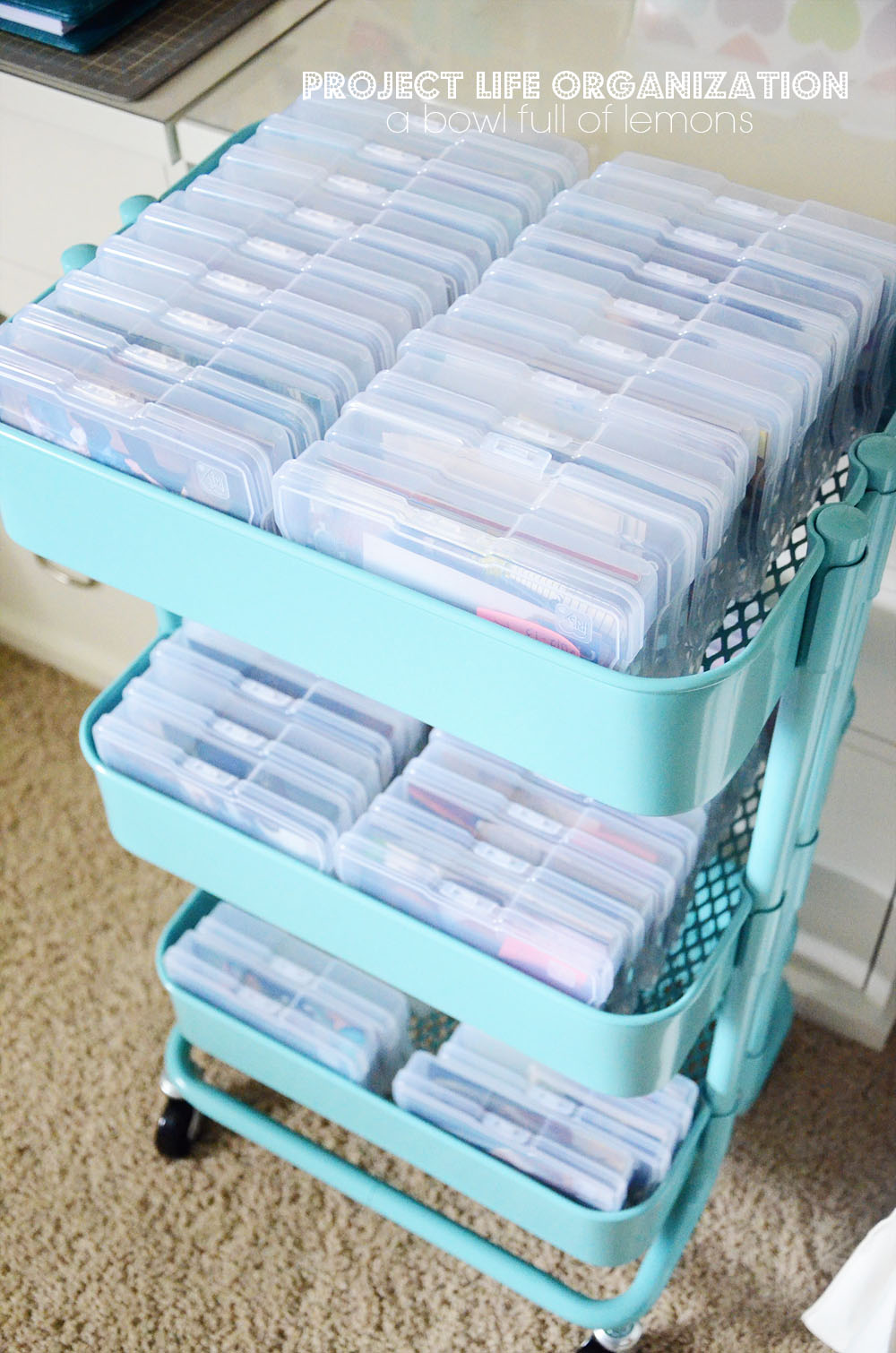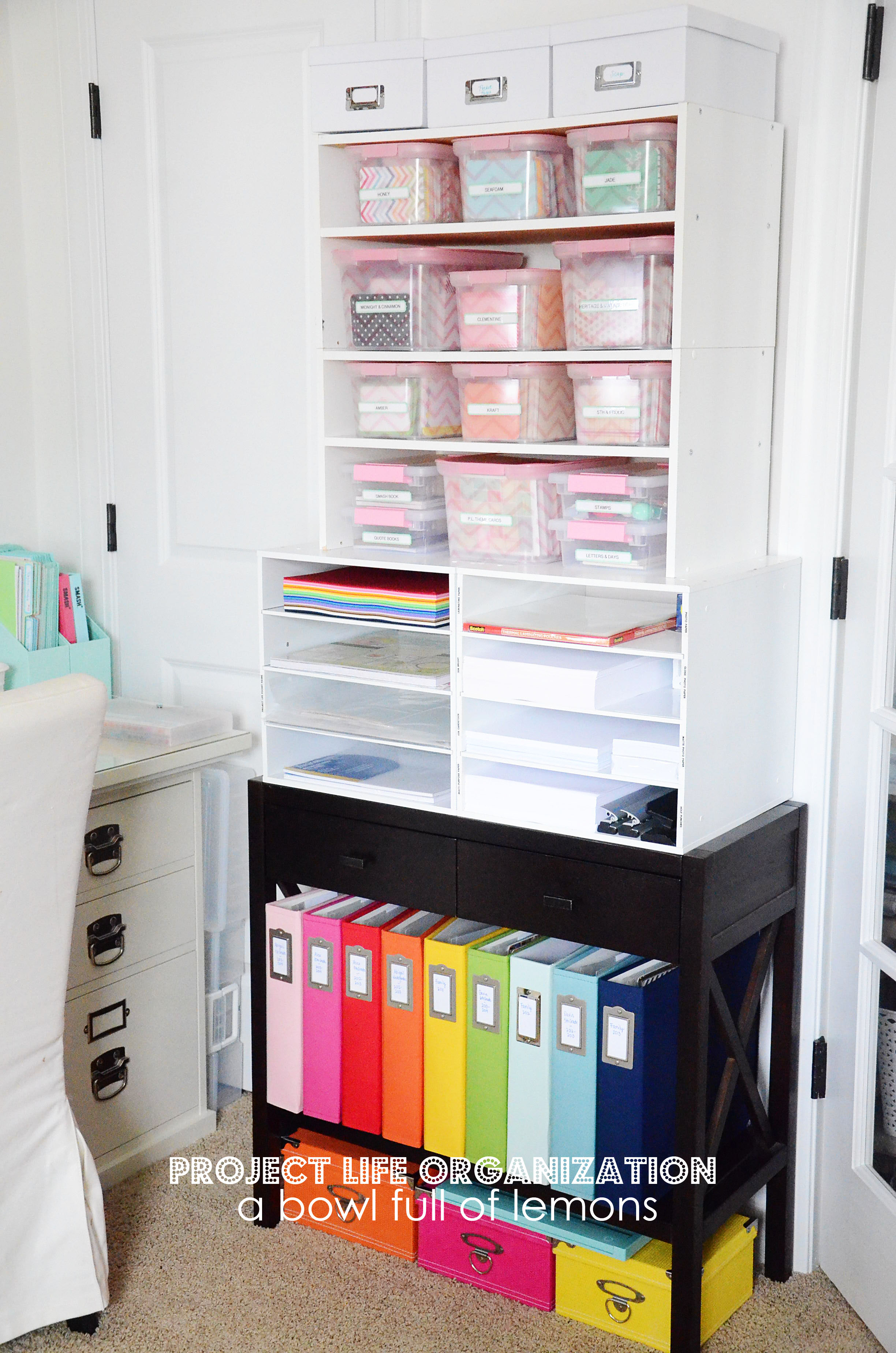 HOW TO ORGANIZE YOUR SPACE
There are so many Project Life core kits & mini kits to choose from.  Once you begin to accumulate them, it can get overwhelming.  You need to create a system of organization for your Project Life kits & supplies, or they will take over your space.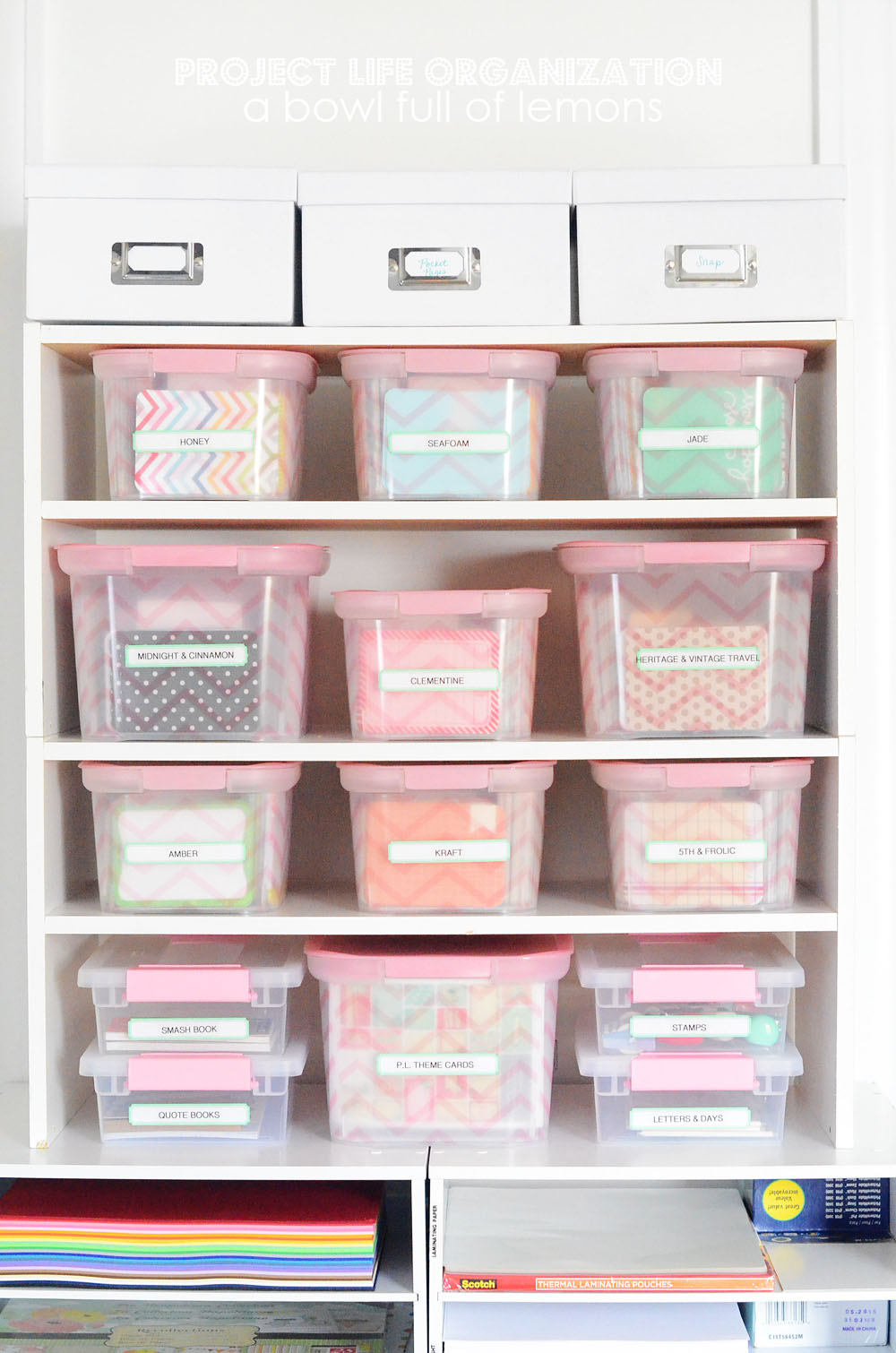 CONTAINERIZE & LABEL
I decided to separate and containerize each kit, into boxes with lids.  One core kit fits perfectly into a small box (pictured above).  Two core kits fit inside of each large box above.  I purchased the boxes from the childrens section at Target.   To easily grab a kit, I labeled the boxes by the name of the kit "edition".   There are many other ways to organize your Project Life cards. I have found this to be the easiest.  I tried several methods, before settling on this one.  This also helps me keep my cards separated within their kit. Before using this system, I kept getting cards/editions mixed up.  Now its all organized, just the way I like it! The labels are the Martha Stewart File Labels from Staples.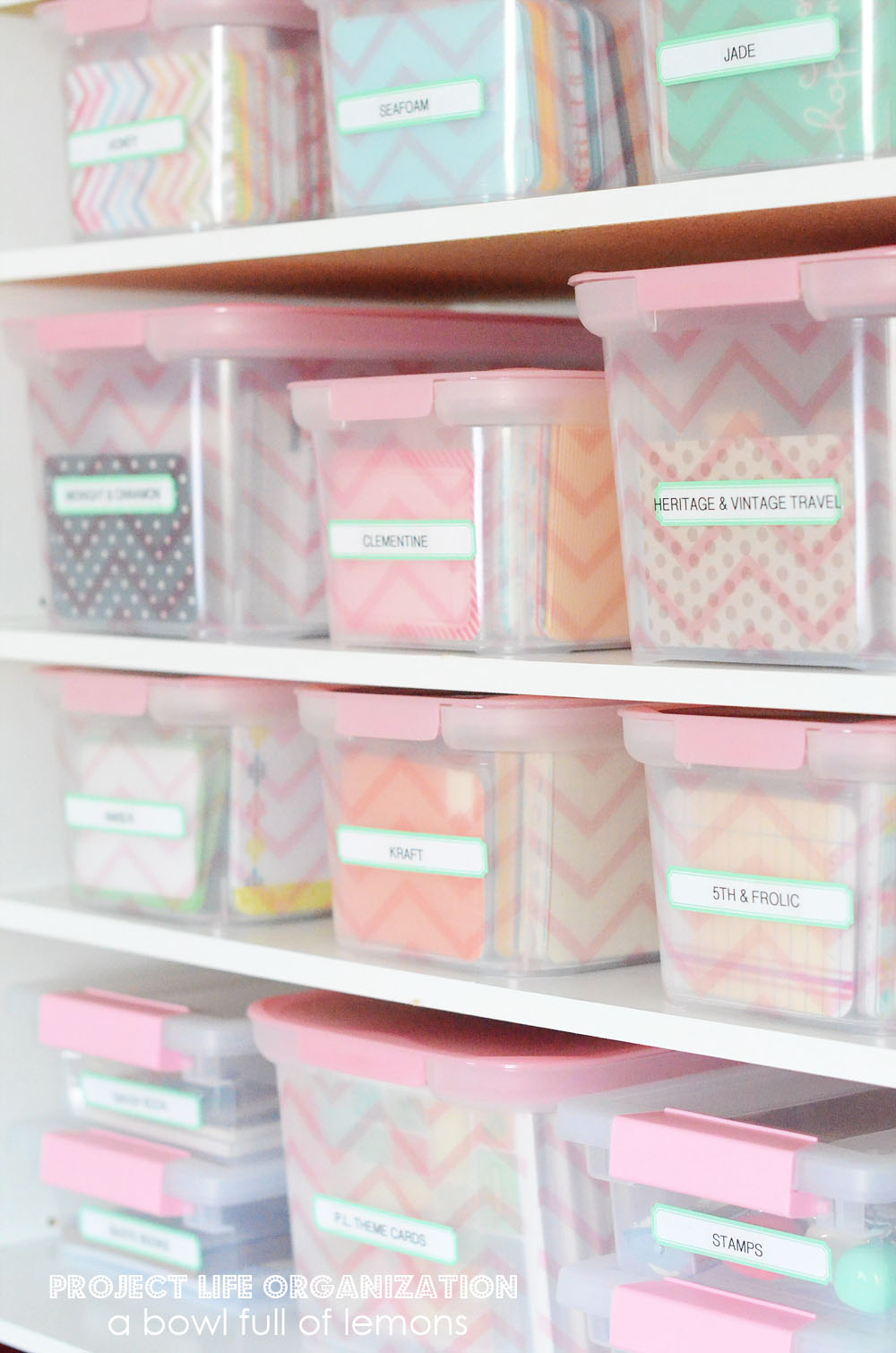 WHAT ARE THE ESSENTIALS?
After you have taken pictures & printed them out, you are ready to begin creating a Project Life album.  Here are some essentials to get you started.  All Project Life items can be purchased at Amazon.com, Michaels or Hobby Lobby.  You can begin Project Life with just one album, page protectors and a mini kit.  Then work your way into the bigger kits & more albums, once you get the hang of it.
 Albums & Mini Albums
Core Kits & Mini Kits
Page Protectors
Stickers & Embellishments (non essential)
PROJECT LIFE KITS:
I have several Project Life Core, Mini & Theme Kits.  There are so many to choose from. You can get them from Becky Higgins (Project Life), but there are also other companies who create products that can be used in in the albums.  Pocket Pages (from Michaels) is one of my favorite brands, as well as Snap.  My kits are listed below.
My Core Kits
Vintage Travel
5th & Frolic
My Mini Kits
Baby
Flea Market
Polka Dot
My Theme Kits
Winter
Basketball
Theme Park
Celebrate
Great Outdoors
Fall
Floral
Baseball
Americana
Girl
Road Trip
Love
Celebrate
Tropical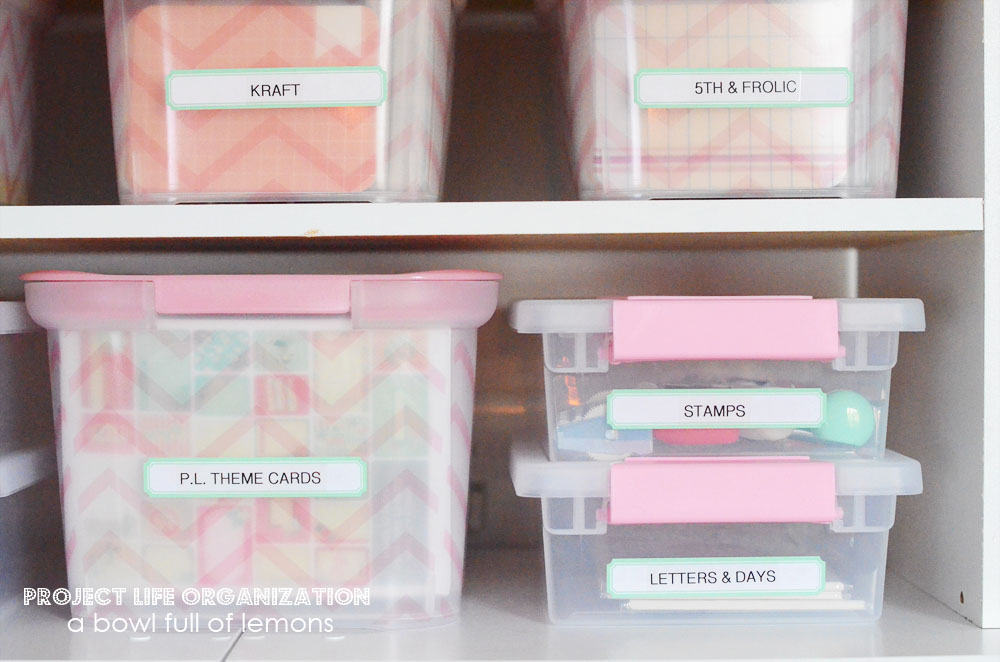 The Jade Core Kit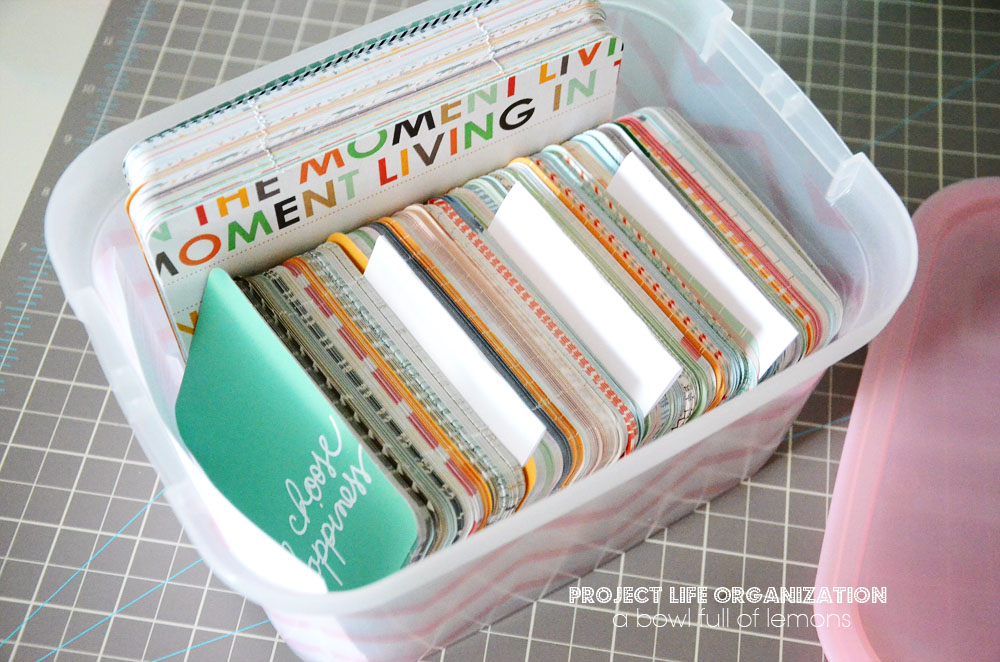 PAPER & PAGE PROTECTORS
Along with the Project Life kits, you can use card stock or scrapbook paper to create your layouts.  There are different hole punches that you can use to cut your paper to the correct size (as well as photos) or you can even use scissors to cut the paper to fit into the page protectors.  Of course you will need  some page protectors.  They are the sheets that you put your photos & journaling cards into. I have my paper & page protectors organized on these shelves. I even labeled the sides.  I also keep my photo paper, laminating pouches, and hole punches in here.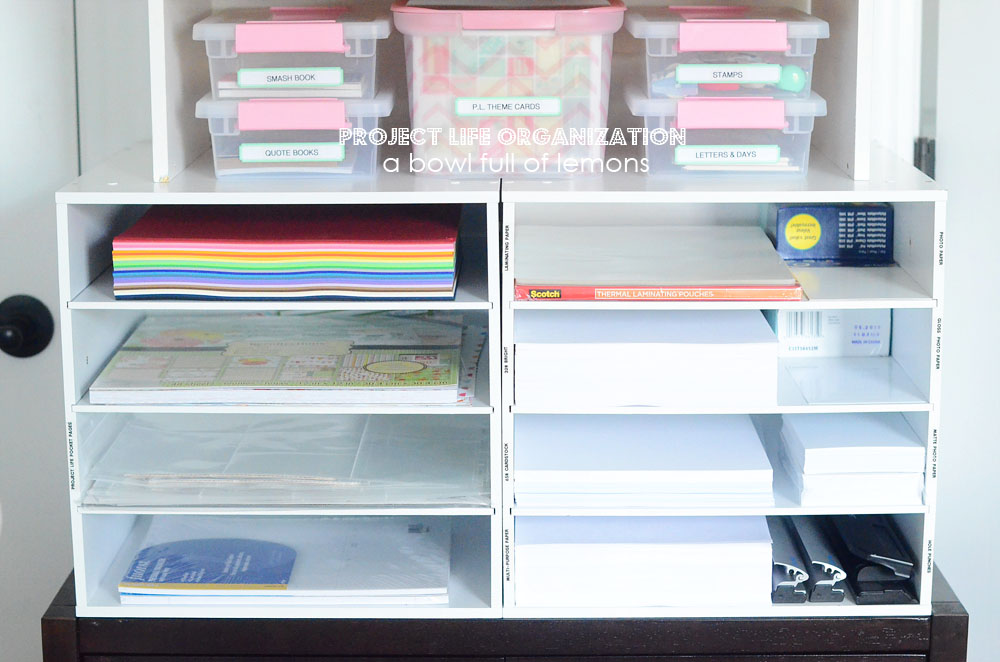 I purchase my card stock at Michaels.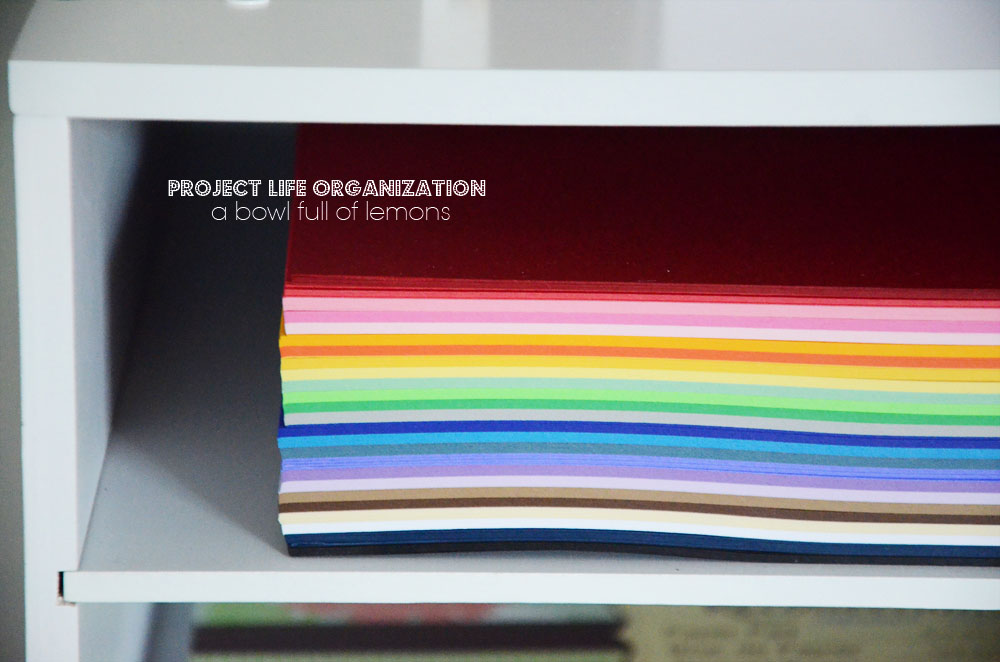 My Epson Picture Mate photo paper & ink is stored in this drawer.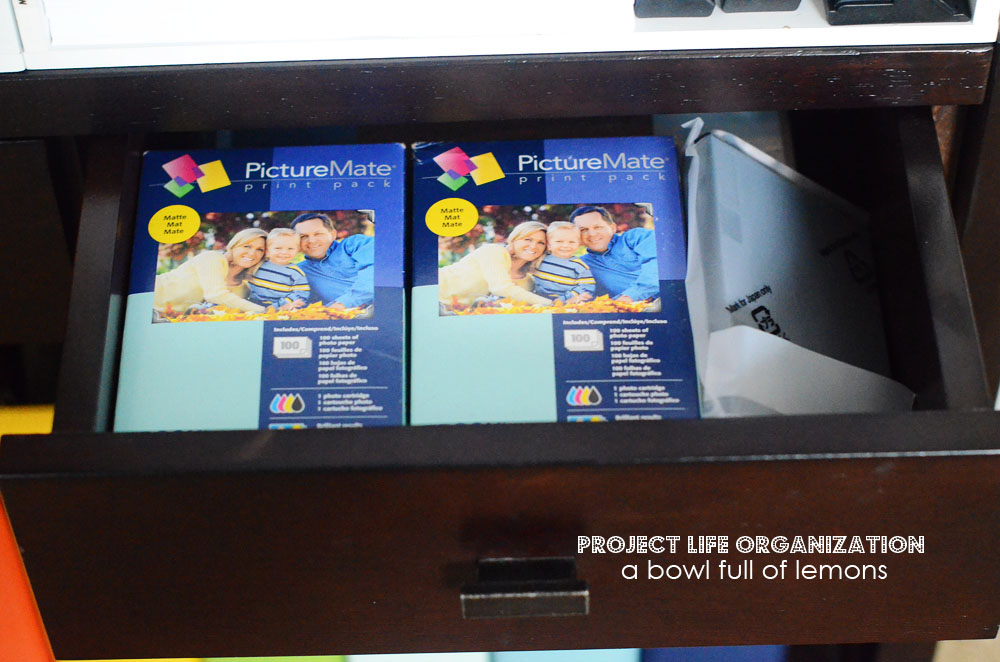 And my labeler and tape is stored in this drawer, under the paper.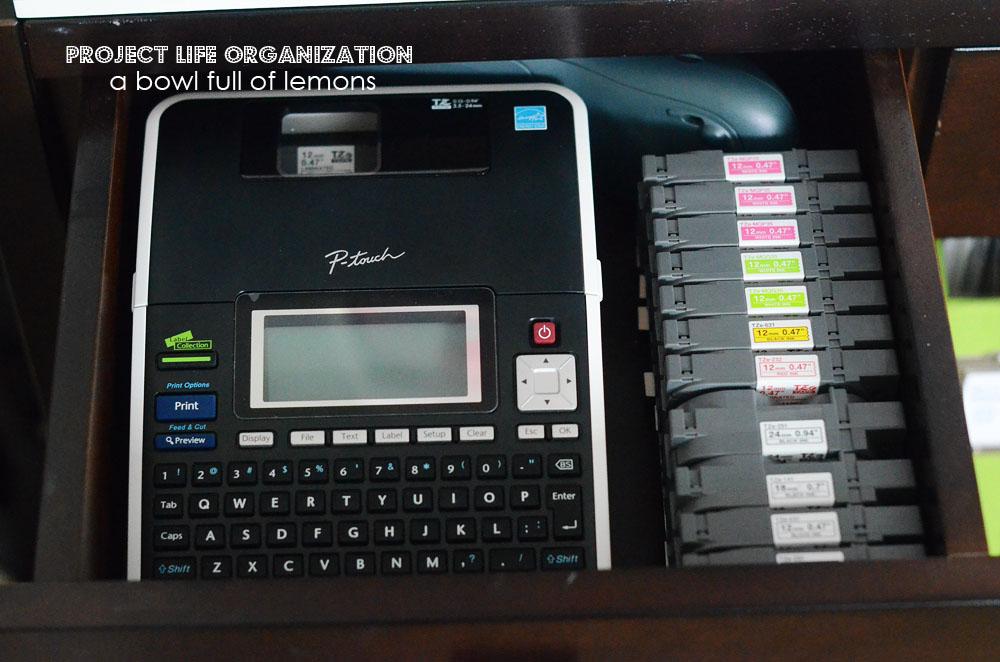 PROJECT LIFE ALBUMS
Once you create those beautiful layouts, you will want an album to store them in.  I love the new fabric albums by Project Life.  I couldn't decide, so I purchased one in every color of the rainbow.  There are also other brands who sell 12×12 albums. You can find them at Michaels, Hobby Lobby, Jo Annes, and many other places.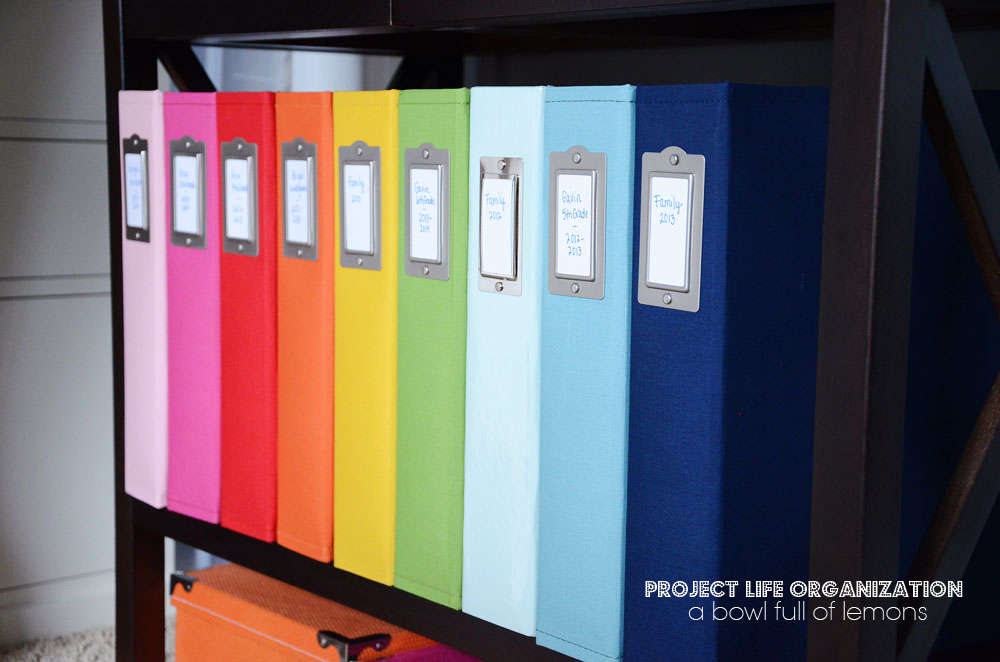 This part of my office is my "planning area" and computer.  I am a big planner and love collecting different types of planners.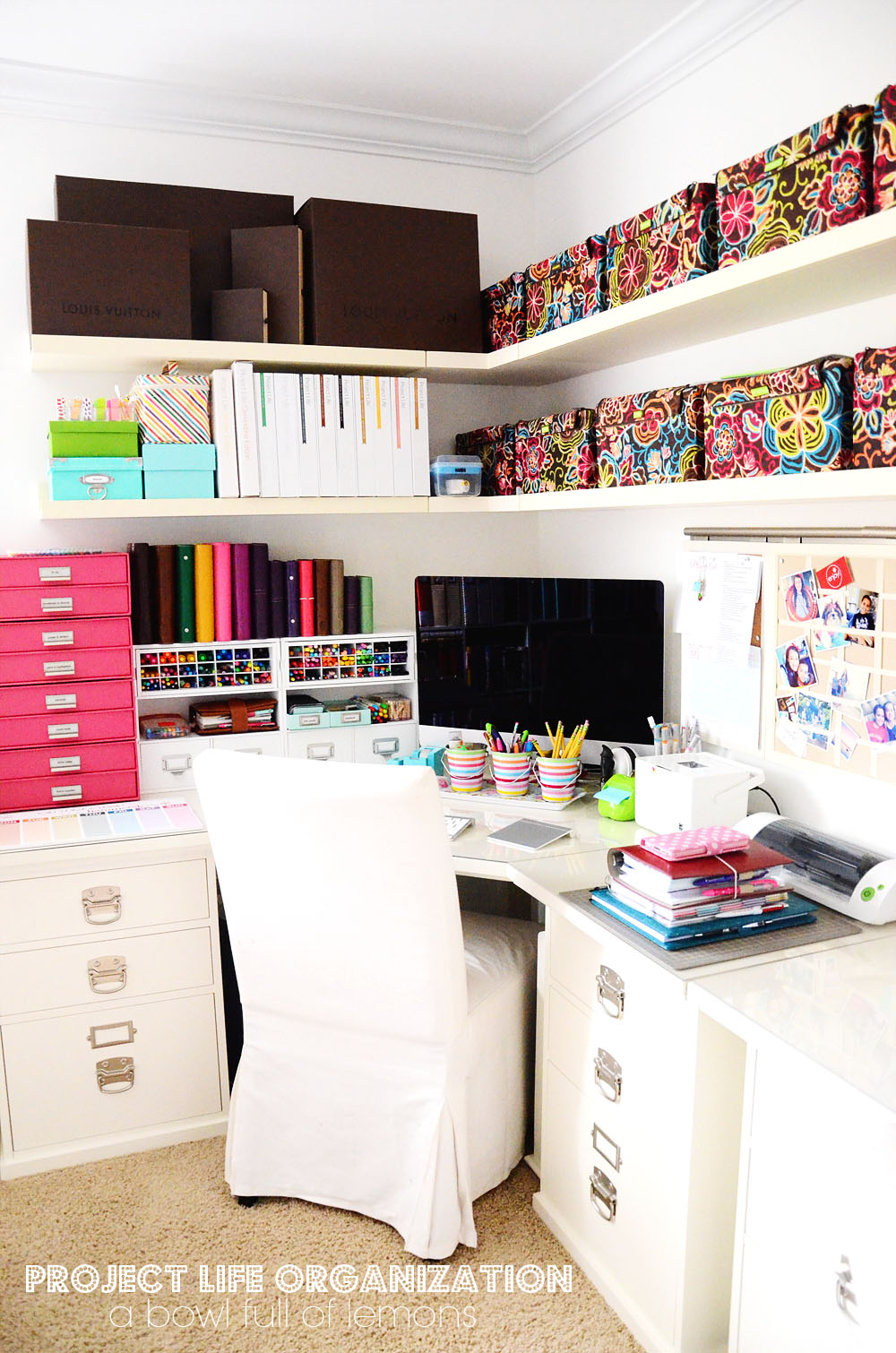 I store my Project Life Core Kit boxes, on the shelf above my computer.  They are empty but I just dont have the heart to throw them out.  Do you keep yours?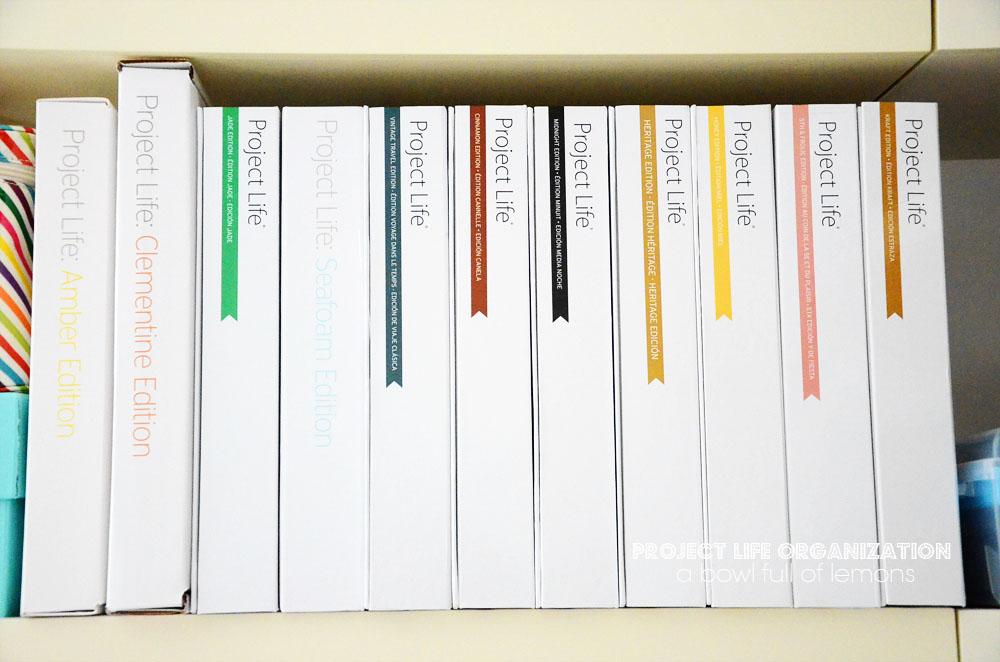 In the center of the office is my bill payment center. I went into detail early last month. You can see that post here.   I also shared how I organize my filing system here.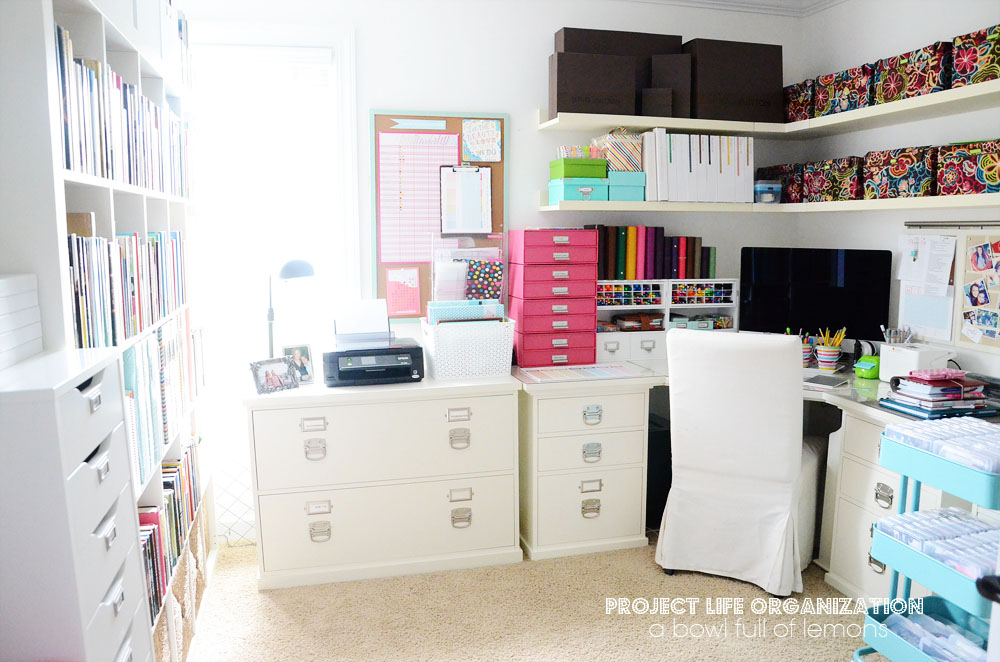 Below is a drawer system (from the Container Store) that houses all of my planner supplies.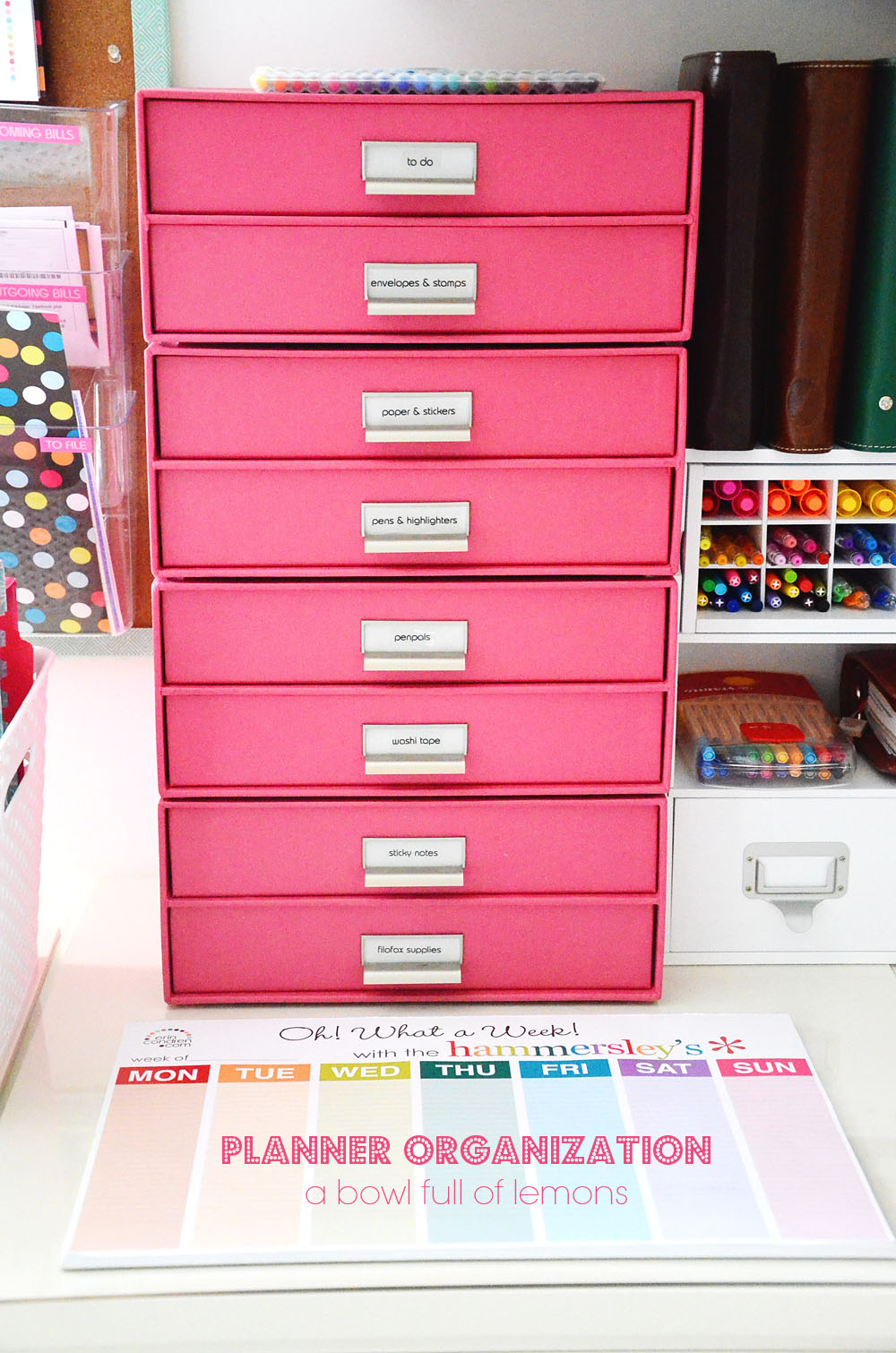 I purchased the pen organizer from Michaels. Its Recollections brand.  I have a 'thing' for pens too!  😉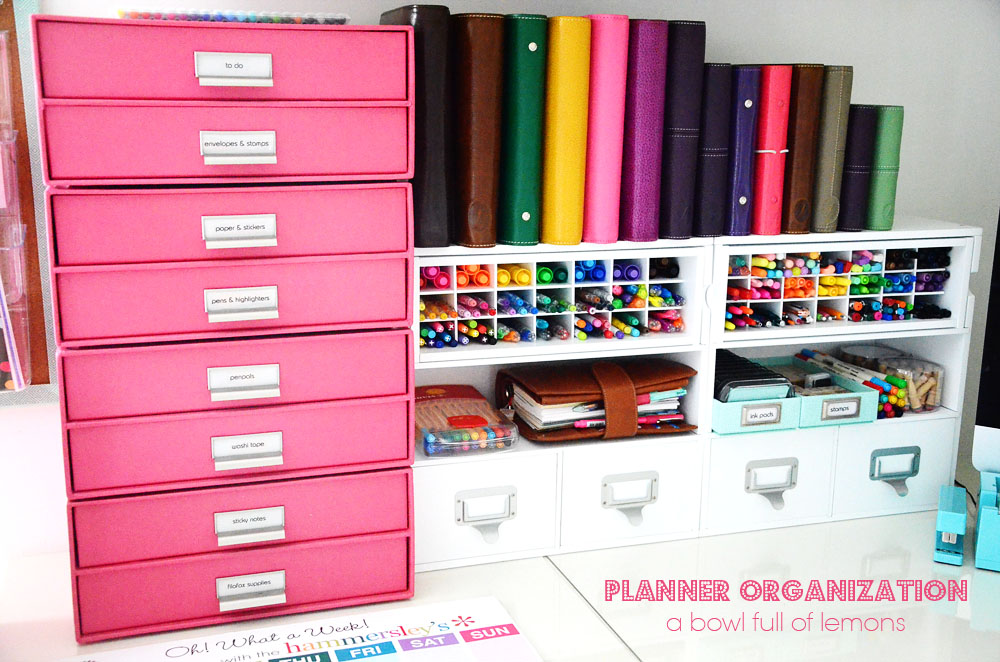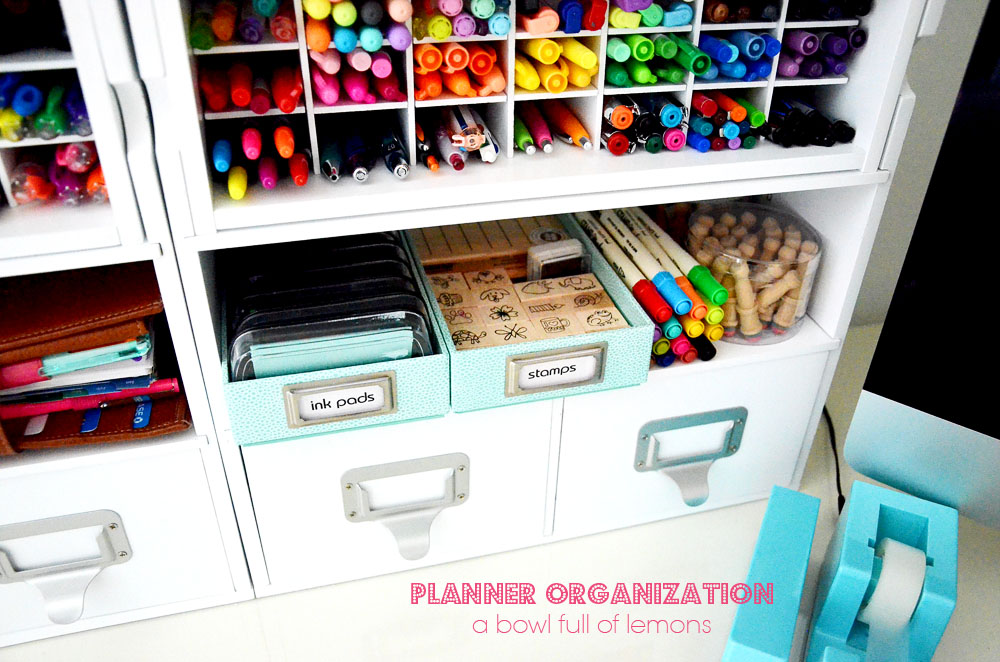 My Expedit shelf from Ikea, houses all of my books. I love reading!  I also keep some Project Life albums on here.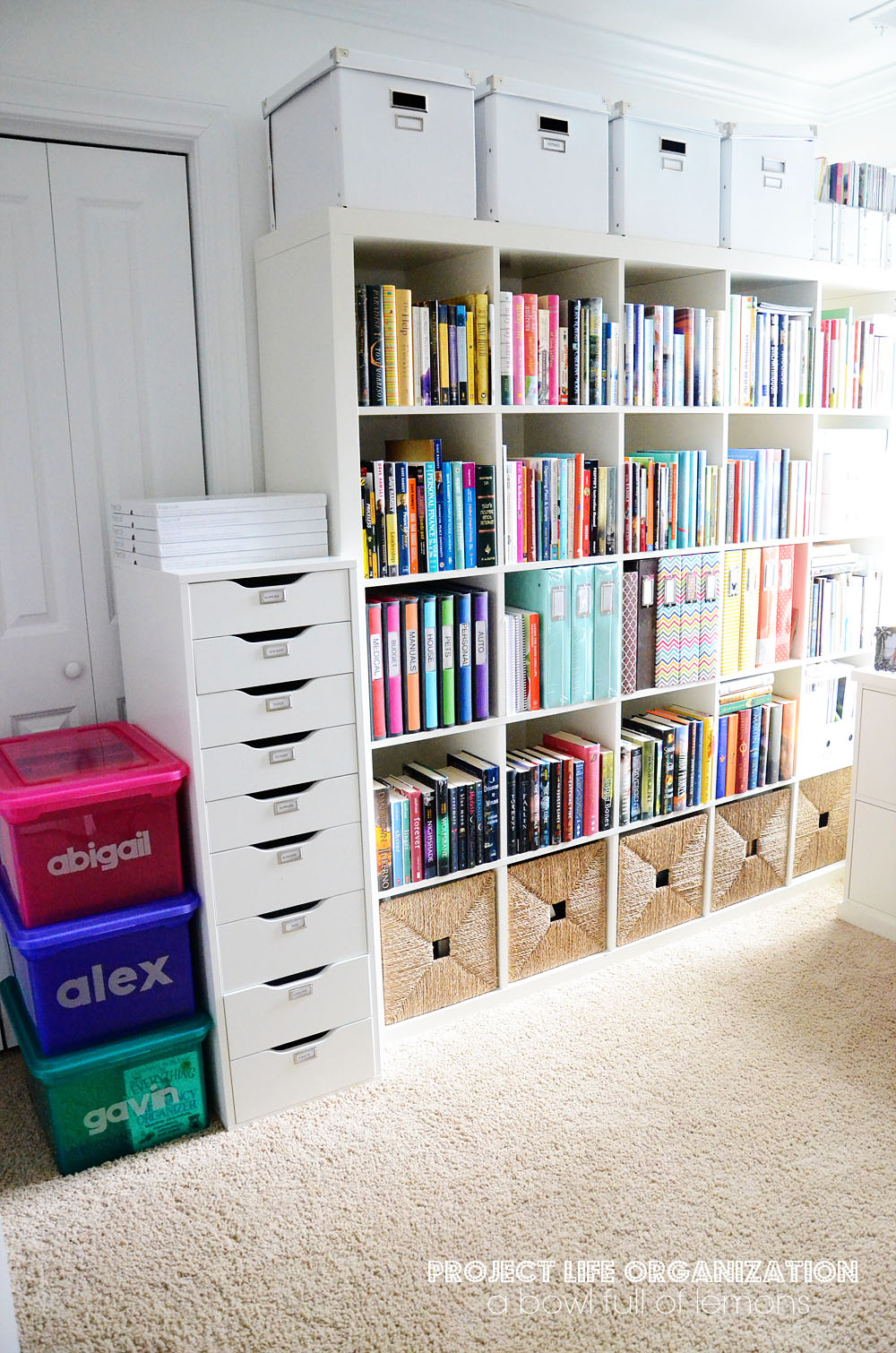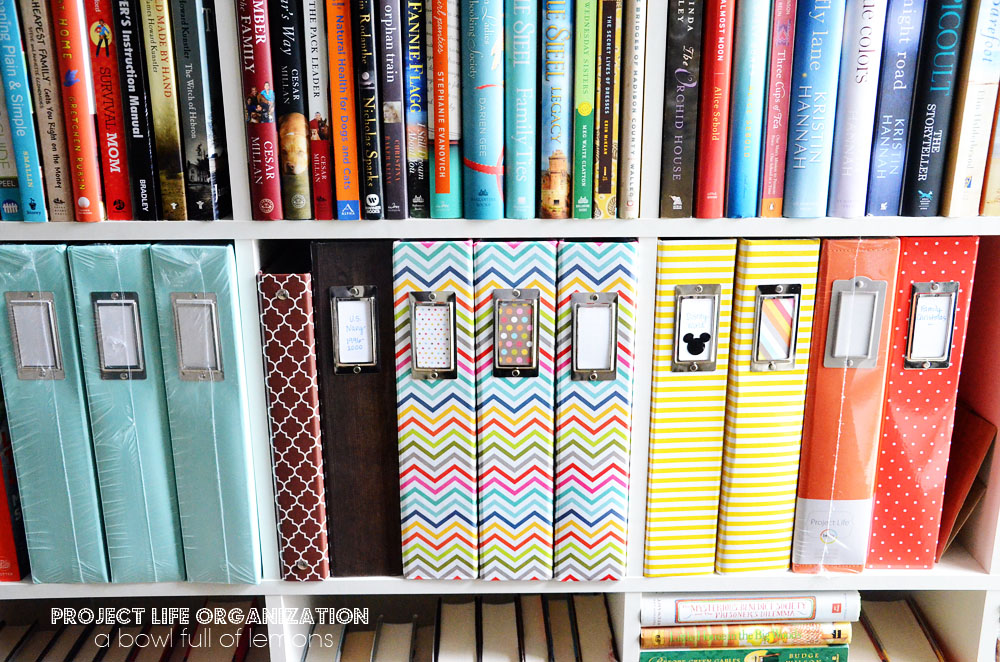 This Alex drawer unit from Ikea has more planner essentials inside of it. I need to relabel  the drawers. I will share this with you later on.  The colorful boxes are my childrens keepsake boxes. Everything that doesn't go into the Project Life albums, is stored in these boxes.  I go into detail about how I made them here.  On the top of the drawer unit is where I keep my extra page protectors.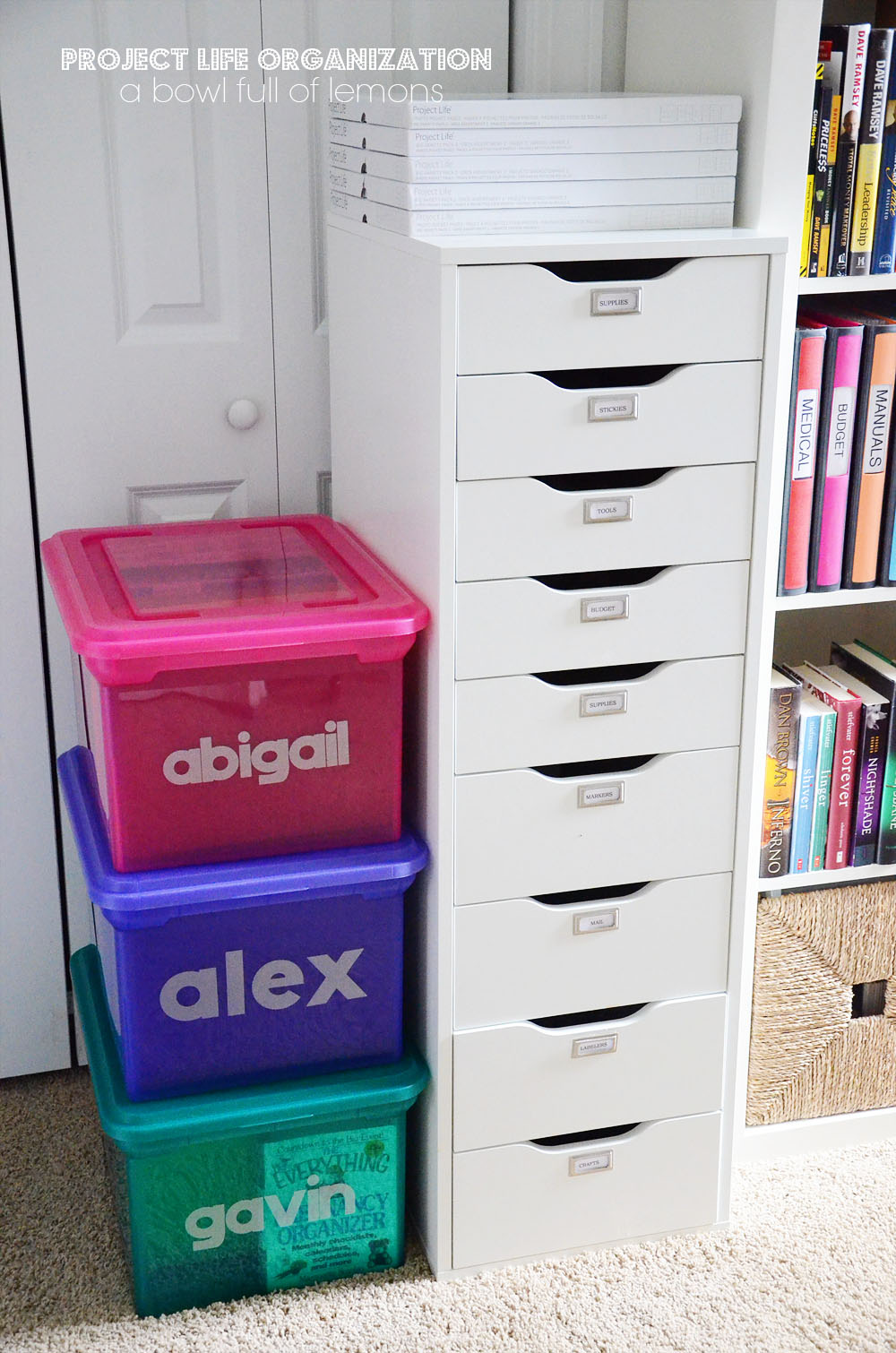 Below is one last Project Life layout of mine.  My son got his braces put on this month. I am thankful to be able to create these memories for him and for my other children, so they can share them with their children, when they are grown.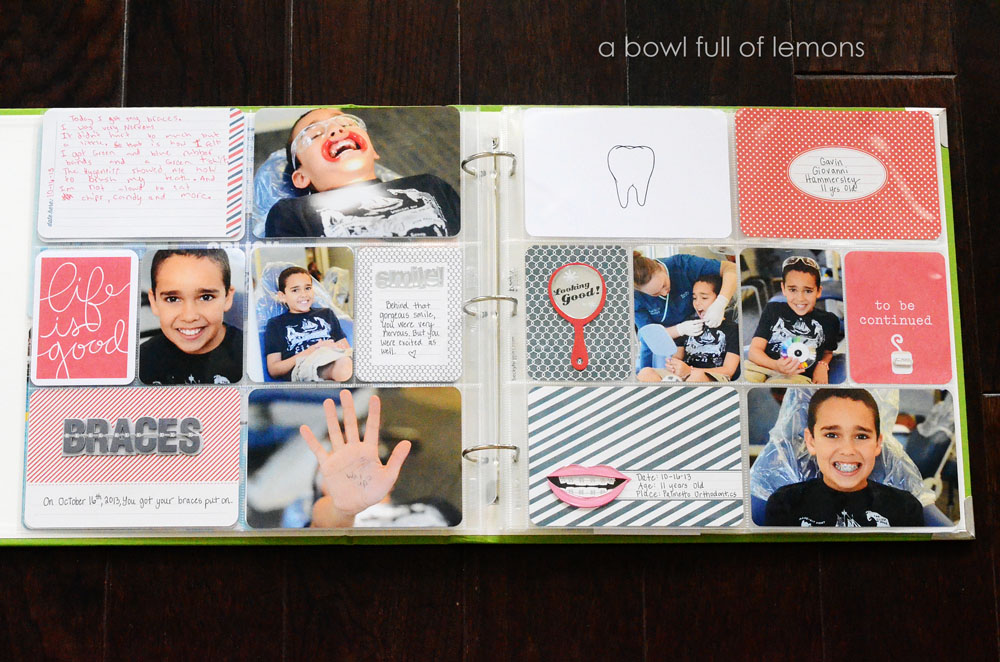 I hope you enjoyed my very long post about how I organize my Project Life and a peek at my new office.  I would love for you to share this post with your friends on Facebook & pin it to Pinterest.  Thanks so much for visiting!
HAPPY ORGANIZING!
 Please note: Everything that I have shared with you today are the things that work for me. These are my own opinions. I am not affiliated with Project Life or Becky Higgins. Products on this page are linked to my Amazon Affiliate account.
Tags: office, planner organization, project life
Blog, crafting, October 2013, Office, Organize, Planners & Binders, project life, project life organization, Slider Posted in 116 comments