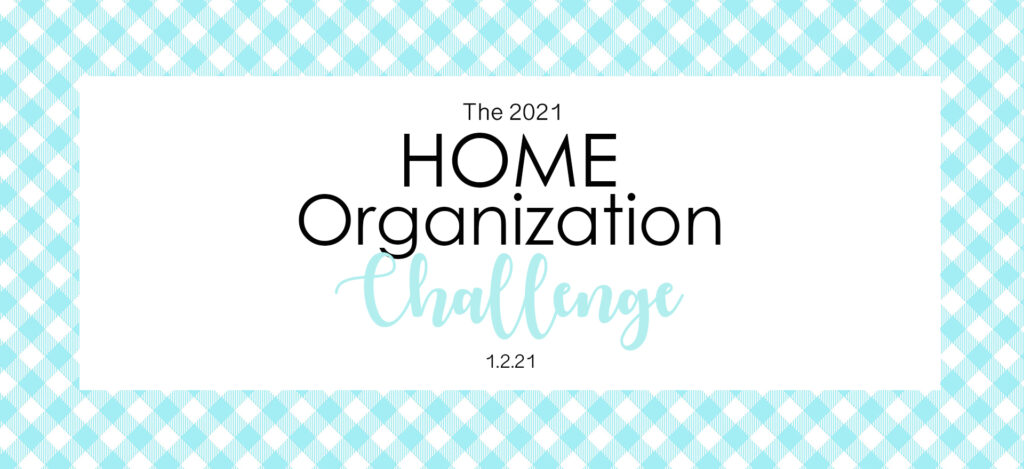 Happy New Year, Friends! 2020 is (finally) over and in the past. It's time for a brand new book and we get to write the chapters. This is our first chapter and we are going to start by clearing out the clutter from our homes. The Home Organization Challenge is an annual event that we have become accustomed to and so many of you participate each year. Can you believe that we are launching the 10th challenge? It's time to get started with week one ~ the laundry room. I hope this is your best year ever!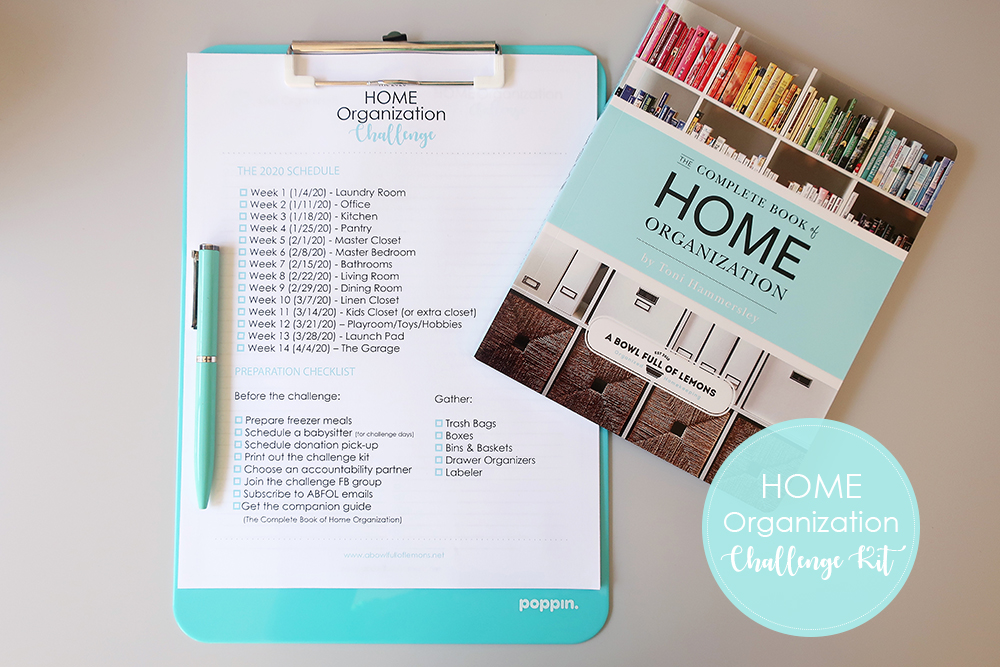 START HERE: To begin, print out the free 14 week challenge kit  here. You will need this, to complete the challenge. You may also want to pick up the companion guide. It will walk you through the entire challenge and give you ideas on how to organize each space. 

Just like last year, we are beginning in the laundry room. I did this on purpose. I want you to completely finish washing (and putting away) all of your laundry and get your laundry room squared away before we head into the rest of the house. Laundry can be a daunting task and it never goes away, so this area needs to be addressed before we can concentrate on other spaces.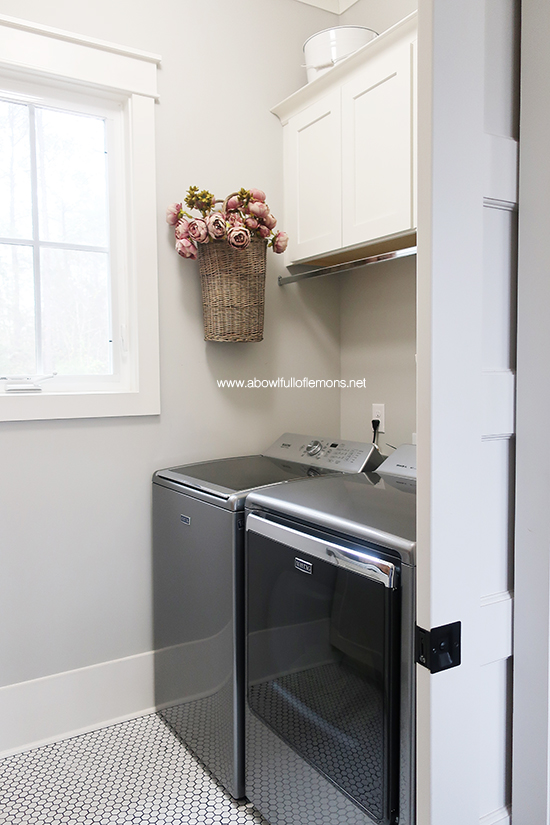 Follow the checklist in the challenge kit, to complete week 1. It has the step by step directions on how to get your laundry room in order. If you need more inspiration, here are a few laundry posts I've shared on the blog. I tried to link as many sources as I could, in this post. If you don't see a link to a product you like, you can also look for it here. In the mean time, enjoy this tour of my organized laundry room. 
The hanging basket is from French Mercantile & flowers can be found here.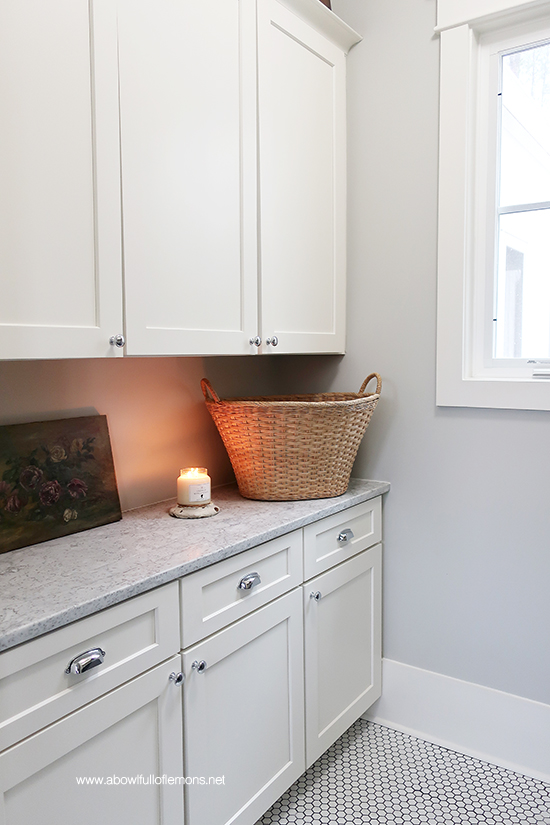 During the pandemic, (as I've had free time) I really concentrated on eliminating clutter & the things we no longer use from our home. I donated so much stuff! Comparing last years laundry room to this years space, you'll notice I have less. I'm not where I want to be but I am headed in the right direction. I will never be a minimalist, however I want to be intentional with what I consume & keep in our home.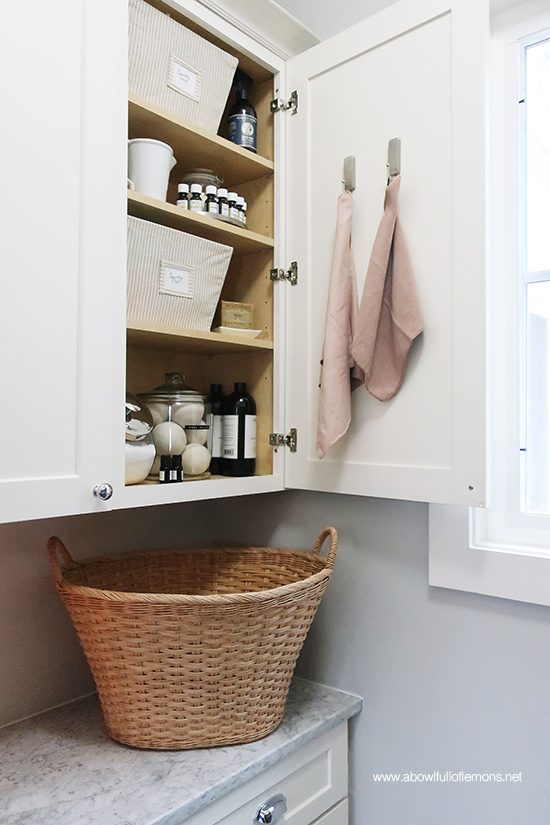 I eliminated a lot of different cleaning products that were collecting dust in the cabinet. I also simplified my laundry system. I now only purchase and use one type of powder and one liquid laundry detergent. I use each for various reasons. Instead of toxic dryer sheets, I use pure essential oils & wool dryer balls, to freshen clothes. Remember, the key to organizing is to simplify use and functionality as much as possible.
TO NATURALLY FRESHEN CLOTHES: Once clothes are completely dry, simply add 3 drops of any pure essential oil to each dryer ball, toss them in the dryer with the clothes, and fluff on no heat for 5 minutes. I get my cleaning essential oils from Grove Collaborative.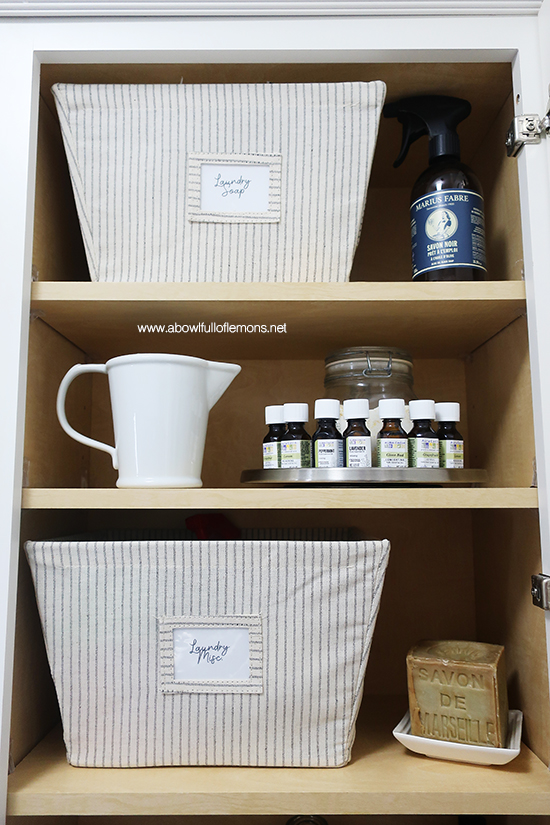 You can find my wool dryer balls here. I keep the laundry supplies in glass jars on the shelf.
Sources: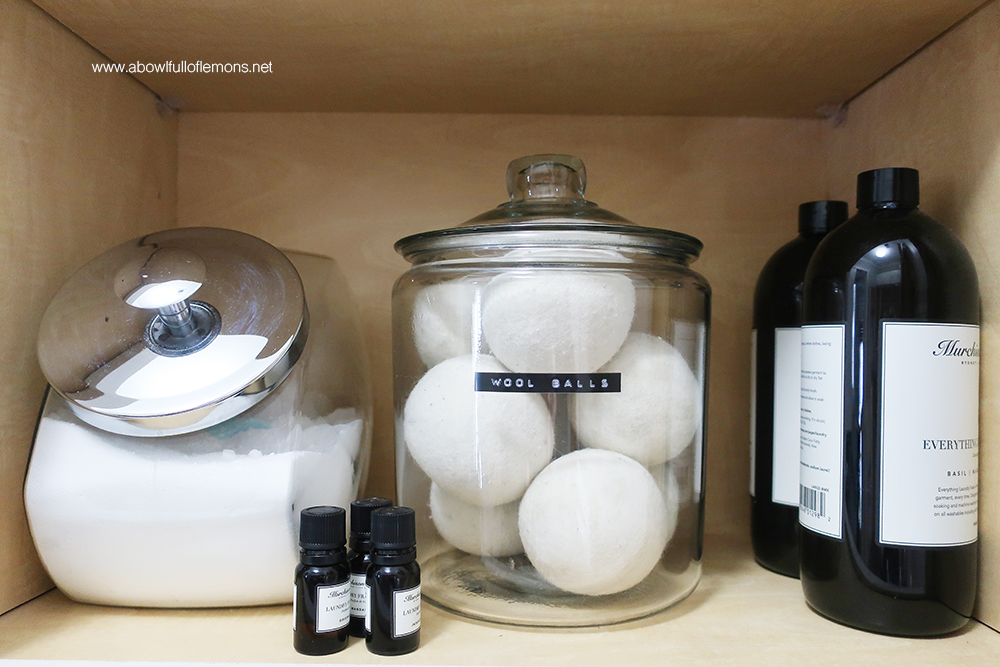 The middle cabinet contains my cleaning supplies & homemade cleaning products. I try to eliminate as many toxins as I can from our home and making my own cleaning products is the best way to do that.
Sources: All of my bottles can be found here. I use cleaning recipes from my book. Here are my favorite containers. PS. If you don't see a product linked, check my laundry room post from last year. It may be linked there.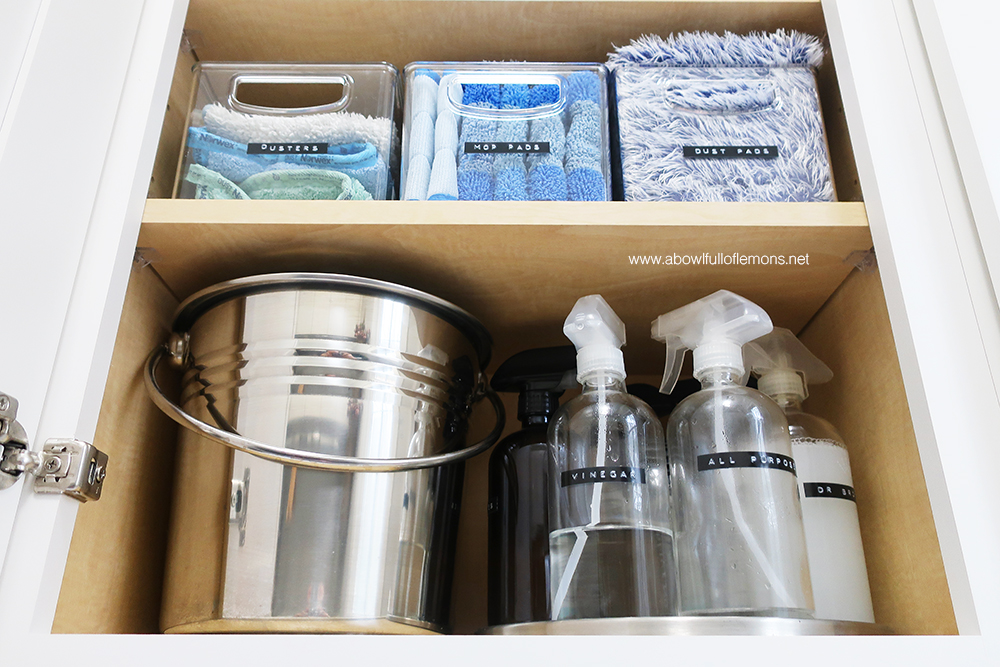 I keep my dusters and mop pads on the middle shelf, for easy access. These containers are wonderful to organize everything in the home. If you love to label things like me, this is a great vintage style label maker.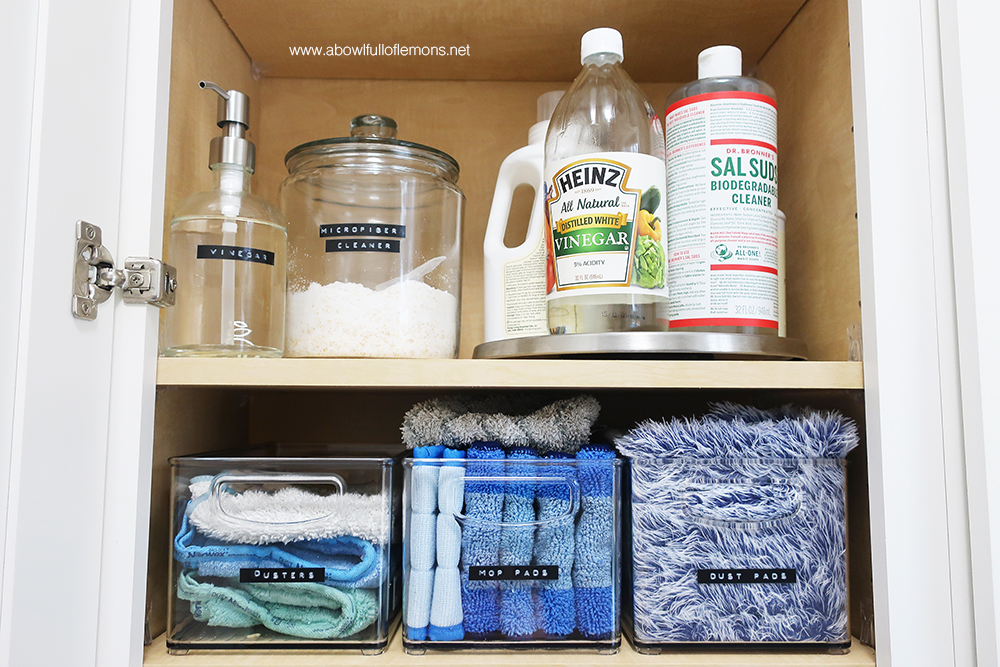 Here's one more peek into my cleaning cabinet. I love the simplicity and functionality.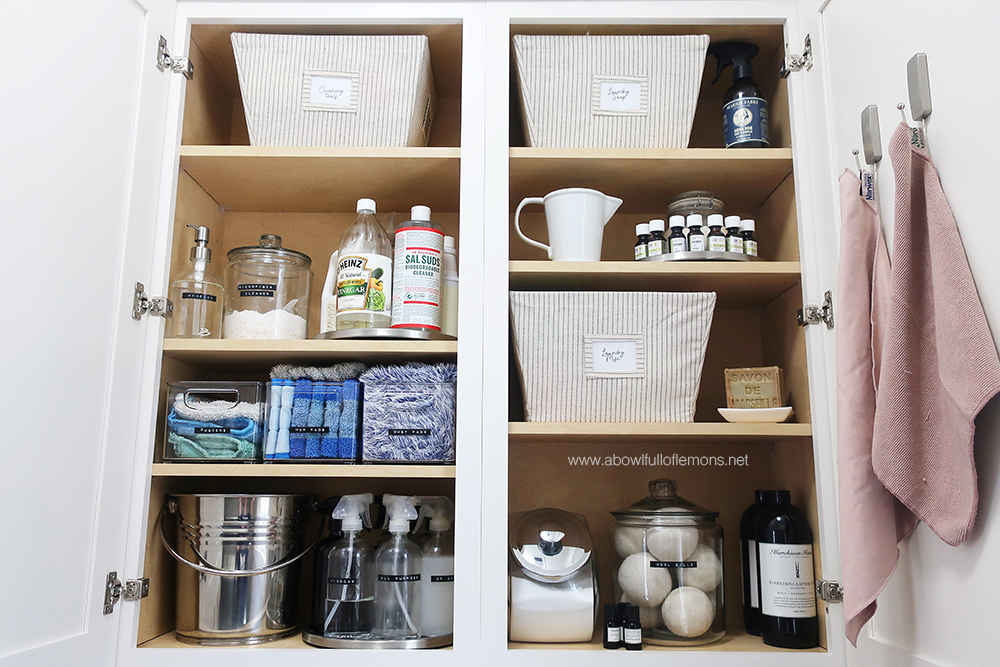 The fabric bins can be found at The Container Store. Here are some similar bins, for a fraction of the cost.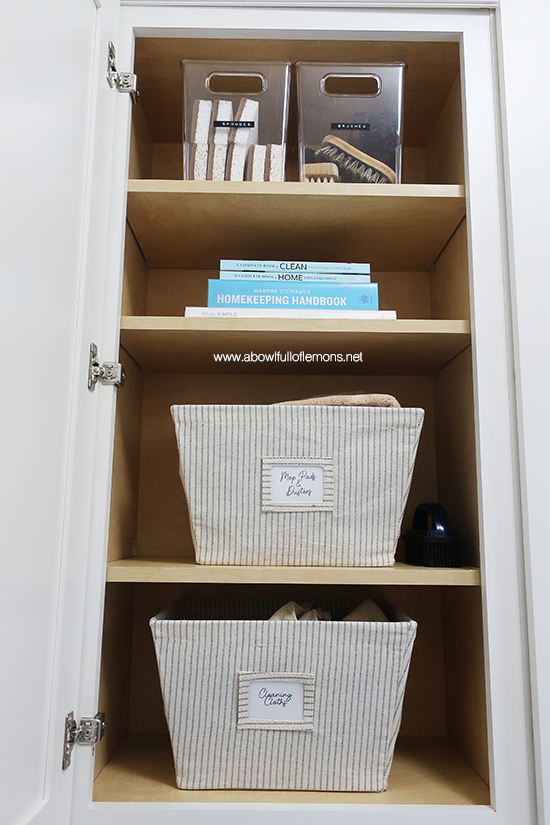 On the right side of the laundry room, I have a 3 hook system (from Target), where I store my duster wand, dust pan, laundry bag, and drying rack.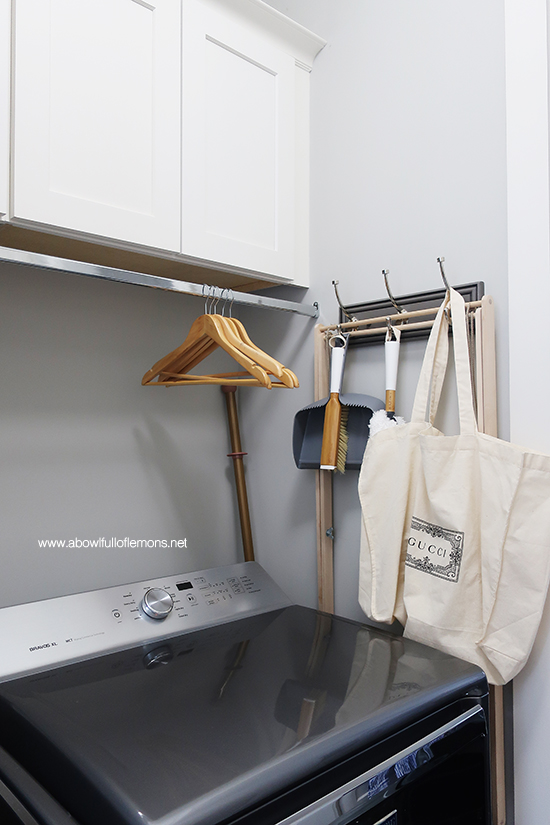 If you're a part of the Home Organization challenge, you'll want to get the challenge companion guide and cleaning book. Both of these are essential tools that will help you get your homes organized and cleaned from top to bottom.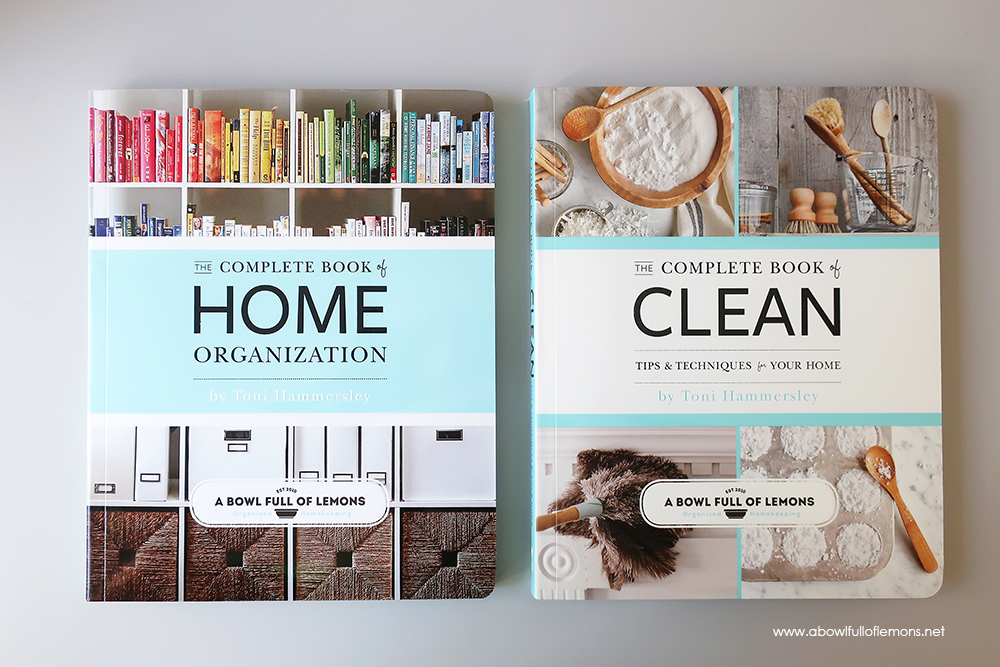 That concludes a tour of my organized laundry room and you now have your first assignment. Good luck with the challenge this week. If you conquer your laundry room first, the rest of the challenge will go smoother! I'll see you back next Saturday for week 2 of the 2021 Home Organization Challenge.
Tags: 2021 Home Organization challenge, laundry room, organize
2021 Home Organization Challenge, Blog, Laundry Room, Organize Posted in 0 comments