Today my challenge for you is to organize your tupperware cabinets. This may be a cabinet where you hold your mixing bowls, leftover containers, baking dishes, and everything in between (not just tupperware). You do NOT have to organize more than one cabinet today (unless you want to).
Here's the challenge…
1.

Take a picture

of the chaos!
2.

Empty it out

(onto the floor or counter). Grab your favorite cleaner and wipe out the dust and grime.
3. Stand back and look at all you have accumilated and

kiss A LOT of it goodbye,

because…
4. YOU DONT USE HALF OF IT! So,

start purging

into the donation station or trash.
5. Once you have gone through and separated, now you can

start categorizing

… like items with like items.
6.

Organizing bins or baskets

are a great tool in this cabinet to keep the chaos under control. Keep that in mind, so go find some.
7. Now you can

put everything back.
I'm so proud of you! Look how "neat" it looks.
8. Your finished.

Take a picture

and hurry back to

show us

your beautiful cabinets!
If you are new to the challenge, click on the button below to see what it's all about and join in!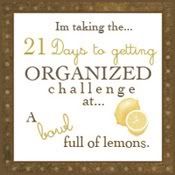 *NOTICE*
TOTALLY ORGANIZED TUESDAYS are going to be on hold until the 21 day challenge is complete. If you are a poster for TOT, you may post your stuff here to share with us! Thank you.
My Day #3 Challenge Pictures…
I purchased these adorable green baskets at Big Lots for $2.50 each.
Look at the mess!! Im embarrased! We could NEVER keep it clean. Im hoping the baskets will help.
A lot of the plastic will go in the donation box.

Look at the dirt and grime.
All clean now!!
Smells clean and fresh!
My first basket holds LIDS!
The second basket holds LUNCH CONTAINERS (for school and work), easy to find now.
The third basket holds leftovers' containers.
And, the final basket holds all of my smaller glassware.
I also put two wire racks on the doors to hold easy to access freezer containers. These come in handy for A LOT of stuff!

Link up your Day #3 Challenge – "MESSY TUPPERWARE CABINETS" post below…

Tags: kitchen, organizing, tupperware
21 day challenge, before and after, Cabinets, Kitchen, Organize Posted in 22 comments