"A day in the life of an organizing blogger"!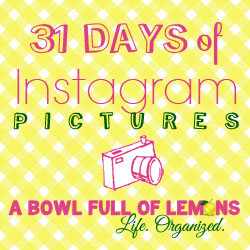 What is the 31 day event?
Starting on October 1st, 
The Nester
will be hosting a "31 day" event for the third year in a row.  She blogs every day for 31 days about a certain topic and you are all invited to join her. Im joining in this year with "31 Days of Instagram Pictures".  Since I am hosting my
Home Organization 101 challenge
, I didn't want to over extend myself with an in depth topic so I thought instagram was perfect!  I hope you can join in on the fun.
What will I be doing?
Here on my blog, for the entire month of October, all 31 days, I will be inviting you into my life to see what I do on a day to day basis. Some days it will be fun and exciting and some days it will be crazy boring… and in the middle I hope to share my balanced life.  Nothing will be censored (uh, well some things will be).  You may see the clean house, the messy house, the piles of laundry, the neatly organized drawers, the trips to the grocery store, ball games, date nights, Target hauls, mini vacations, fall decorating and everything in between.   
*If you are joining the challenge and have a "31 post" on your blog about the challenge,  leave the link in the comment section of this post below and I will pin it to my "31 pinterest page" (
here
).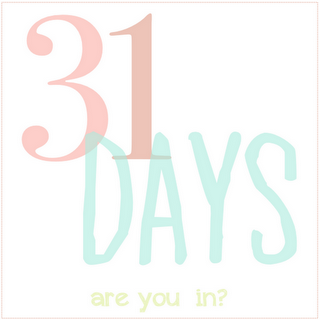 If you need a button for the event, or a blog button in general, let me know!  Im for hire. 🙂  I am charging $25 per button & I promise it will be cute!  Email me (
here
).  
31 days challenge, Blog, instagram Posted in 11 comments