This is probably the most anticipated winner post ever. If you missed the prizes, here they are again. Thank you to all who participated and entered the giveaway.  It's been super fun.  Now lets get to it!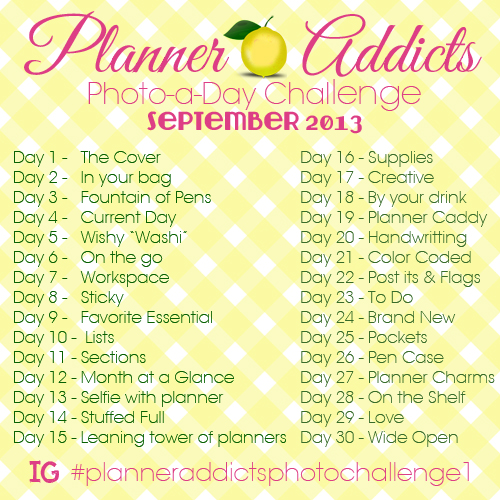 THE WINNERS:
1st place – Entry #1285 ANN SMITH –  Day-Timer Leather Zip Closure Starter Set Organizer & Refills  (Retails for $195.55 together)
2nd place – #4570 SARA BLAND – A5 Purple Malden Filofax (Retails for $142.50)
3rd place – #560 JODI CHEUNG –  A5 Original Filofax in Patent Fuchsia (Retails for $108)
4th place – #2495 AMANDA KELLEY – Day Runner Terramo Planner  & Refills (Set retails for $102.83)
5th place – #220 SHERRIE K HUNT – Personal Raspberry Finsbury Filofax (Retails for $70.00)
6th place – #4080 KRISTEN RUSAK SUDOL – A5 Violet Domino (Retails for $50)
7th place – #25 FAYE HUGHBANKS – Personal Violet Domino (Retails for $32.oo)
8th place – #3575 HEATHER SHEA – Personal Fischia Apex Filofax (Retails for $29.00)
*Each person will also receive a Rainbow Planner Kit!  Let me know which size you would like?
If you are a winner, check your email. You have 24 hours to claim your prize (2pm EST on Monday 10/14/13) & show me your 30 days of photos.  In your email, share where your 30 photos are: Your Instagram user name, send them through email, or create an album on Planner Addicts FB page.  Email your response to abowlfulloflemons at gmail dot com.  Your time starts NOW. Remember you only have 24 hours to respond.
MISSED THE GIVEAWAY?
If you are interested in these prizes, join our October challenge & enter to win next month. I will have new prizes that are just exciting! Today is day #13 of the challenge.  You can catch up, as long as you are finished by October 31st. All you have to do is share your pictures via Instagram (you will have to accept me as a friend), then come back to ABFOL and enter the giveaway (rules apply and are posted on the giveaway post).  Don't forget to use the hash tag #planneraddictspotd.  Here is the October Challenge.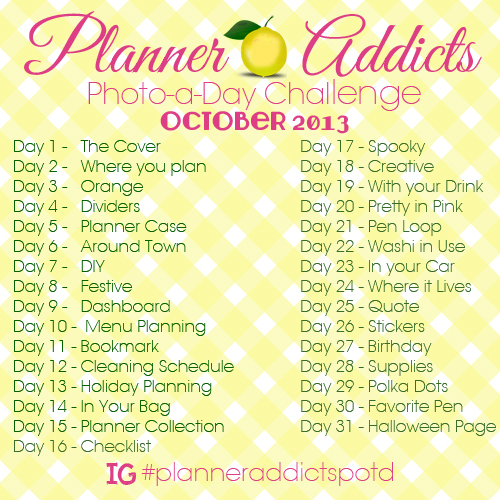 HAPPY PLANNING!
Blog, giveaway winner, giveaway winners, October 2013 Posted in One comment