THIS SALE HAS ENDED!!!

Do you love printables & customizing your personal planner? It's one of my absolute favorite things to do. If you are anything like me, the Printable Love Bundle (created by several of the most popular lifestyle bloggers) is the perfect kit for you! Whether you use a Filofax planner or a 3 ring Home Management Binder, the Printable Love Bundle has something for everyone. It's the only printable bundle devoted entirely to the love of planning. We also threw in some extra fun printables for Valentines Day, the pantry, and your budgeting. For one week only, you have the opportunity to stock up on hundreds of printables for your finances, blog, home, pantry, chores, menu planning, and much more. They contain everything you need to create a home management binder or personal planner. The best part about it, these printables can be printed over and over for many years to come.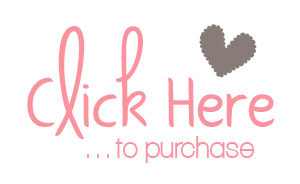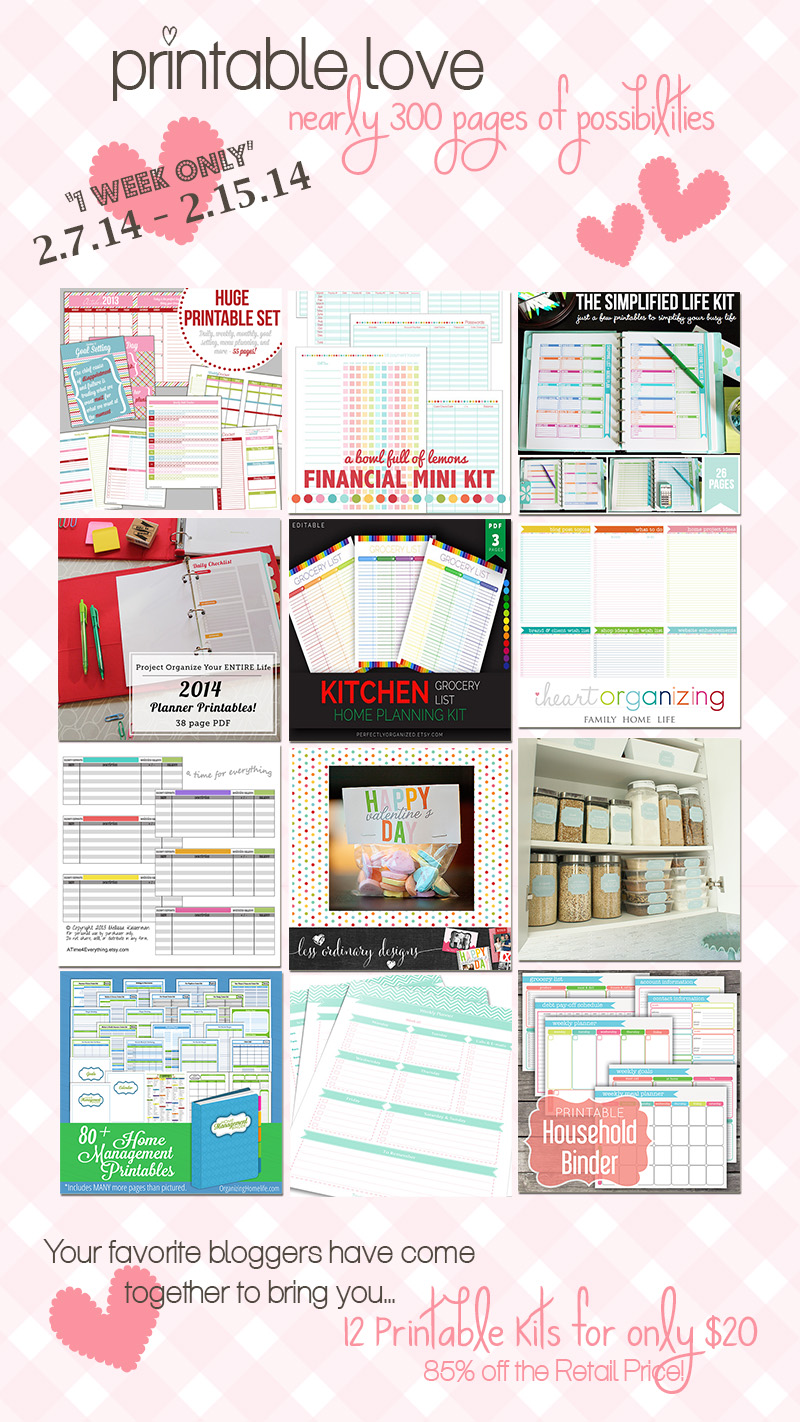 What's included in the Printable Love Bundle?
You will receive 275 printable pdf pages in this fabulous bundle. The pages can be used in planners & home management binders. There are many more uses for them as well.
A Bowl Full of Lemons Financial Mini Kit (6 pages)
Clean Mama's Simplified Life Kit (26 pages)
I Heart Organizing's Blog Planner Kit (20 pages)
Modern Parents Messy Kids 2014 Planner Printables (38 pages)
CitrusPaperCo's Household Binder Printable Set (18 pages)
Super Sweet Life's Huge Printable Set (61 pages)
Organizing Homelife's Complete Home Management Binder + 2014 Calendar (84 pages)
Bizuza's Printable "To Do" Planner Organizing Pages (4 pages)
Perfectly Organized Editable Kitchen Grocery Lists (3 pages)
Less Ordinary Designs Valentines Day Treat Bag Toppers (1 page)
The Paper Society's Printable Pantry Labels (12 pages)
A Time For Everything's Printable Envelope System Categories (2 pages)
How much does the bundle cost?
The Printable Love Bundle is only $20. That's an amazing 85% off the retail cost of $132!
How long is the bundle for sale?
The bundle will be available from 8am EST on 2/7/14 through 11:59 pm EST on 2/15/14. There are no exceptions.
Details about each kit:
Listed below are the pictures, details, and links to the 12 kits within the Printable Love Bundle. If you have any specific questions about a kit, please email the blog associated with the kit. For general Bundle questions, you can contact us at printablelovebundle at gmail.com. Please look at the FAQ page before emailing with questions. All kits are pdf documents and will be sent to you in a zip file, once payment has been made (instant download). All pages are 8.5 x 11 inches unless stated in the description. Visit the FAQ page for details on how to resize the pages to fit into smaller planners.
A Bowl Full of Lemons – Financial Mini Kit – ($7.00) 6 pages
The popular organizing blog, A Bowl Full of Lemons has introduced a fabulous "Financial Mini Kit" to help get your budget in order. The kit contains 6 colorful pdf printables. Created to stand alone or to compliment the Budget Binder, the Mini Financial kit has everything you need to keep track of your finances. The kit is sized 8.5 x 11 inches & coordinates perfectly with the Rainbow Planner.
The Financial Mini Kit Includes:
Monthly Due Dates
Checkbook Register
Passwords Log
Expense Tracker
Income Tracker
Bill Payment Tracker
Clean Mama Printables – The Simplified Life Kit – ($15.00) 26 documents
Looking for a simple way to organize a busy life? The Simplified Life Kit was created to streamline just the most important tasks and optimize planning for a busy season or all the time. This kit includes essential documents for running a busy household with ease and efficiency. You'll love the bright and bold color scheme and streamlined information in this attractive kit. This kit coordinates perfectly with other Simplified Life items.
The Simplified Life Kit includes:
2 Budget + Bill Pay Checklists – one in turquoise + green and one in pink + purple
2 Spending Trackers – one in turquoise + green and one in pink + purple
2 Rotating Cleaning Checklists (not dated and January – December)
Shopping List + Menu Plan for a week
2 To Do Lists (blank + pre-filled)
2 Weekly Docket (blank + pre-filled with my daily cleaning suggestions)
15 Month Calendar (15 pages) October 2013-December 2014 – vertical with plenty of room to put in a binder or planner
I Heart Organizing – 2014 Blog Planner Kit ($10.00) 20 pages
The blog planner kit is a great way for bloggers to 'keep it all together'. Everything from maintaining ideas for daily posts, to keeping track of planned projects and daily to-do items. Enjoy a monthly calendar spread for keeping track of important dates and posts. Run a shop? Gotcha covered. Looking to expand your branding and business? There is a section for those ideas as well. You can also print of standard "Notes" pages for all the other items you want to remember and keep track of.
Modern Parents Messy Kids Project Organize Your Entire Life (POYEL) 2014 Planner Printables ($7.99) 38 pages
Inside the 38 page printables pack, you'll find everything you need to manage every aspect of your day-to-day life from cleaning and meal-planning, to scheduling and that never ending to-do list. There's something for everyone here including two different cleaning systems (are you more of a checklist person or a calendar cleaner?) as well as all the printables in both an 8.5″ x 11″ size AND a 5.5″ x 8.5" size. So whether you're looking to create a home management binder, want to use these in your personal planner you carry around in your bag, or just want a meal plan/to-do list/cleaning chart to stick on the fridge – we've got you covered! There are tons of options in this 38 page printable pack – use them all or pick and choose exactly what you need. There's even a suggested daily cleaning checklist, weekly cleaning schedule, and master cleaning list included.
Here's a look at everything you'll get:
A Daily To-Do List with spots for morning, afternoon, and evening as well as appointments and menu ideas
A weekly planning calendar
A weekly meal planning worksheet
Two types of weekly cleaning worksheets
Filled-In weekly cleaning schedule & checklist
12 months of pre-dated calendar pages
Both a blank master cleaning checklist and a filled-in version
CitrusPaperCo – Household Binder Printable Set ($10.00) 18 pages
This complete home binder printable set includes ALL of Citrus Paper Company's binder printables to keep your life and finances organized and beautiful! It includes home organizers, weekly schedules, meal and menu planning, financial trackers, and more!
SuperSweetLife – Huge Printable Set ($33.00) 61 pages
This is a set of over 61 pages to make planning easier and more fun. All the writing areas are lightly lined, to keep your planner neat. There is a beautiful cohesive color scheme and design used throughout the pages. The pages include a monthly calendar, weekly layout, daily docket, goal setting pages, menu planners, kitchen inventories, bill tracker, cleaning checklists, and more. This includes everything you need to set up your planner and homemaking binder.
Organizing Homelife – Complete Home Management Binder + 2014 Calendar ($15.00) 84 pages
Organize your family's home life with these 60 printable home management pages. This bonus set (which is only available in the Printable Love Bundle) also includes the 24 page 2014 calendar and a printable grocery list. All pages are 8.5" x 11". There are a total of 84 printable pages in this kit.
This kit includes the following:
Cover Pages & Binder Spines
Schedules & Chores: To Do List & Time Schedule, Daily & Weekly Chore Schedules, Monthly Zone Chores
Finances: Bill Payment Schedule, Budget Printable, Insurance Policy Information
Contact Lists: for Family, Friends, & Neighbors; Medical & Health Contact Lists; School Contacts & Schedules
Other Important Information: User Names & Passwords, Book & Movies, Birthdays & Anniversaries, Babysitter Notes
Maintenance: Household Project Planner, Home Maintenance Schedule, Auto Maintenance Log
Meal Planning & Organization: Weekly Meal Planner, Favorite Recipes, Meal Planner for Entertaining, Freezer Inventory, Favorite Take Out Places, Recipes to Try, Holiday Meal Planner, Bonus Addition – My Grocery List
2014 Calendar (24 pages)
Section Dividers
Bizuza – Printable To Do Planner Organizing Pages in A4 and Letter Size ($7.00) 4 editable pages
This printable planner kit is perfect to start organizing your days, weeks and months. Putting your tasks onto paper allows you to remember, focus and prioritize. Stop wasting time trying to remember what you were going to do – be more productive and organized! You will receive 4 documents as downloadable PDF files that allow you to print as many pages as you need. All the pages are perpetual: you fill in the dates, so basically you can use it forever! All the captions and content areas are fillable. These templates are for printing on letter size paper (8.5″ x 11″), A4 paper (21cm x 29,7cm) or A5/FiloFax size.
Perfectly Organized – (Editable) Kitchen Grocery Lists ($2.00) 3 pages
PLAN and BUY – write down all products you need at home next week – plan what you should buy in separate grocery lists, plan in columns by product categories or sort by shops! Make your mundane things a little more cheerful with bright colors! Place it in your Home Planner to have it near at hand or place it on your freezer or memo board. Be always keep up and Perfectly Organized! Print it out any time you need additional grocery list!
Less Ordinary Designs – Happy Valentine's Day Treat Bag Toppers (editable) ($8.00) I page
This "Happy Valentine's Day" printable treat bag topper is the perfect personalized valentine's treat! With this unique valentine, your child is sure to be the coolest kid at the party! There is an editable signature area on the pdf so that you can enter your own personal message. Or leave it blank if you'd like to hand write your own! The tags are approximately 4″ x 4″, so about 2″ tall once folded. There are 4 tags per page and you can print as many as you need!
The Paper Society – Printable Pantry Labels ($9.00) 12 pages
Make everyday life just a bit more pretty with The Paper Society's "Vintage Blue" collection of pantry labels. Featuring 48 of the most common pantry items in both square and long shapes, these printable labels are an easy way to bring some organization into your kitchen.
A Time For Everything – Printable Envelope System Categories ($3.00) 2 pages
Want to keep more detailed track of your cash spending AND have the means to do it while on the go? Print this two-page PDF on 8.5 x 11 paper, write in your category or sub-category names, and trim the logs to size. They will fit perfectly behind the cash dividers in your Divide-It wallet, or you can even adhere them to the outside of a paper envelope. Print as many times as you need!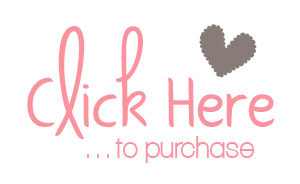 Important Details:
If you have any questions or issues with your Printable Love Bundle, please visit the FAQ page. Look over the questions and answers on the page BEFORE emailing. If you have not found your answer on the FAQ page, please email printablelovebundle at gmail dot com. To ensure that your question is answered in a timely manner, please take care to email at the printable love bundle address (not our personal email address). Please note that due to high email volume, we will do our best to respond within 24 hours – thank you for your patience! When emailing, please include a copy of your Paypal receipt and highlight your issue in the "subject" line.
The Printable Love Bundle is only available from 8 a.m. EST on February 7th to 11:59 p.m. EST on February 15th, 2014. There are no exceptions.
PLEASE DO NOT SHARE THE BUNDLE WITH ANYONE ELSE – it is intended solely for the person who purchased the bundle. Please be respectful of the authors'

copyrights

.
After purchasing, you will automatically receive an email (to the email address you provide) containing the download link. Please check your

spam

folder, if you cannot find the email.
Please download and back up your Printable Love Bundle purchase, AS SOON AS YOU RECEIVE IT. You only have 5 download attempts to access your files.

The download link expires on 3/01/14. After that date, we will not be able to provide new links to download

. Please remember to back up your files. We are unable to send you copies of the printable bundle that have been deleted or lost. We will

not

respond to those emails.
Due to the digital nature of this sale, there will be no refunds & no exceptions.
If you have any questions or issues with any of the printables included in this bundle, please contact that author directly.
Disclosure:
This is an affiliate post. If you purchase a bundle from my link, I will profit from a percentage of the sales. Thank you for your support!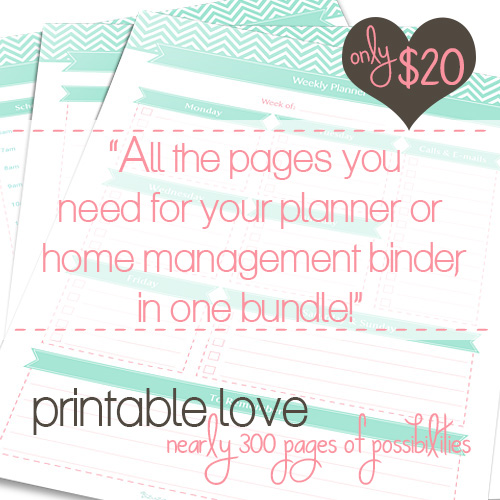 Tags: printable love, printables
Blog, February 2014, Organize, planners, Printable Love Bundle Posted in 41 comments