Bathroom necessities can pile up and waste much needed space. This week, I am going to show you how to get control of these items in a beautiful, stylish & organized way.  I was given an opportunity to work with Command Brand  during 2014 & I will be showing you different ways that you can use their clever products in your home.  You will see many Command posts here at A Bowl Full of Lemons over the next several months.   Keep reading to see how I used their products to clean up and organize my bathroom closet.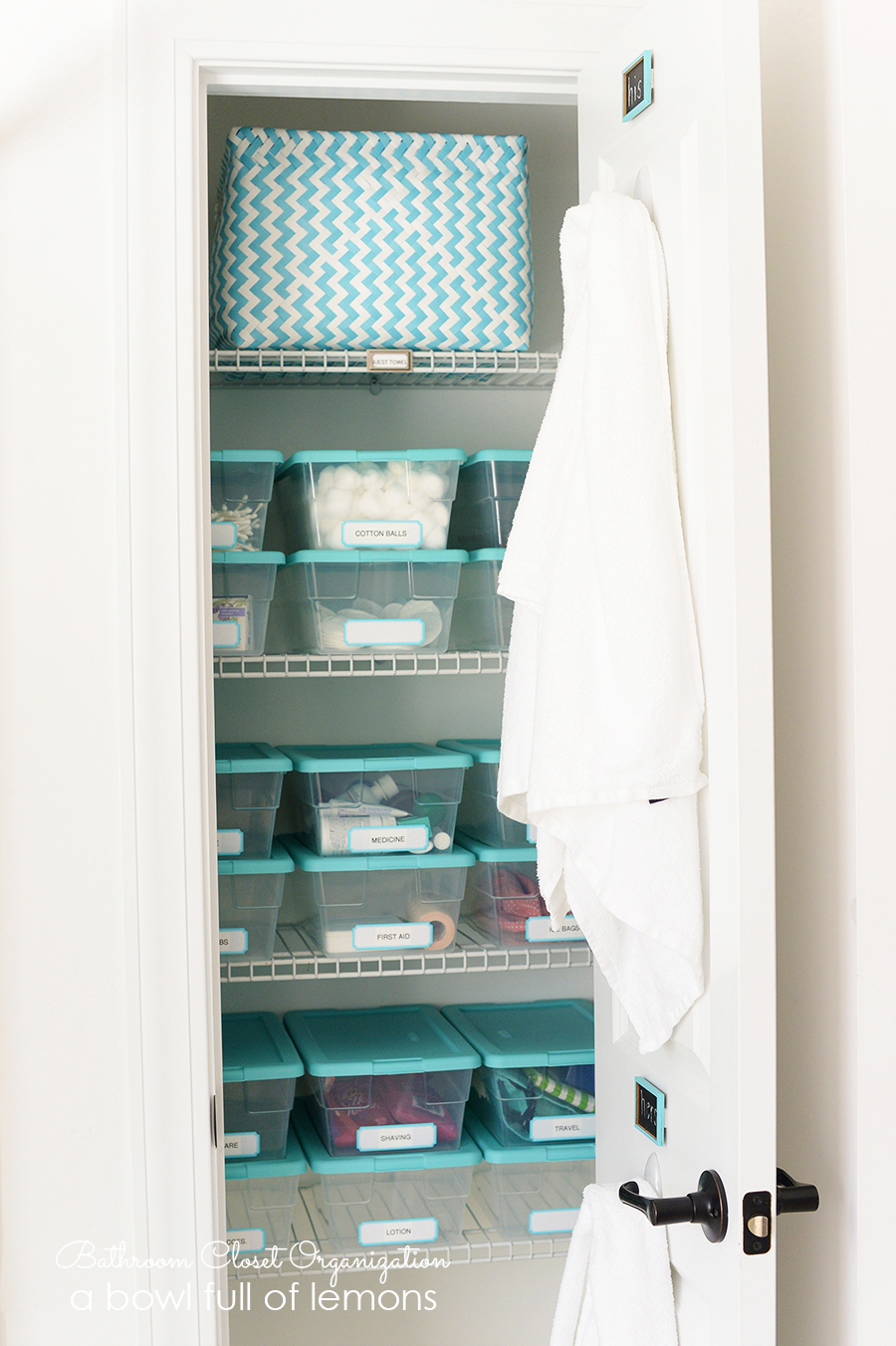 I began my organization with the closet door.  Often times, this space is forgotten.  Using 2 Command Large Towel Hooks, I created an organized space to hang our wet towels after each shower.  It's a functional space and works perfectly for us.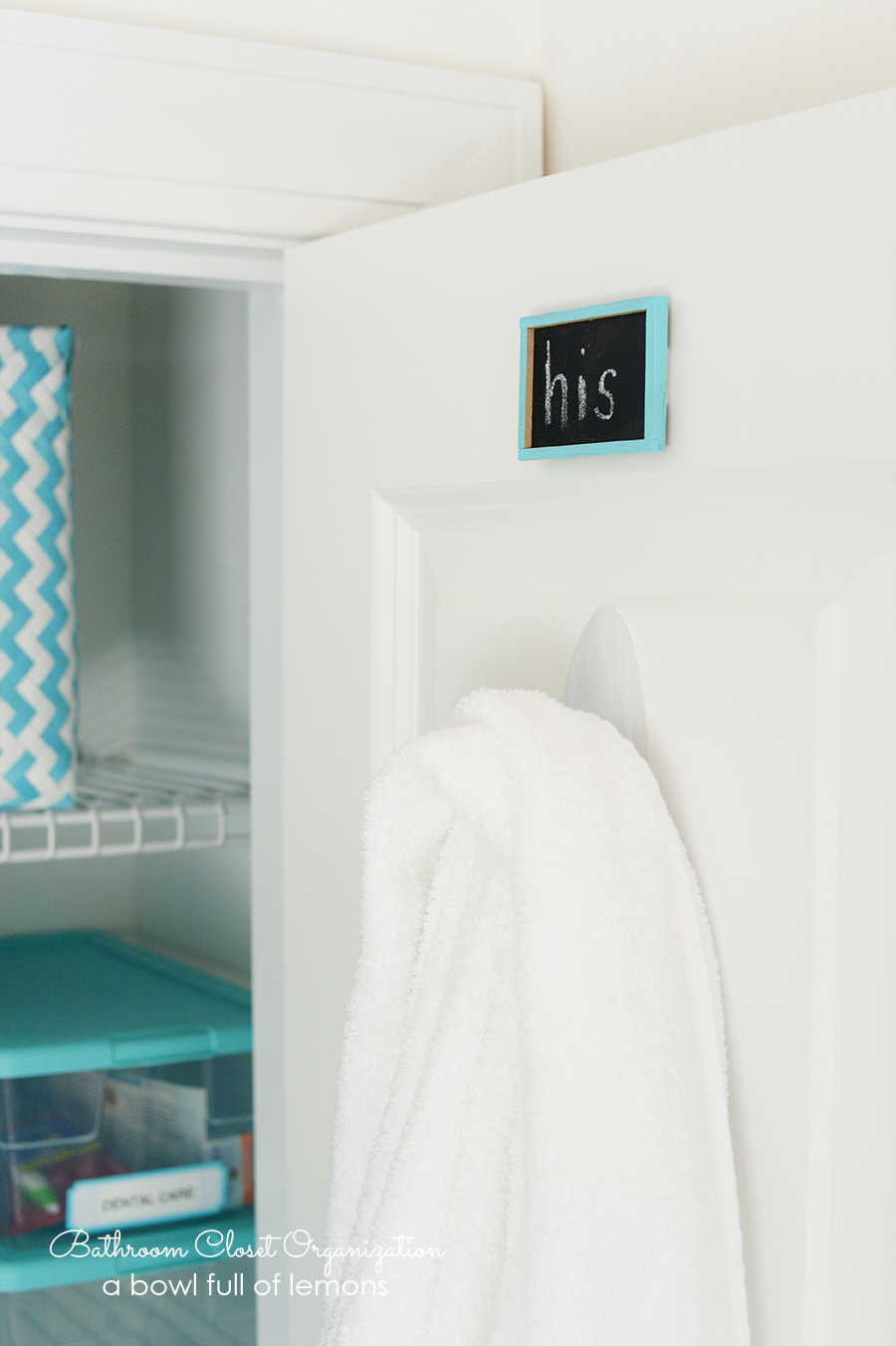 I created "His" & "Hers" chalkboard labels so there's no confusion about which towel is mine.  Hanging the Command Large Towel hooks & making my own labels was super easy and it was done in no time.   Below, I will give you directions on how to replicate this idea.
HOW TO CREATE YOUR BATHROOM DOOR ORGANIZATION
1. Gather supplies.  You will need paint & a paint brush, chalkboard tags & chalk,  2 Command Large Towel Hooks, and 2 Command Picture Hanging Strips.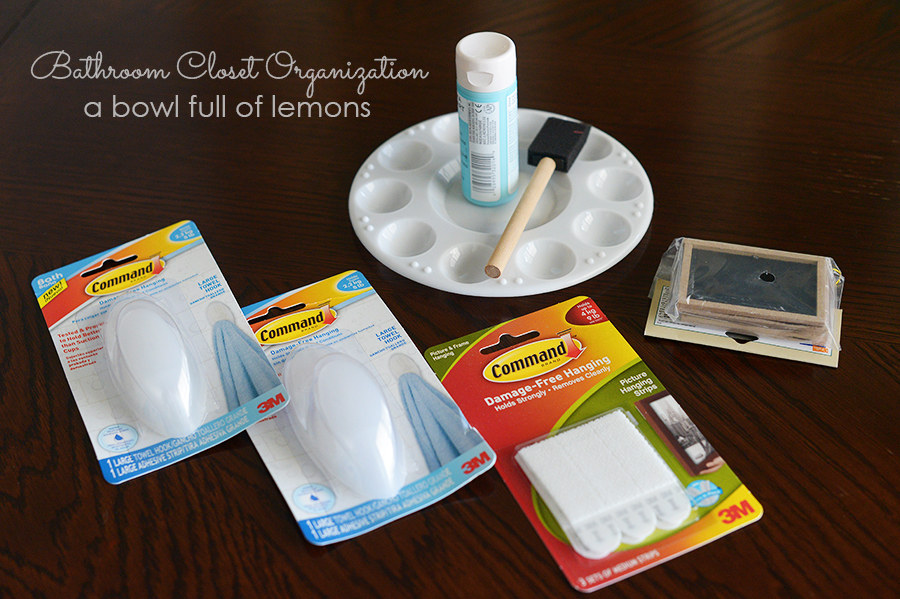 2. Paint chalkboard tags with desired color.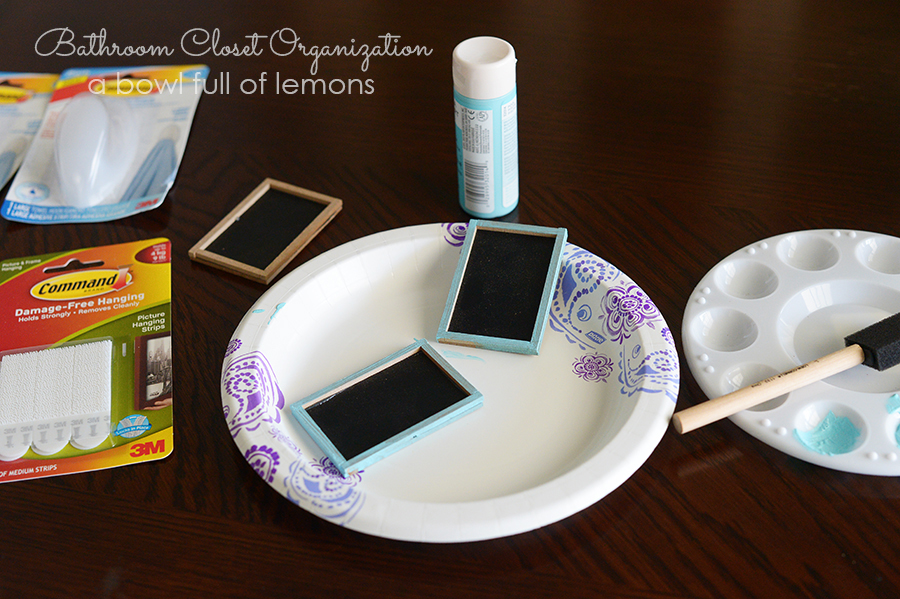 3.  Select your location.  Will you be hanging the towels on the back of the bathroom door or on the closet door?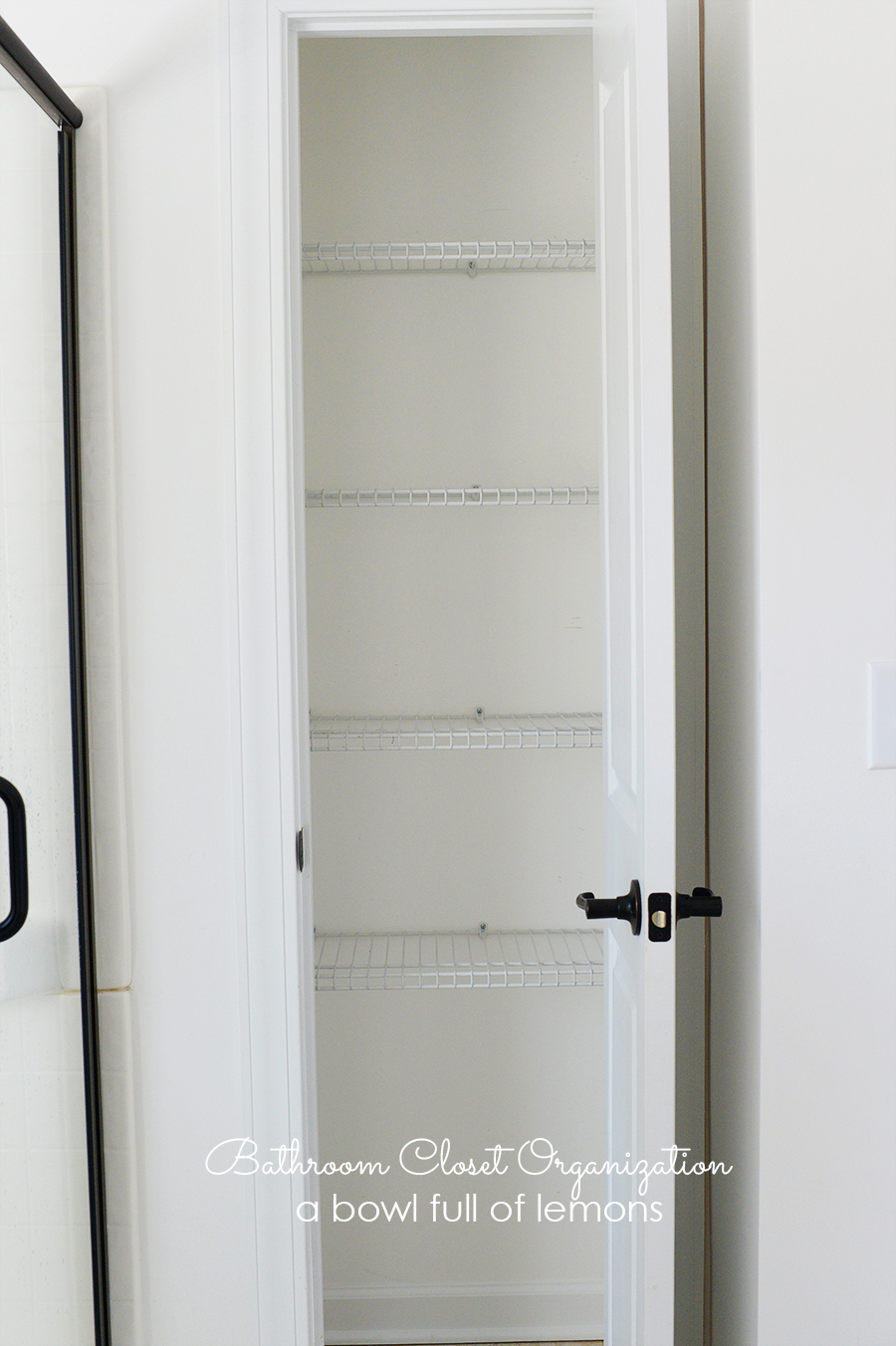 4. According to Command's instructions, clean surface with isopropyl rubbing alcohol.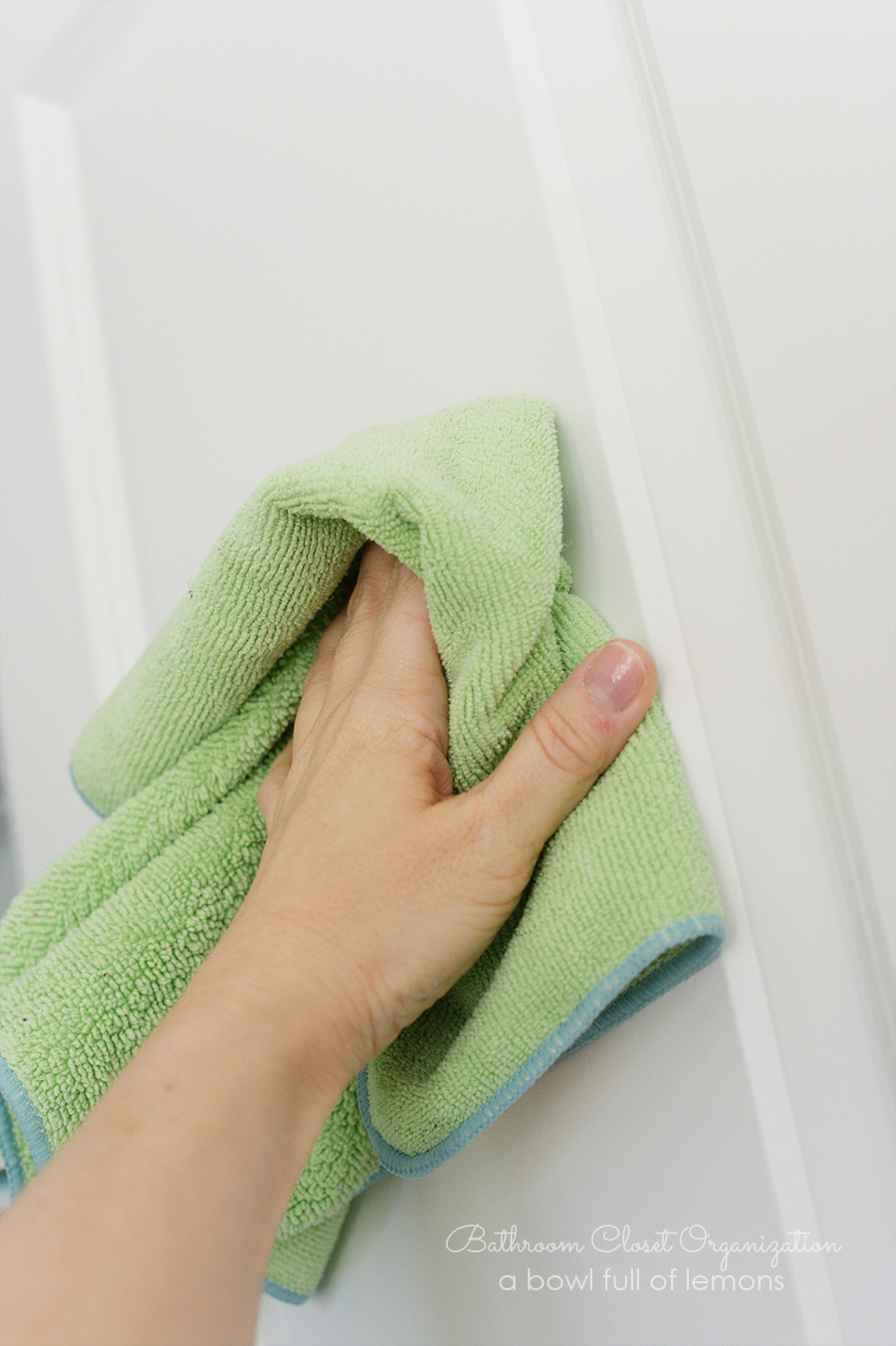 5. Following Command product instructions, hang Command Large Towel hook on door.  First press red liner to back of hook, then press black liner to door (Hold for 10 seconds). For maximum strength, slide off hook and press firmly for 30 seconds.  Wait for 1 hour before use.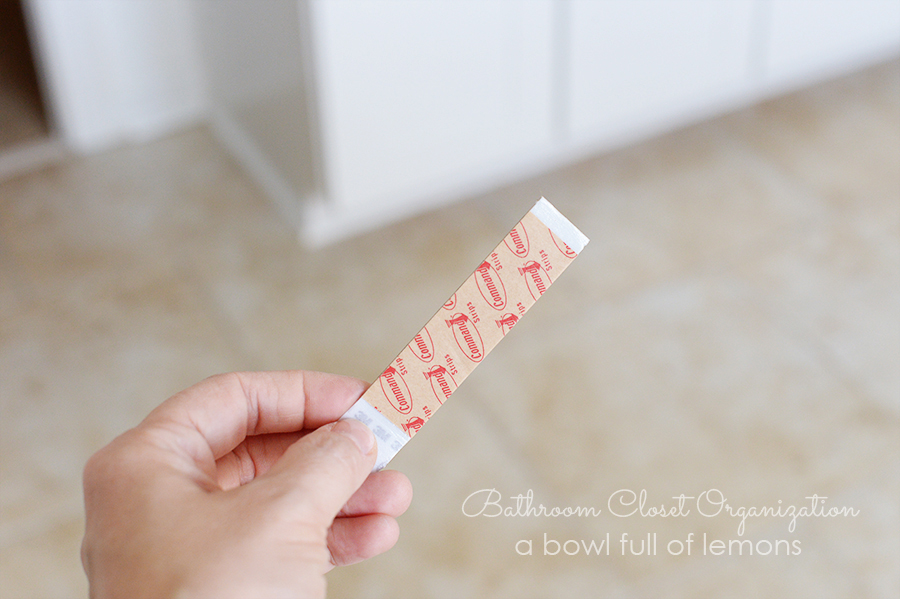 The reason why I love Command products so much is because they are ideal for damage-free organizing. They don't leave any holes or marks if I need to remove them. Also, in the bathroom, they will withstand the humidity that the shower gives.  They are great products.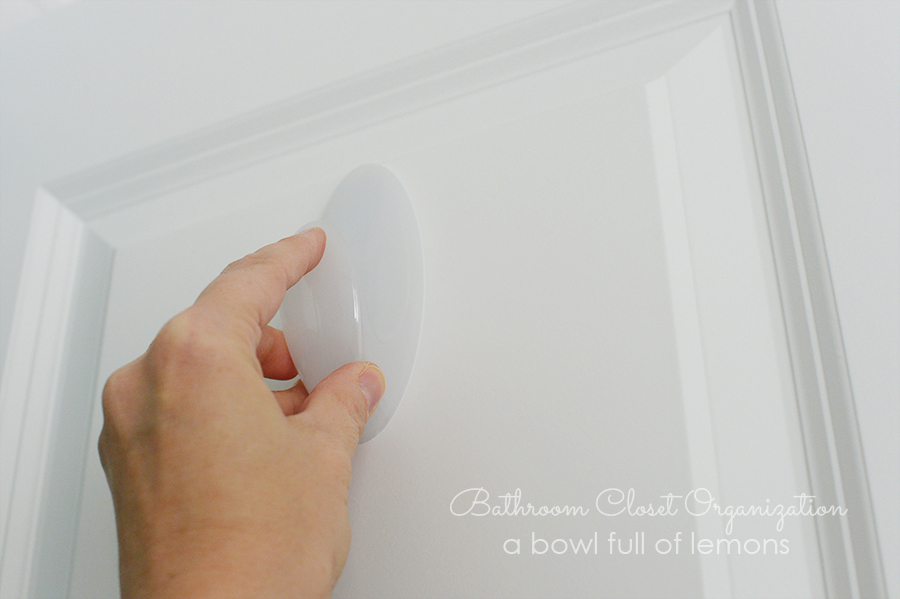 6. Following Command product instructions, attach picture hanging strip to chalkboard tag & secure to door.  First, press the fasteners together until they click.  Then remove one green liner and press on chalkboard tag (press firmly for 30 seconds). Grab tag at bottom and peel off surface.  Press strip for 30 seconds and wait 1 hour before mounting tag again.  Press firmly until it clicks.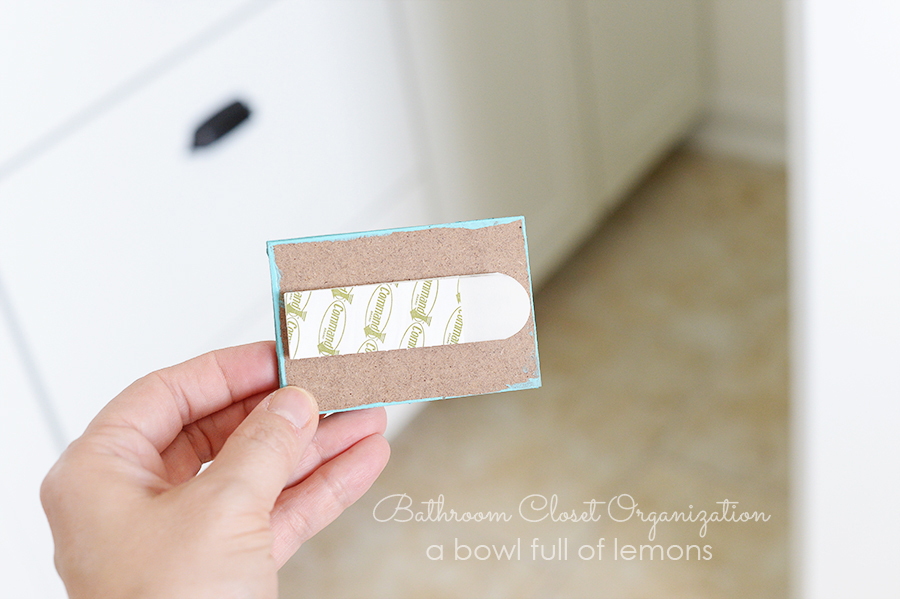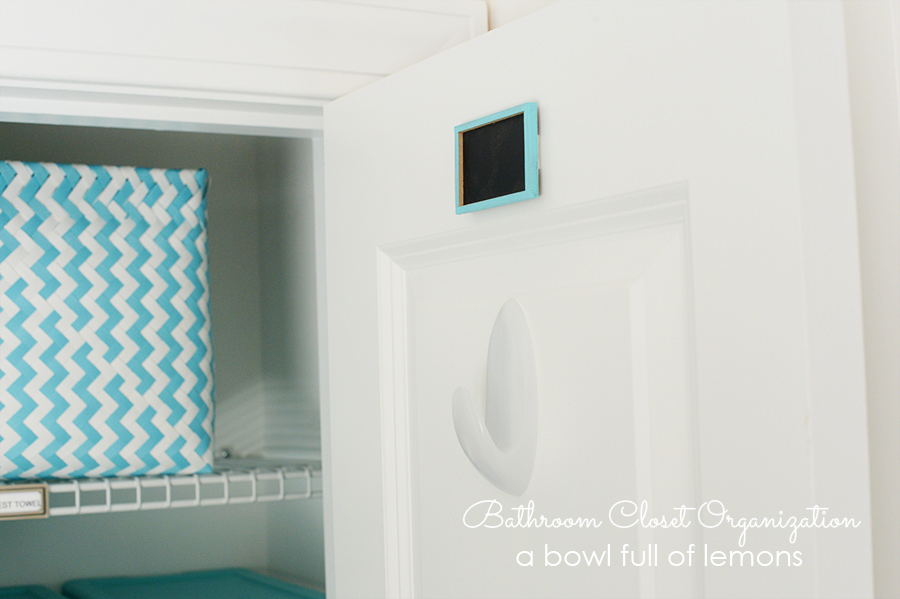 7. Write "His" & Hers" on chalkboard labels (purchased at JoAnnes) & hang towels.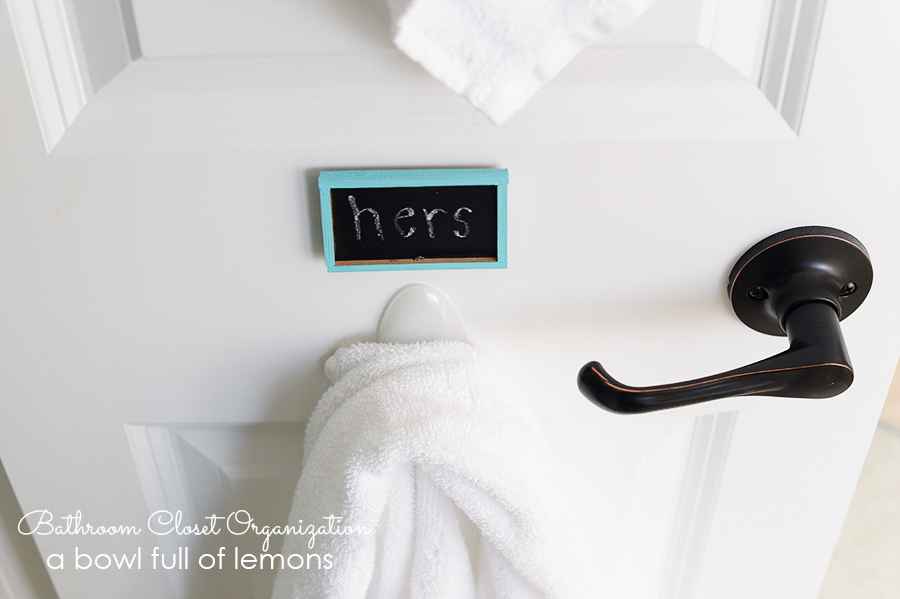 Next its time to organize your bathroom products.  I used plastic shoe boxes. You can find them just about anywhere.  Label & organize your products into designated bins.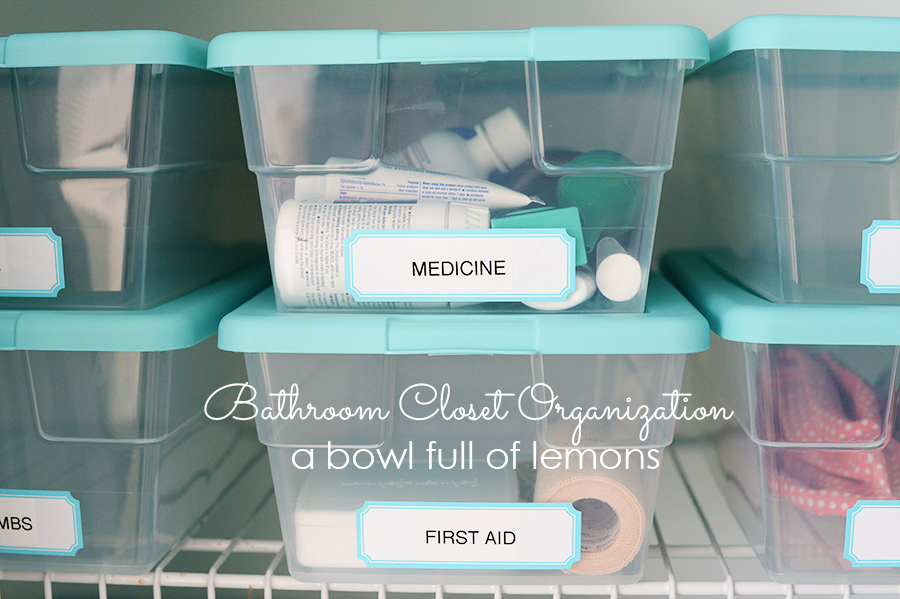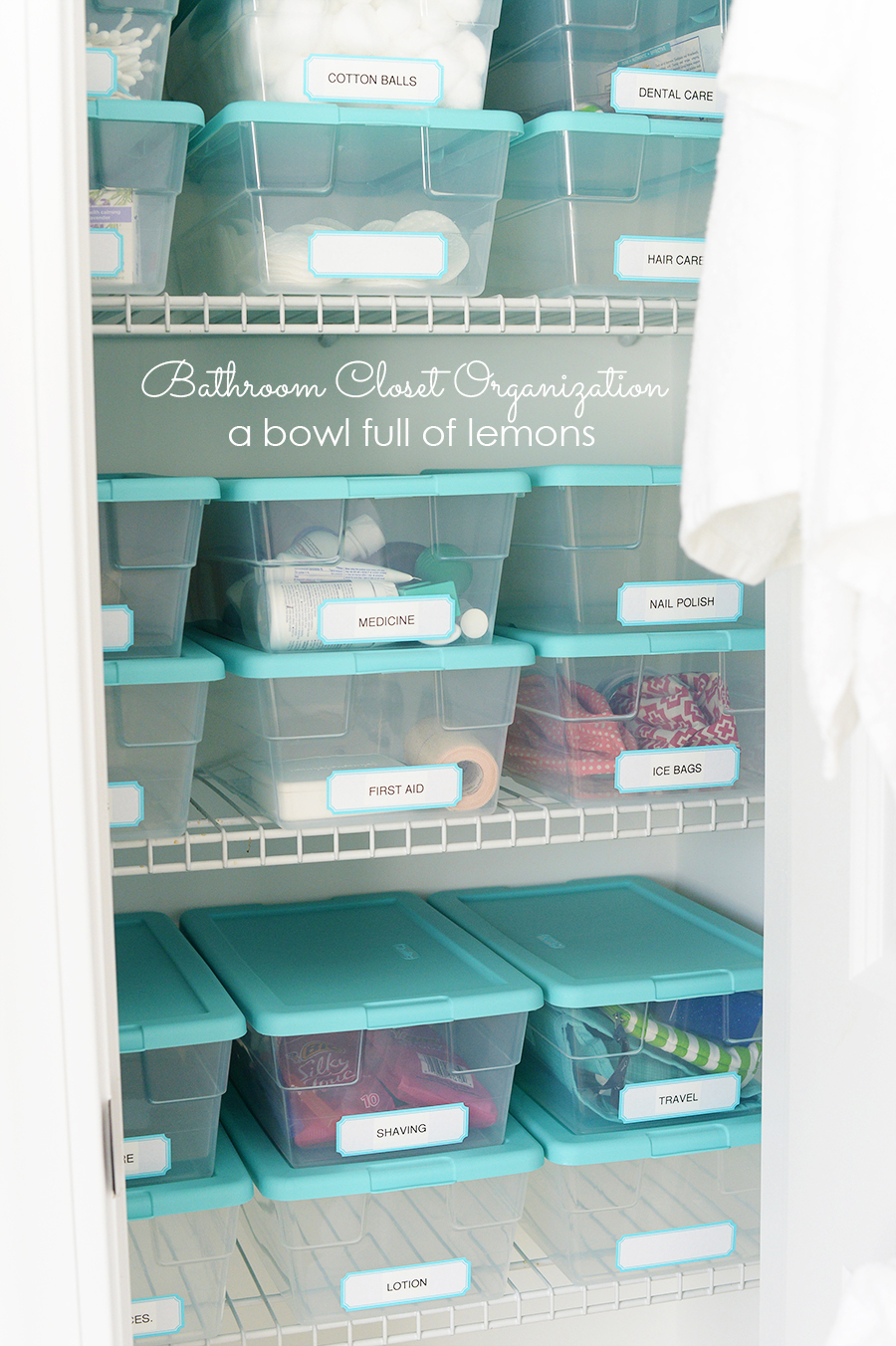 Finally, don't forget about your guests.  Keep a basket tucked away for new towels & wash cloths. Nobody wants to wash with someone else's dirty wash cloths. (Basket purchased at Target)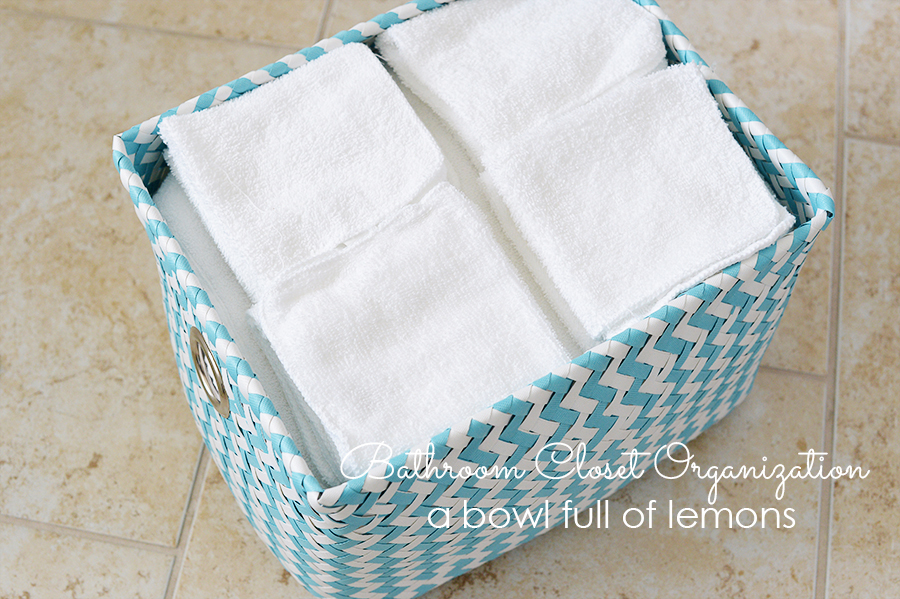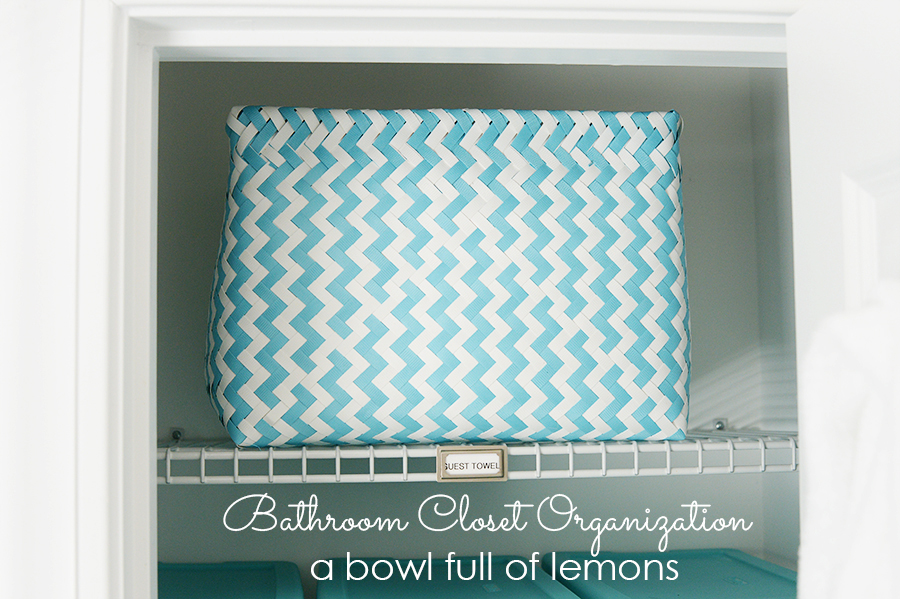 In just a small amount of time, you can create a fabulously organized bathroom closet with Command Products & organizing bins.  I am very happy with the results of this small project.  Happy Organizing!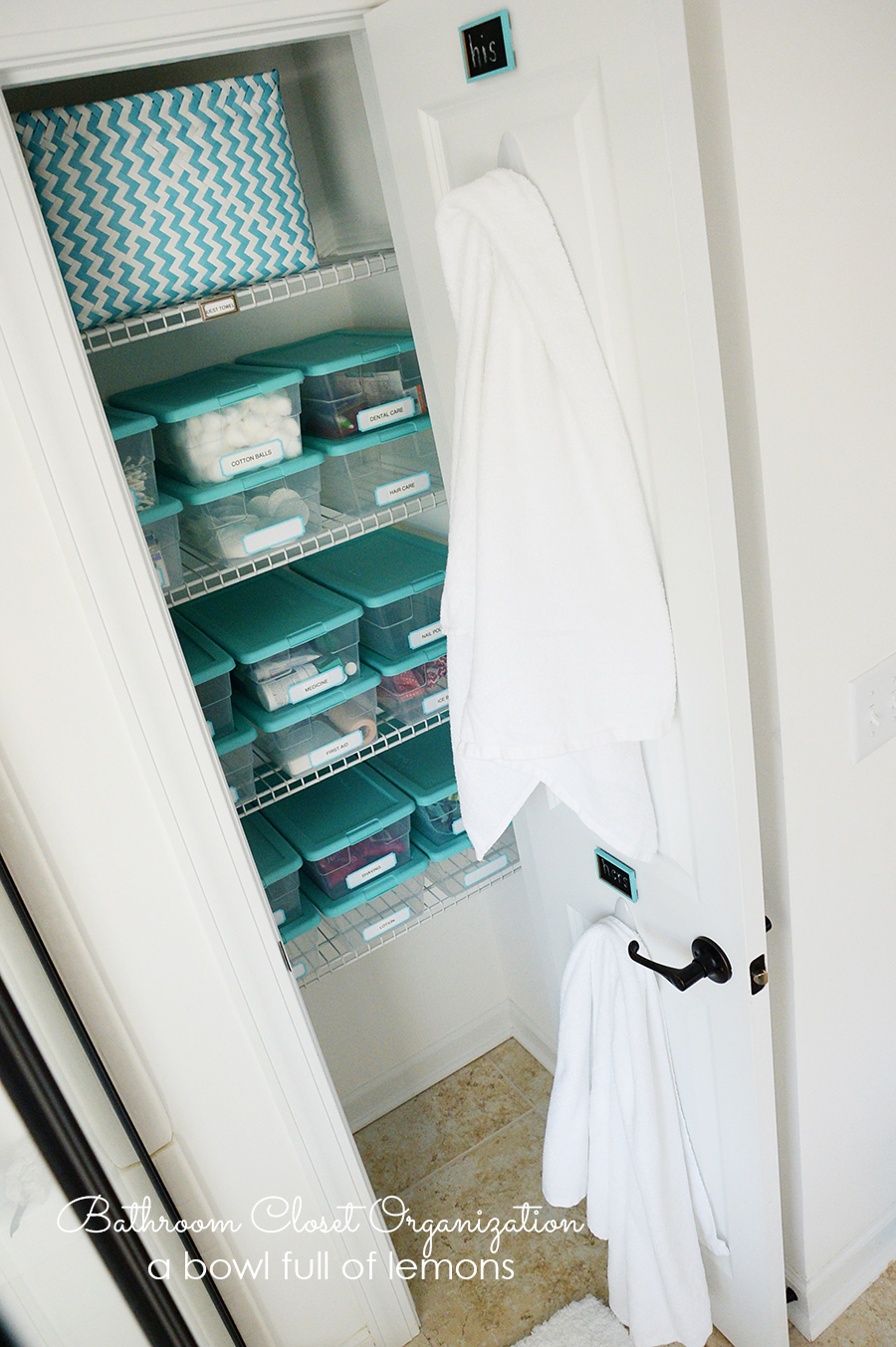 Disclaimer: I was compensated to share my Command review with you. All opinions are my own & I only recommend products or services I use personally and believe my readers will enjoy. I am disclosing this in accordance with the Federal Trade Commission's 16 CFR, Part 255: "Guides Concerning the Use of Endorsements and Testimonials in Advertising.  Please click here for full disclaimer.
Tags: bathroom, bathroom organizing, closets, command, labeling, organizing
April 2014, Bathrooms, Blog, closet, Closets, command, labeling, Organize, Plain & Simple Organizing, Slider Posted in 49 comments