Do you have a builders grade kitchen that desperately needs some character & style?  Today Im going to share some ideas that you can use to transform an unsightly space into a vintage style kitchen.  The last time I shared my kitchen with you was September of 2012.  It was an organizing post that showed my kitchen & the inside of my cabinets.  Since then, I have been adding vintage touches to bring more character and charm to our "new" home.
My kitchen is a reflection of my personality. Im an old soul and absolutely love anything vintage.  In time, I hope to incorporate more vintage touches throughout the rest of my home. Our very first home was built in 1925. It was filled with beautiful moldings, vintage light fixtures, mahogany woodwork, built-in cabinets, skeleton key glass door knobs, swing doors & pocket doors, porcelain sinks & tub, subway tiles and more!  I loved it so much and miss that charm in our newly built home.  Little by little, we are adding that same character to our forever home.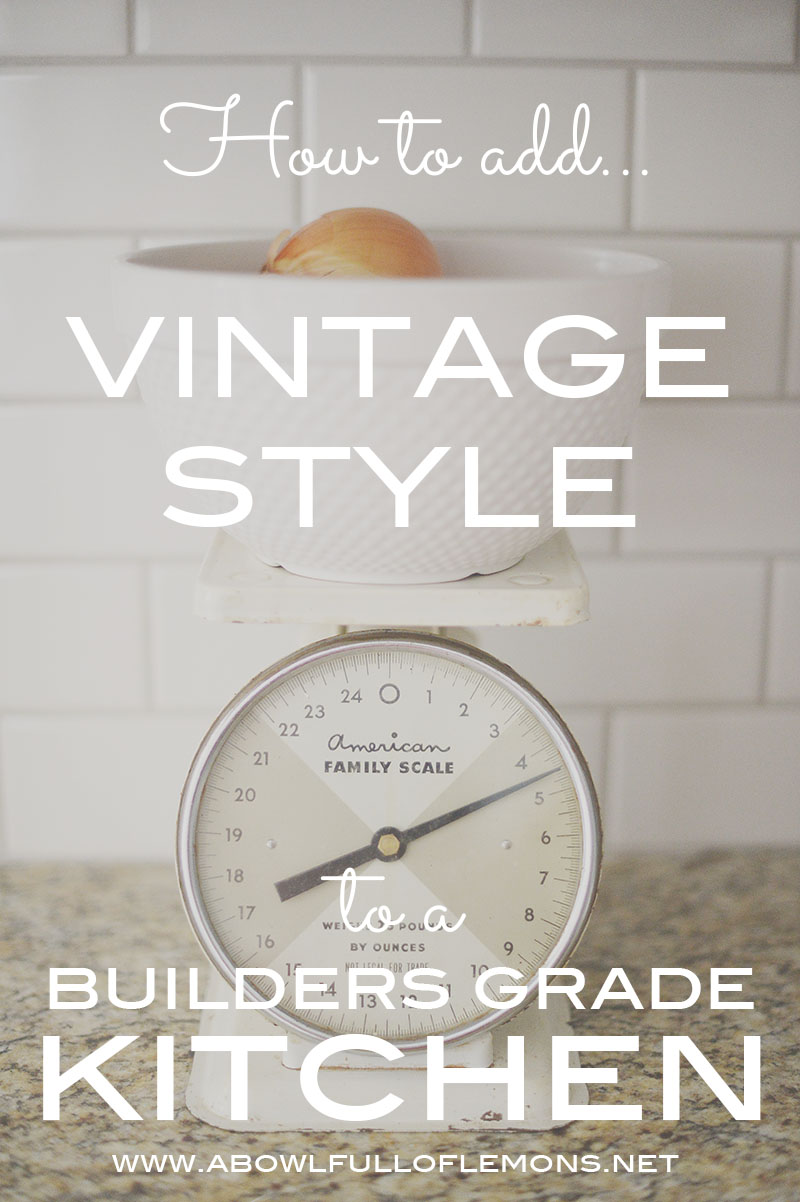 How to add vintage character to a new kitchen:
Lighting Fixtures
Subway Tiles
Vintage Decor
Kitchen Faucet
Vintage Linens
Hardware
Furniture
Extra Details
LIGHTING FIXTURES:
You enter my kitchen through the foyer.  When you walk in you will see the vintage style light fixtures.  I purchased them at Lowes.  They are still available and fairly inexpensive.   I believe light fixtures are one of the main focal points in a home. If you want to create a vintage feel in your own home, this is where you will want to start.
SUBWAY TILES:
Subway tiles became popular around the turn of the century.  They were originally hung in the NYC subway system because of the long lasting nature of the material and of course – they were stylish!  You will see many homes built in the early 1900's with this type of backsplash in the kitchen as well as the bathrooms.  Adding subway tiles to a newer home adds beautiful vintage character.    I installed our subway tiles (yes I did it myself!).  It took me 4 days (tiling in-between our busy schedules) but I finished it!  The project only cost me $200.  I purchased the subway tiles at Lowes for 22 cents each.  I used (Type 1 mastic) tile adhesive to hang the tiles & "warm grey" sanded grout for the color.  The tile spacing in my kitchen is 1/8 inch so I used sanded grout. If you use anything less than 1/8 inch, you will need unsanded grout.  I cut the tiles with an inexpensive wet saw.  Although time consuming, the tiling was pretty easy to do. It totally transformed our kitchen.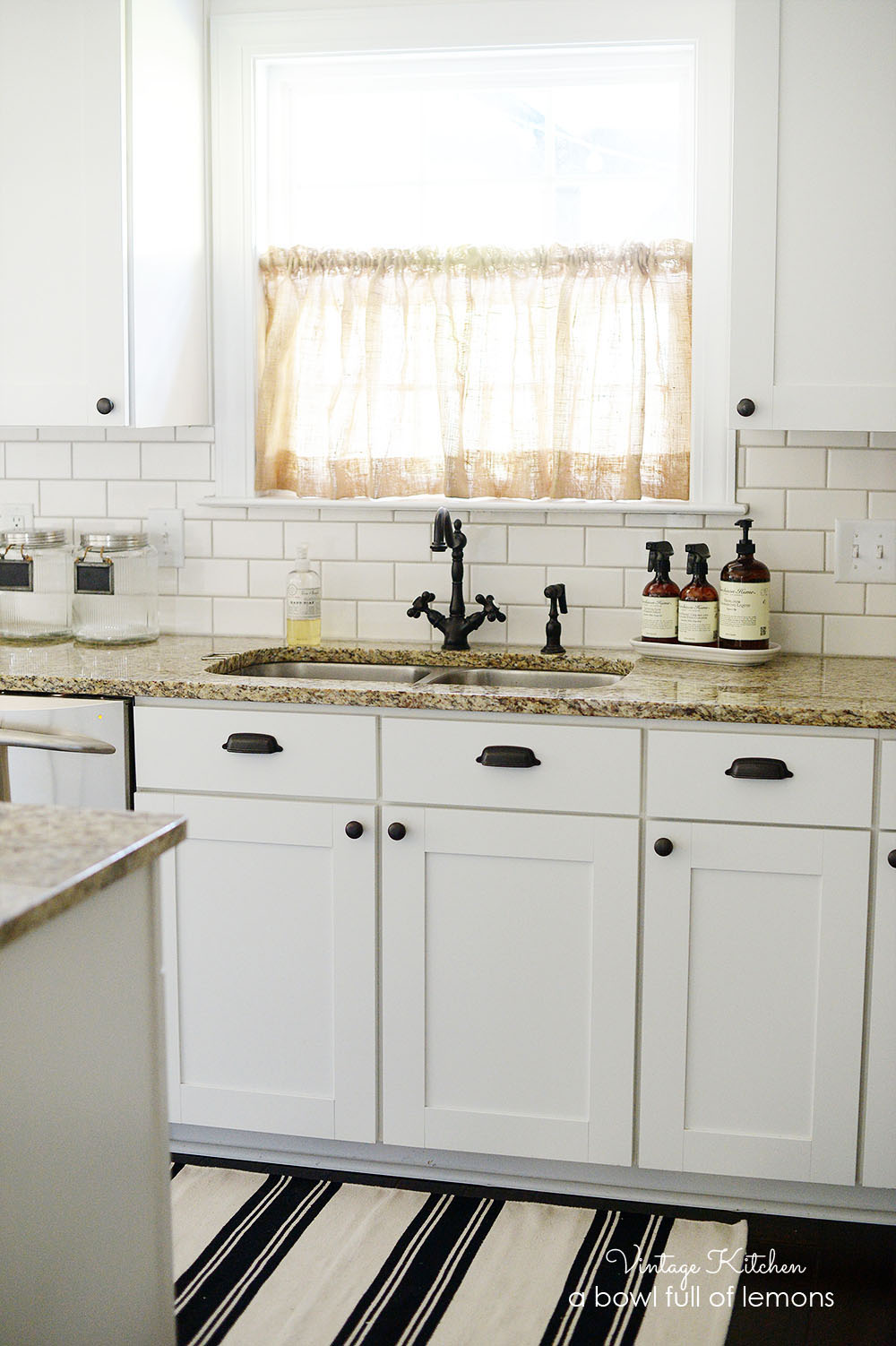 VINTAGE DECOR:
One of my all time favorite things to do is shopping at flea markets, barn sales, antique malls, and garage sales. I'm always on the hunt for vintage finds. I love old scales, vintage signs and anything else that has a story.  I LOVE antiquing. One of the easiest ways to add character to your home is with vintage decor.  Sit an old scale on your counter, store cookbooks in an old locker basket or use old crocks to store utensils.  The possibilities are endless.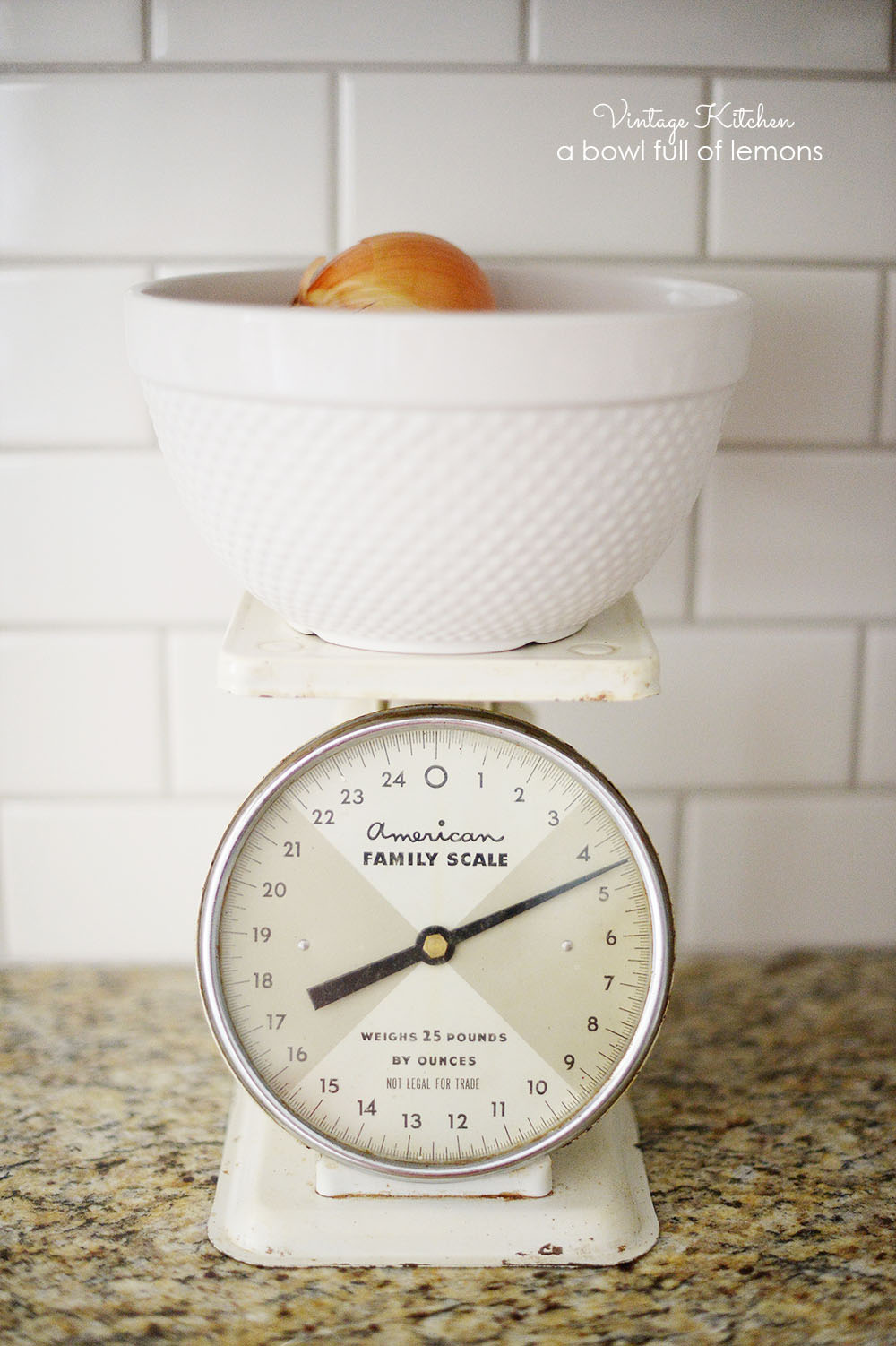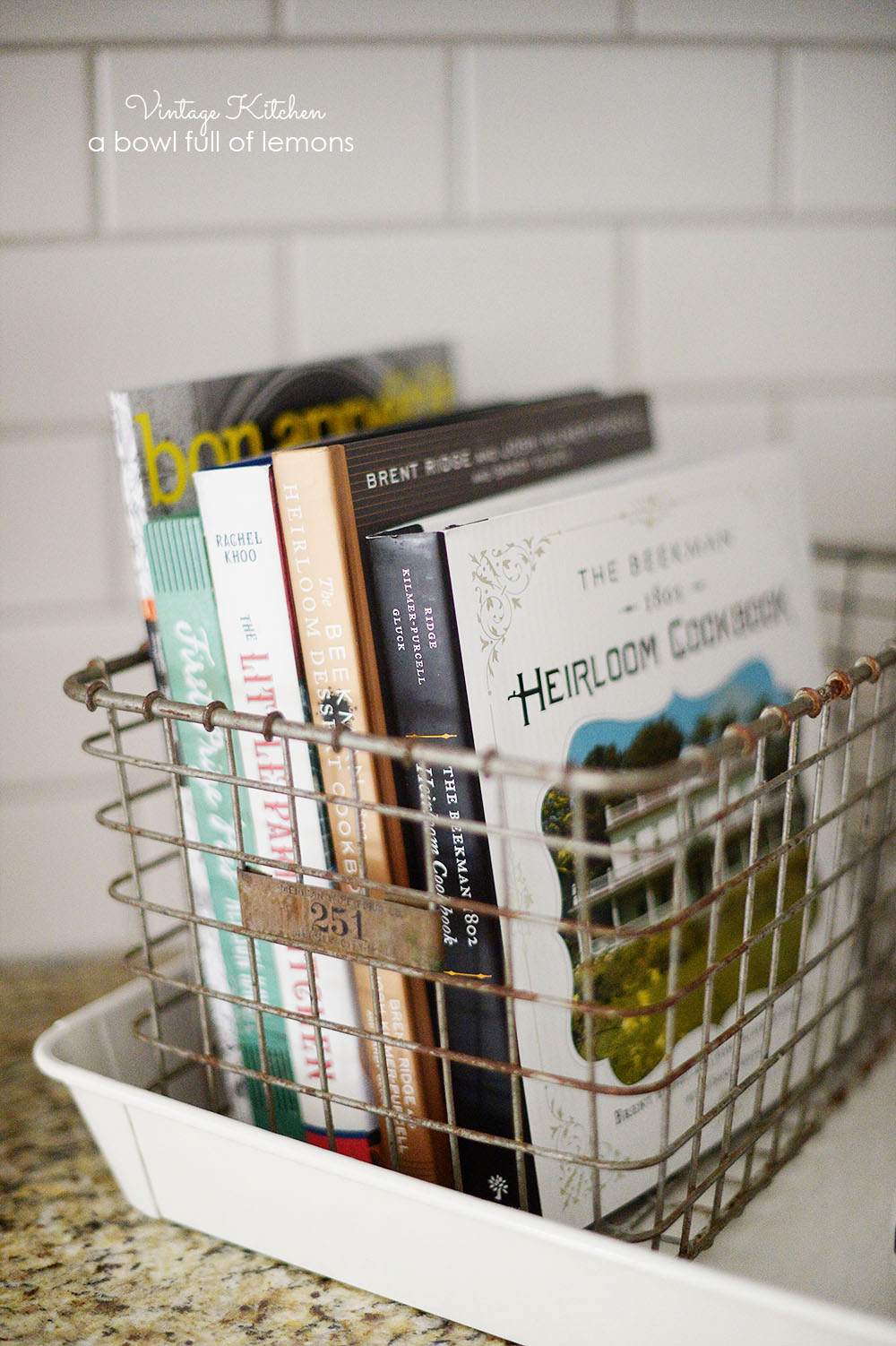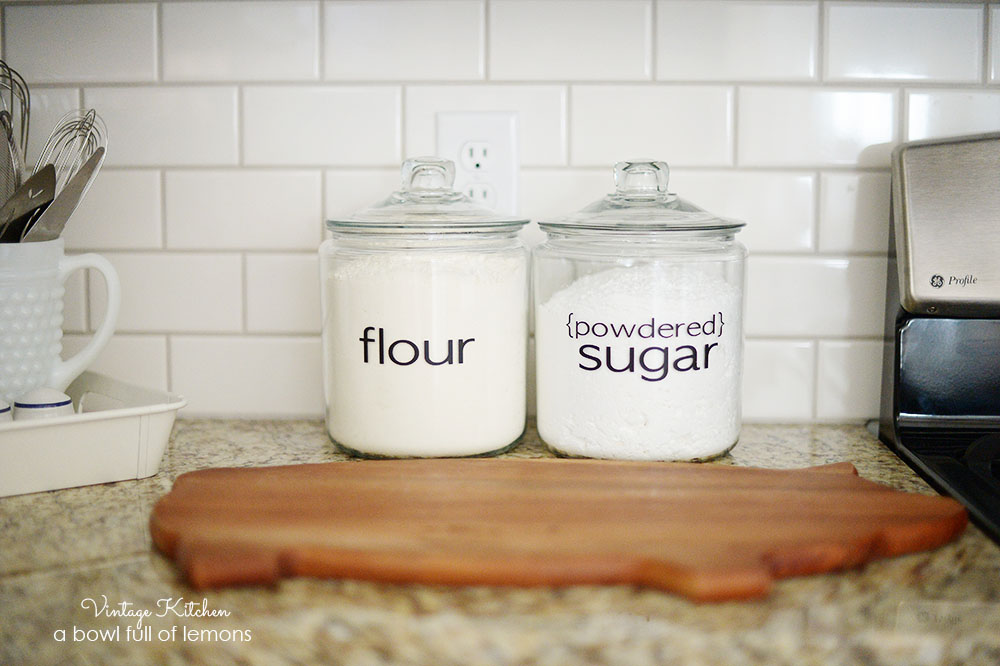 I purchased this vintage milk glass pitcher at a garage sale for $1.00.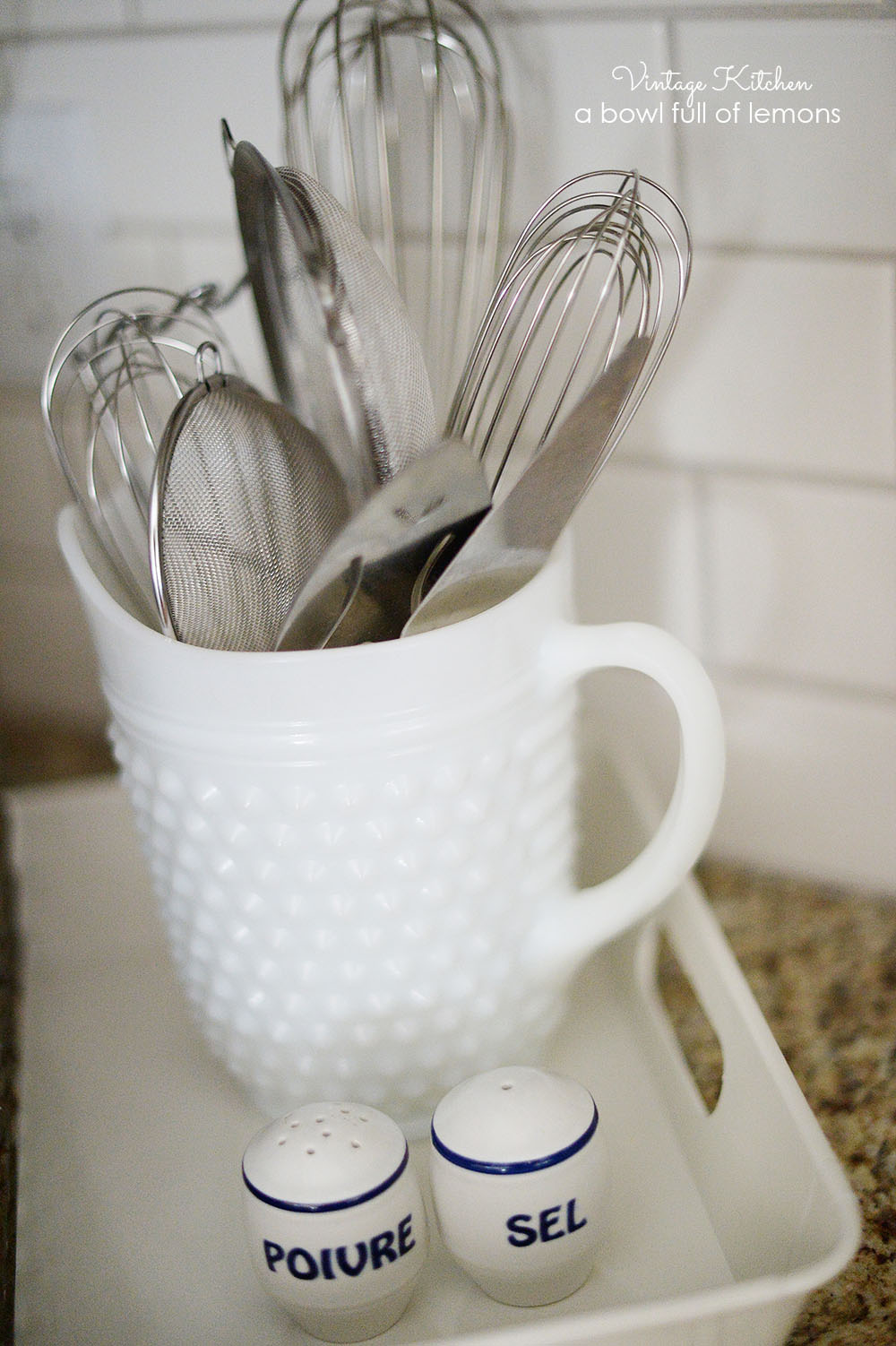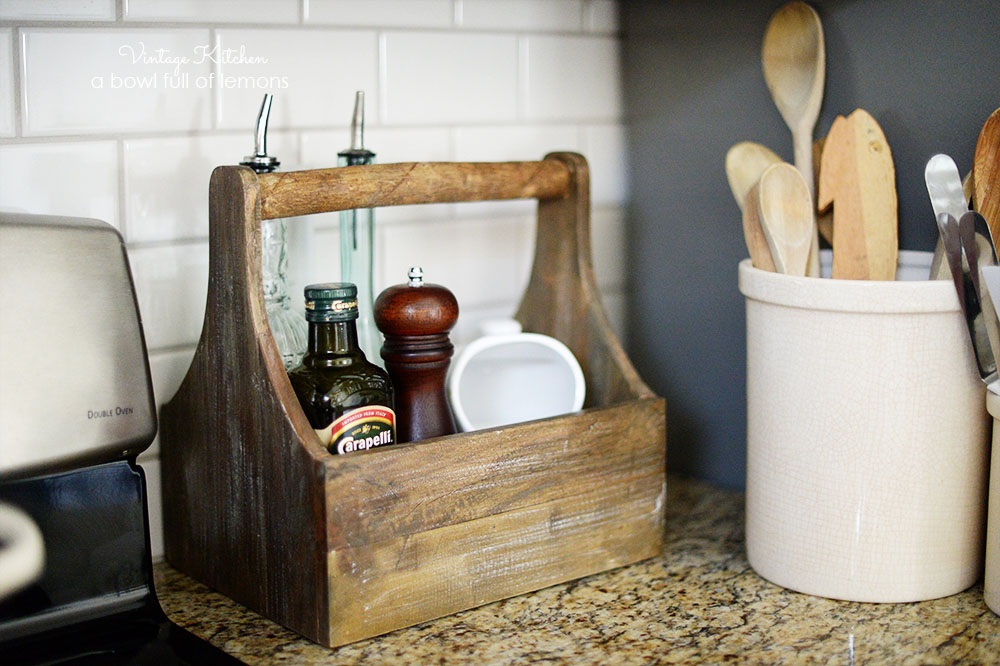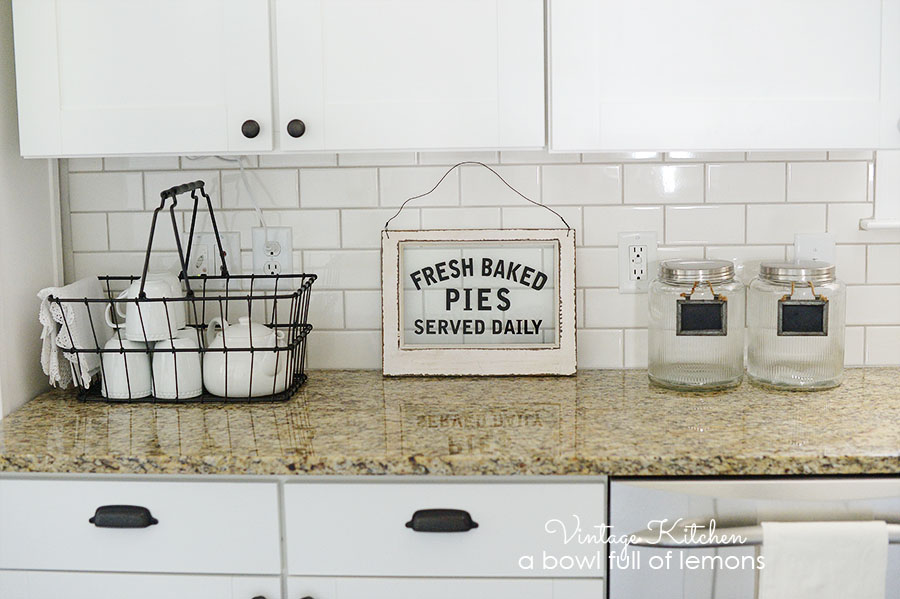 Hobby Lobby, TJ Maxx (Home Goods/Marshalls), and World Market are great places to find reproduction vintage style decorations. The wire basket is from Hobby Lobby & the sign and jars were purchased at World Market.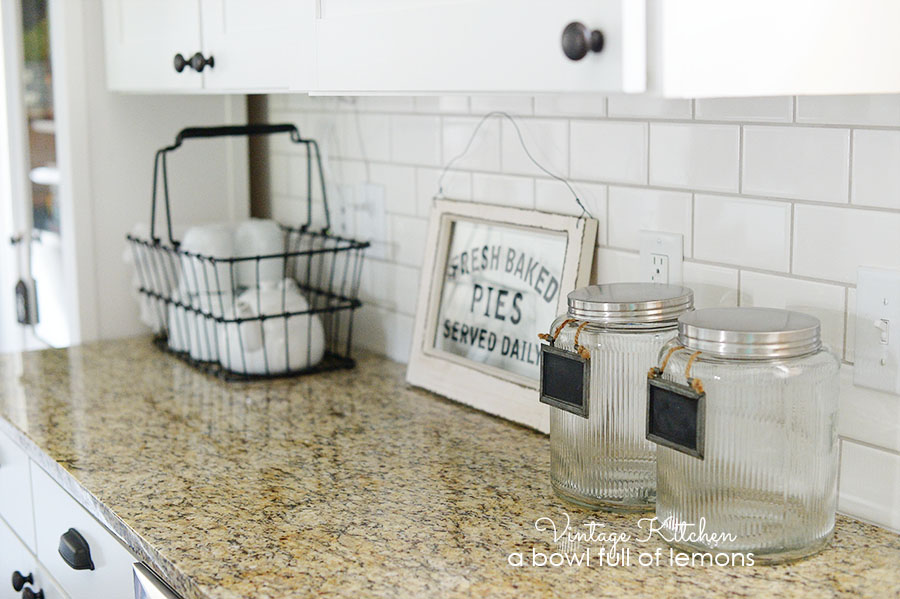 UPDATE THE KITCHEN FAUCET:
Add vintage character to your kitchen by updating your builders grade faucet.   This is another focal point of the kitchen. By updating the faucet, you will transform the space.  I purchased my faucet here.  I absolutely LOVE it!!!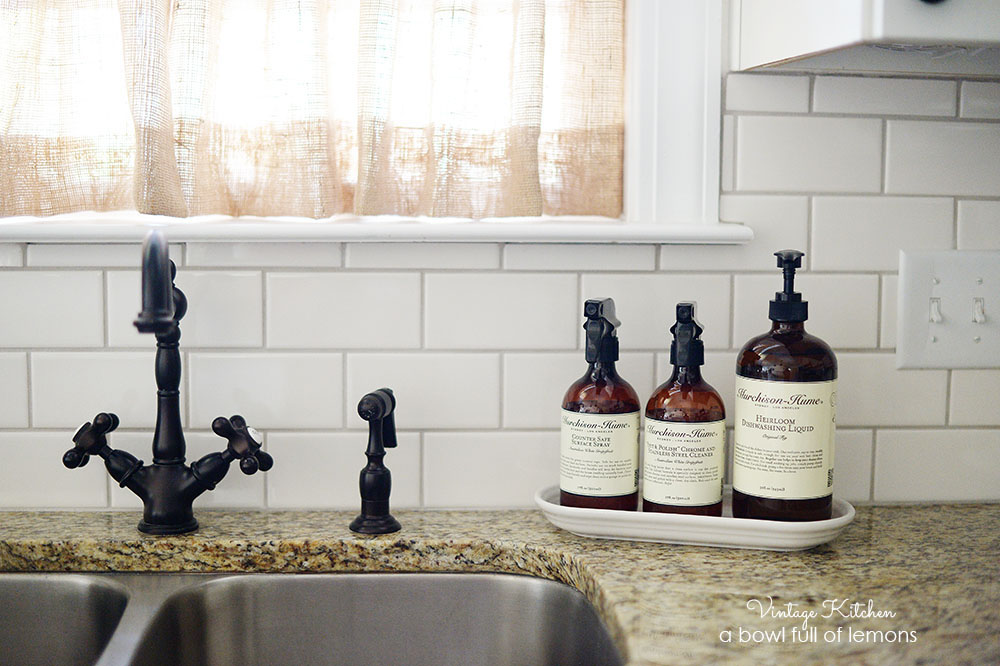 VINTAGE LINENS:
Vintage aprons, table cloths, and dish towels bring character to your kitchen. You can find them at garage sales, antique stores & etsy.  They are pretty inexpensive and bring such joy to my vintage kitchen. I change them out each season. I love them!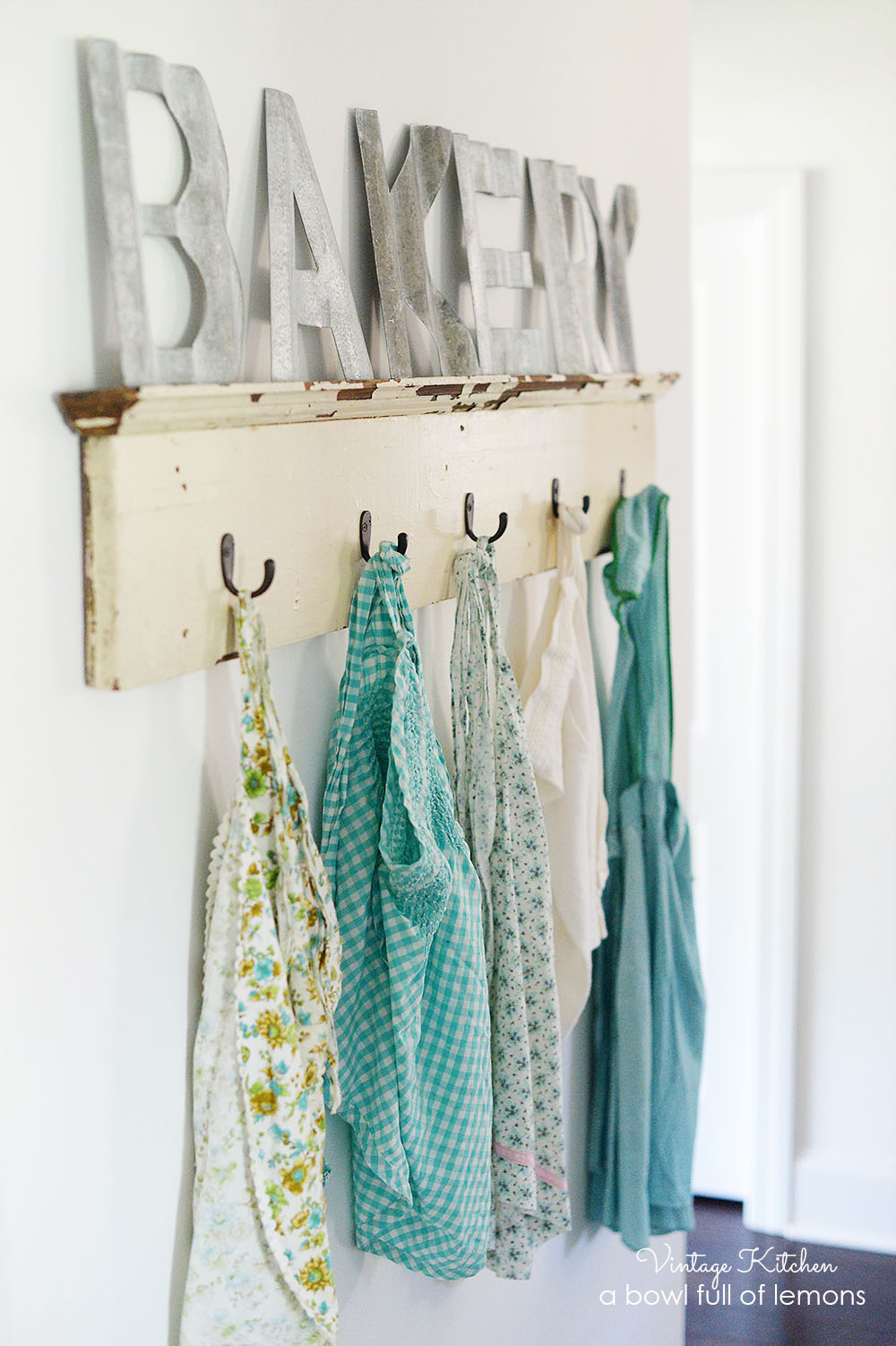 VINTAGE STYLE HARDWARE:
Swap out your builders grade handles with vintage style hardware (either reproduction or found).   I purchased these reproduction handles from the Young House Love line at Target. They are made to be "hooks" to hang on the wall, but work out well on my (pull style) pantry doors.  We also swapped out the cabinetry hardware for vintage reproduction style knobs and pulls from Restoration Hardware (Gilmore knobs & pulls).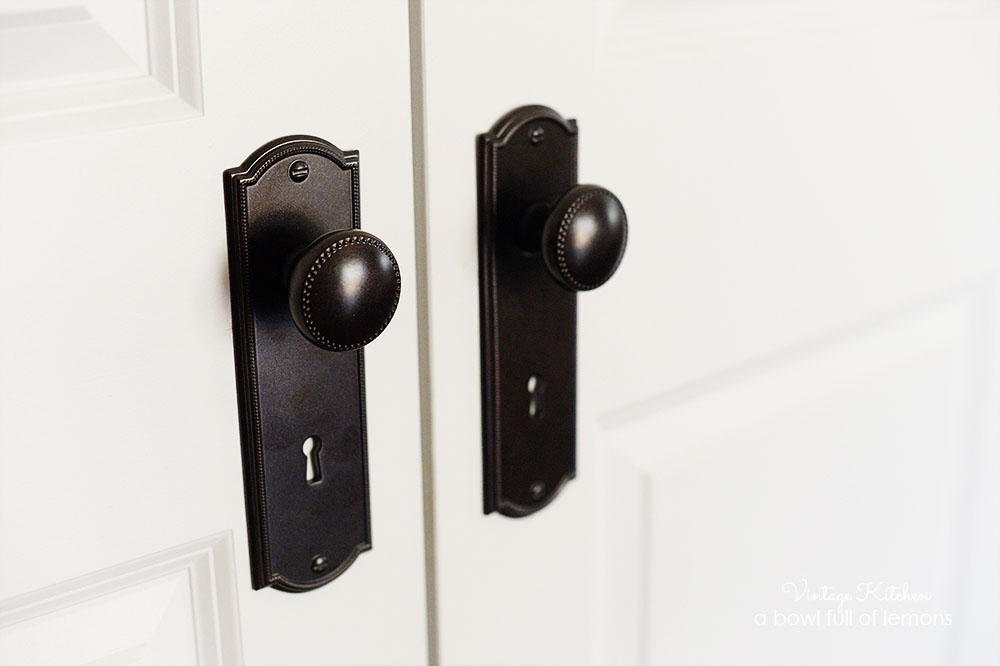 FURNITURE:
Nothing adds character like vintage style furniture. Swap out your "new" furniture with vintage or reproduction pieces. I purchased these bar stools from World Market. They add so much style to the space.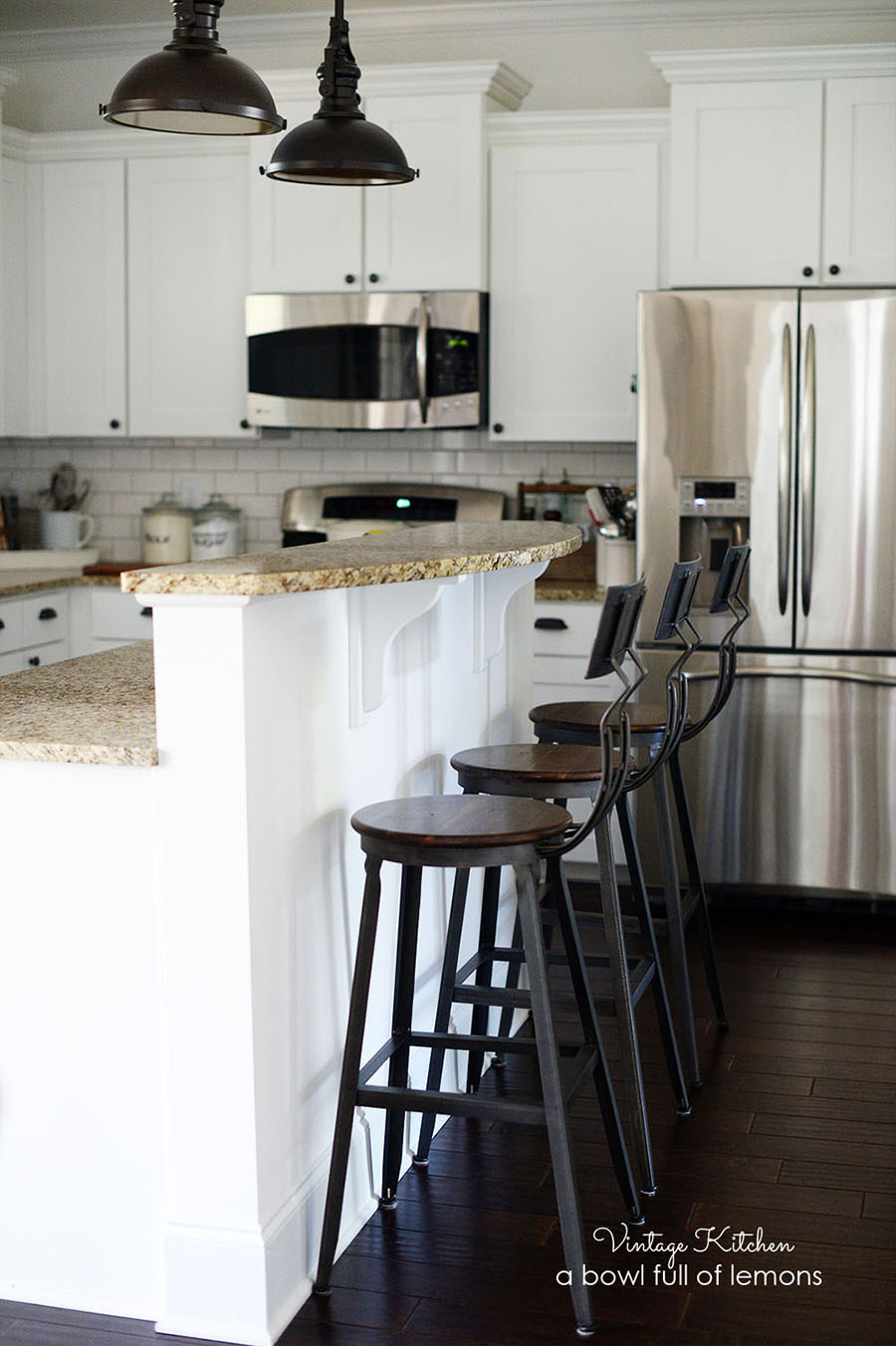 I purchased the slipcovered & wooden chairs from Ikea and vintage style farmhouse table came from Big Lots (believe it or not!).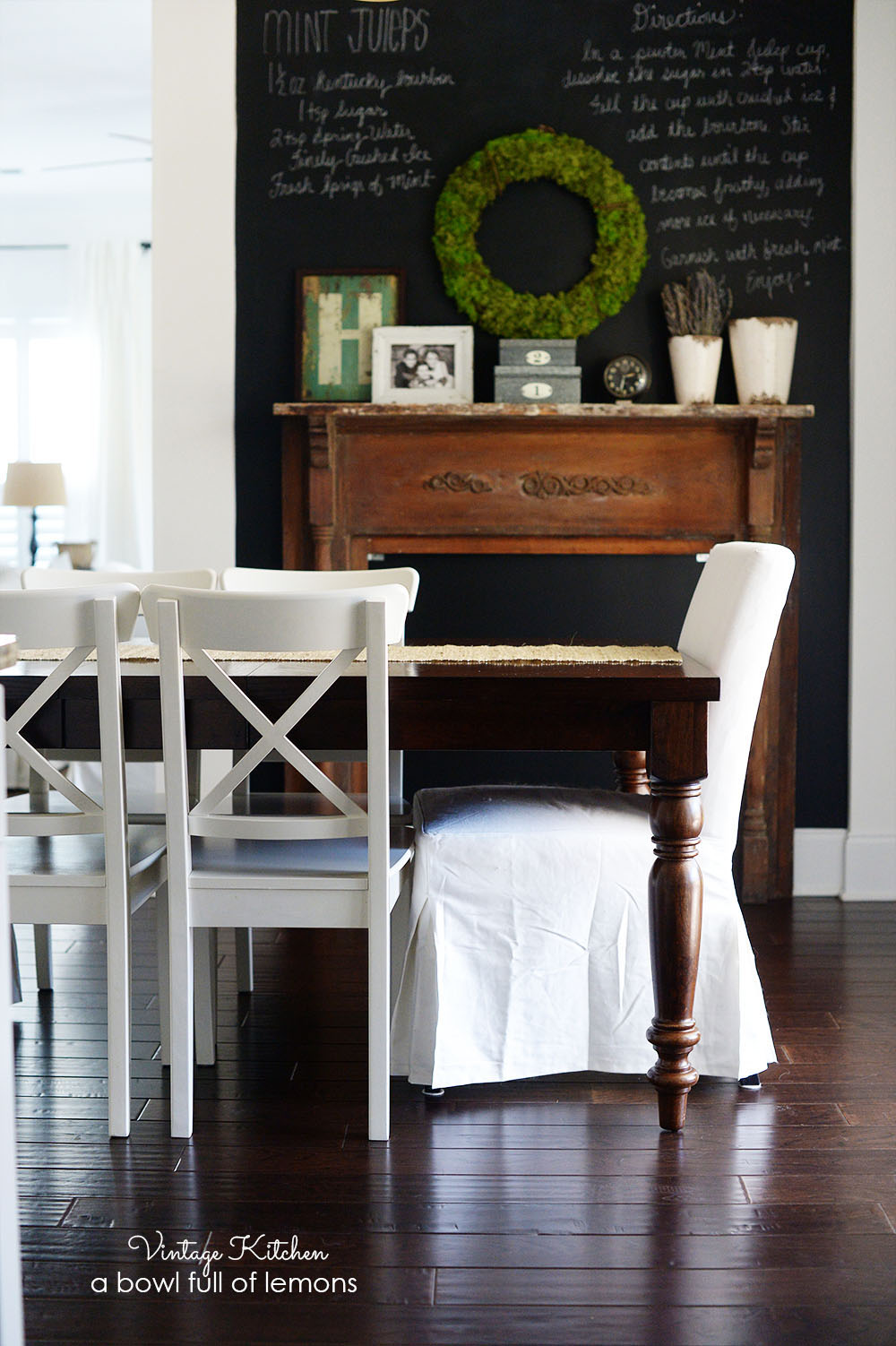 EXTRA DETAILS:
Add chalkboard paint, a vintage mantle or open shelving to decorate those empty walls in your kitchen. Fill the space with vintage finds, signs, wreaths, etc.  Within those small details, character is revealed in your kitchen. Dont be afraid to add your own charm.  There are so many possibilities.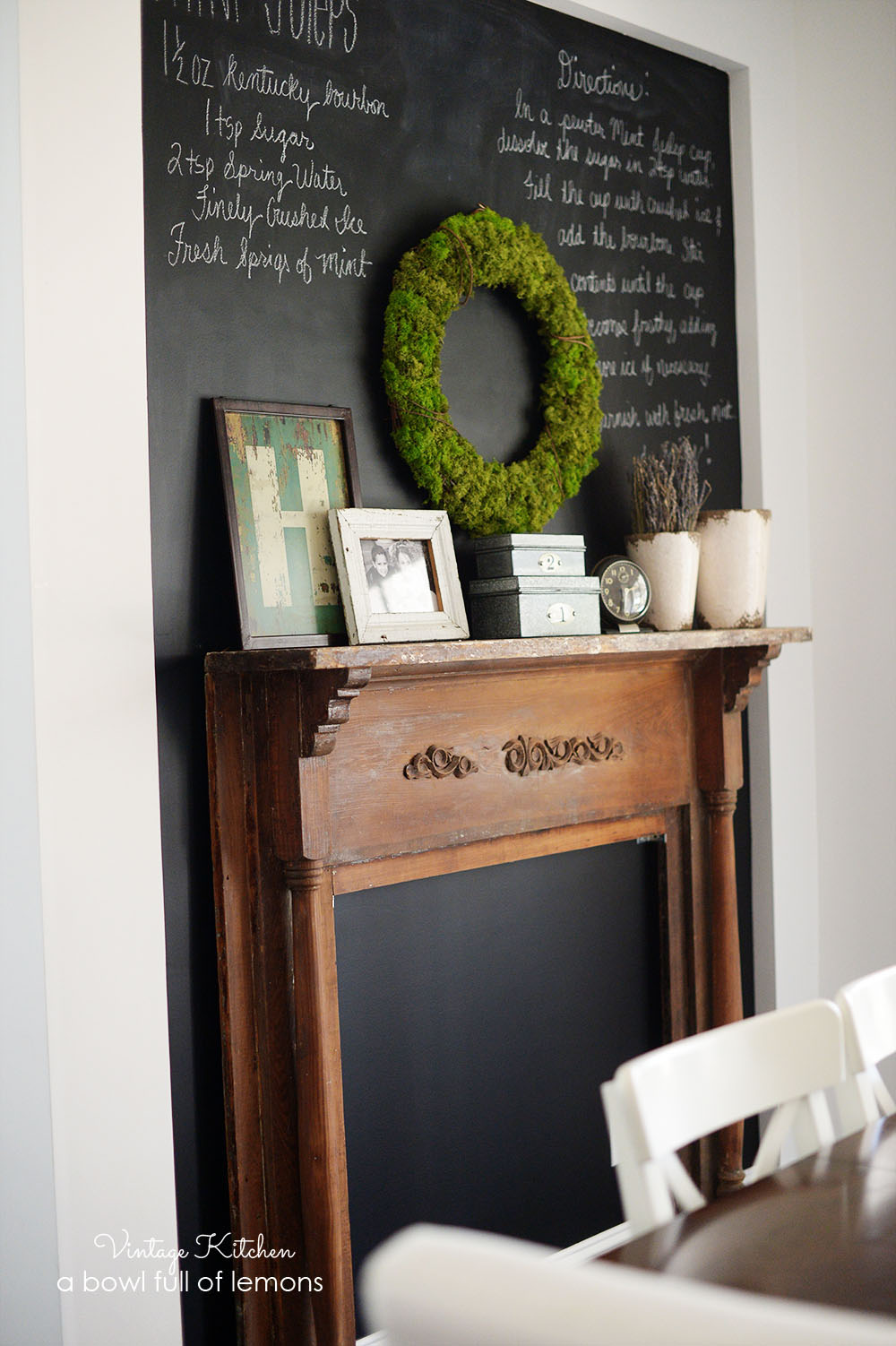 This is one of my favorite spaces in the kitchen. I purchased this shelf at TJ Maxx.  I collect wooden cutting boards, cheese boards & rolling pins.  I display some of them here.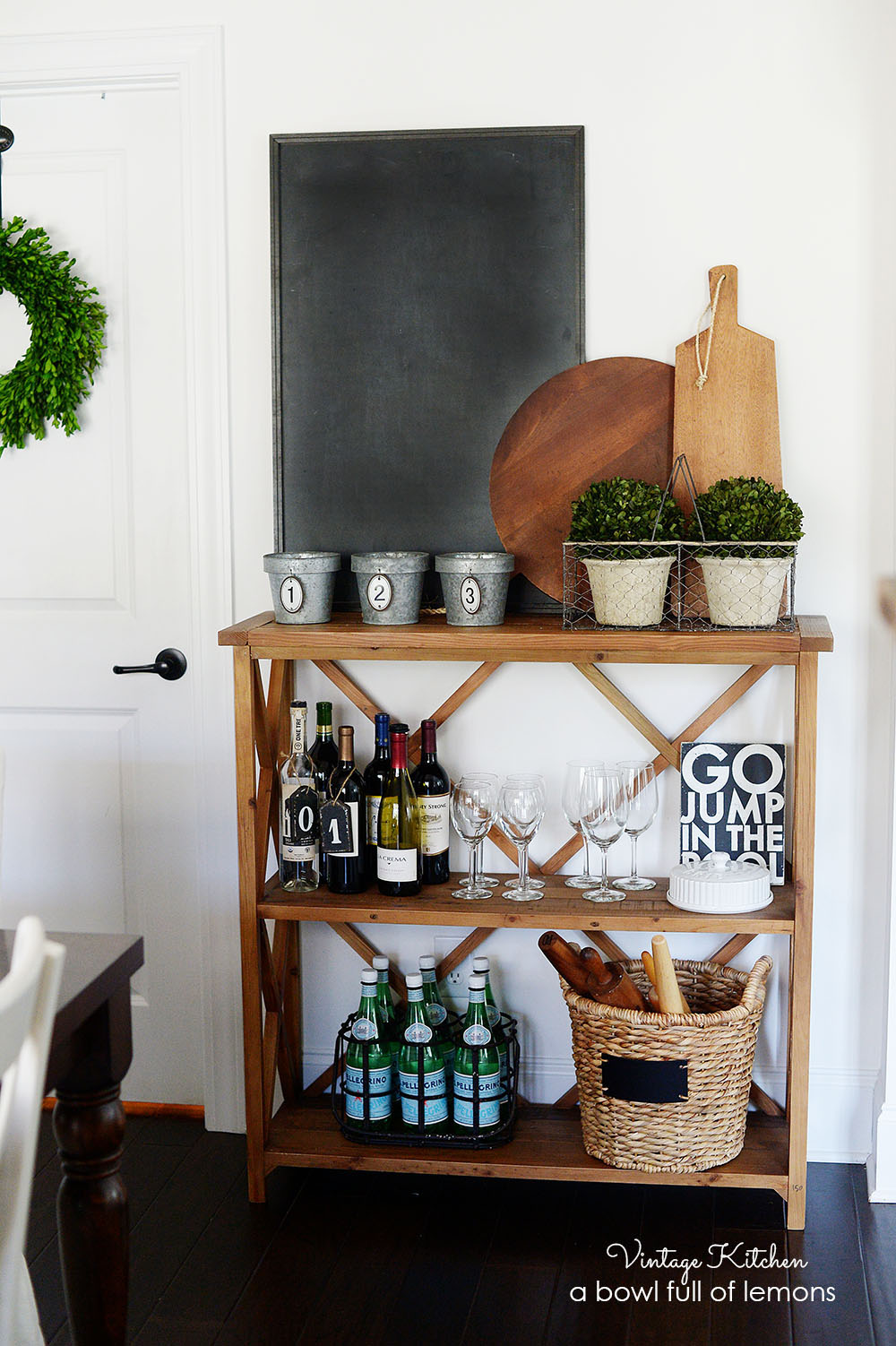 I can't remember where I purchased the number tins but they were bought online.  The basket & brie container are from Target & the bottle caddy is from TJ Maxx.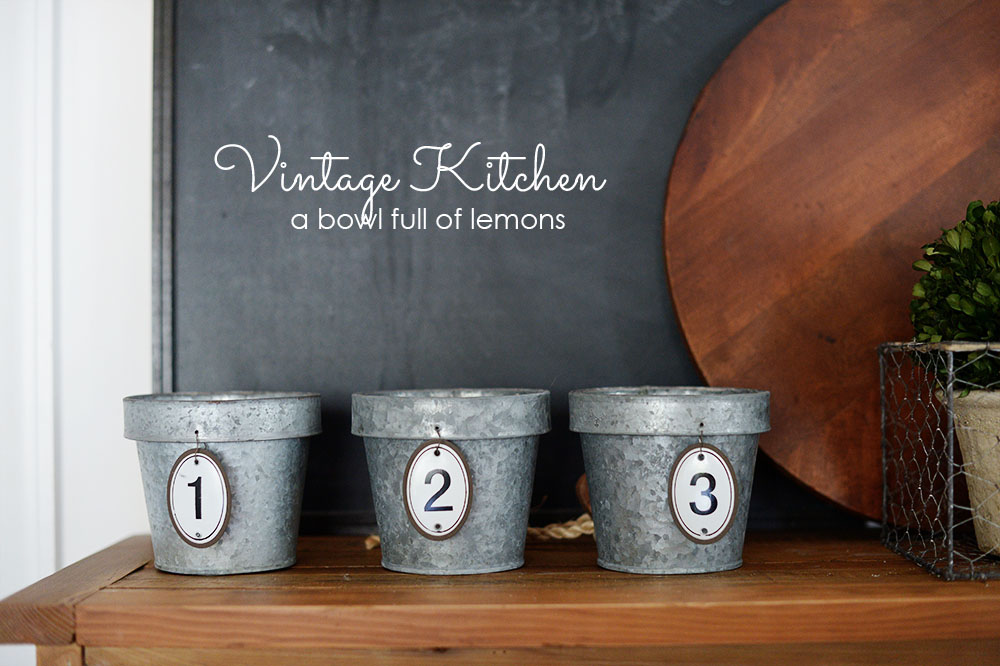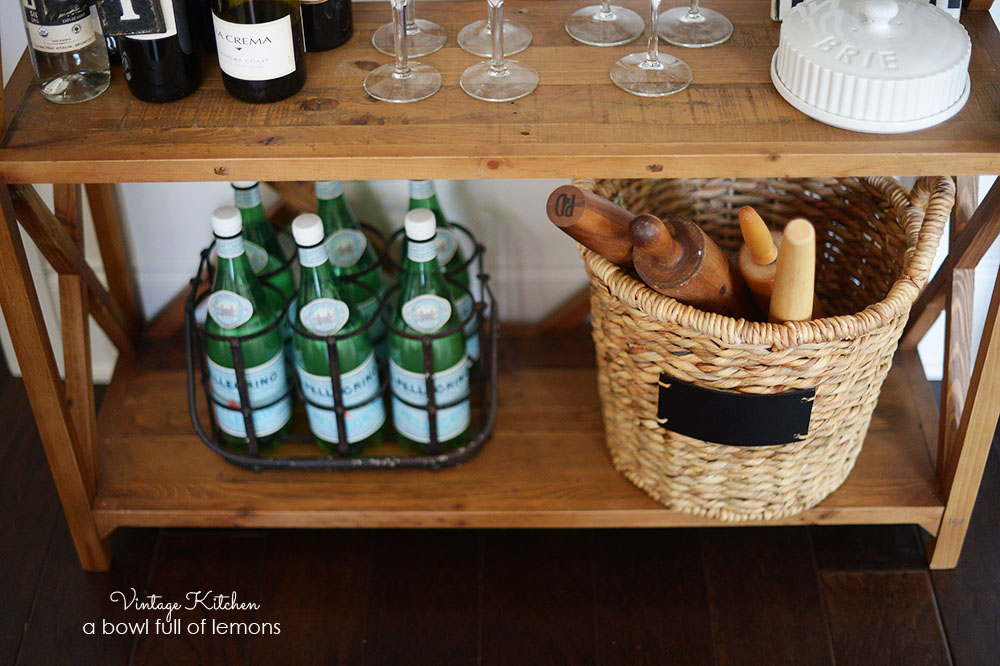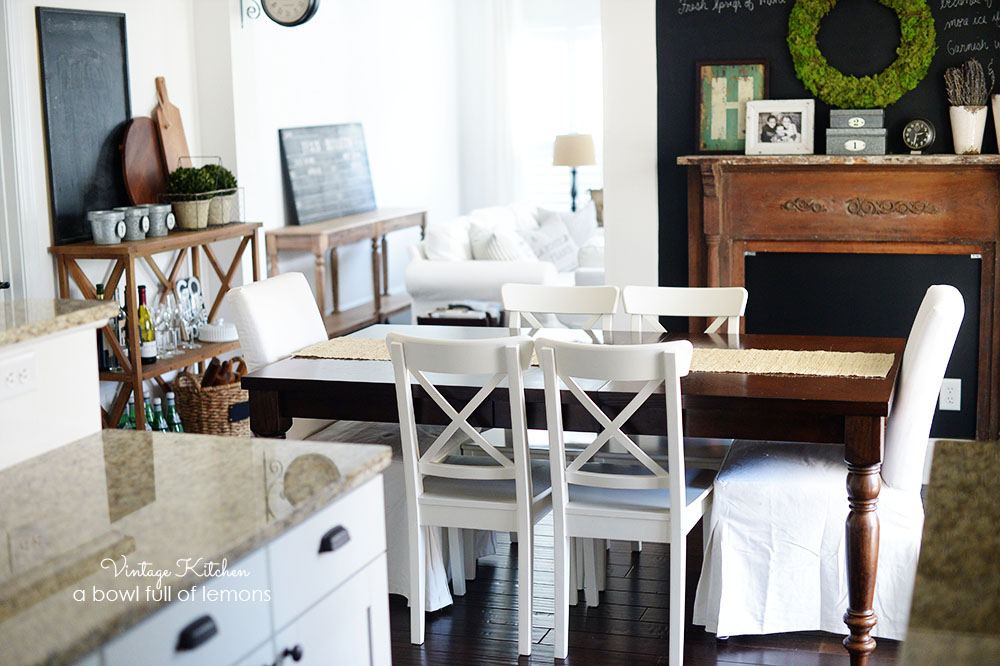 I hope you are able to take some of my tips & update your builders grade kitchen to a vintage style kitchen with character and charm.  If you have any other ideas or tips, I'd love to hear them. Just leave a comment below. Follow me on Instagram to see what kind of projects I'm up to on a regular basis. My IG name is "Toni Hammersley". As always, you can see updates on my Facebook page here. Thanks for stopping by.
Tags: decorating, kitchen, vintage decor
Blog, Decorate, Decorating, Kitchen, kitchen decorating, May 2014, Organize, renovations, Tutorials, vintage kitchen Posted in 47 comments