Welcome to my laundry room!  I spent the last week in here – purging, organizing, & labeling and I'm ready to share my ideas with you!  I hope you enjoy the post.  As always, if you would like to recommend a blog post, just leave me a comment below.  I am always looking for new ideas.  Last but certainly not least, if you enjoy my blog posts, I ask that you follow my social media channels below & show some blog love by sharing my posts with your friends on Facebook & Google+, pinning them to Pinterest, tweeting and tagging friends on Instagram.  Thanks so much!
Facebook:  https://www.facebook.com/abowlfulloflemons
Twitter: https://twitter.com/organizedclean
Pinterest:  http://www.pinterest.com/toni_hammersley
Instagram: http://instagram.com/abowlfulloflemons
Google+: https://plus.google.com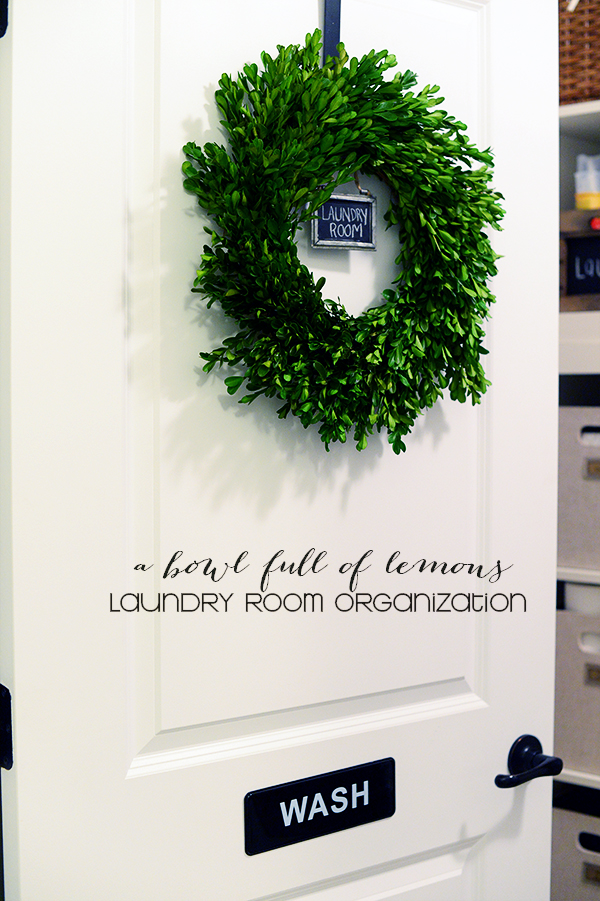 As you walk into my laundry room, you will notice a boxwood wreath hanging on a black hook along with a chalkboard label & a wash sign.  I love decorating doors in my home.  The wreath is from Target & the "wash sign" is from a restaurant supply store.  As you open the door, you will see 2 white Ikea (expedit) shelves stacked on top of each other.  I use these to store many of our household items.
Tissues
Paper Towels
Toilet Paper
Sewing Items
Light Bulbs
Tools (For upstairs)
Litter
Cleaning Wipes
Extra Laundry Soap
Floor Cleaners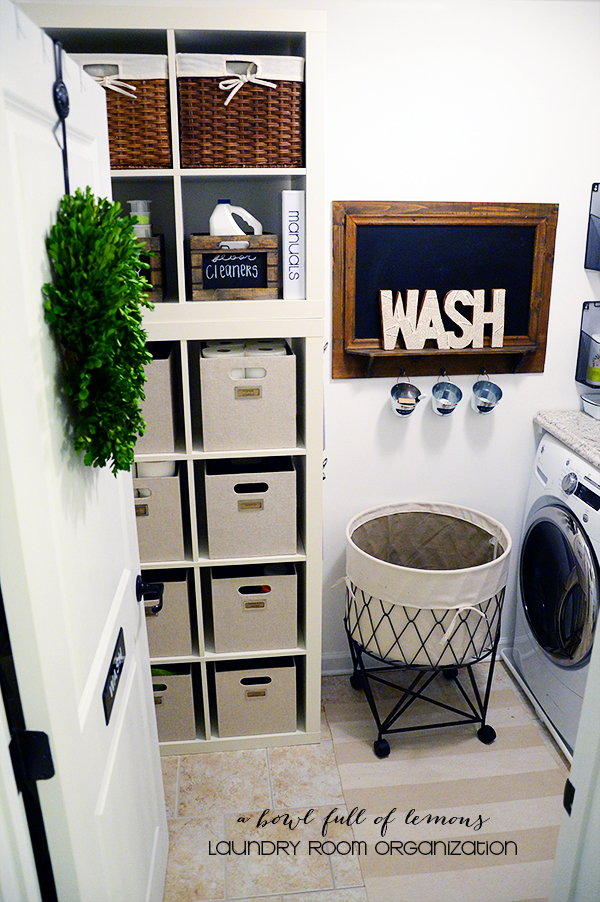 Near the top shelf, I keep our Manuals in a binder.  More about this in a future post.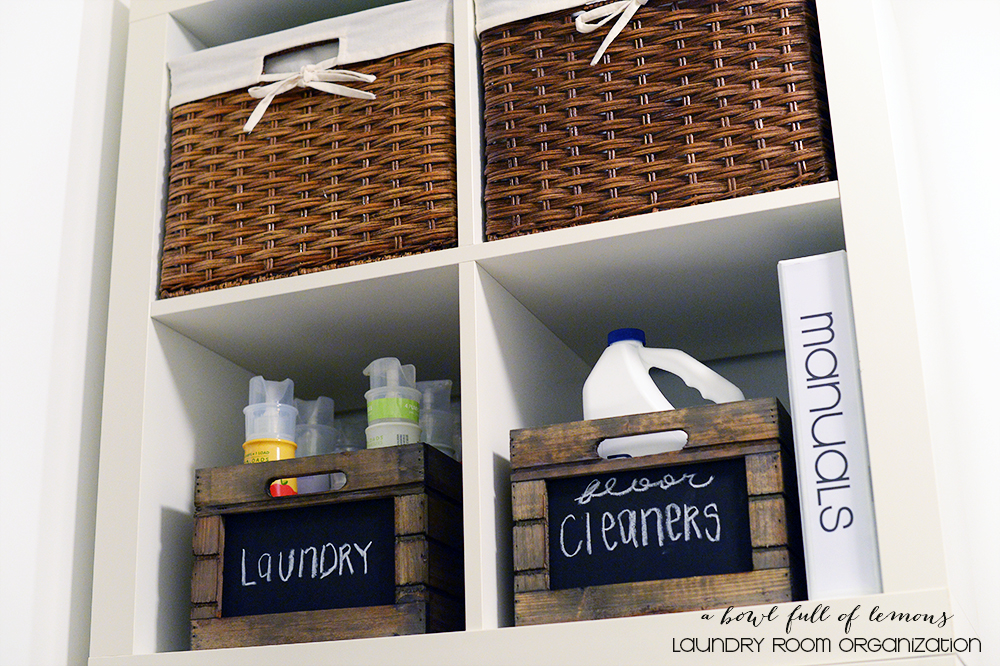 On the top shelves, I keep baskets of odds-n-ends, as well as wooden bins filled with extra laundry soap and floor cleaners.  The baskets are from Target & wooden bins are from TJ Maxx.  Below those are my linen bins.  I labeled each bin with Martha Stewart metal bookplate labels & printed them out on kraft style card stock.
Print out my Laundry Room Labels for free – HERE
The bins are the perfect size for the Ikea shelf.  I purchased them HERE for $12.99 each.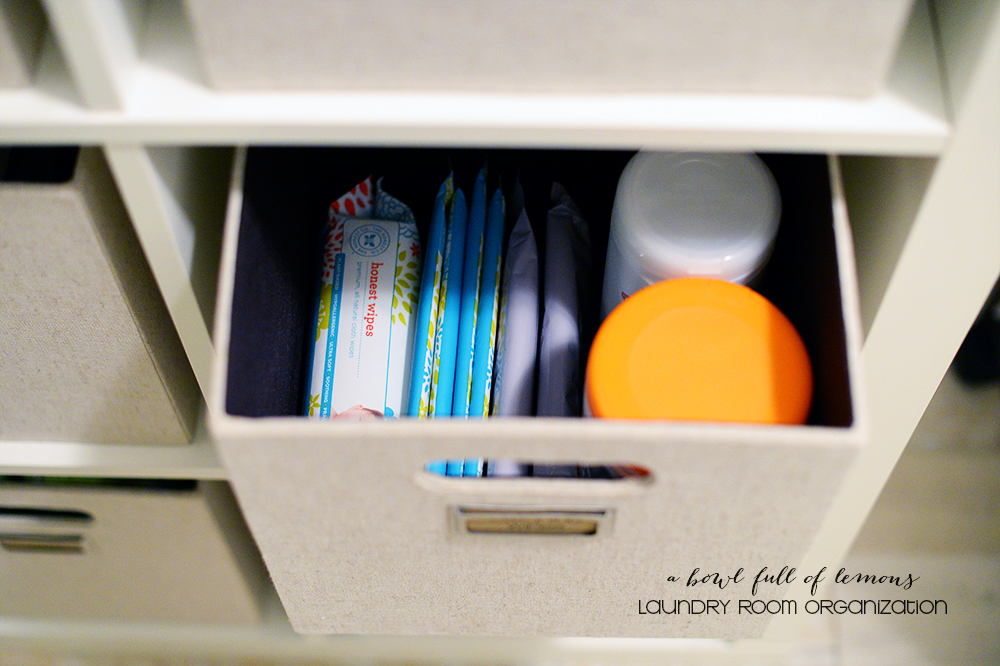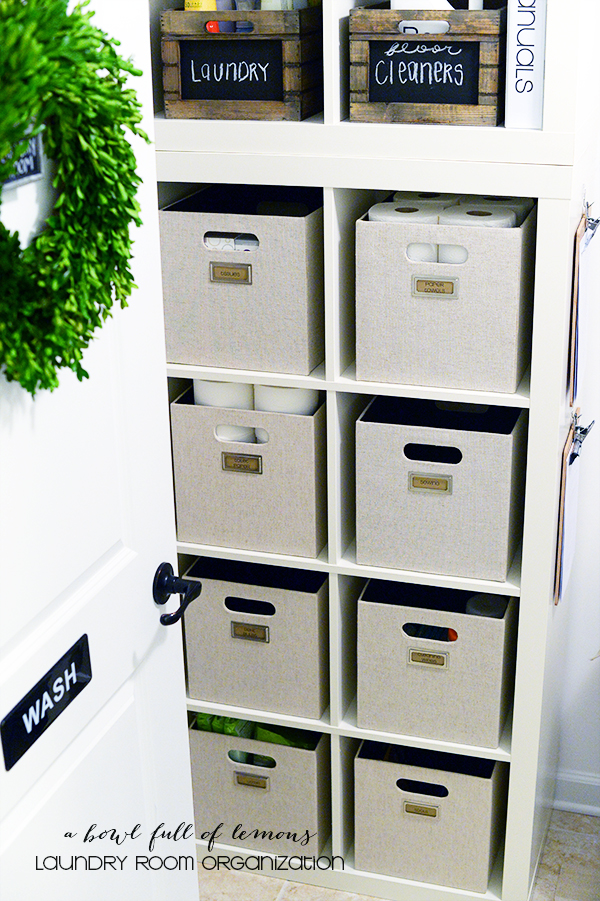 Behind the door is where I store my floor cleaning tools, dusters & ironing board.  I hung an "over the door" shoe organizer, on the back of the door. It's the perfect spot for my cleaners.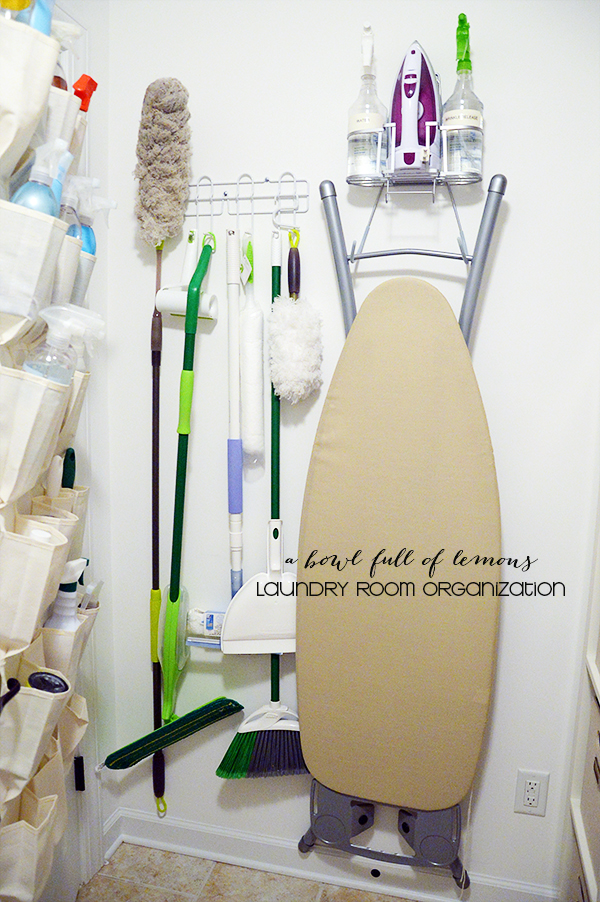 The ironing board organizer can be purchased HERE.  I looked everywhere for one that holds the ironing board, iron AND bottles.  This is exactly what I wanted.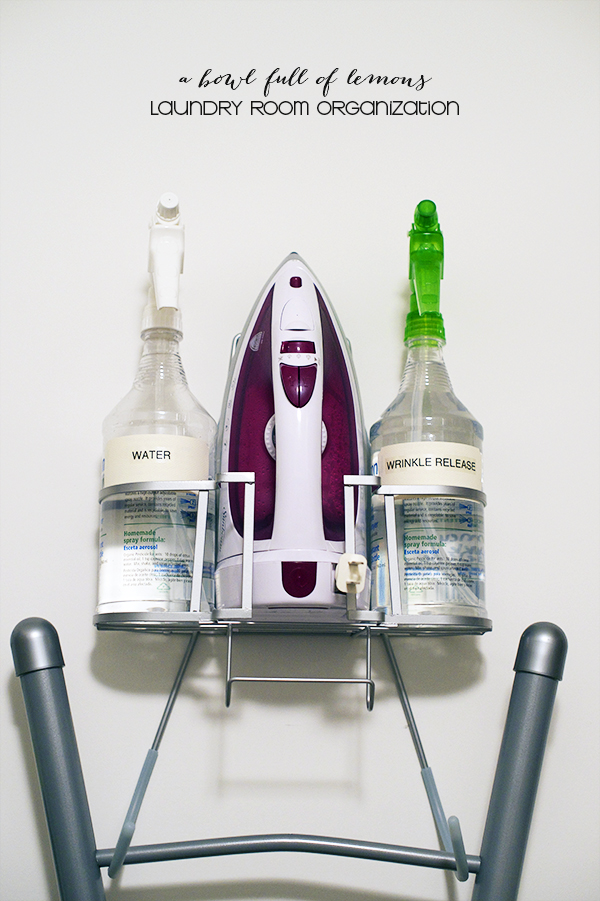 The "over the door" shoe organizer can be found HERE.  I will be sharing a blog post about my favorite cleaners soon, so check back!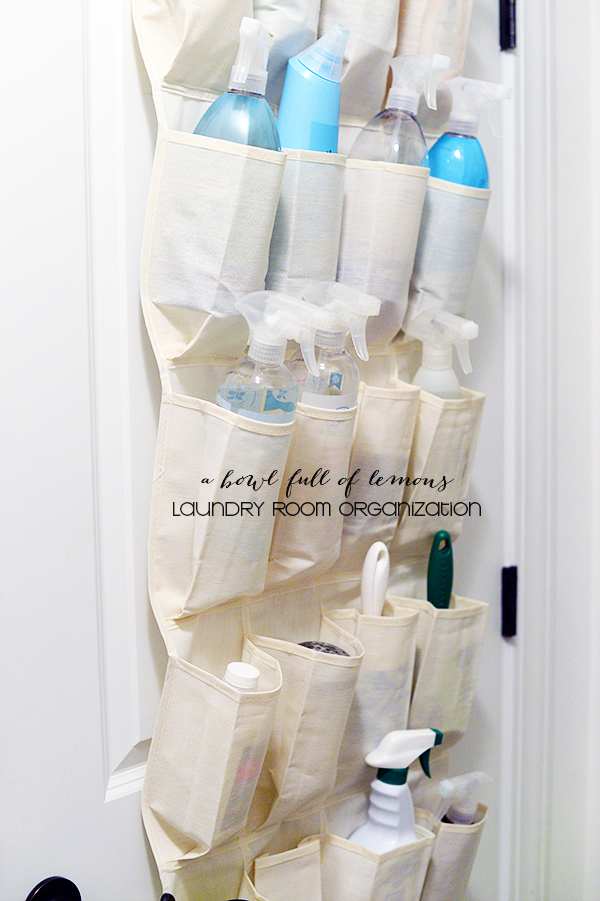 On the center wall is where I keep my chalkboard.  I use it to write down reminders, etc.  The laundry cart fits nicely in this space. The chalkboard, "wash" sign, rug and cart were all purchased at TJ Maxx.  I simply can't get enough of that store!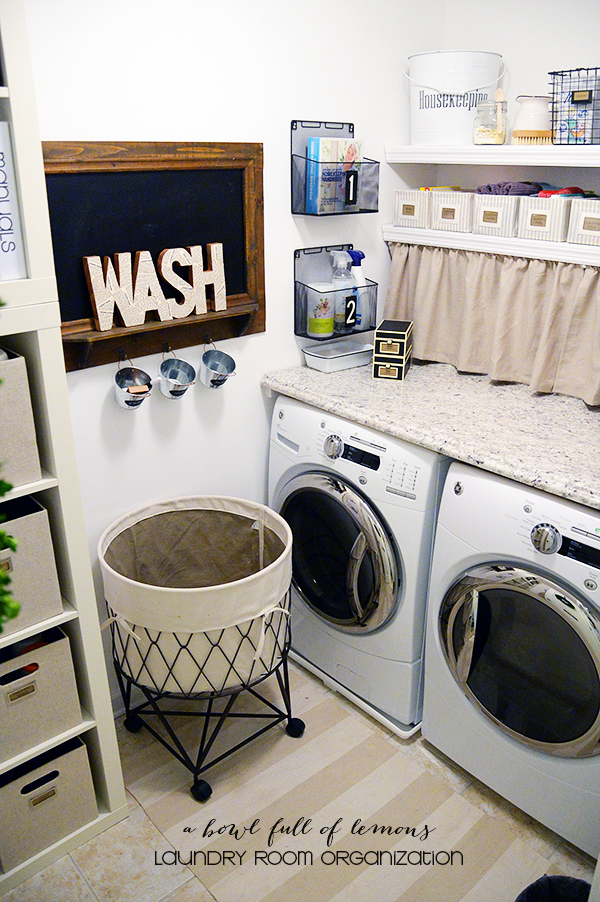 I keep my wash schedule & cleaning lists on clipboards (purchased from Target for $1 each).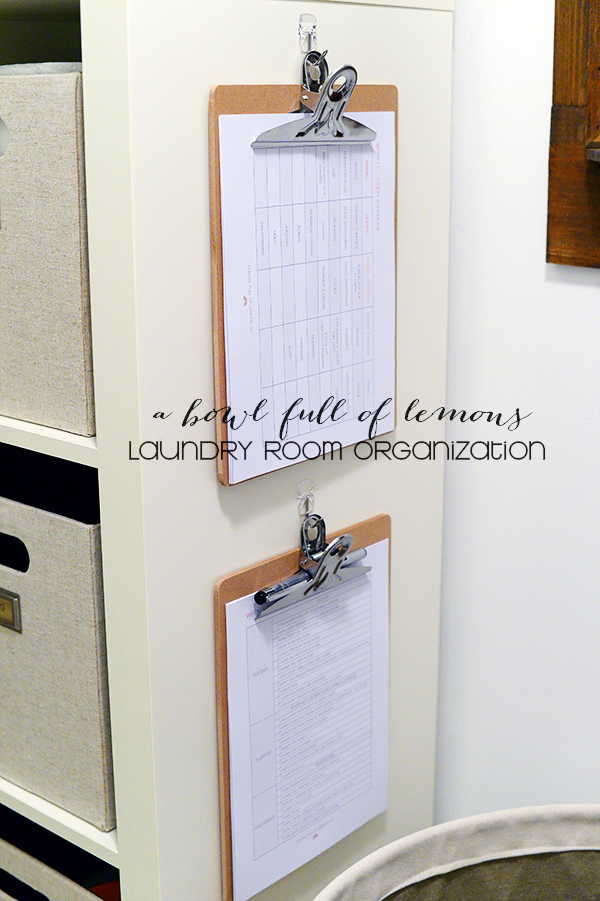 I hung 3 galvanized buckets on the chalkboard hooks to keep things that end up in the washer or dryer (along with my chalk).  I found the buckets in the dollar section at Target & stuck chalkboard labels on them.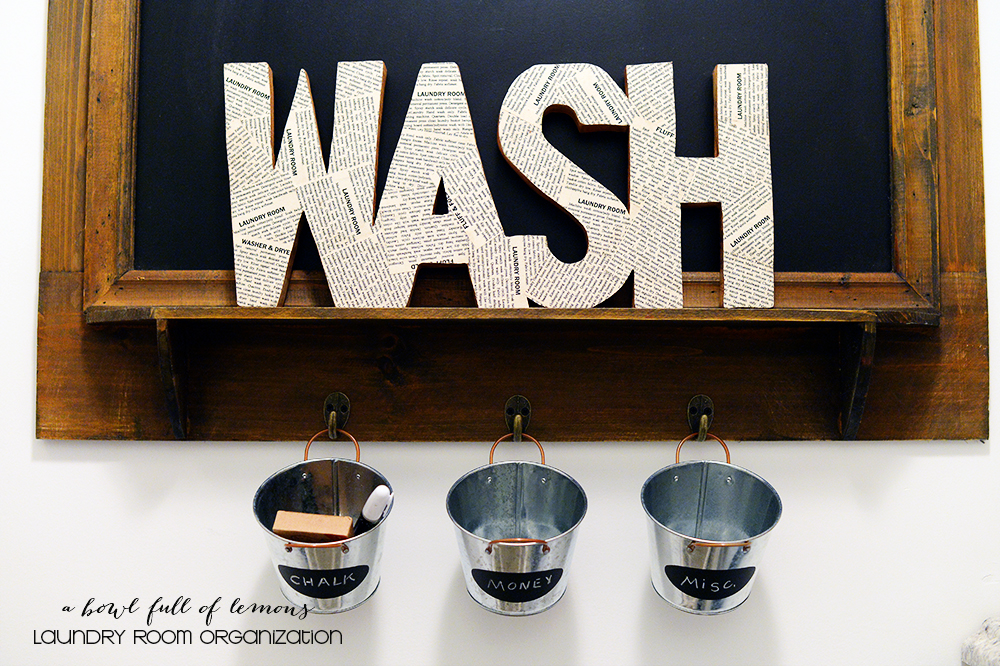 The bins on the wall were purchased a few years ago. They were silver so I spray painted them oil rubbed bronze and attached mailbox numbers to them (found at Lowes).  I keep my Homekeeping Handbook & stain removers in them.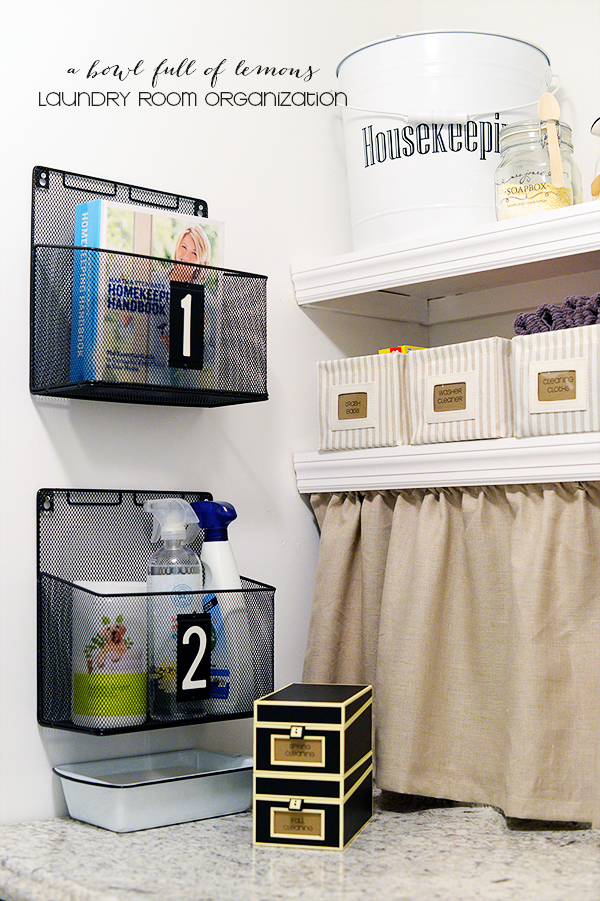 I love the top shelf in my laundry room.  I keep my mop bucket & other cleaning tools here.  It's more for "decoration" then anything but I like the way it looks. The bucket was purchased at TJ Maxx.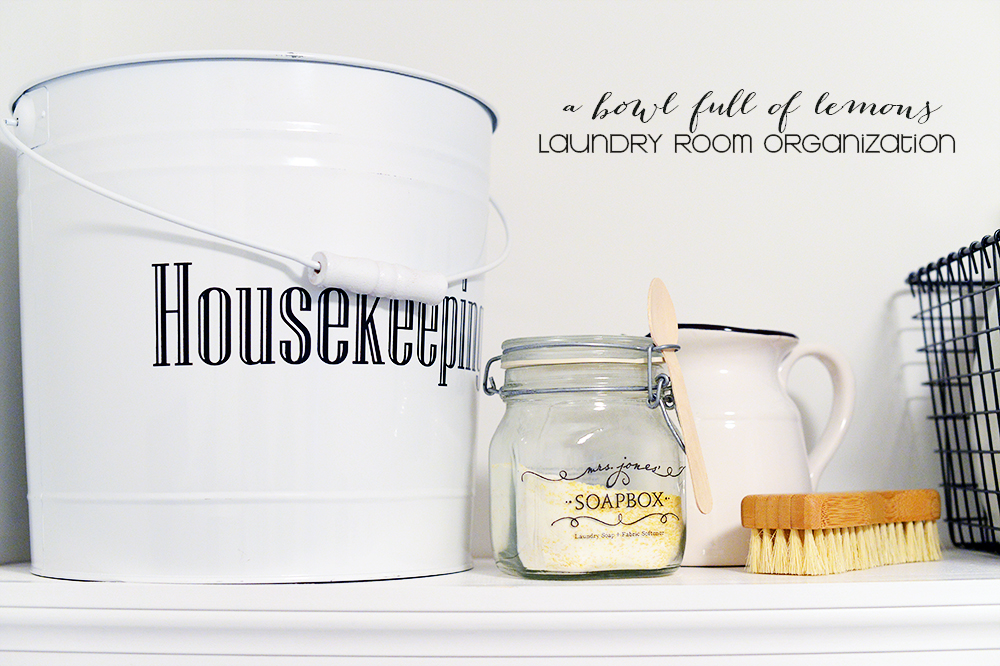 I keep extra laundry detergent & natural cleaning ingredients in these two wire baskets from TJ Maxx.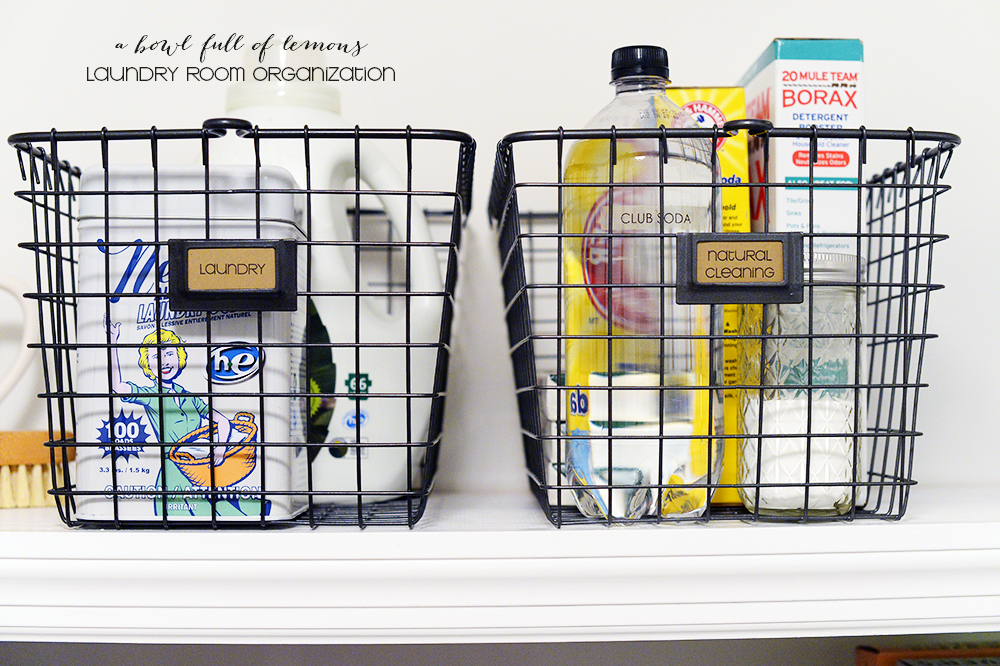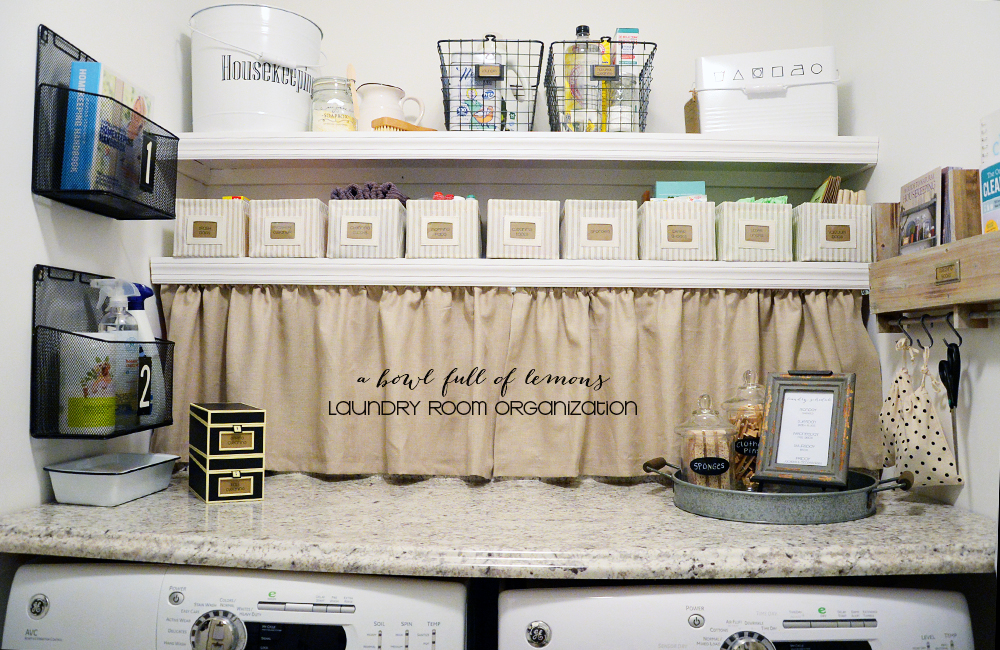 These boxes contain my spring & fall cleaning plan.  I got this idea from At Home With Nikki.  If you don't follow her, you need to.  She is full of cleaning, organizing & home keeping knowledge. I love her You Tube channel & blog.  I will be sharing details on these boxes soon.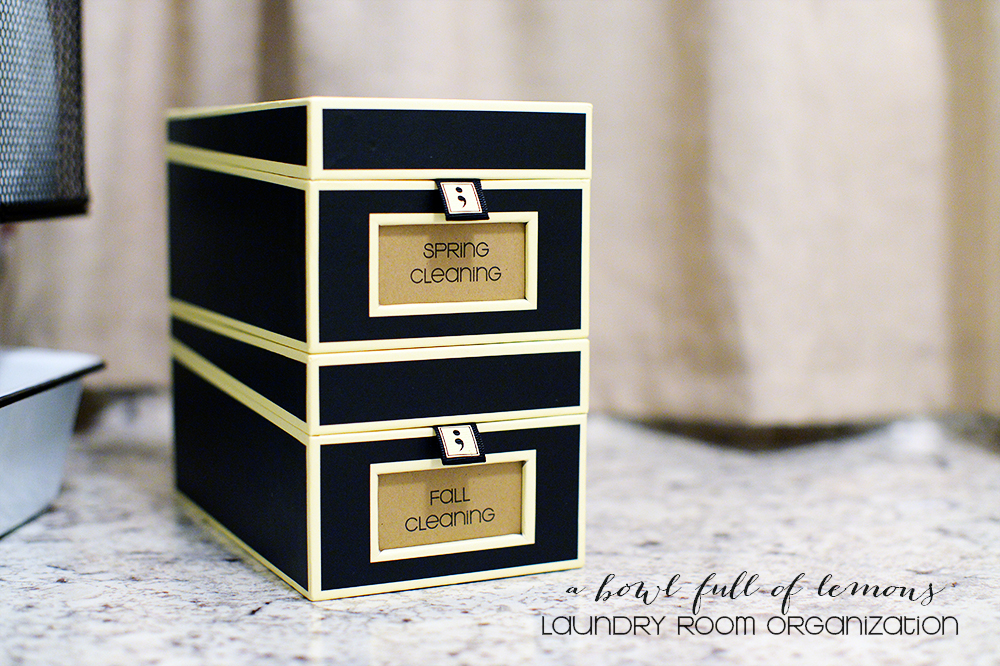 I keep my dryer sheets in an enamel pan.  Easy access for switching laundry in a pinch.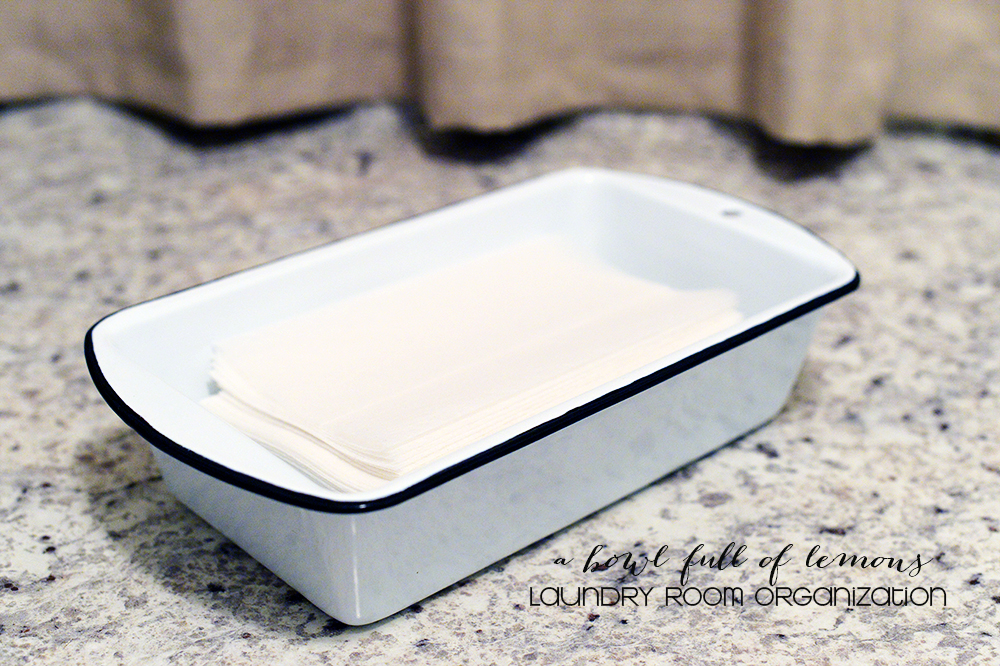 Below is a galvanized tray, purchased from (you guessed it) TJ Maxx.  I keep my laundry schedule in a cute frame & clothes pins and sponges in jars.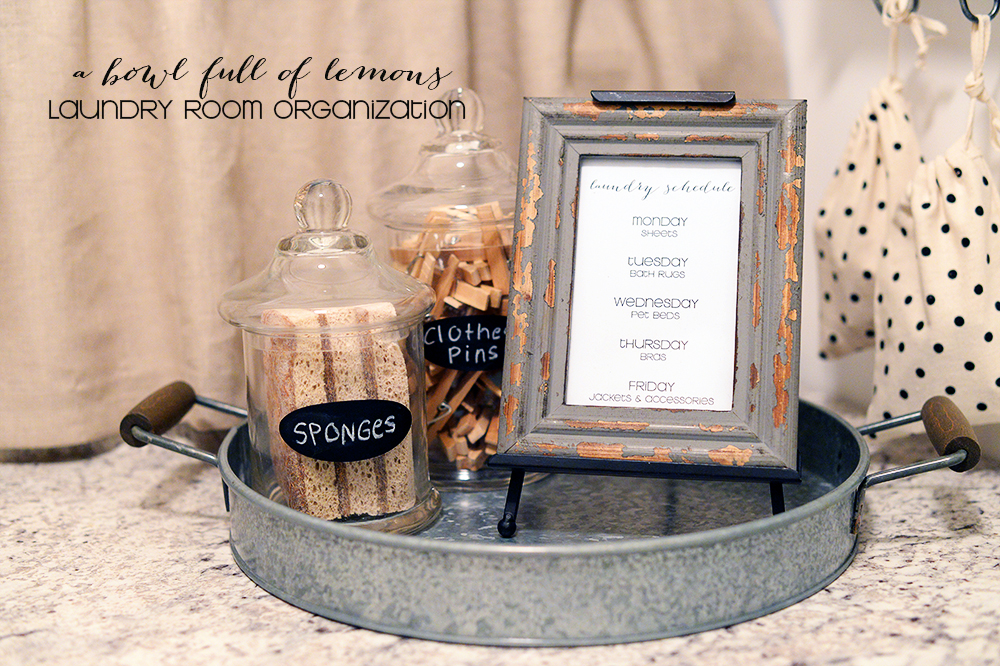 Next is my favorite part of my laundry room organization – my small accessory bins.  I organize most of my laundry room miscellaneous here.  I purchased the bins at Bed Bath & Beyond.  Here is a list of what I keep in the bins.
Washing Machine Cleaner
Trash Bags
Cleaning Cloths
Mopping Pads
Cleaning Tools
Sponges
Dryer Sheets
Vacuum Bags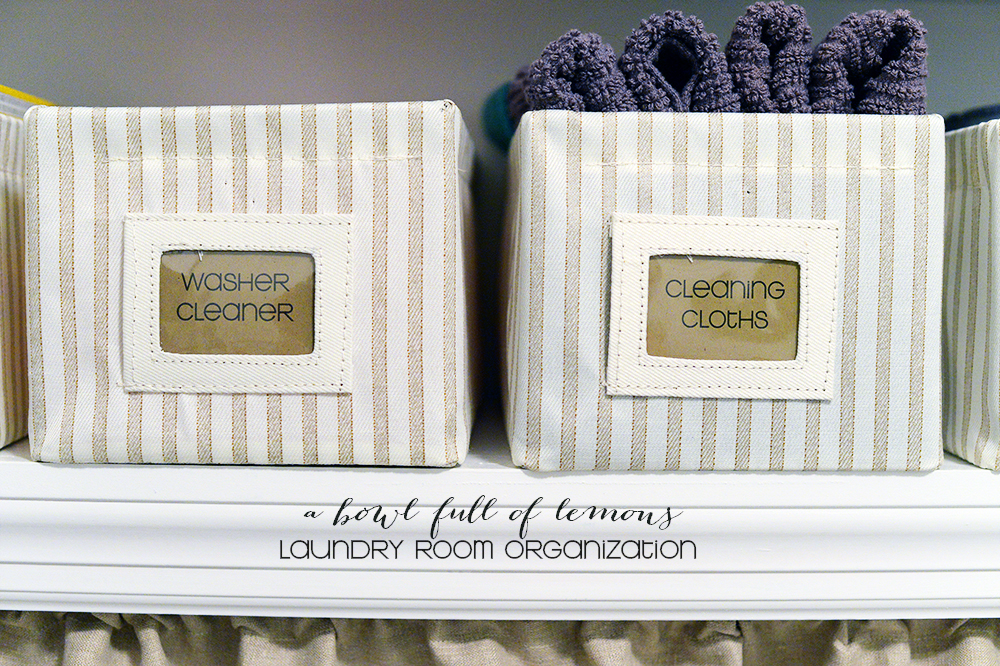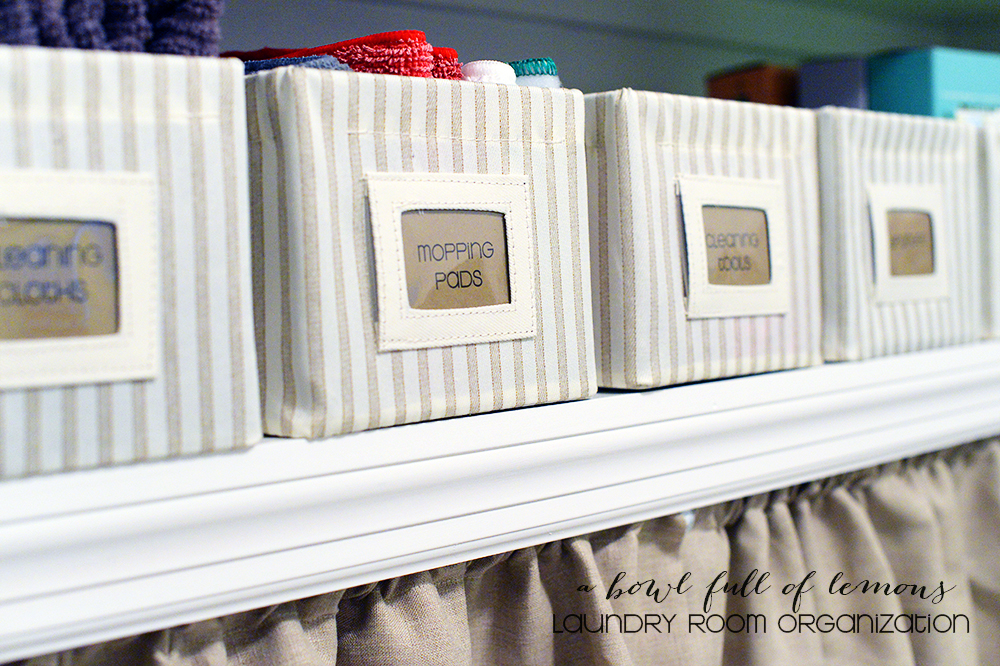 My husband built these shelves and came up with the idea to use curtains to hide the laundry detergents & cleaners. I thought it was a brilliant idea (thanks hubby).  I found the plastic containers at Ikea. I use them for so many things in my home.  LOVE them!  The fabric is a simple linen that I picked up from Jo Anns.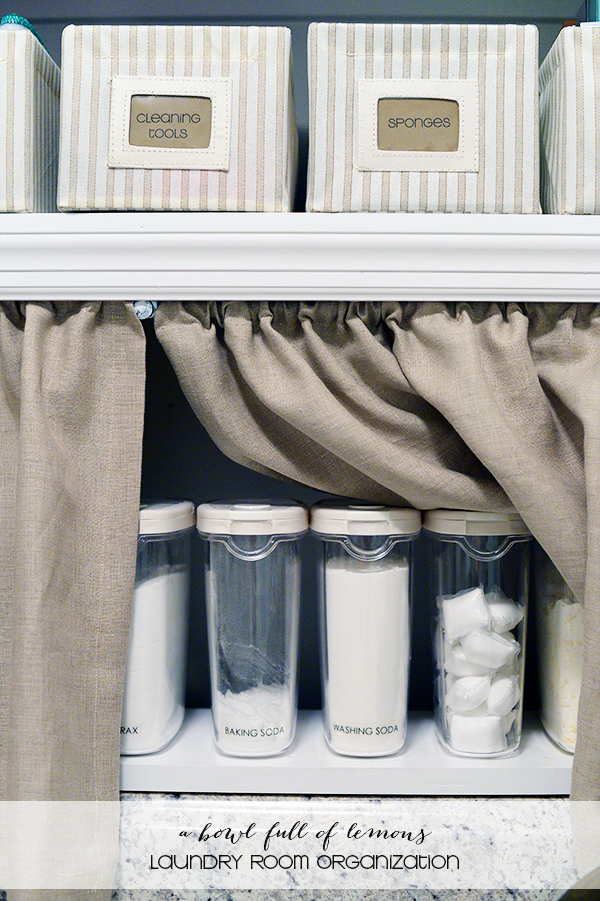 I hang wet cleaning cloths on this shelf from Target.  I also keep cleaning books & bags of clothes pins here.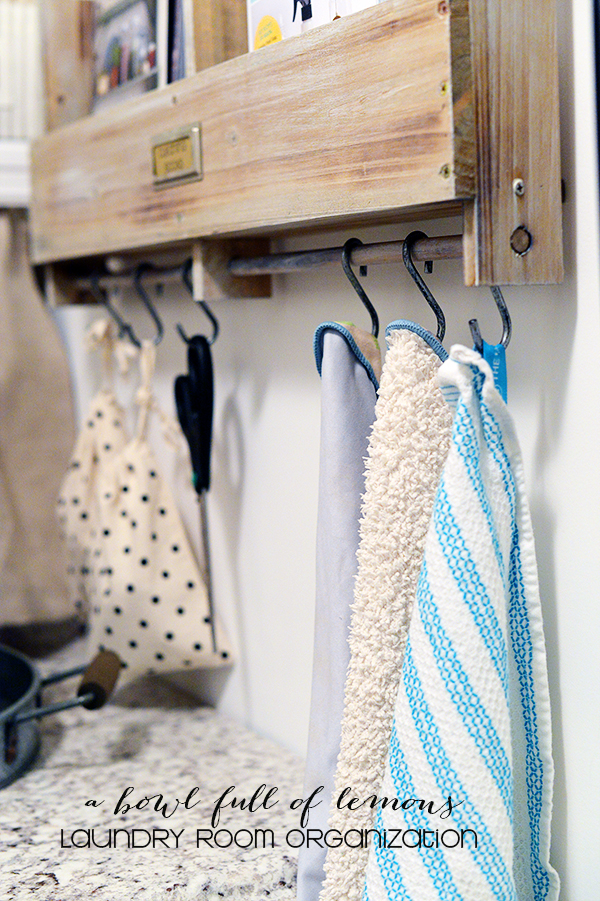 My favorite cleaning books are…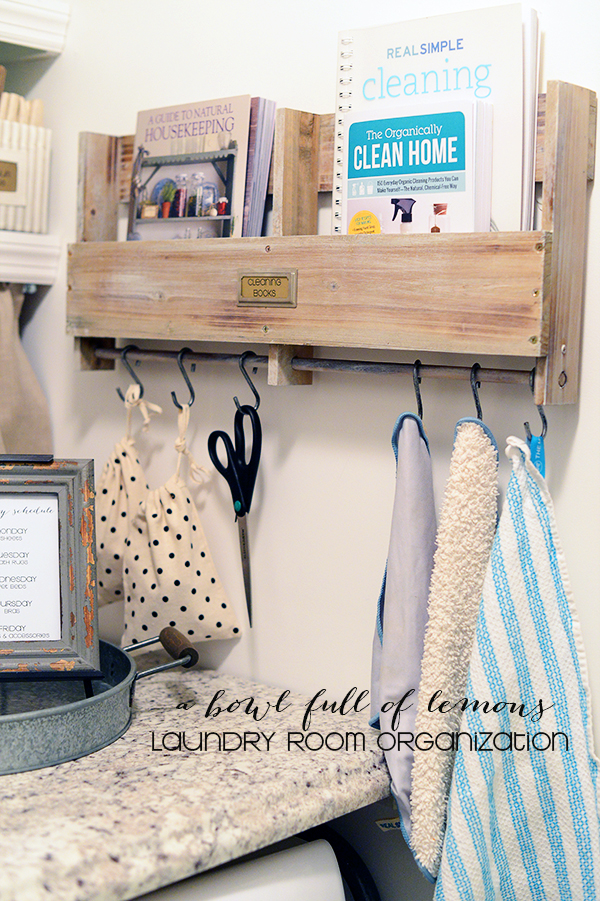 Thank you for visiting my blog. I hope I have inspired you to organize your laundry room into a more functional and beautiful space. If I can do it, anyone can!  Please let me know if you have any questions.  I will answer them in the comments.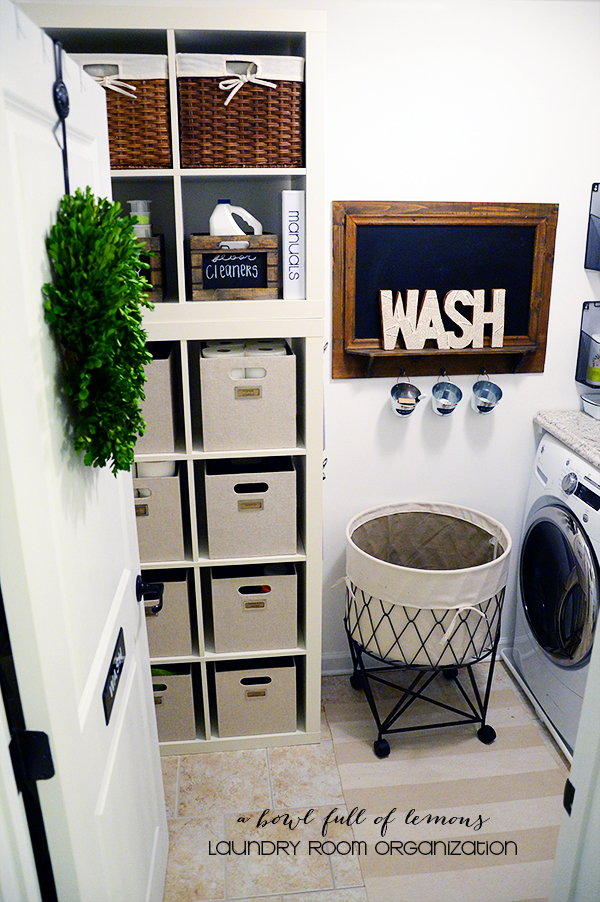 HUGE ANNOUNCEMENT!
I can't believe I'm saying this, but here goes… I'm excited to announce that A Bowl Full of Lemons now has a You Tube Channel & I uploaded my very first video today (Laundry Room Organization)!  Check it out HERE.  For all of you who have requested that I share on you tube – this video is for you!  Thank you for inspiring me to create and help others achieve order.  P.S.  If you want to see more videos from me, please "like" my Laundry Organization video on You Tube and don't forget to "follow" my channel.  I would also love for you to spread the word!  🙂

HAPPY ORGANIZING!
(Disclaimer:  You may find affiliate links within this post. Thank you for your support to ABFOL)
Tags: laundry room, organize, organized
Blog, Clean, Cleaning, decluttering, labeling, Laundry Room, Organize, our home, September 2014, storage, you tube Posted in 67 comments