Today Im super excited to share my freshly updated pantry organization with you.  I've been working on finding a system that really works for us, and I think I finally found it.  Keep reading, to see what I've done… and make sure you scroll to the end for a delightful surprise.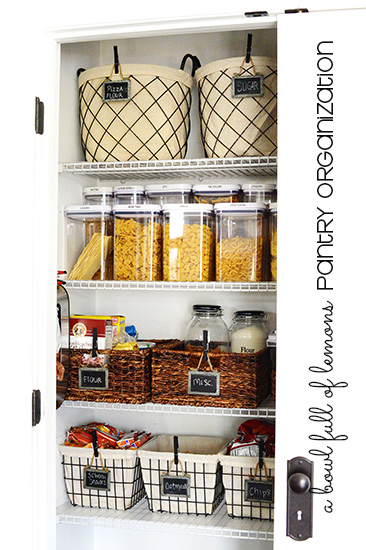 I'm constantly working on organization systems within my home, especially if there are "problem areas" like my pantry.  I know the system isn't working if I organize a space and 2 days later, it's a mess again. Sound familiar?  That's what happened with my pantry, so I changed it all around!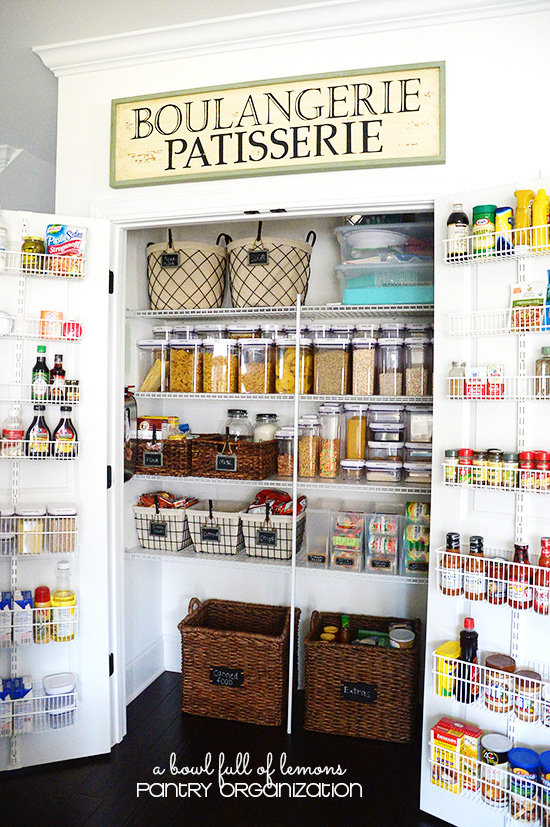 If you've been following my blog for a while, you may have seen what my pantry looked like before the overhaul.  HERE is the "before" blog post.  While it was definitely organized, it just didn't work for me. All of the baskets took up too much room and it was difficult to find what I was looking for (in a pinch).  This system may work great for some, but I found that there was another perfect solution for me.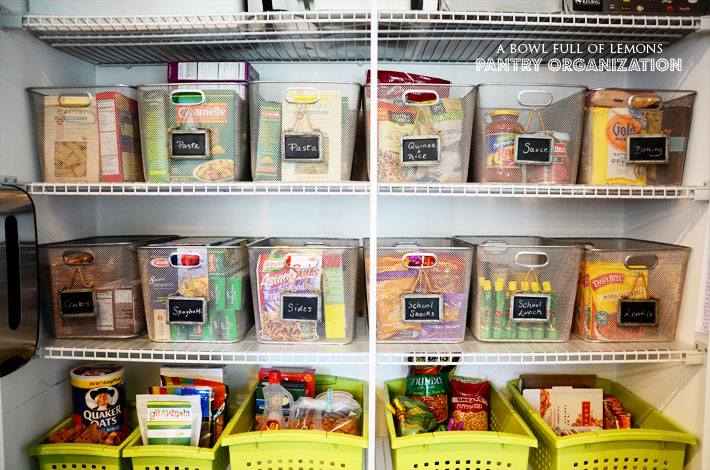 Here is my new system… using OXO containers and a few baskets & bins.  I really LOVE it!  I broke the pantry organization down into "categories" for you to see how I put it together.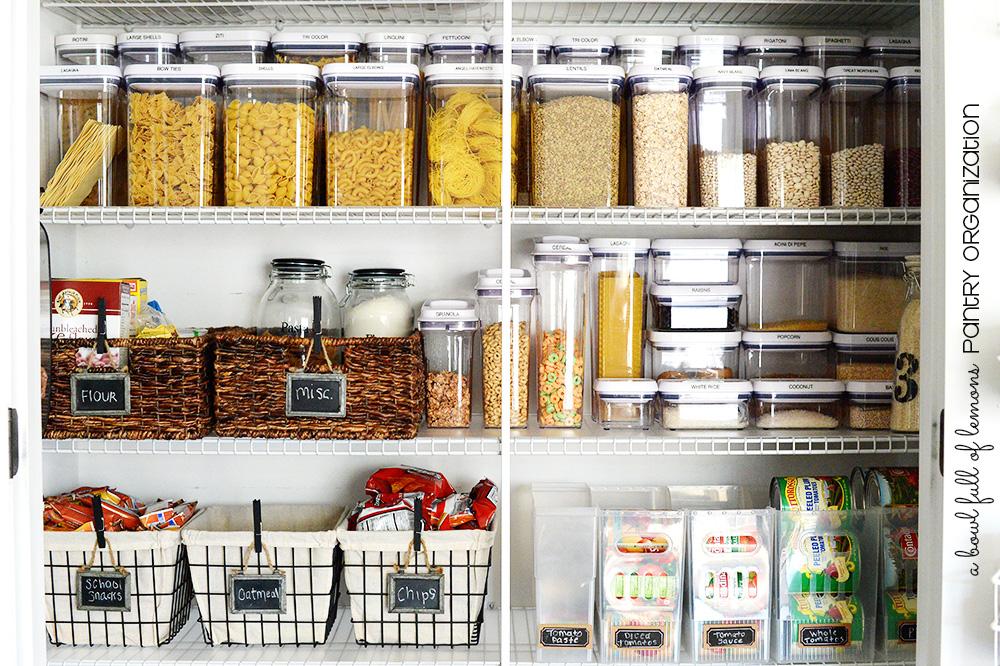 FOOD STORAGE
I use and love OXO POP containers for storing pasta, grains, and rice.  Once I get home from grocery shopping, I empty all pasta boxes and place everything in these containers.  They work perfectly for us.  I found that cardboard food boxes cluttered up our space.  Using OXO containers has helped us stay more organized & they are space efficient because you can stack them (they come in square & rectangular shapes).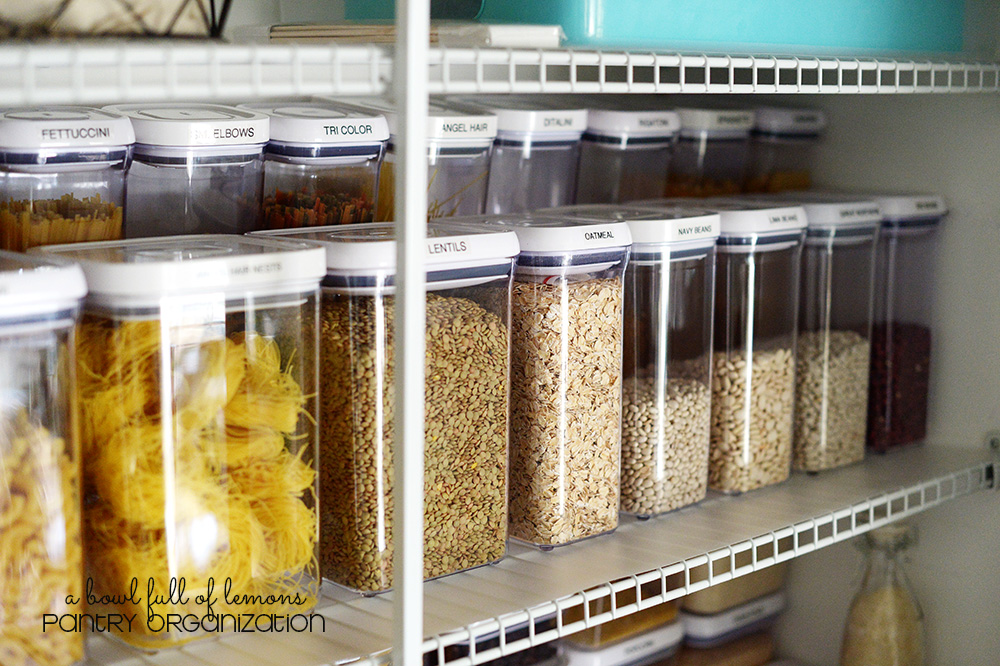 Don't know where to purchase OXO? You can find POP containers at any Container Store nationwide or at www.containerstore.com.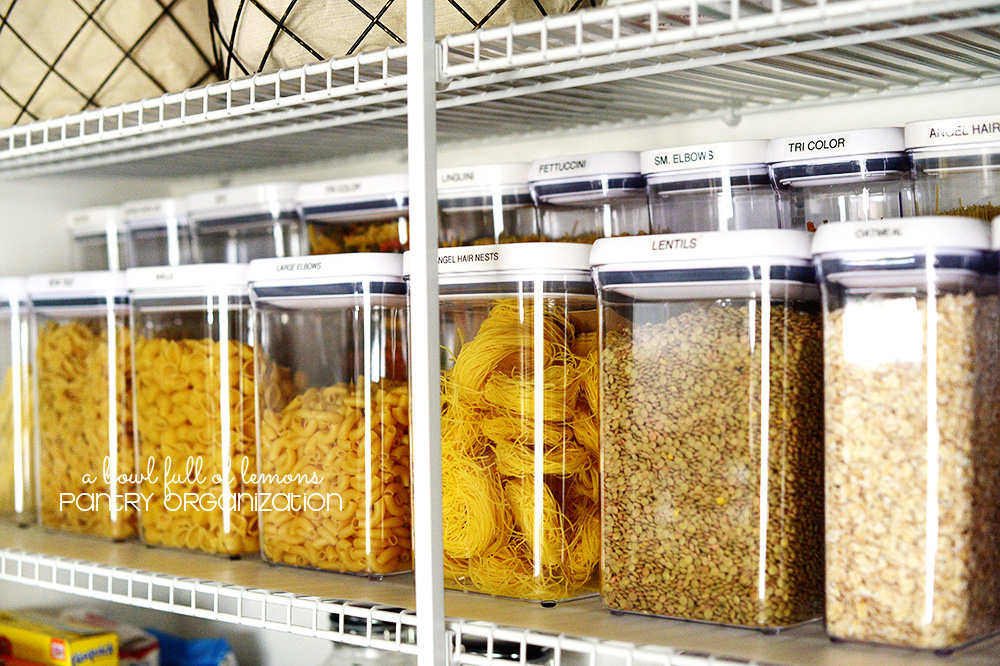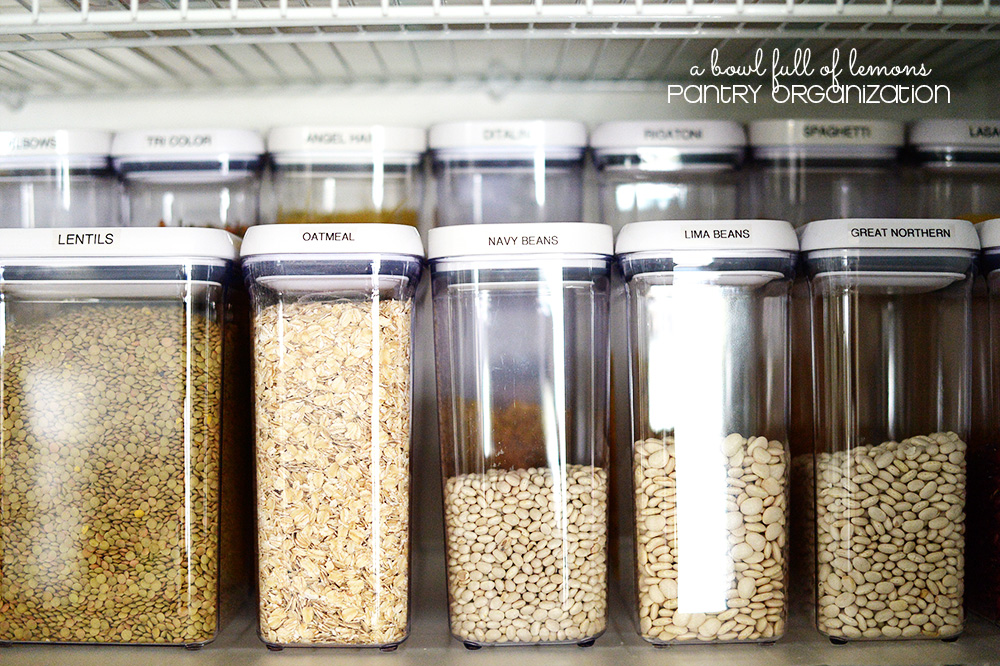 I even store our cereal in OXO containers.  The kids love them!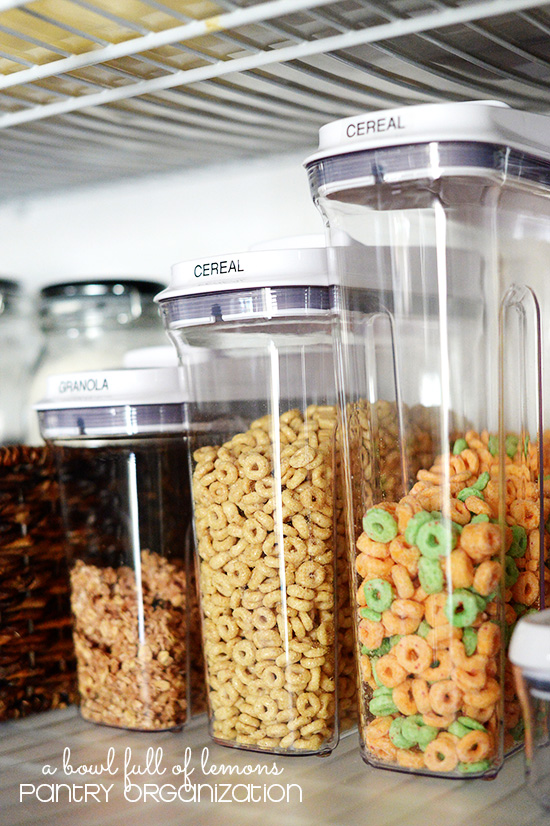 ORGANIZING CANNED GOODS
Organizing our canned goods was quite difficult for me to figure out.  We don't use a lot of canned food but there are certain foods that I use on a regular basis… canned tomatoes & beans (all varieties).  I didn't want the cans to take up a lot of room in the pantry, so I found these fabulous bins from the Container Store. They are perfect for the job. The best part – they are inexpensive, ranging from $3.99-$6.99 each.  The 'medium' size fits 16 and 28 oz cans.  The small size fits small tomato paste cans.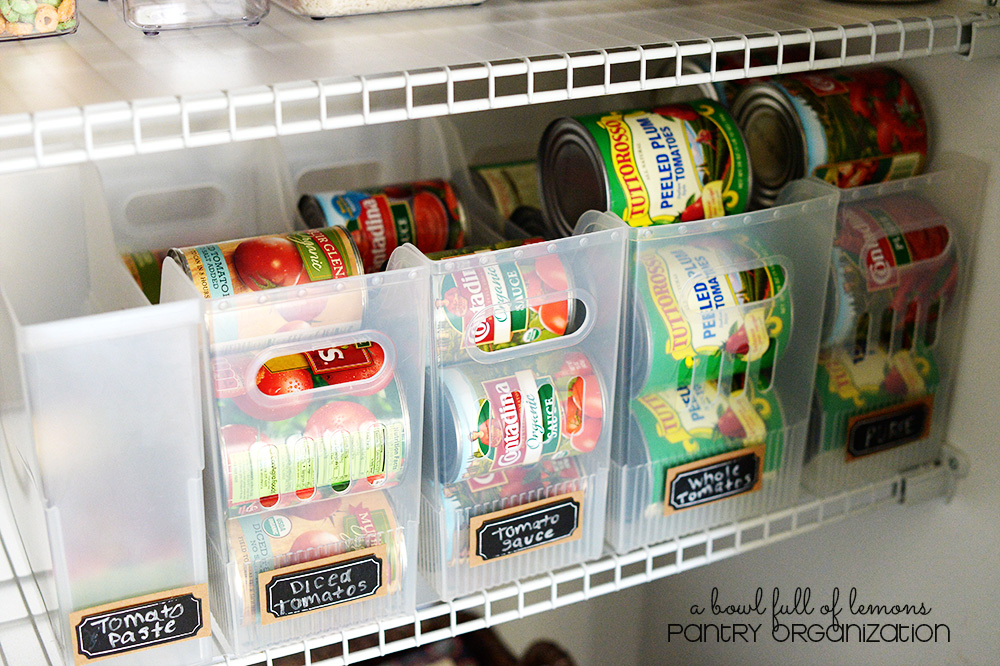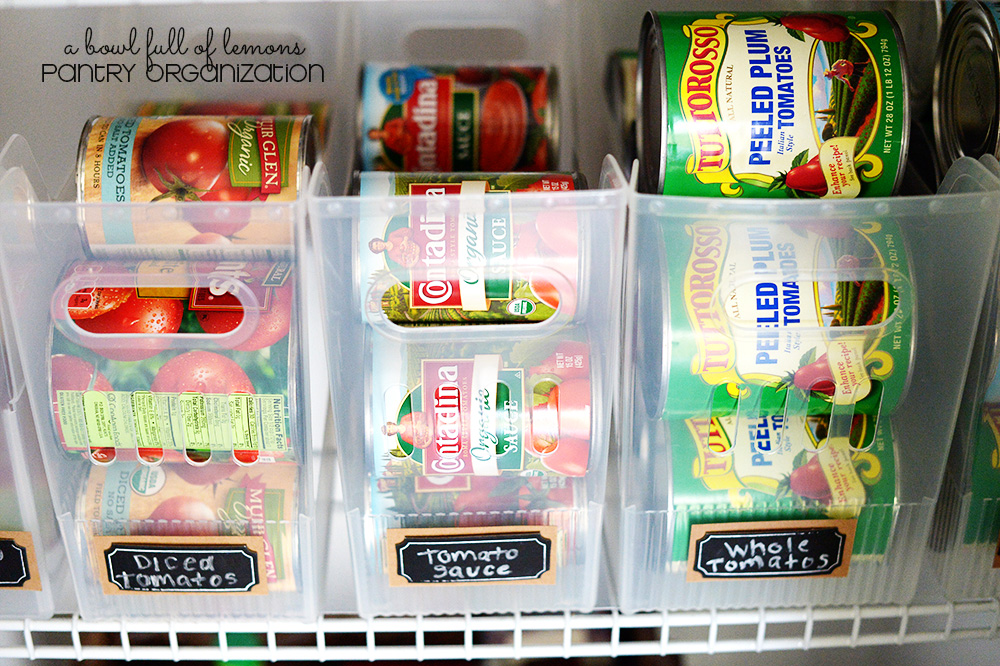 ORGANIZING WITH BASKETS
Baskets work great in the pantry when you utilize them correctly, however I don't recommend them for everything.  They work great to store…
Bags of food
Snacks
Prepackaged breakfast items
Large quantities of the same item
Extra food
Extra canned goods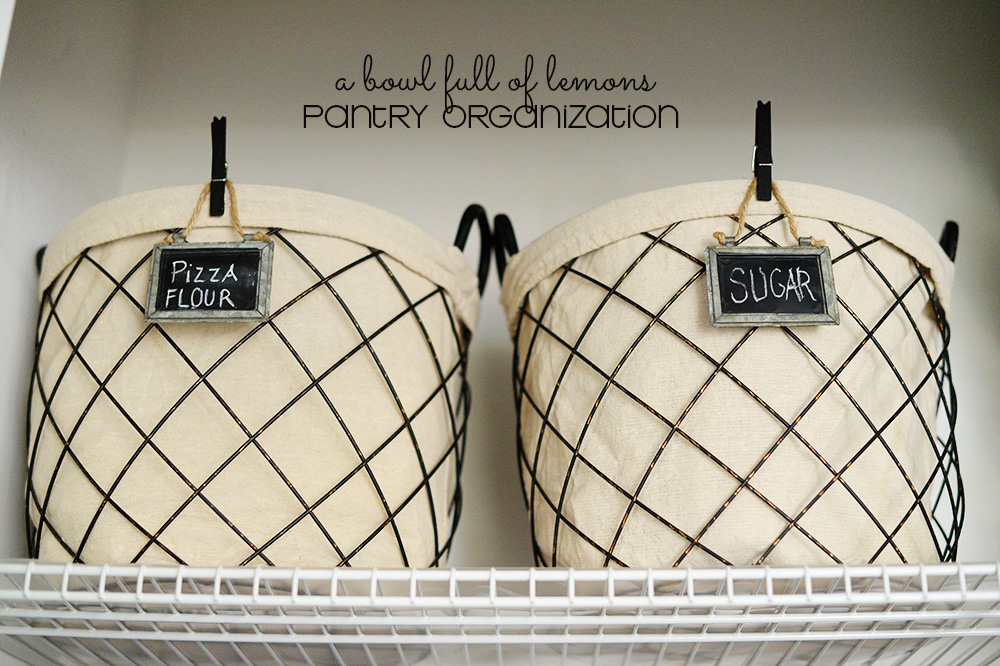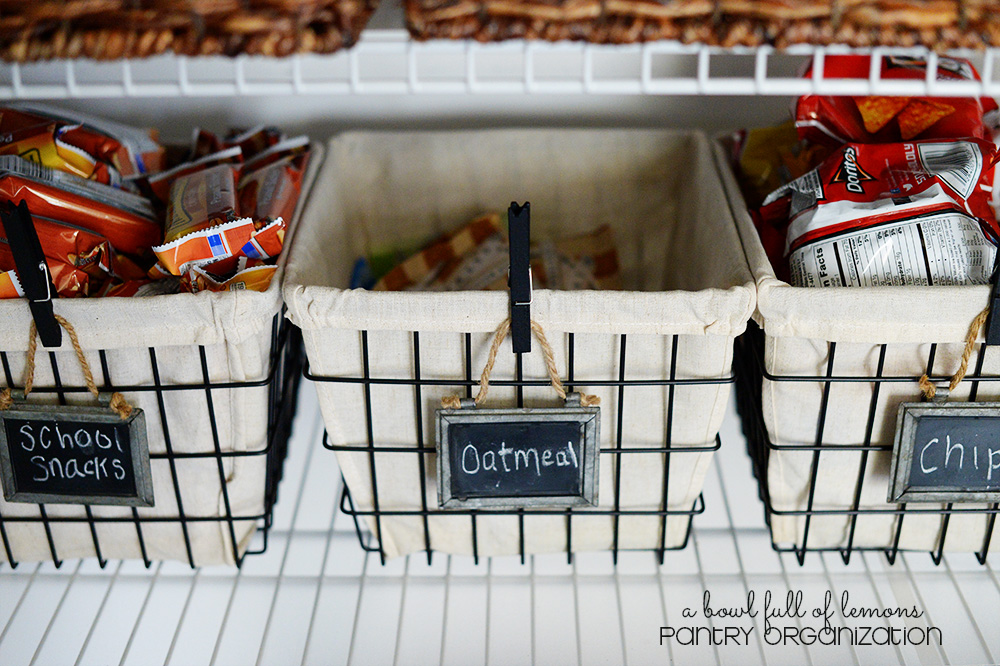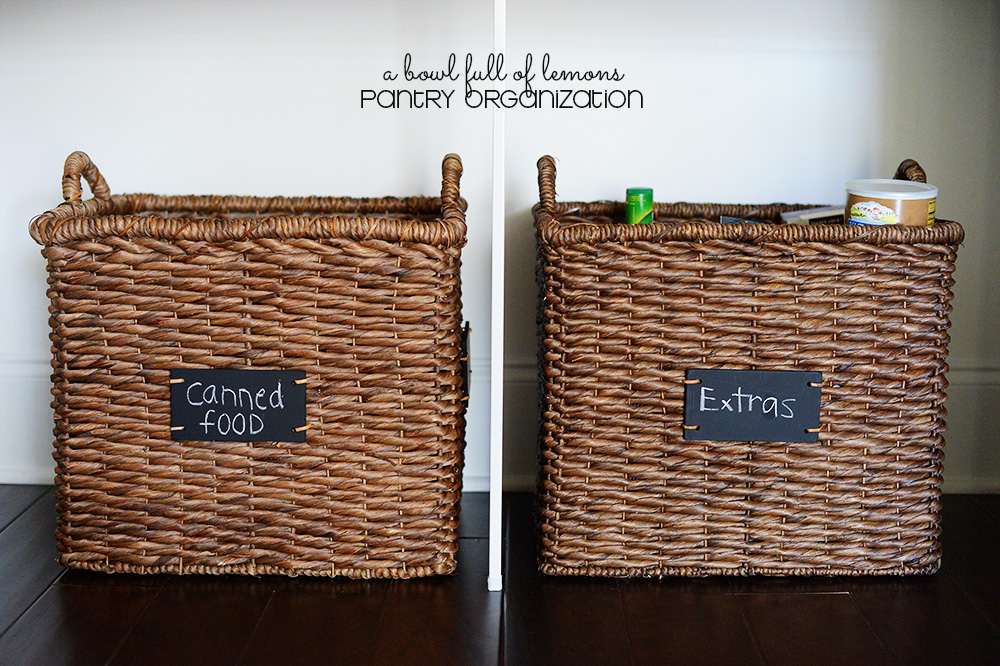 PANTRY INVENTORY SHEETS
When you organize your pantry, don't forget to use a pantry inventory sheet.  I keep my sheets on a clipboard, hanging on the wall.  Don't have one?  Grab my "free" pantry inventory sheets HERE.  Keep track of what you have & grocery shopping will be a breeze.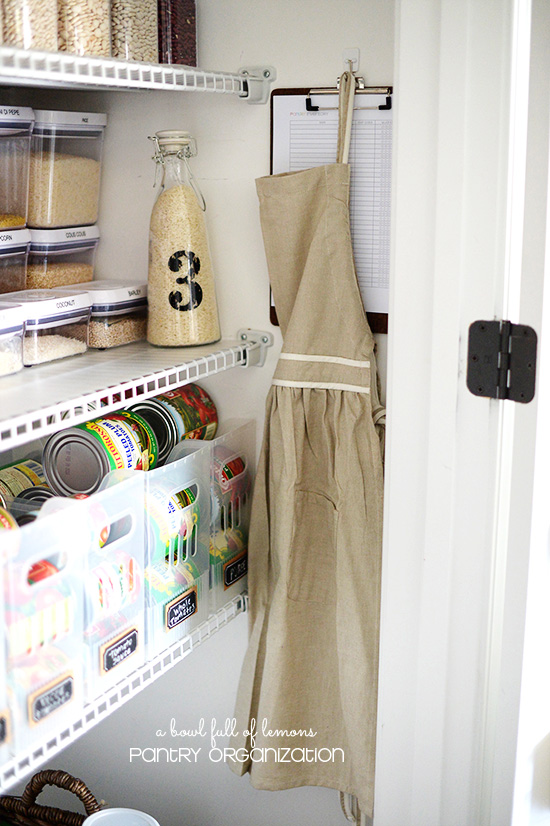 DOOR ORGANIZERS
Last but not least, you don't want to forget to use the valuable space on the inside of your pantry doors. I prefer the Elfa door organizers from the Container Store.  They work great for storing bottles of food & sauces, OXO containers, and broths. (They are 25% off right now!)  There are many other places to purchase door organizers but make sure to review the ratings. You want to get quality organizers or they will end up falling apart.  Of course, when shopping I always start at The Container Store, which has everything I need to organize my pantry & home.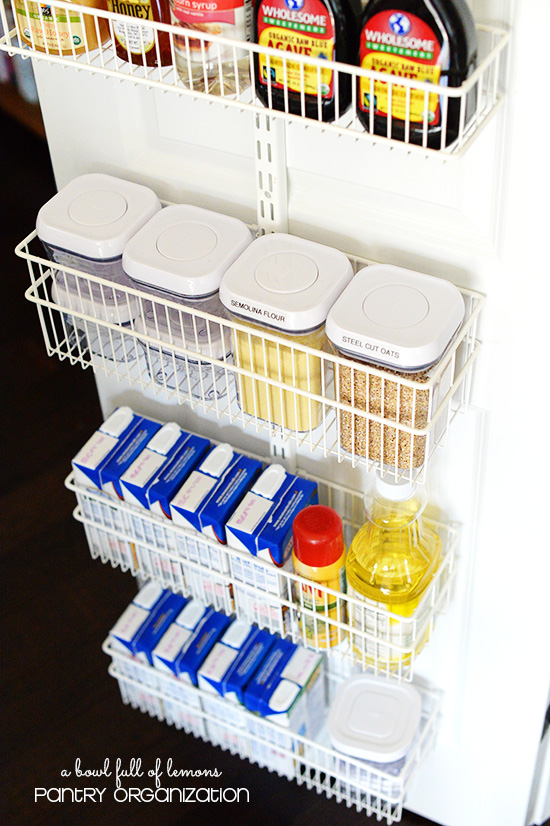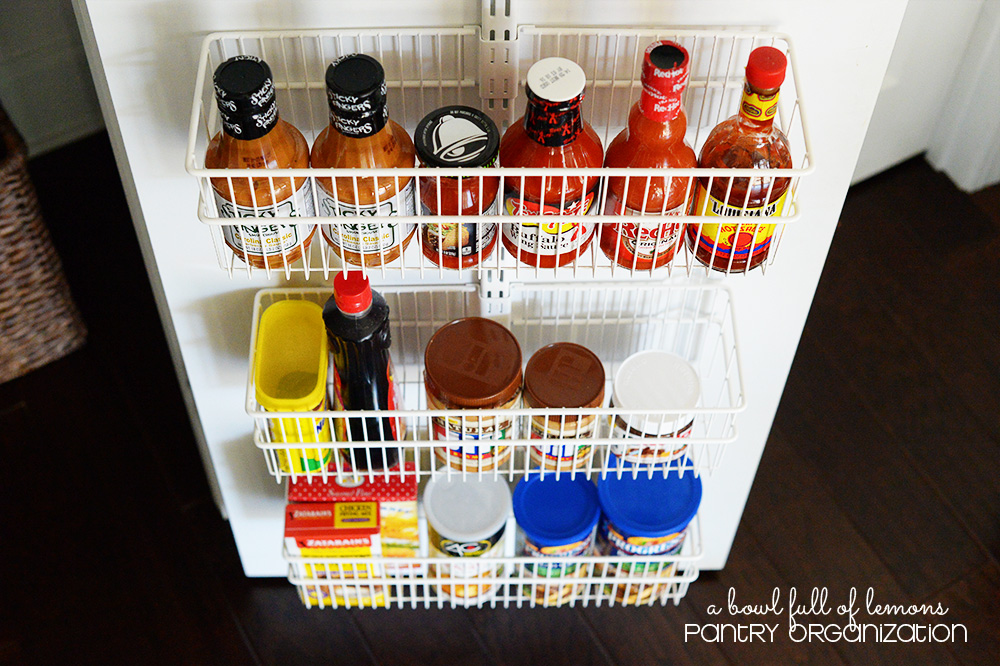 Here are a few last shots of my pantry organization.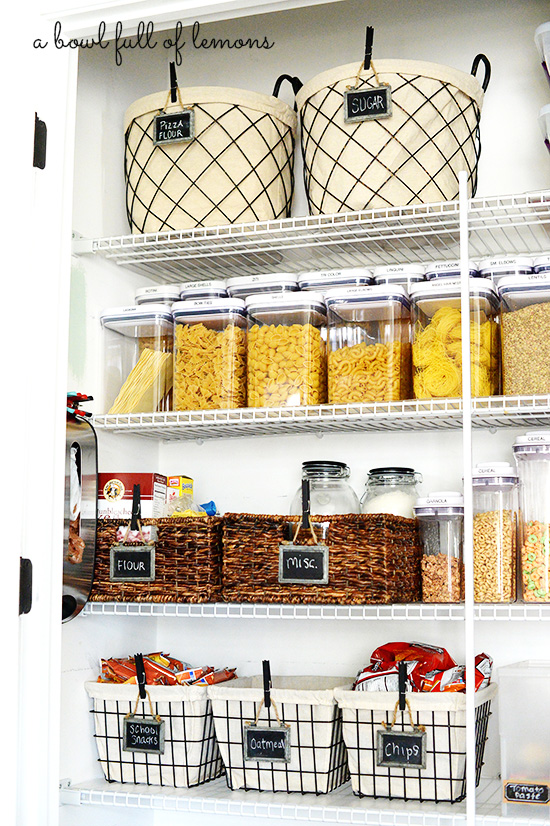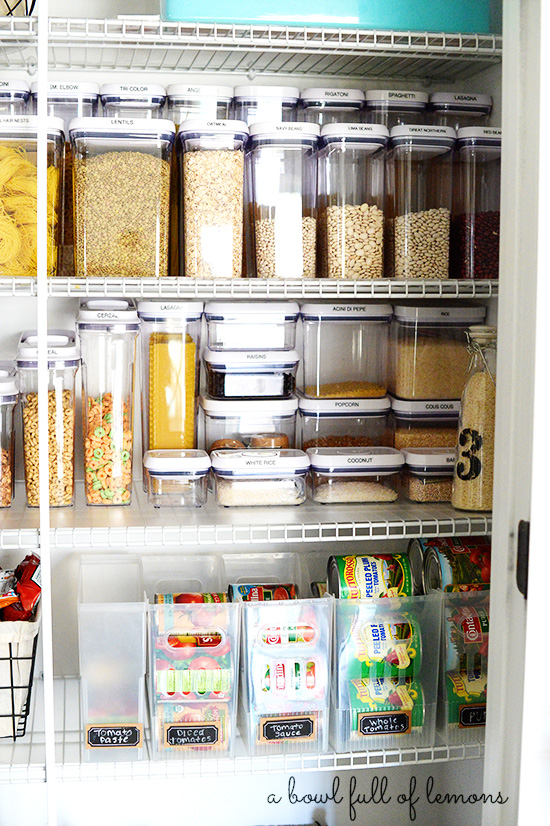 I love our new pantry.  I hope I was able to give you some ideas to use, so you can get your pantry organized too!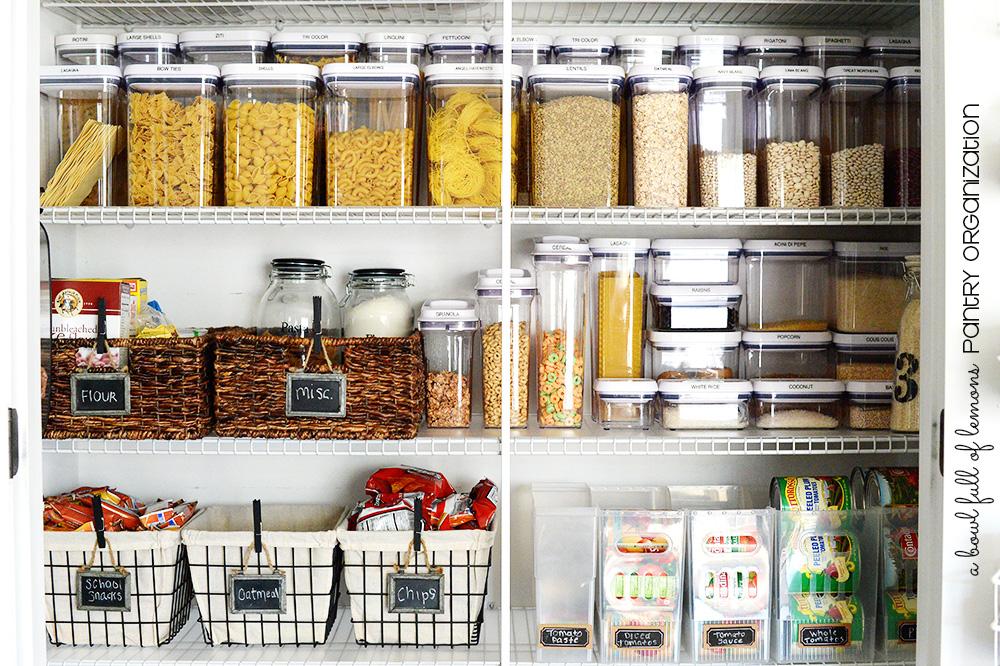 PRODUCT SOURCES
From top to bottom,  The Boulangerie Patisserie sign, number "3" jar & large round wire bins are from TJ Maxx, the POP OXO containers are from The Container Store.  The apron, 2 wicker baskets & 3 small wire baskets on the left are from Target.  The canned food bins are from The Container Store.  Finally, the two large baskets on the floor & chalkboard labels are from Target. The hanging tag chalkboard tags were purchased at a local decor store a few years ago.
GIVEAWAY
Want a chance to win some of the fabulous POP OXO containers & Elfa gift card?  If so, head on over to Facebook on October 13th and enter HERE.  The giveaway includes:
INSTAGRAM
Follow me on Instagram, to see my daily homekeeping tips & updates.  Just click HERE or search "A Bowl Full of Lemons" on Instagram.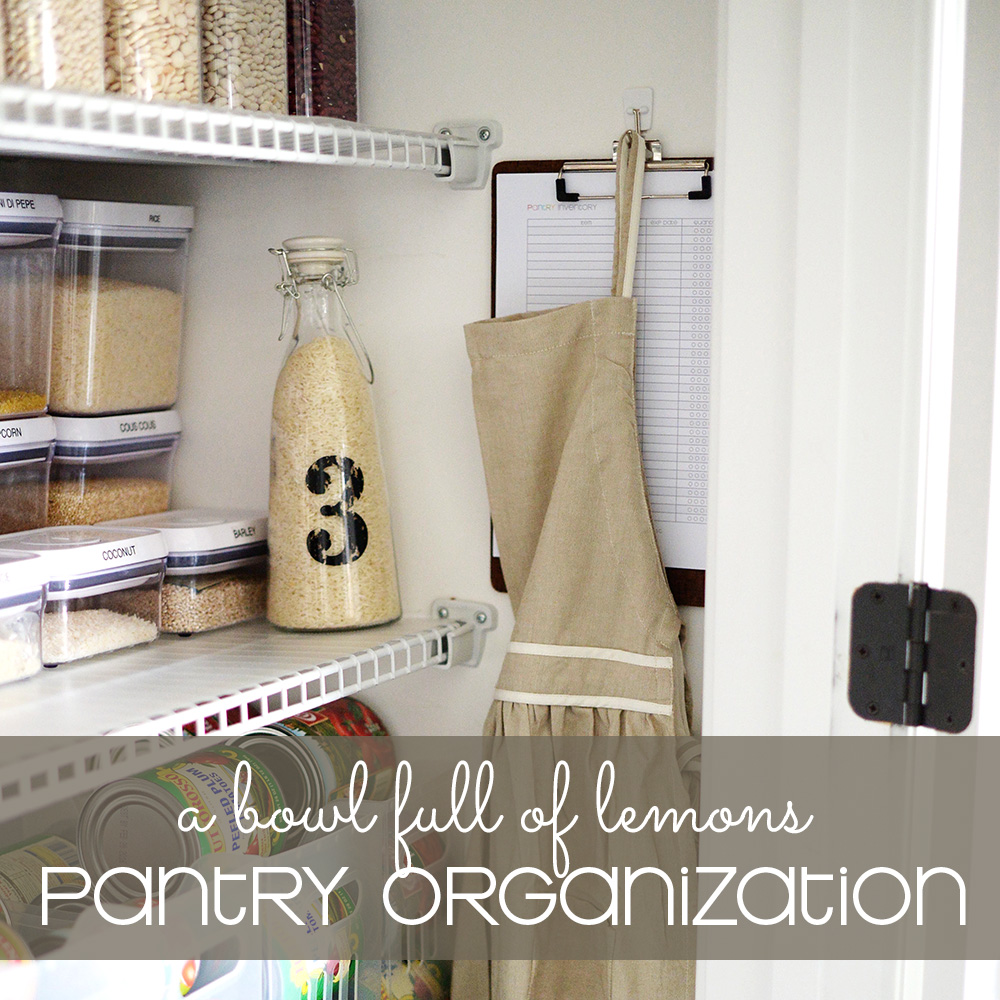 PINTEREST
Follow me on Pinterest HERE to see the organizing products I've been pinning & don't forget to pin this post.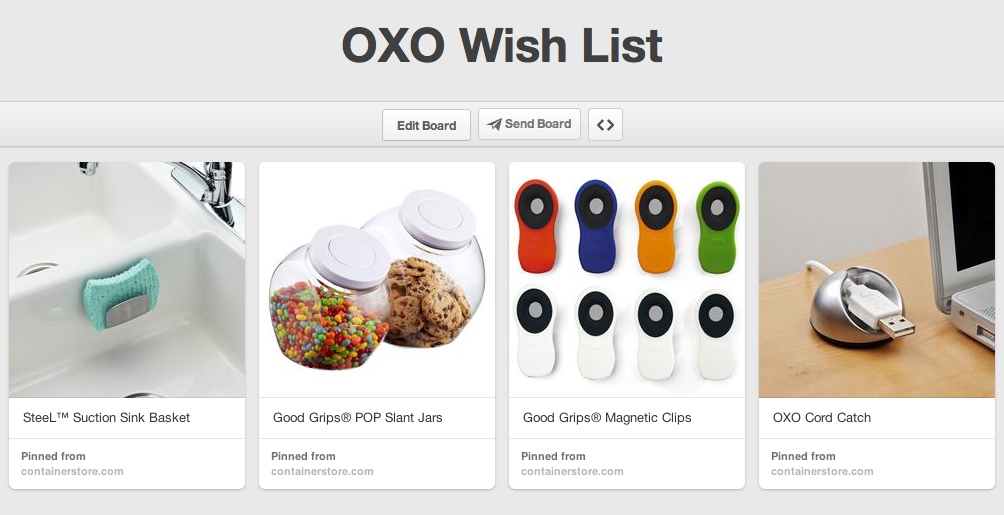 Happy Organizing!
Disclaimer: This is a sponsored post by OXO & The Container Store. All opinions are my own & I only recommend products or services I use personally and believe my readers will enjoy. I am disclosing this in accordance with the Federal Trade Commission's 16 CFR, Part 255: "Guides Concerning the Use of Endorsements and Testimonials in Advertising.  Please click here for full disclaimer.
Tags: container store, kitchen, organize, pantry organization
Blog, food storage, Free Printable, Kitchen, labeling, lunch station, Organize, pantry, September 2014, storage Posted in 45 comments