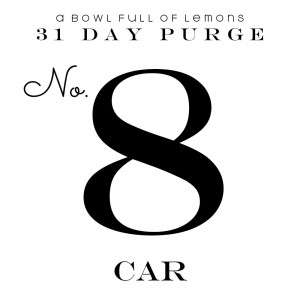 Welcome to Day #8 of our 31 Day Purge. Today we are headed outside.  Some of you may not need to do this task, but others need to desperately.  You know who you are.  Don't skip today.  Complete it and pat yourself on the back when you finish.  Now lets get purging!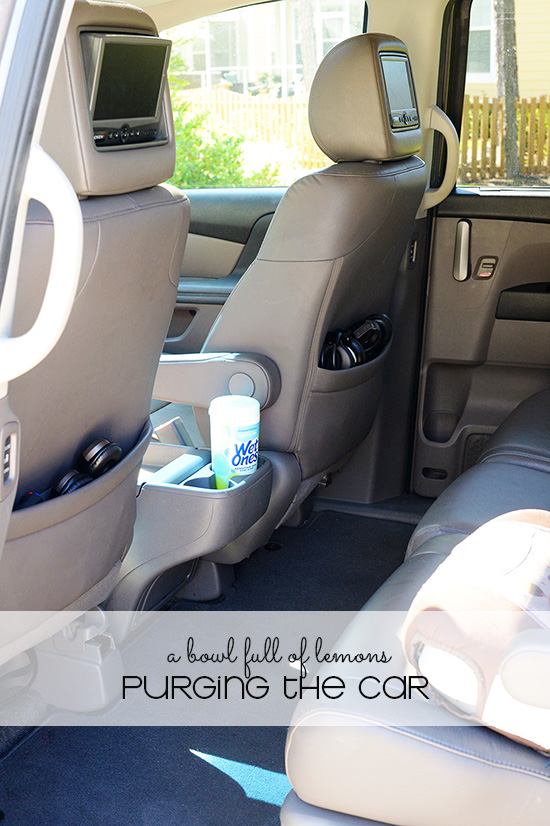 Task:  Purge everything from your car (that doesn't belong there)!  Empty out all un-necessary items.  Toss the trash & put things back where they belong. Clean & vacuum if you have time, but concentrate on purging.  Don't forget the trunk!
Organizing Tips:
Assemble an emergency car kit & place it in your trunk.  Gather all paperwork & insurance papers & place them in a long accordion (coupon like) organizer. Don't forget to label each divider.  My "Auto Care Kit" contains everything you need to keep up with maintenance on your vehicle, including an emergency car kit checklist.  See it here.
Make it a habit to clean out your car

every evening

.  Even if you have to make 2 trips – do it!  It only takes a minute or two. Trust me, you will enjoy getting into a clean car every morning.  It's a great way to start your day off right.
Check back soon to see my brand new "car organization" blog post.  I will be sharing it later on this month.
If you're new to the purge, Welcome!  You can revisit all of the posts HERE & complete them at your own pace. I encourage you to share you progress on Instagram using the hash tag #abfol31daypurge. And if you don't already follow me, I'd love for you to join me on Instagram HERE where I share lots of homekeeping tips & ideas.  I'll see you tomorrow, for more purging.
Tags: 31 day purge, car, cleaning, declutter
31 Day Purge, Blog, car, Clean, Cleaning, decluttering, October 2014 Posted in 14 comments