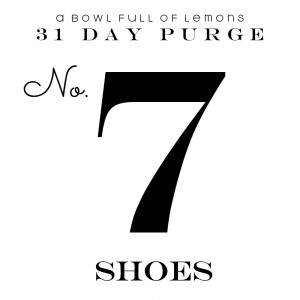 Congratulations!  You've made it through the first week of our month long purge.  Today we are purging a clutter magnet –> shoes!  Do you have shoes laying around everywhere?  Do you have a system of organization for your shoes?  If not, today is your day!  Keep reading to see how you can finally get them purged & organized. Share your progress on Instagram using the hash tag #abfol31daypurge.

Purge Day 7:  Shoes
Task:  Pull out all of the shoes in your house.  When sorting through them, ask yourself these questions:
Have I worn them in the last year?
Are they still in style?
Are they still in good shape (holes, stains, etc)?
If you answer no to any of the questions, purge them (donate or place in your garage sale pile if they are still in good shape).
Organizing Tip:  Place all shoes in plastic shoe boxes or on a shoe shelf.  You can also separate them into baskets.  Make sure to separate into "summer & winter".  Place all out of season shoes into a large tote and clearly label "summer/winter shoes".  Store the tote in your closet, garage or attic.  Click here, to see my shoe organization.

If you're new to the purge, you can revisit all of the posts HERE.  I'll see you tomorrow, for more purging.
Tags: 31 day purge, closets, declutter, shoe organization
31 Day Purge, Blog, Closets, decluttering, October 2014, Organize, storage Posted in 2 comments