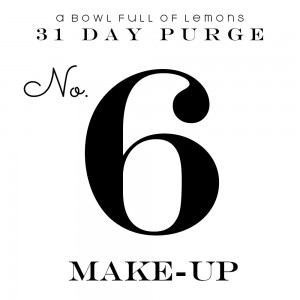 We are back for another day of purging.  Today is Day 6 – Make-up!  I am willing to take a guess that 90% of you (who wear make-up) need to purge some.  Do you know when you purchased your mascara?  After 3 months or so, mascara starts to grow bacteria, and needs replaced.  
You are doing great.  Keep purging!  If you are behind on the daily tasks, don't fret.  You can make up any days when you have time this month.  Just keep moving forward! Share your progress on Instagram using the hash tag #abfol31daypurge. If you don't follow me on Instagram, here is my feed. I share a lot about cooking, decorating and organizing on there & I'd love for you to join me.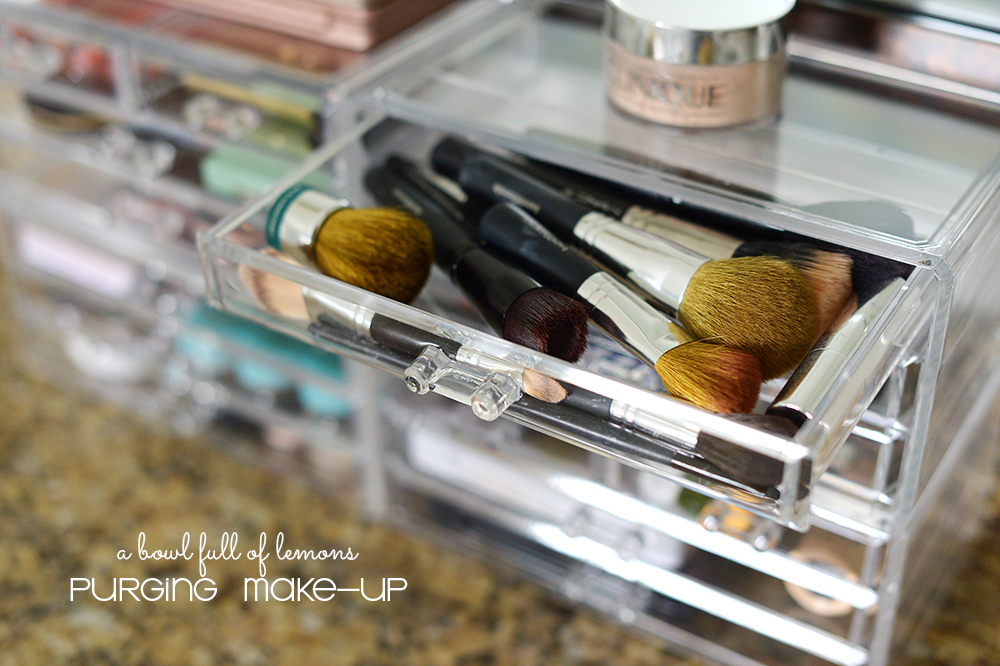 Purge Day 6:  Make-Up
Task:  Purge all empty, expired & un-used make-up.  Here is a free printable showing recommended make-up toss dates.
Organizing Tip:  Use clear acrylic or plastic drawers to organize make-up by category.  Sort drawers by type of make-up.  To see my make-up organization, visit (this) post.  There's also a free printable included!
Blush & Powder
Eyes
Lips
Brushes
Concealer & Foundation
If you're new to the purge, you can revisit all of the posts HERE.  I'll see you tomorrow, for more purging.
Tags: 31 day purge, declutter, make-up, organize
31 Day Purge, Bathrooms, Blog, decluttering, Free Printable, Make-Up, October 2014, Organize, purging clutter Posted in 9 comments