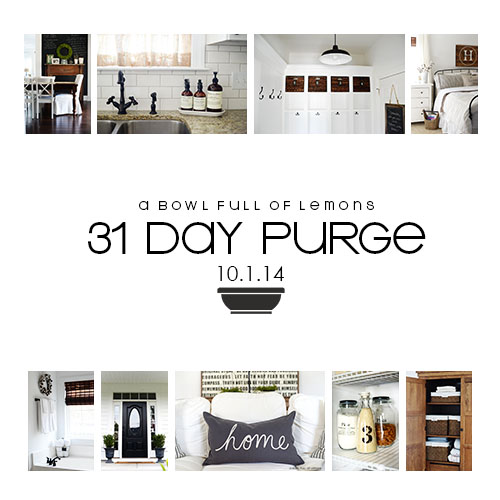 During the month of October, many of my blog readers participated in a 31 Day Purge with me.  It was a long month.  Many days were full of stress and headaches & I couldn't wait for it to end. I realized that I had too much stuff! There are a few things I learned from this experience (and the reasons why I'm glad I devoted 31 days to doing it – and you should too).

1.  I need to become more conscious about shopping & the things I'm bringing into my home.  I found that a lot of the things I purged were recent purchases.  By asking myself these 3 questions, I have began to notice a change in my shopping habits.
Do I really

need it

?  Do I honestly need it?  Does it have a function?  Can I live without it?
Where will I

put it

?  It has to have a place!  If it doesn't have a specific place, its not coming with me.
Will it bring me

joy

?  By purchasing this item, will it bring more joy to my life? Or is it a temporary high that will be forgotten next week?
2.  By purging regularly, there won't be a need to go through such a daunting task again (31 days of decluttering).   I decided to add "purging" to my weekly cleaning checklist.  I've devoted 1 day per week to go through and purge the things we don't use or need.  I am using this 31 Day purge schedule and rotating it every 31 weeks.
3.  Don't hold on to things just because they are worth a little bit of money and you want to sell them "next year" in your garage sale.  If it's going to be longer than a month or 2, just donate it.  It's not worth the headache and it's time to get your space back.  Just let it go!
4.  I came to realize that I shouldn't be organizing clutter, I need to purge it.  Why am I organizing things that I don't use now and probably never will?  Once I wrapped my mind around that concept, the purge got serious!  This was a turning point for me.
If you haven't participated in the 31 Day purge, you can begin here.  It really has changed my life & I'm grateful to be able to share it with you.
HAPPY PURGING!
Tags: 31 day purge
31 Day Purge, Blog, November 2014 Posted in 18 comments