GUEST BATHROOM ORGANIZATION
When a guest comes to visit, we want them to feel as comfortable as possible.  This includes decor, personal care items if needed, and more.   If you don't have a guest bathroom, you can designate a cabinet or shelf in your personal bathroom for guests.  My guest bathroom is a part of my teenagers bathroom.  It works well for us.  There are a few things you can do to create an inviting experience for your guests.  It's in these small touches that your guests will feel welcome to be in your home.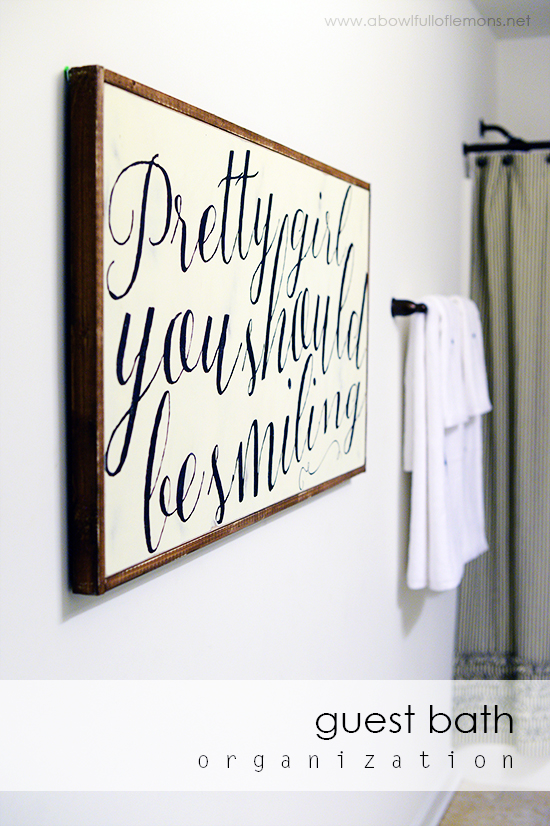 DECOR:
The first thing you see when walking into a guest bathroom is the decor.   When decorating this space, think about your style.  Does your guest bathroom match the rest of your house?  You want the decor to be tasteful, not cluttered.  I chose to hang a very large vintage style wooden sign that says "Pretty girl you should be smiling".  It's a great saying for a hormonal teenager and a gentle reminder for a guest on vacation.  It also matches the rest of my house.  It's a beautiful piece of art from House of Belonging.  Decorate with things that make you smile. The wooden shadowbox trio below compliments the House of Belonging sign perfectly.  (I found them at Target).
CLEAN TOWELS:
The next items you need to make available for your guests are towels, washcloths & hand towels. They should be freshly laundered, without stains or holes.  We keep several guest towels in the guest bathroom closet and only bring them out when guests arrive.  I chose high quality monogrammed Signature Towels from Garnett Hill.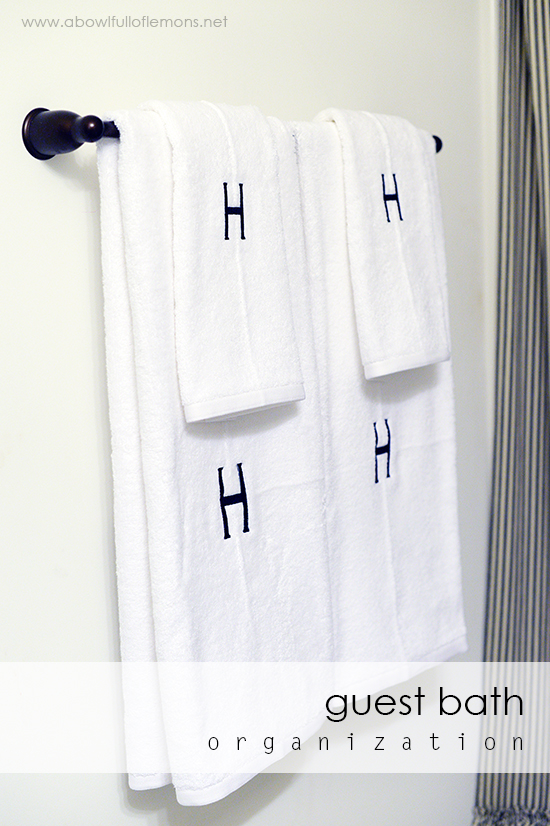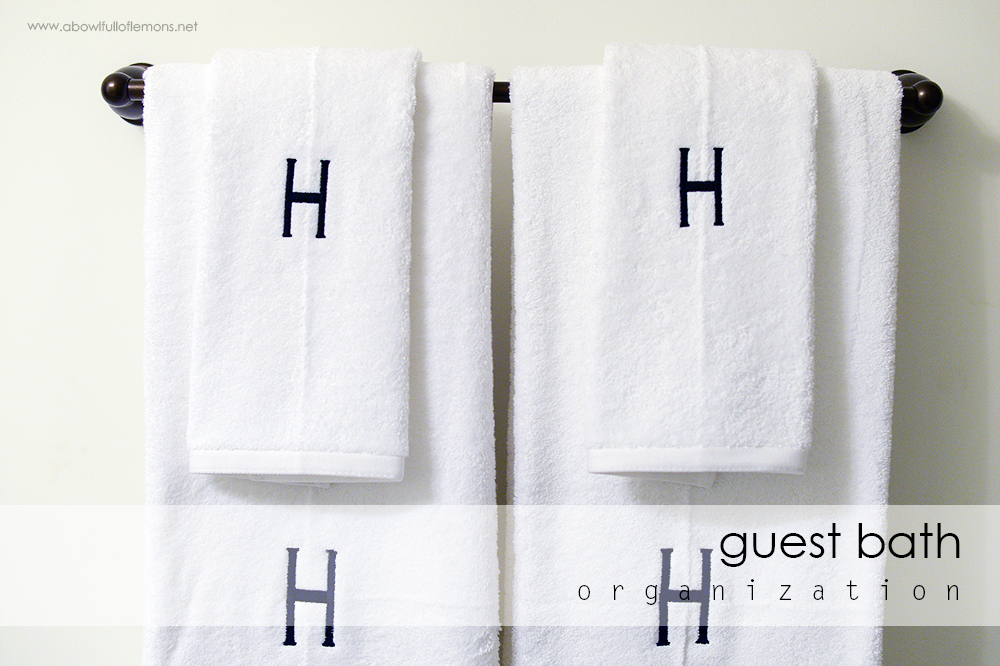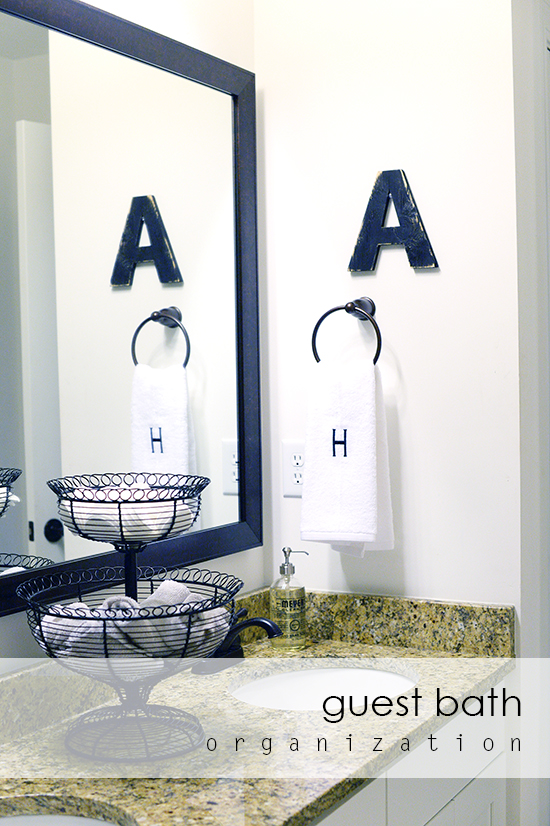 TOILETRIES:
The most important things you should have available for your guests are extra toiletries. You never know what they may forget so stock up on everything.  You can find inexpensive travel toiletries at big chain stores or dollar stores.
Toilet Paper (kept in the white wicker basket pictured below)
Razors
Shaving Cream
Toothpaste
Toothbrushes
Floss
Shampoo/Conditioner
Deodorant
Soap
Lotion
Hair Spray
Eye Makeup Remover
Mouthwash
Feminine Products
First Aid Kit
Comb/Brush
Cotton Swabs & balls
And more!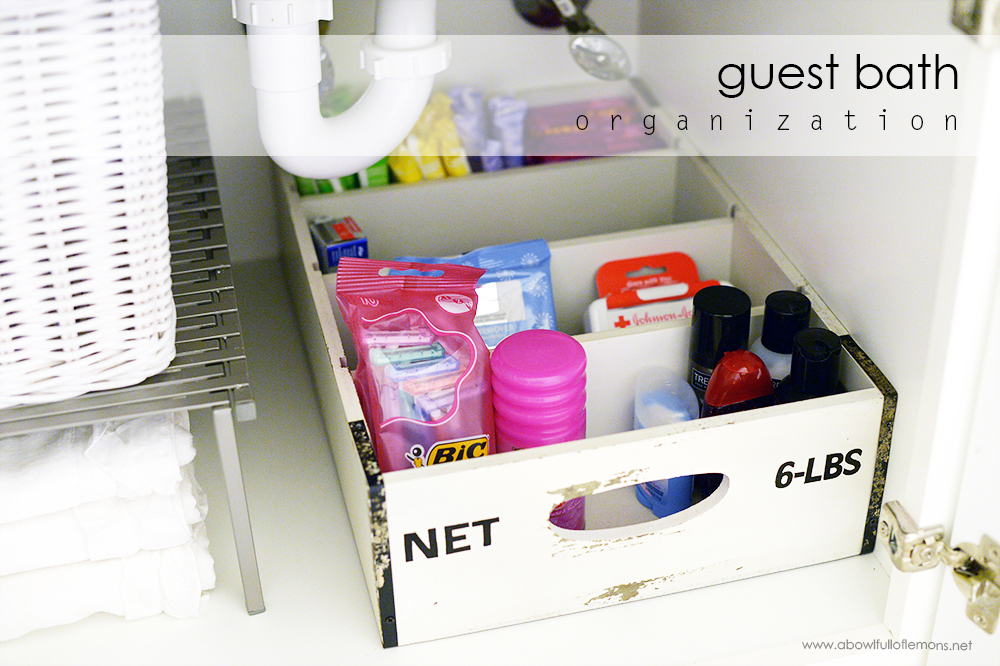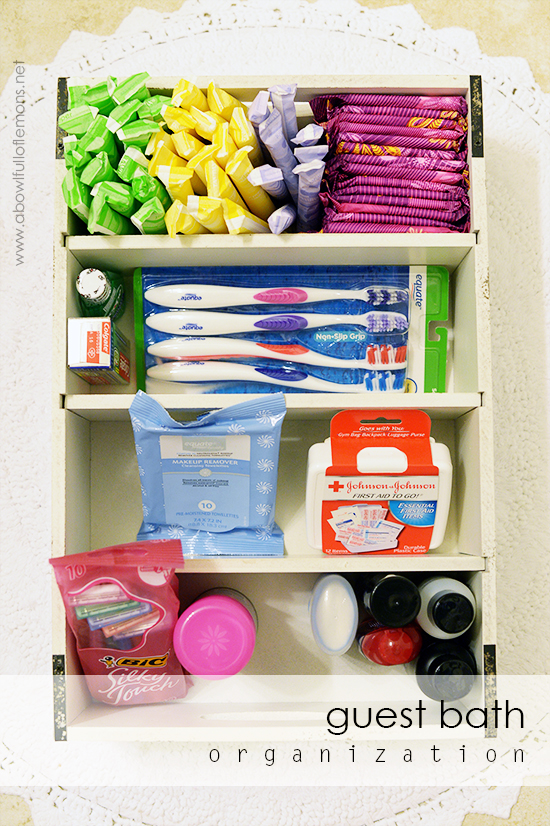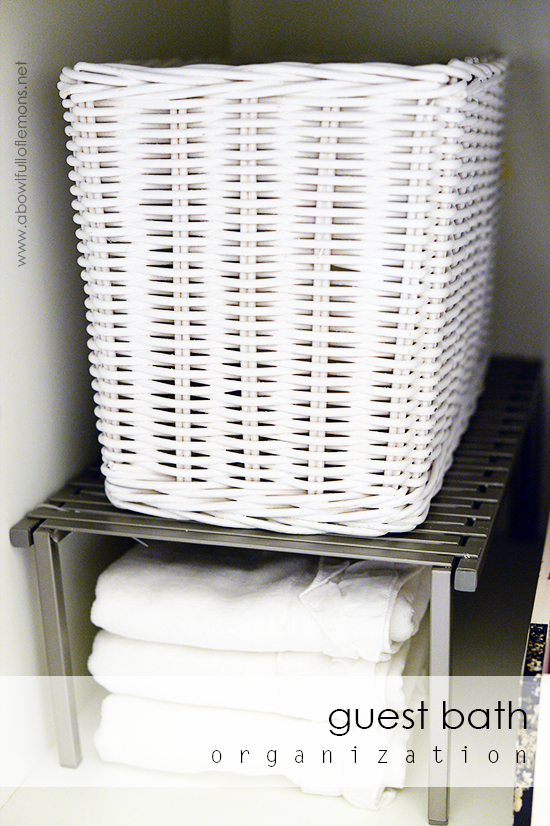 HAND SOAP, ROOM SPRAY & CLEANERS:
A stylish soap dispenser shows your guests that you pay attention to the details.  Also keep bathroom cleaners under the sink and wipe down sinks and counters & freshen up their bathroom daily.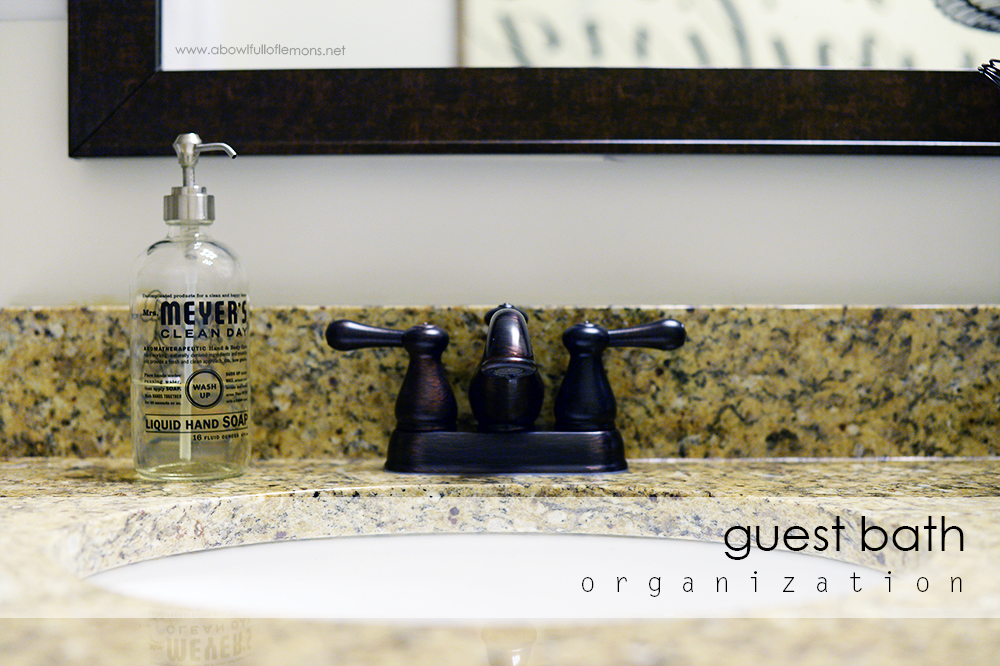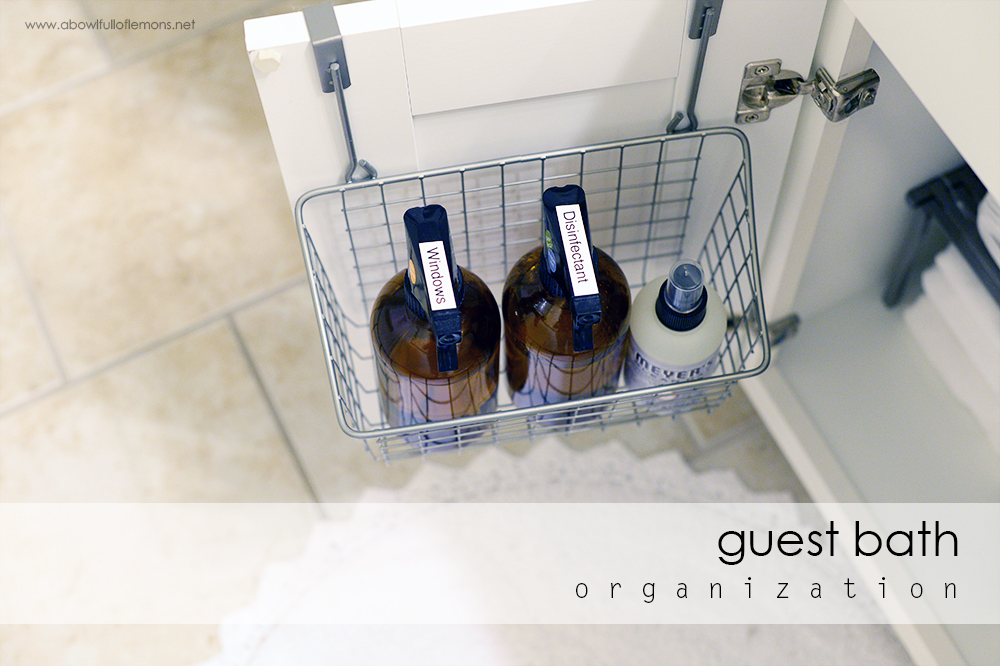 HAMPER:
Let your guests know they can place dirty clothes in their own designated hamper in the bathroom closet.  When it gets full, offer to wash their clothes.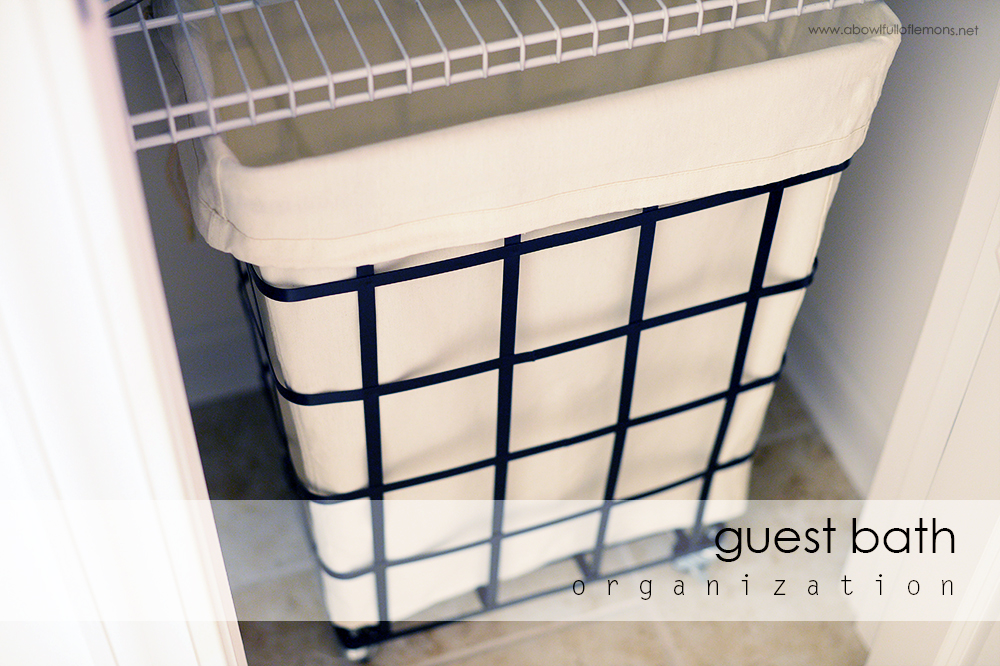 GUEST ROBE:
Last but certainly not least, offer your guests a bath robe & slippers.  They may not be staying at the Hilton but these "luxury" touches will make them feel like they're on vacation.  Don't forget to wash them after each guest leaves.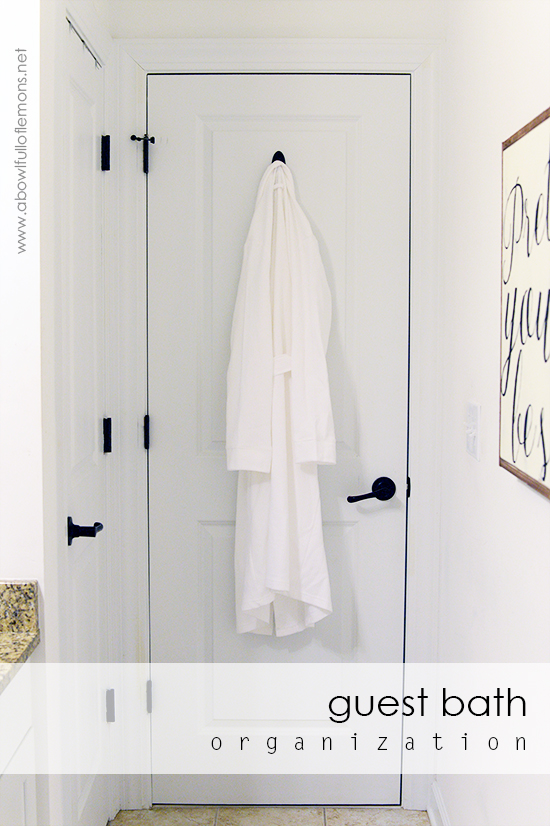 When you invite guests into your home, show them you care about them by making their stay as cozy and inviting as possible.  It's within the small details that our love is expressed.  Happy Organizing!
Tags: bathroom, bathroom organization, guest bathroom, organize
Bathrooms, Blog, March 2015, Organize Posted in 7 comments