Hello friends. It's so nice to see you again. I've taken most of the summer off – well not exactly "off" as I've been working behind the scenes on something very special (more on that soon). I've missed blogging and I've missed interacting with you all.  Now I'm back and I have many great things to share with you this fall.
School will be starting in a couple of weeks so I've been busy in my office – organizing, tidying, and decorating.  As you may remember, my office was originally in this room and then I moved it upstairs. Well now its back downstairs (to stay) and I have so much more room to work. I absolutely love it.  If you have time, you can reminisce through my old offices here and here.
Since I've been reading The Life Changing Magic of Tidying Up, I have purged a lot of clutter and streamlined my organization. Everything in this new space brings me joy now. I hope you'll enjoy the tour through my new office.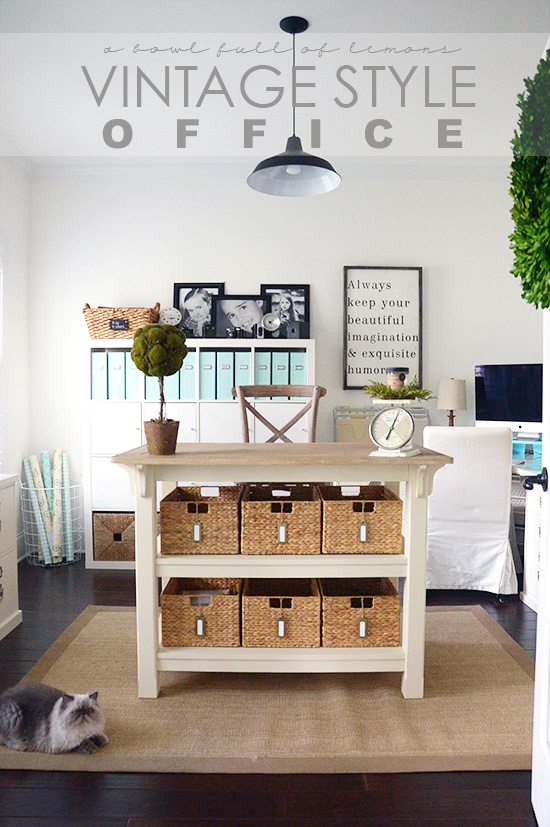 Every door must have a boxwood wreath, right?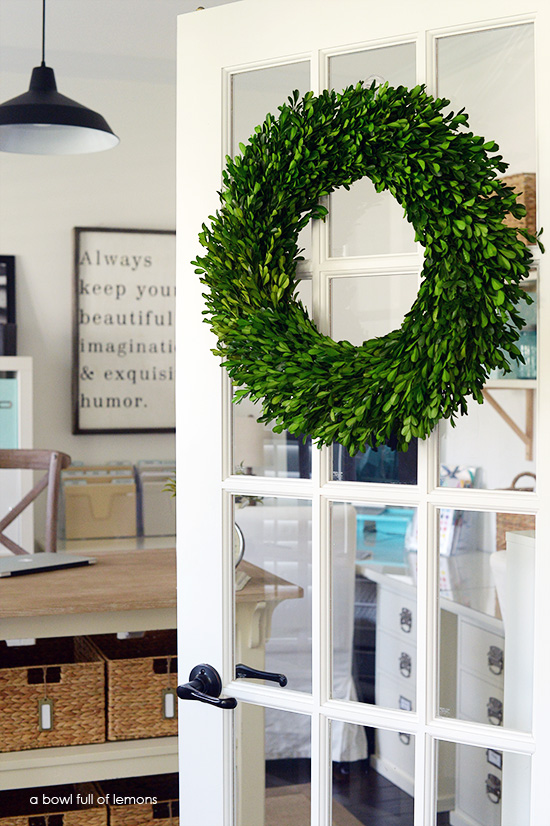 As you walk into my office, you'll notice the craft table (aka kitchen island). I purchased it from the Ballard Outlet in Roswell, Georgia. It has a distressed wooden top and the perfect amount of space for 6 large bins. The brass tags are from TJ Maxx. There's currently not much in the baskets (since I Konmari'd just about everything) – only a few school supplies at the moment. In the future, I plan to use them for printer paper, projects I will be working on, and such.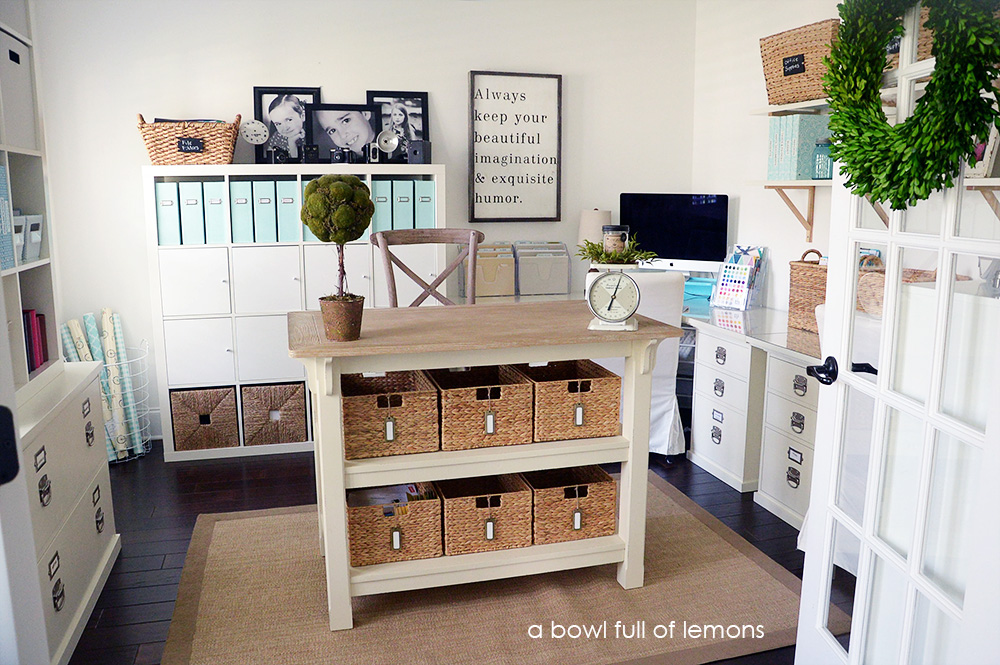 An old vintage scale looks fabulous in any room of the house.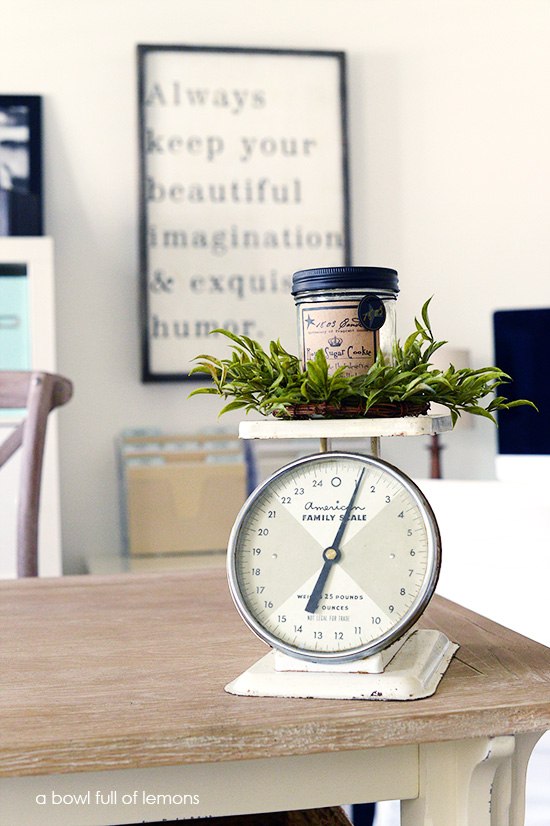 My shelf contains magazines that I collect, planners and planning supplies, and my essential oil business items.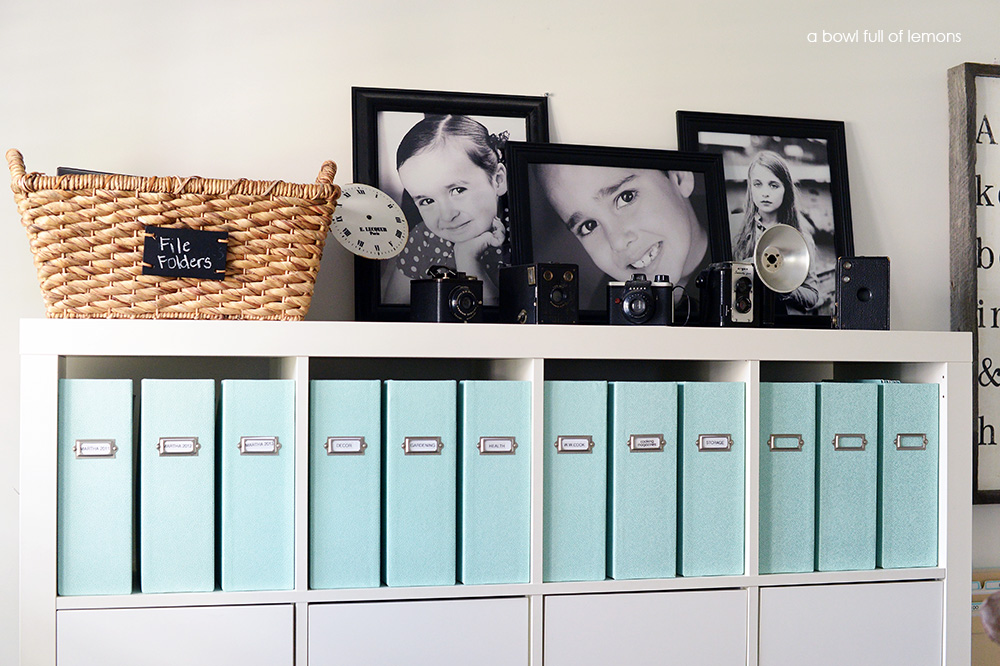 I corralled my favorite wrapping paper into this TJ Maxx laundry basket. I removed the liner for a more industrial look.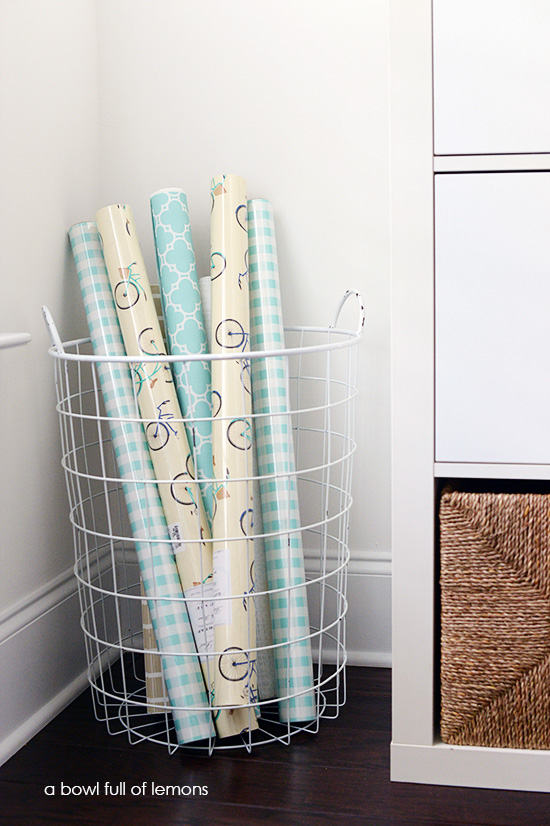 As you look to your right, you will see these Ikea shelves. I keep office and school supplies in the large TJ Maxx baskets. The next shelf down displays favorite photos of my children in shabby distressed picture frames. Finally, I added some vintage flair with old Ball Jars and a seltzer bottle.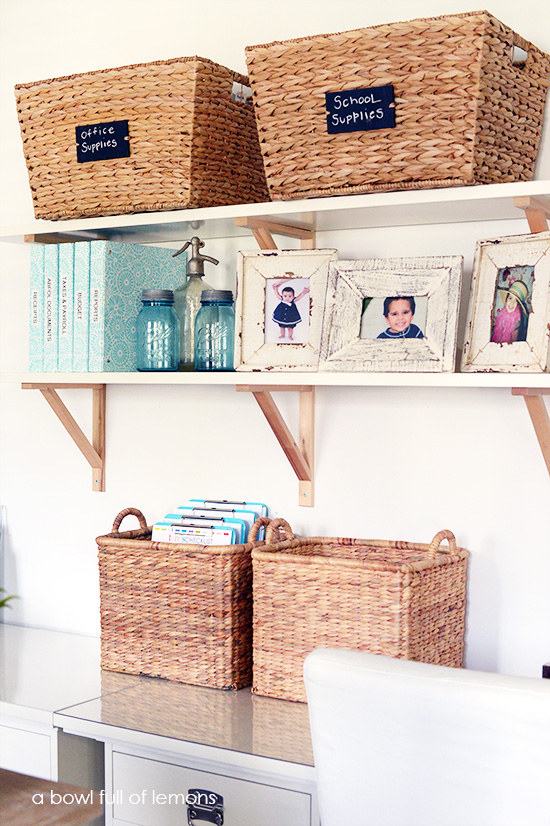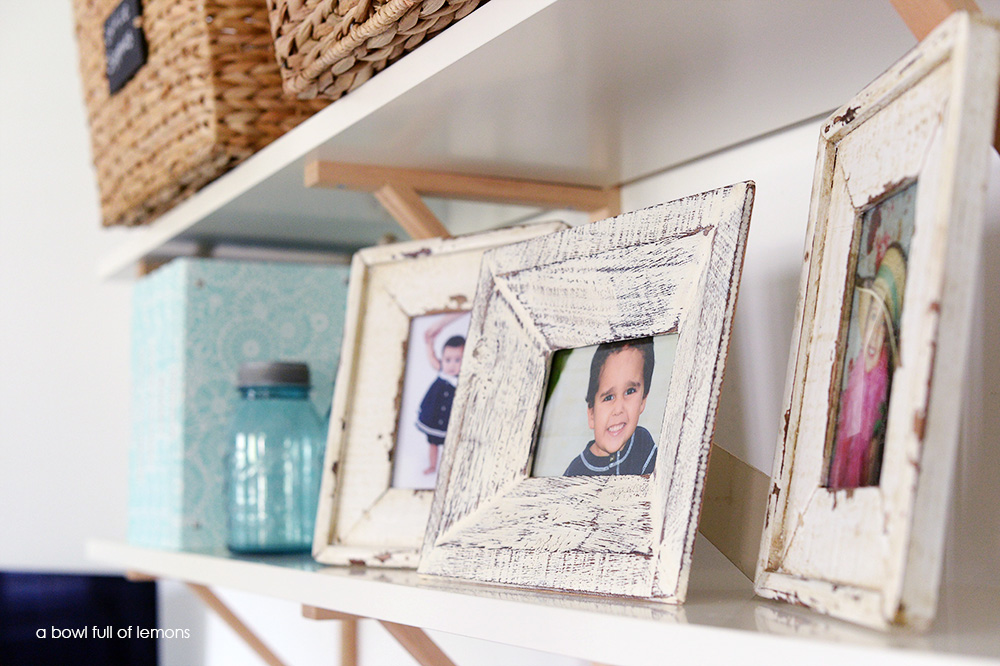 My office binders (no longer available) contain blogging business paperwork. I clearly labeled each binder with 1″ label tape.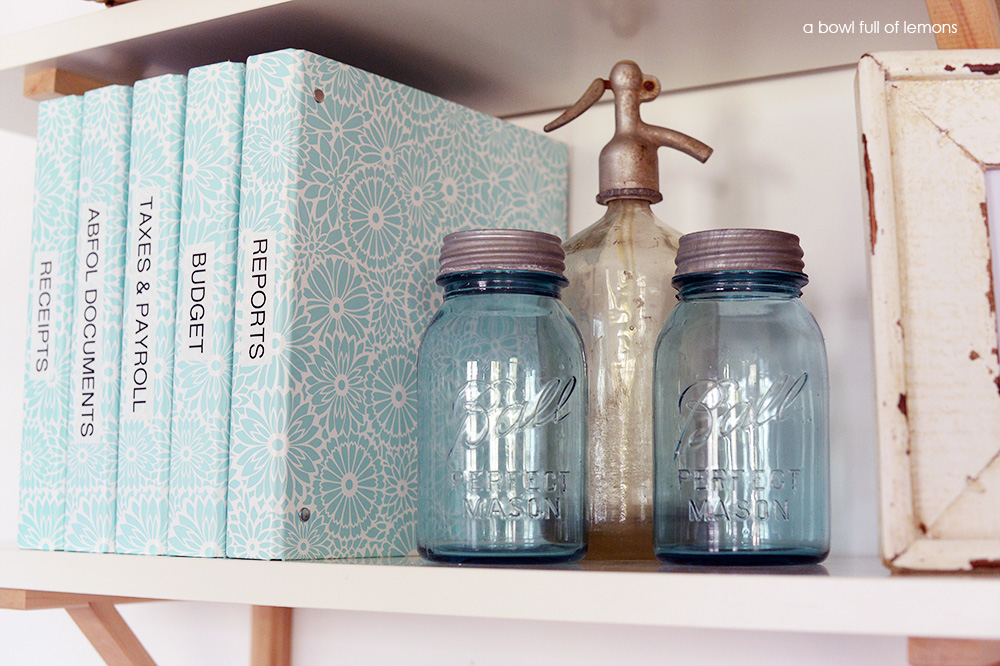 Below the shelving, I have two more baskets (love my baskets). One contains clipboards (of current projects) and the other holds miscellaneous things. I really need to go through it and purge.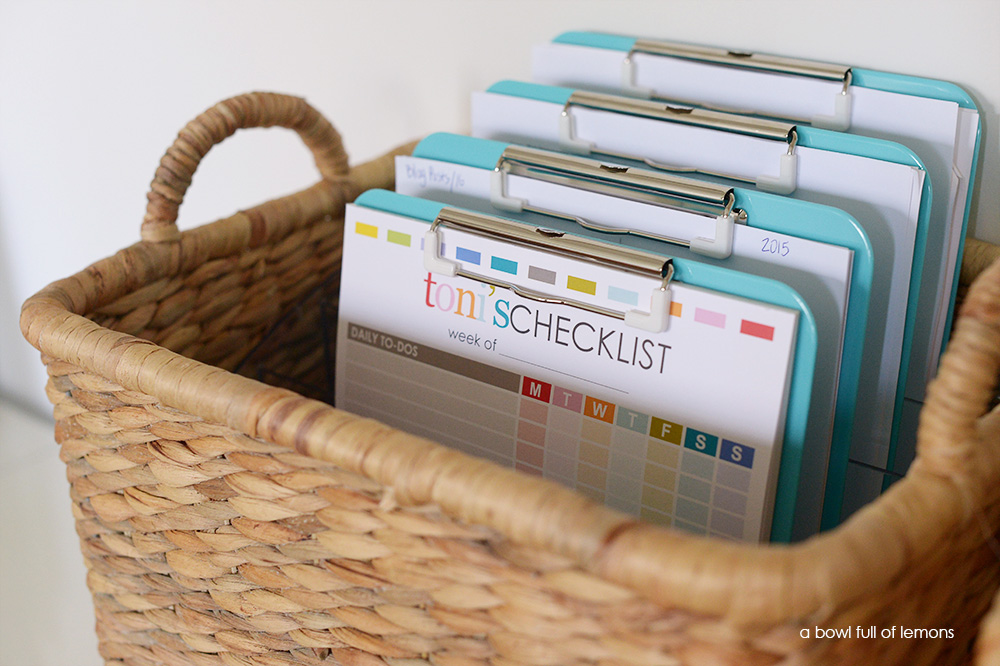 To finish the decor off, I hung a very lovely Sugarboo sign on the wall over my desk. If you've never heard of Sugarboo Designs, you must check out there artistic line of home decor and pillows. They are my absolute favorite.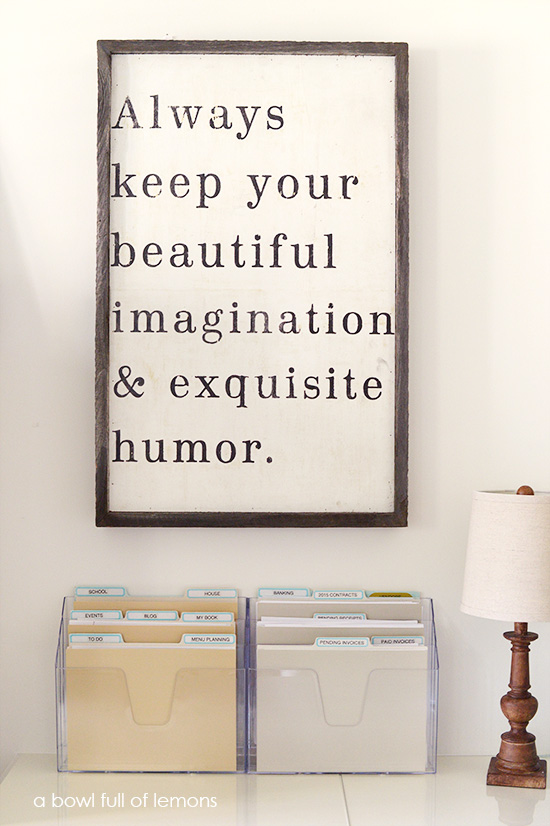 My most used files stay on my desk (instead of in my filing cabinet). I found these file bins to be the best solution to keep desk top paper clutter away.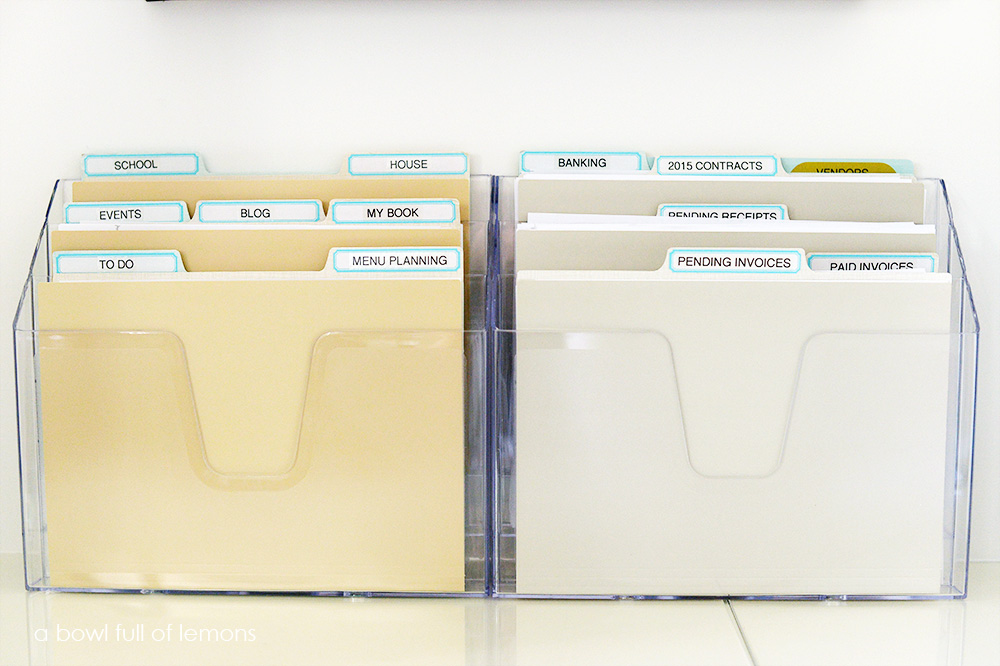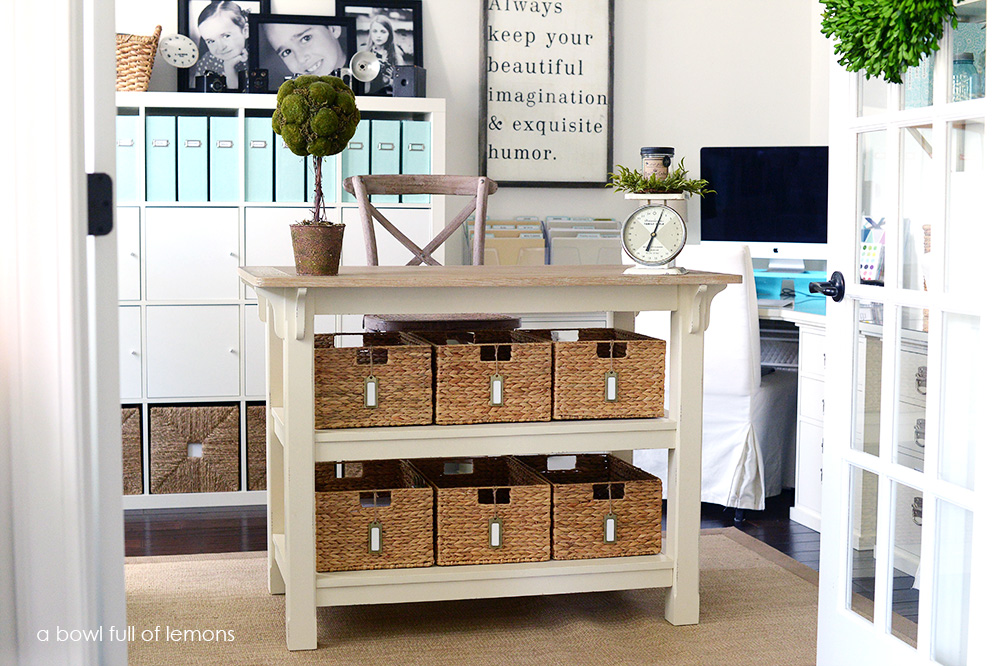 The industrial light (and cat) finish off the space.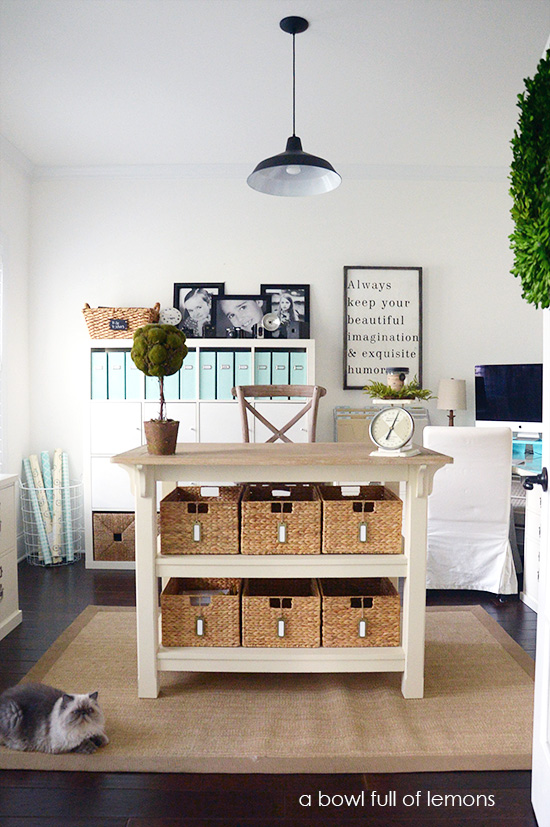 I hope you enjoyed a tour through my new office. Share any tips you have for a well organized office below and don't forget to subscribe to my blog to get the most recent updates. Happy Organizing!  I'll see you soon.
Tags: decorating, office, vintage style
August 2015, Blog, container store, Decorate, Decorating, filing, Office, Organize, our home, storage Posted in 46 comments