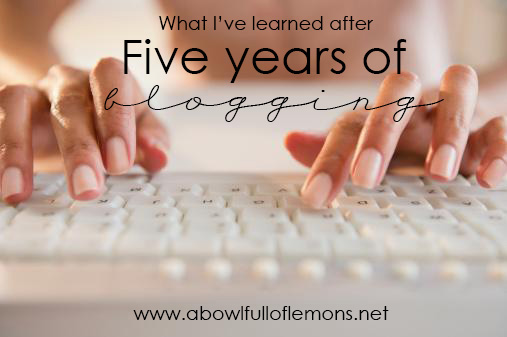 As I reflect on the last five years of blogging, I've learned ten important lessons.
1. I am not perfect. You see what I want you to see, no more and no less. But don't get me wrong, I am not perfect. I have many shortcomings, piles of dirty laundry (more often than not), and many moments of insanity. The photography on my blog is there to inspire you, so of course I naturally want it to be magazine perfect. But it does not remain that way. So please don't ever think that I live a perfect life, because I don't.
2. I don't need a regular schedule to share great ideas. I've come to realize that I should only blog when I feel inspired and not a moment sooner. Looking back through some of the blog posts Ive shared, there have been days when I shouldn't have been blogging. So Ive learned my lesson to only pick up the camera (and laptop) when I feel inspired.
3. I am NOT Martha Stewart. Enough said!
4. I don't need a team of contributors. I though I HAD to keep a consistent schedule for my readers, so I brought on a team of contributors to fill in the times when I couldn't blog. I've since realized that to truly show who I am, and share my ideas, I must blog alone. For a while, I felt like my blog wasn't reflecting on who I am. A Bowl Full of Lemons should be about my thoughts, my style and my own photography. It IS my blog, of course. So I waived farewell to the talented bloggers who have shared their ideas along the way. There may be many days in between blog posts, but I promise you the posts you'll see will be my ideas.
5. My blog would not be as successful as it is without YOU!  My readers inspire me to share my ideas. I wouldn't still be blogging if it weren't for your support and sweet comments.. Trust me, it keeps me going.
6. I don't need Facebook to be a successful blogger.  Enough said!
7. The numbers don't reflect on my talent.  80,000+ Facebook fans or 90,000+ Pinterest fans. Who really cares?  Does that measure my artistic talent or lack there of? Just because I have more followers than someone else doesn't mean I am more successful. I've seen so many bloggers obsess over the numbers and lose focus on the content with things like senseless memes on their feeds, etc… just to get another "like". I've come to terms that it really doesn't matter. Sure we all like to be validated & liked, and social media has programmed our minds into thinking that's what matters. When is enough, enough? I want to get back to the basics of blogging and what brought me here in the first place – sharing what I love to do. In the end, another "like" really won't make a difference, will it?
8. I am a wallflower. I have turned down some amazing opportunities over the last five years, whether it was to be on national television or to fly across the country for a corporate event. Believe it or not, Im an introvert. I would be content hiding away in the comfort of my home for the rest of my life. Not really, but you get the idea. I get intense social anxiety AND Im afraid to fly. So there you have it. It's a lose-lose situation. That's why I am a blogger.
9. Blogging is hard work. Don't let the fun photos and social media chatting fool you. Blogging is honestly hard work. The "behind the scenes" that most of you don't see takes a lot of time, effort, and true dedication. It's not a job for the faint of heart. The criticism can take its toll as well. People can be very judgmental of bloggers who are transparent in their day to day lives (so that they can inspire you).  Take it easy on us, we have feelings too.
10. I love my job.  I have the best job in the world and I don't take it for granted, not even for a second. I'm thankful to be able to stay home and raise my kids while sharing what I love to do. However, I want to note that I was not an English major in college, so I apologize for any grammar errors or typos you may find throughout my blog. I  am a Registered Nurse turned stay at home mom/blogger chick. English composition was about as far as I got in college.

Are you a blogger? Share what you blog about and some of the things you've learned over the years, in the comments below. I would love to know that Im not the only one who has learned these lessons.
~Toni