Welcome to A Bowl Full of Lemons. During the month of September, I will be sharing our journey towards financial independence and hopefully inspire you to do the same. But before I begin, I must warn you that I am not a financial advisor and my college degree doesn't have anything to do with finances, so if you have any specific questions, please ask your financial advisor.  I am merely sharing the mistakes we've made and what we've learned along the way.
So what is Financial Freedom? Financial freedom or independence is generally used to describe the state of having sufficient personal wealth to live, without having to work actively for basic necessities. For financially independent people, their assets generate income that is greater than their expenses. (Wikipedia). Sounds like a good place to be, huh?  To be as transparent as I can, I am going to share our story with you, so you know where we came from and where we are  today on our path to financial freedom.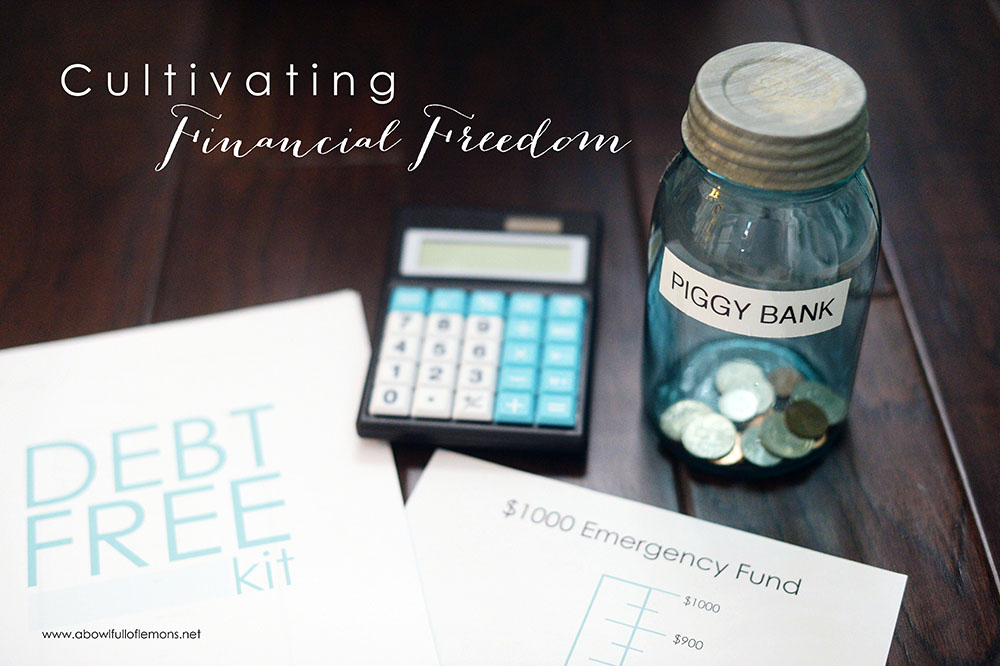 So the story begins… I've been married to my husband for almost twenty years. We got married when we were very young.  We were both in the military and like so many of you, we were living on minimum wage. We were in love and that's all that mattered. Neither one of us had a clue about money. We lived paycheck to paycheck and didn't know (or care) how to save a dime. We spent every singe penny we had (and more). The paychecks were gone as soon as they came in. We were what you call "broke".
Like the average American, we lived beyond our means.  When the money was gone, we figured out that we could spend even more by using credit cards, so we did. We lived like this for the first twelve years of our marriage. It was stressful and it was exhausting.  We didn't know any better and we certainly didn't know there was a better way. About eight years ago, we eventually came to our senses and decided enough was enough (This was our transition from immature young adults to grown ups). We could't live like this anymore and something had to be done to change this wreckless path we were on or our financial future would be doomed.  As I began reading a lot of books and researching about how to eliminate debt, I stumbled upon a guy named Dave Ramsey. Little did I know, our financial future would forever be changed.
Fast forward to twenty years later, and here we are with college degrees, very well paying careers, and a beautiful home.  Who knew we would make it out of poverty and the mountains of debt we had accumulated?  The odds were stacked against us but we were determined. God was watching over us for sure. We worked hard and have accomplished so much over the years and we can finally see the finish line. We are just about debt free, and I think we've pretty much figured out how this money thing works. It's really quite simple – spend less than we make, follow a written (zero based) budget, pay off our debts (and don't borrow money), save as much as we can, max out our retirement plans, and eventually we can live like no one else and give like no one else.
During our financial journey, we've made some dumb mistakes (purchasing an RV for one – ugh). We are far from perfect and we've stumbled a gazillion times along the way, but we always get back up.  We have never lost sight of our goal – financial freedom.  We have gone from completely broke (thousands of dollars in debt) to just about debt free in eight years, while on Dave Ramsey's plan. It has been a long journey and we're still not finished. We currently have one debt left to pay (our RV) and of course our mortgage. To speed things up, we have decided to sell our RV.  We are gazelle intense on paying off our mortgage in the next two years so we've decided to go on a strict written budget. We are currently living way below our means (my kids are not thrilled). We have eliminated practically all shopping (except for necessities) and we're only eating out out once a week (the only thing that has kept me sane during our spending freeze).  We are allocating all remaining funds to our mortgage. We are following a weekly menu plan, to help eliminate the need to eat out. Looking back, that's where a lot of our money went.
We have set specific goals and revisit them often. We have a weekly budget meeting, to go over how well we did for the week and make our plan for the next week. We are in it for the long haul. If everything goes according to our goals and plans, we anticipate being completely debt free in two years (yay). At that time, we will continue on our path to financial freedom – building wealth and help others as much as we possibly can.
Financial independence is a wonderful place to be and I hope I can inspire you to look at you finances and decide if you are happy where you're at right now.  You don't have to live paycheck to paycheck for the rest of your lives. Being "broke" is a temporary setback. "Poor" is a way of life. Which one are you? If I had to guess, most of you are just broke. If you're ready for a change and want to learn how to budget and live a comfortable, debt free life, follow me this month and cultivate your own financial freedom!
Make sure you subscribe to my blog so you don't miss any blog posts! The subscribe box is at the top of the blog. To get more inspiration and budgeting support, join my budgeting group on Facebook. I'll see you back here on Tuesday, where I'll be going over how to set financial goals.
~Toni
Tags: budgeting, Cultivating Financial Freedom, Dave Ramsey, finances
Blog, Budget, budgeting, Cultivating Financial Freedom Series, dave ramsey, finances, organize your finances, September 2016 Posted in 25 comments