The first step to financial freedom is setting goals. What do you hope to accomplish? Where do you want to be in one year, five years, at retirement? Do you want to buy a home? My husband and I want to pay off our mortgage in two years and retire early so we are following the Dave Ramsey Financial Peace Plan. He has laid out everything we need to know to become financially independent.  There's no need to reinvent the wheel here. He has already devised the plan and it includes 7 financial goals (aka baby steps). My series will reflect these 7 goals.
DAVE RAMSEY'S 7 BABY STEPS
$1000 in an emergency fund.
Pay off all debt with the debt snowball.
Add 3 to 6 months of expenses in a savings account.
Invest 15% of income into Roth IRA's and pre-tax retirement plans.
College Funding.
Pay off home mortgage.
Build wealth and give!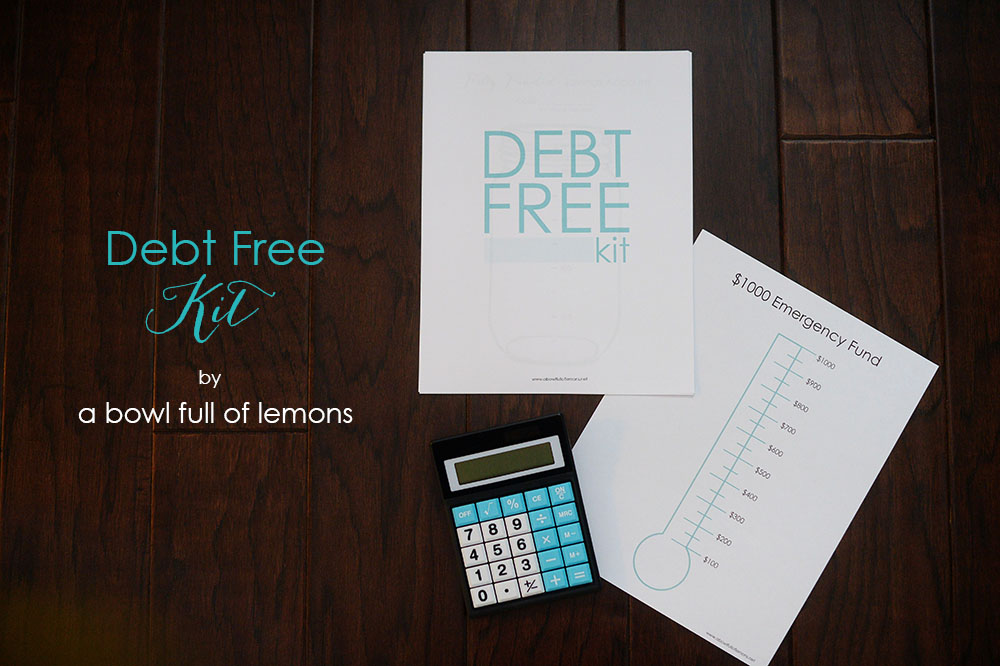 MEASURE YOUR FINANCIAL GOALS:
Once you set goals, you'll need to be able to measure them. This visual accountability will give you the fuel needed to keep going. I made it easy for you and created a Debt Free printable PDF kit so that you can easily measure your steps towards financial freedom. It's only $10 and you can purchase it in my printables shop here.  Keep in mind, you are not required to purchase this kit to follow the series. You can measure your steps on a piece of paper just as well. I like pretty things so this is great for me and it really helps me to achieve my goals!
THE DEBT FREE PRINTABLE KIT INCLUDES:
$1000 Emergency Fund Goal Chart.

The first goal is to save $1000 as soon as possible.  Put it in a savings account and don't touch it unless you have a

real

emergency.

Debt Snowball Summary.

 Next it's time to write down all debts from smallest to largest. Pay the minimum payment on everything but the smallest debt. Use all extra money you earn each month to pay the smallest debt off. Once it's paid off, add that payment amount to the next largest debts minimum payment (snowball effect) and attack it with a vengeance. Continue this pattern until all debts are paid off.

Debt Free Goal Chart.

Transfer all debts from the debt snowball summary sheet to this sheet. Write the total amount owed at the top and the name of the debt at the bottom. Each month, fill in each chart with the amount you paid. Continue this every month, until all of your debts are paid off and you are debt free!

Fully Funded Savings Account Goal Chart.

Once your debts are paid off, it's time to put 3 to 6 months of expenses into a fully funded savings account. Decide what your amount will be then fill in the jar every time you add money to this account.

Mortgage Pay Off Goal Chart.

After you've invested 15% to a retirement account and put money towards college funding, it's time to pay off the dreaded home mortgage.  Fill in the chart as you begin paying it off. Once you are debt free and have a fully funded savings account, all of your money can go towards paying down the mortgage. It will go faster than you think!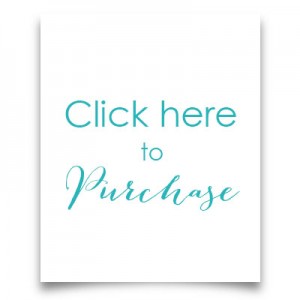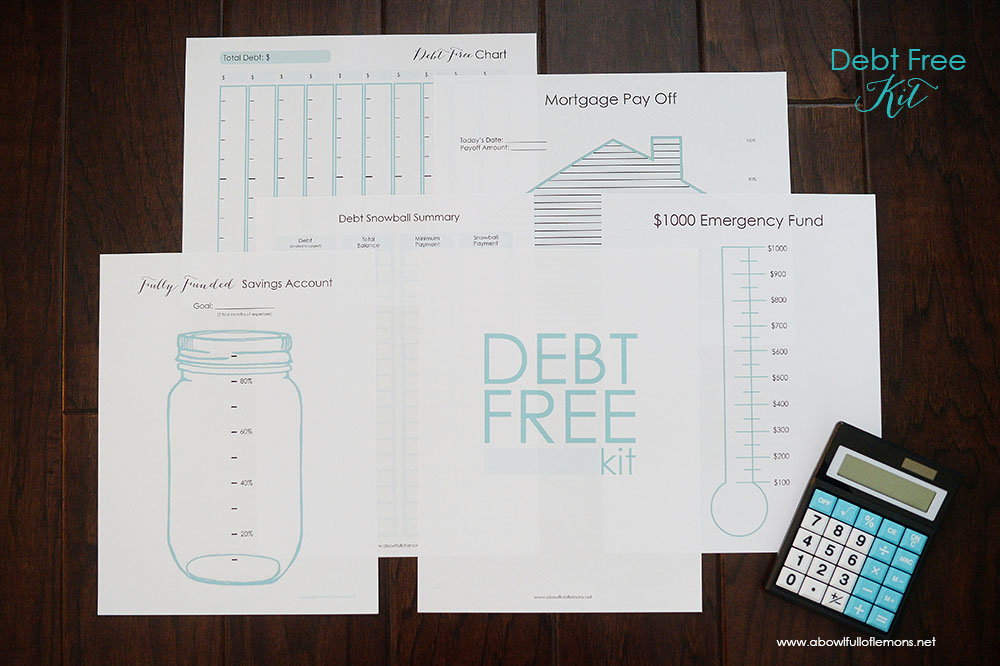 Visibility is key when setting goals. Make sure to place the charts where everyone can see them, either on the refrigerator, a door, or even a bulletin board. If they are out of sight, they are out of mind. Let your kids know what's going on and help them understand. Set limits on spending and work out a zero based budget (more on that soon).  If you follow the plan, slowly but surely, you will begin to see the fruits of your labor.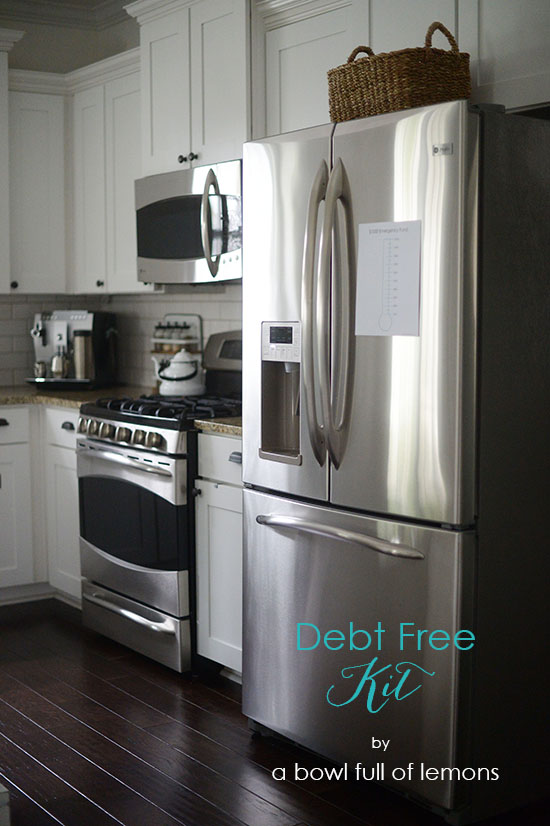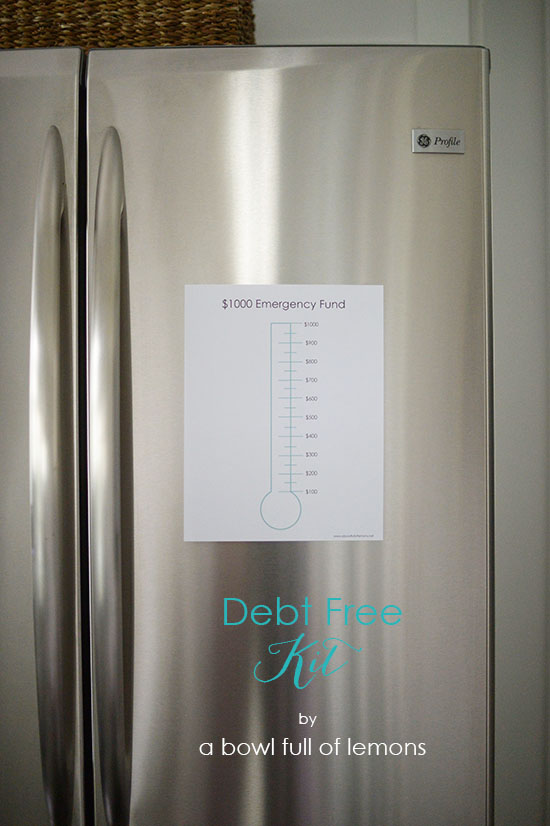 Visit Dave Ramsey's website to learn more about the Seven Baby Steps and Financial Peace University. His plan is proven to work and I am living proof that it does. I highly suggest taking a FPU class. There may be one in your area. Click here to find out.  Also take some time this week to write down your goals and create a plan of action. This is the first step to your new financial future. You can do it! I'll see you back here on Sunday when I'll go over how to create a written budget.
Disclosure: I am not affiliated with Dave Ramsey, nor have I gotten paid for this post. I am simply sharing what has worked for my family. I only share products that I believe my readers will love. I sell PDF printables so that I am able to share my love for organizing, cleaning, decorating, and budgeting with all of you. Without these sales, I would be unable to take the time to write these informative blog posts. So thank you for your support. I'm truly grateful. 🙂
Tags: budget, budgeting, Cultivating Financial Freedom, Dave Ramsey, finances
Blog, Budget, budgeting, Cultivating Financial Freedom Series, finances, September 2016 Posted in 18 comments