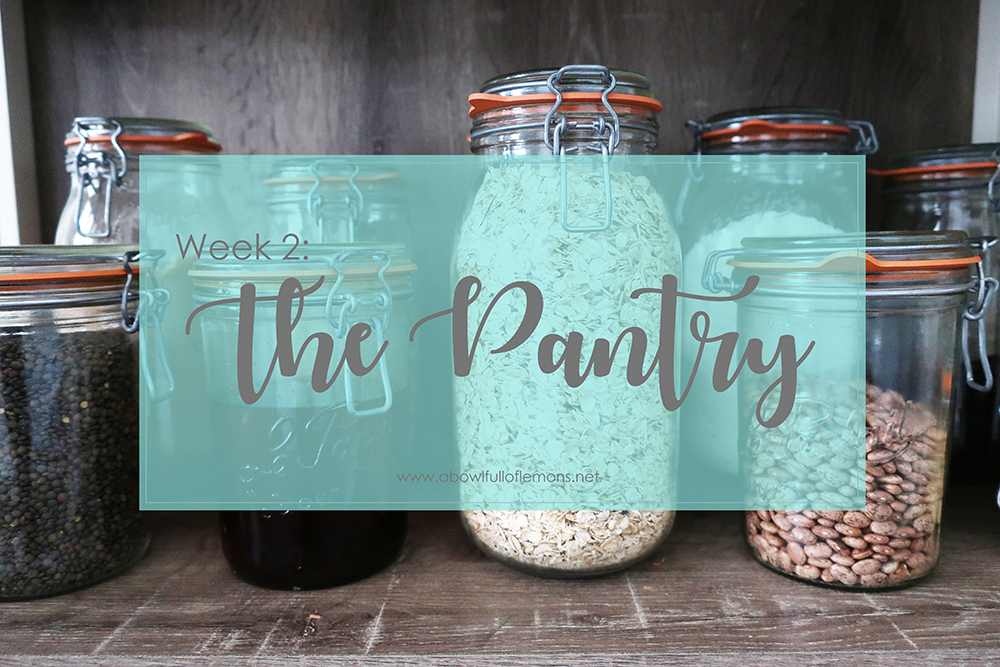 It's week 2 of the challenge and we are moving right along. We're still in the kitchen this week but we will re-focus our efforts towards organizing our food & the pantry. If you don't have a pantry (like me), organize the area where you keep your food. If you didn't get your refrigerator cleaned out last week, do it now. You have 7 days to complete the second challenge but shouldn't take you that long. Be quick and efficient with your time. If you would like to purchase any of the items featured in this post, check out my favorites shop here.
FIRST TIME PARTICIPANTS: Welcome! We are glad you're here. Take a minute to look over the challenge details then begin working at your own pace. You can find the week 1 challenge here. Before you start, print out the complete 14 week schedule and checklists below.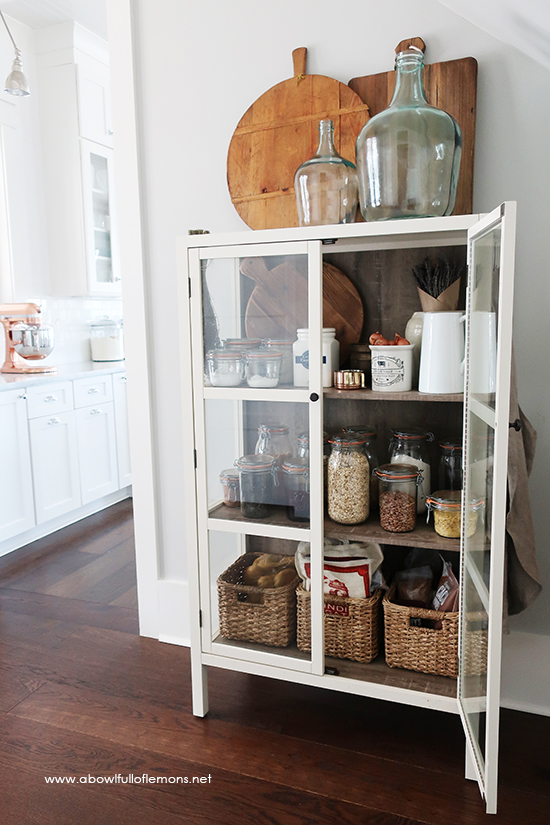 Welcome to week 2 of the challenge. We will be spending the next 7 days deep cleaning and organizing the pantry (or the area where you keep your food). For encouragement, join our Home Organization Facebook community to share your progress, or struggles, or questions. Or simply look through the photos and read how others are doing.
This week should be pretty straight forward. Empty the pantry, wipe it out, toss expired food, and put it all back in an organized fashion.
THE PROCESS
PLAN – Before starting, make sure you have a good supply of boxes, bins & food containers. You will need them. If you do not have any, simply organize your pantry into "categories".
SET UP – If you are using them, line up your empty bins, baskets & containers onto the kitchen table. If you don't have any, you can still separate your food into 'categories' on the table.
PURGE & ORGANIZE – Take everything out of your pantry. Check the expiration date and throw out expired or no longer used items. Place "like" items in the baskets on the table. Organizing your food into categories (bins) will help keep your pantry looking nice and neat. (Categories to consider: School, Breakfast, Pasta, Baking, Sauce, Bread, Snacks, Sides, etc.) You can also empty bags & boxes into OXO containers or mason jars for a more uniform look. If the unused food isn't expired, you can donate it to a local food pantry.
CLEAN – Once you are finished organizing everything into categories, you can wipe out your pantry, then sweep & mop the floor. You want it all nice & clean before you put everything away.
PUT AWAY – Place all of your neatly organized bins, boxes, and containers back into your pantry
LABEL – Label each bin & container with a labeler or hang a tag on the baskets.

We do not have a pantry in our new home. It just wasn't important to me. From my experience, having a pantry meant a lot of expired food (because I bought too much and we didn't eat it in time) and excess clutter. I also shop for groceries every Sunday so I don't need to store too much more than a week or 2 of food.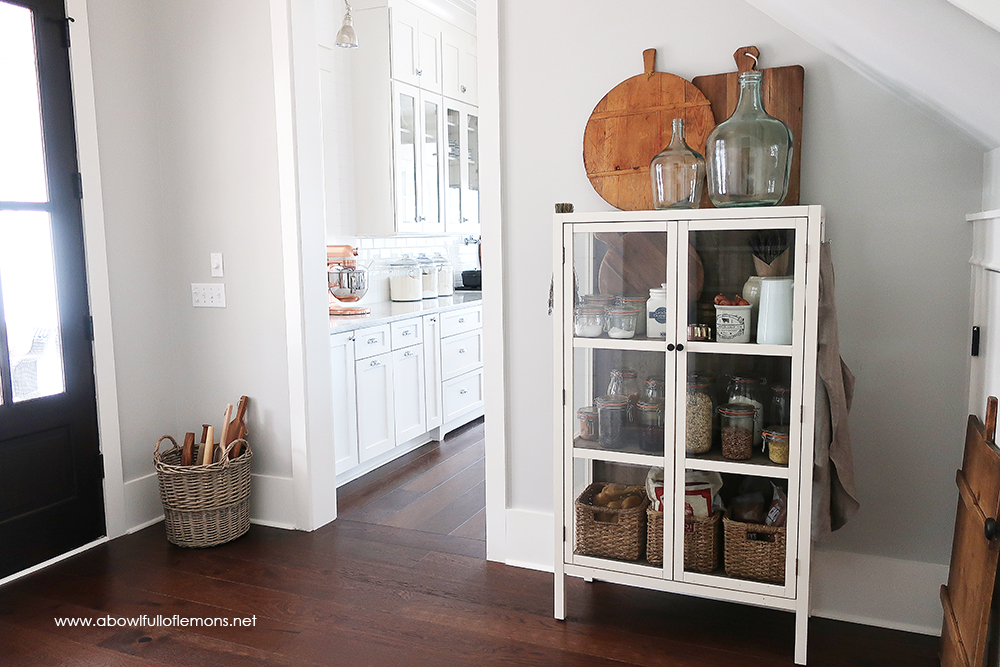 This time around, I made plans to use a small cabinet to store food. It's in the hallway right outside of our kitchen. I also have huge 10 foot island that has the storage space I need for small appliances, canned goods, etc… so it works well for us.
Each week after I return from the grocery store, I spend a couple of minutes tidying up the cabinets. It has helped me to eliminate wasteful food and indulgent grocery shopping. I try to stick with a list and only buy what we need for the week. It's been a nice change from the overstuffed shelves full of food.
THE LAYOUT. No matter if you have a large pantry or small set of cabinets, categorize your food storage into zones for easy access and order.
DRY GOODS. Glass jars with airtight lids are the perfect way to condense boxes and bags into uniform food storage. These jars are my favorite. You can also store dry goods in OXO containers or mason jars.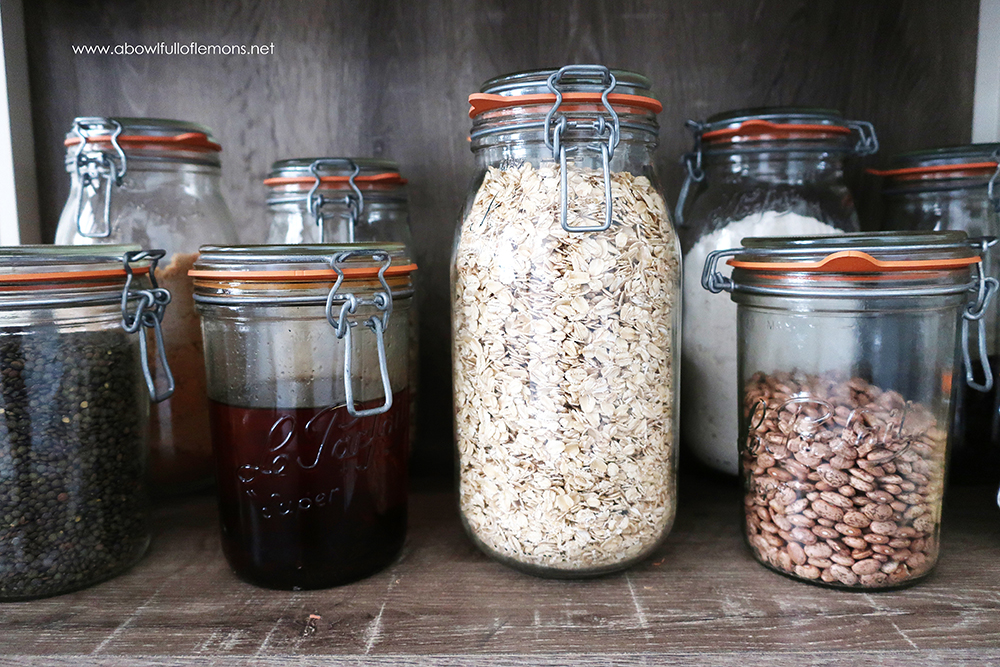 Use a labeling machine to label the jars.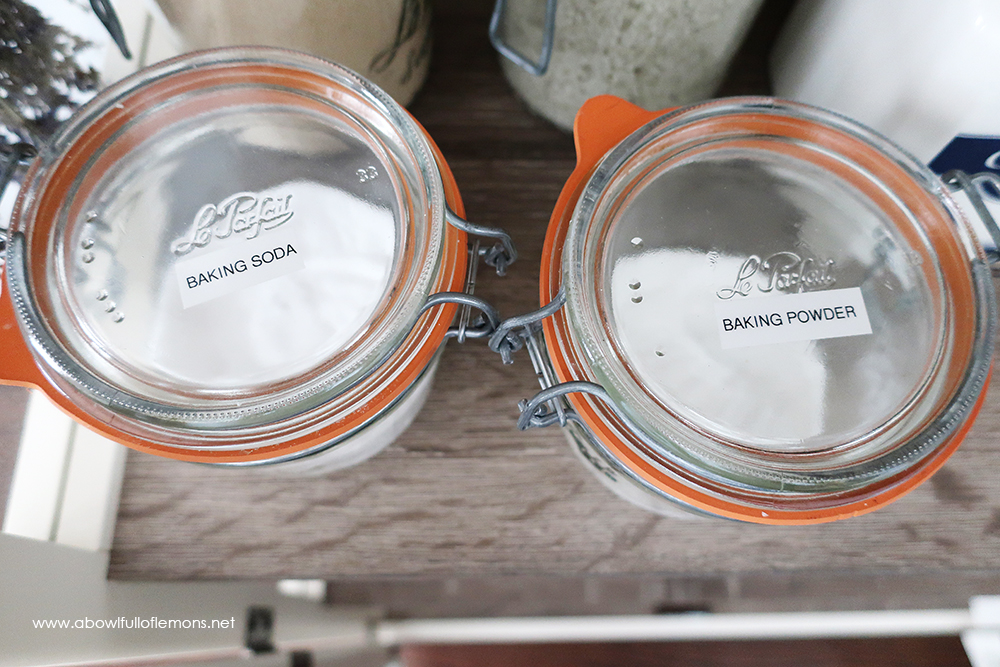 If you don't have a labeler, you can use a wet erase marker and write on the glass jar.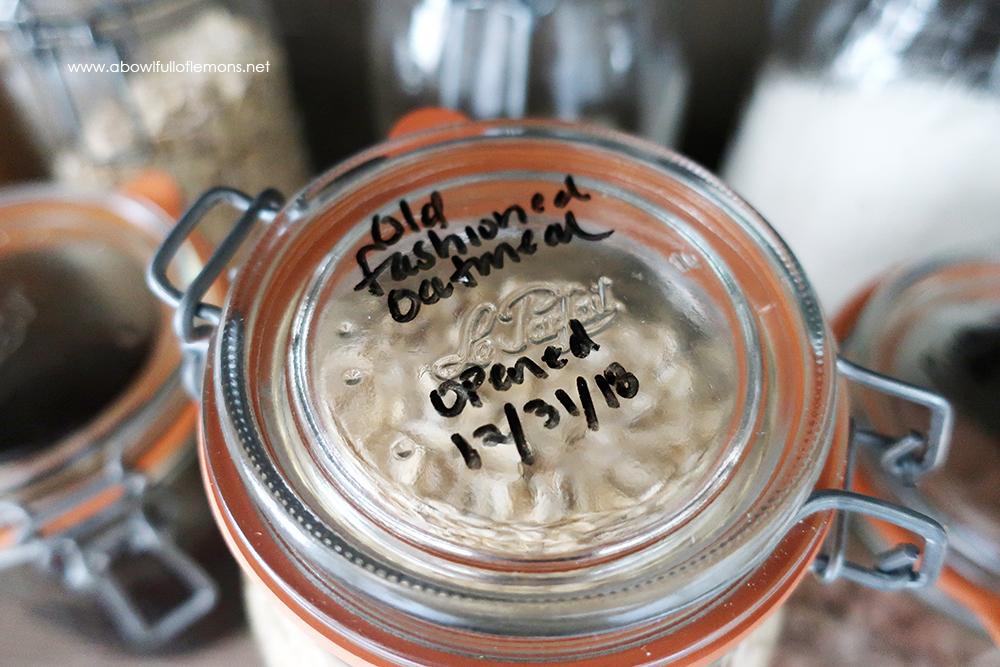 BASKETS. Wicker baskets & bins are great for storing potatoes, onions, bagged items, and cutting boards. It's also easy to grab what you need quickly.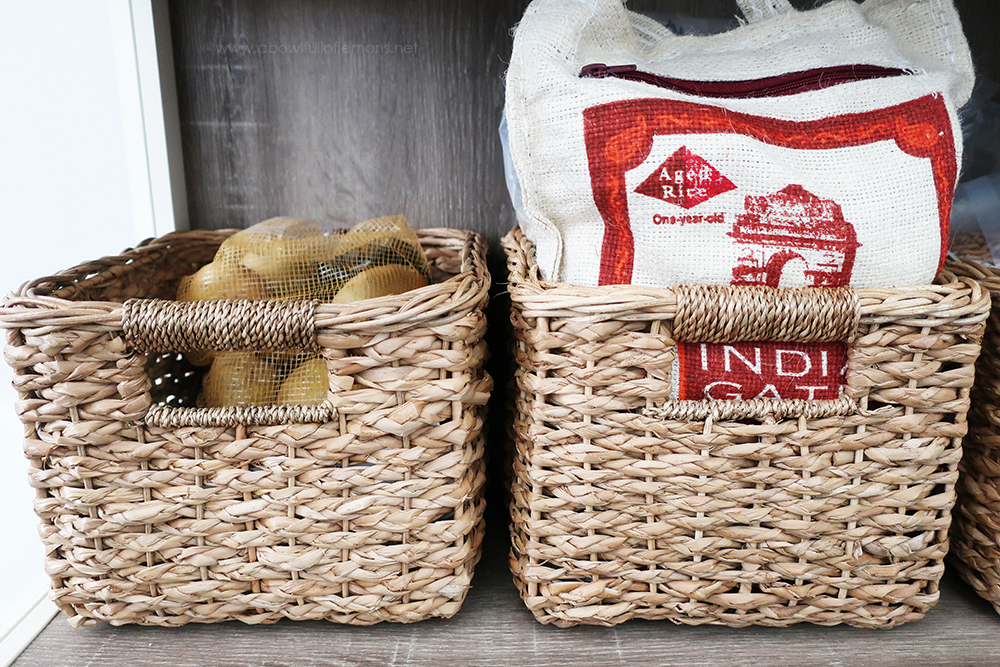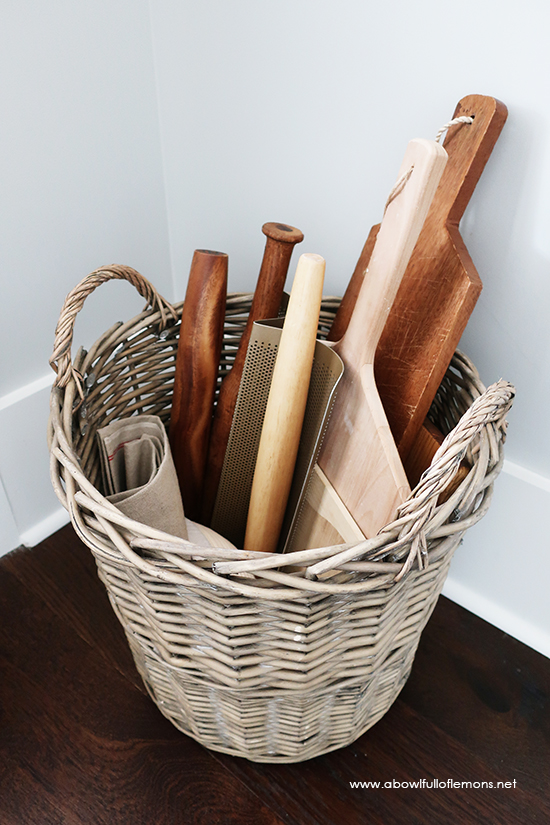 CANNED GOODS. We keep our canned goods in the cabinet under our kitchen island. I am grateful for this extra space.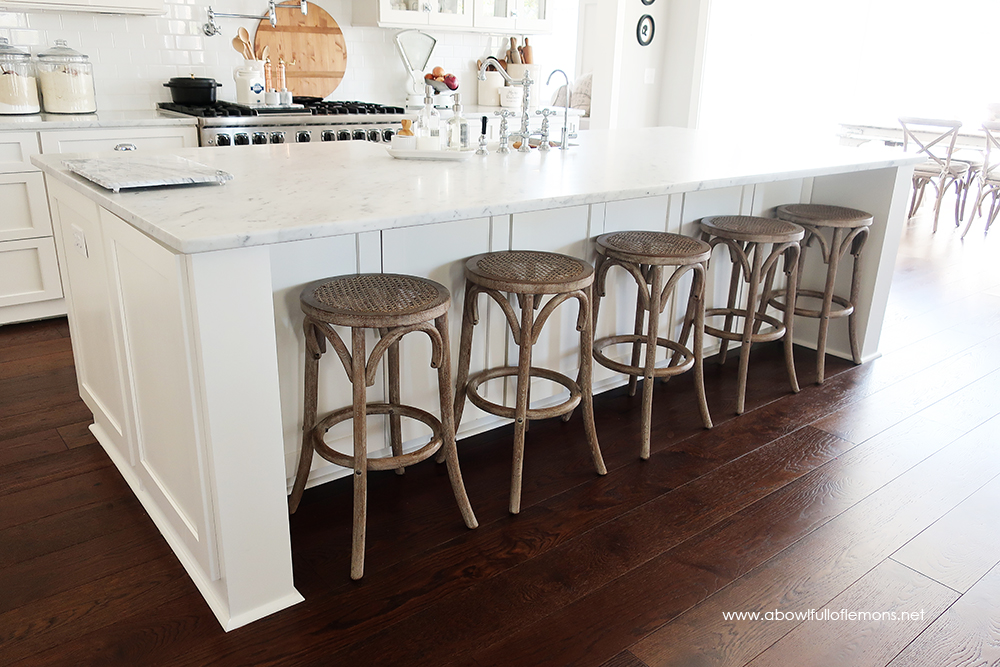 There's not much pretty organization involved down here. Everything is placed into categories and that works for us.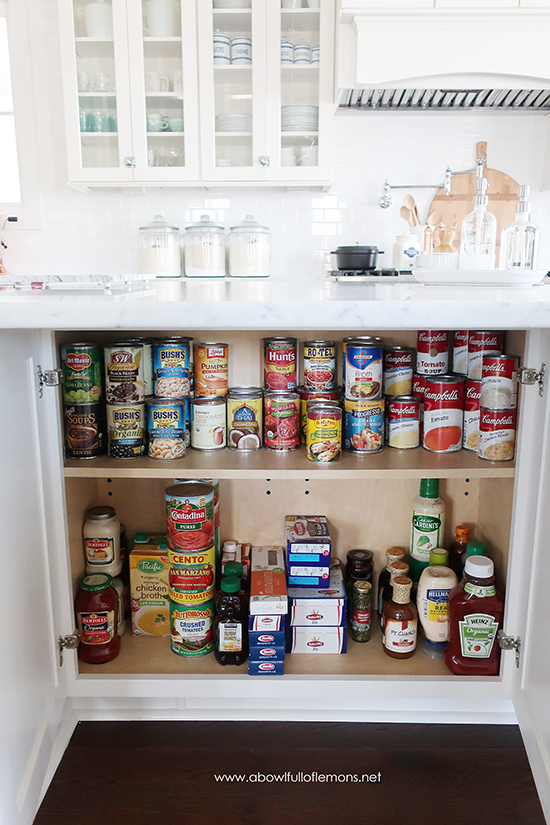 Another way to organize canned goods is by using narrow bins. Here is a photo of my canned goods in our old pantry. You can see more detailed photos here. The bins are from The Container Store.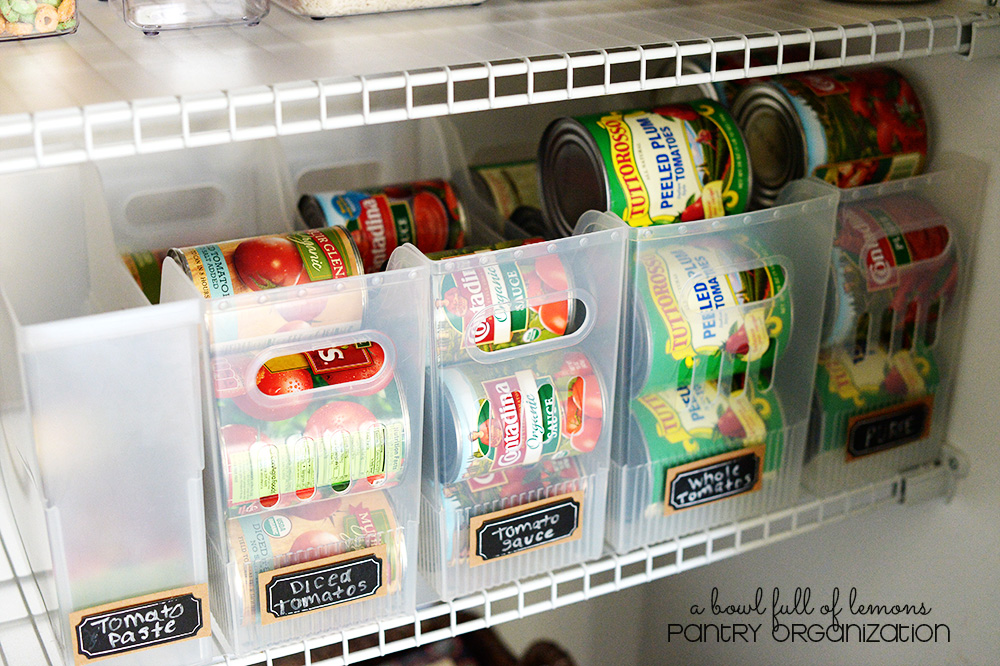 DECOR. Not only can your pantry be functional but it can be pretty as well. Bring your home decor into the pantry and add a little charm. I love to display vintage bread boards and Demi John jars. I also keep my French apron & dried lavender hanging on the sides of the cabinet.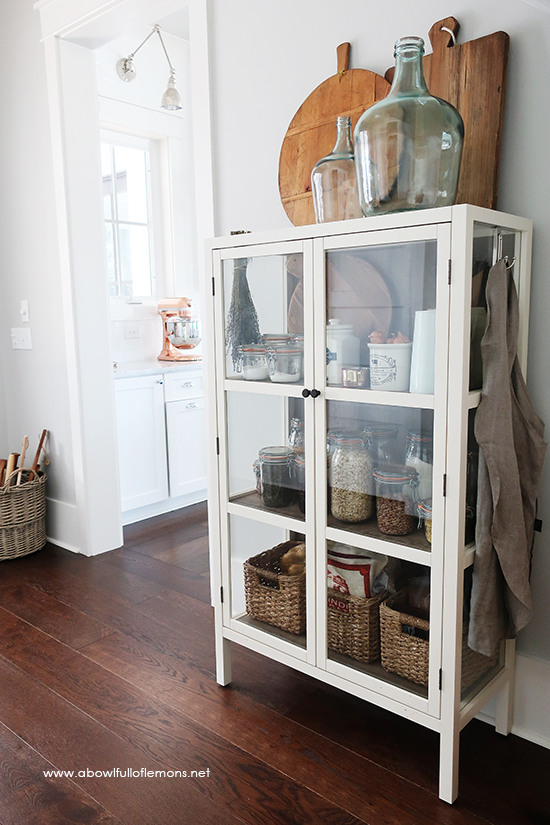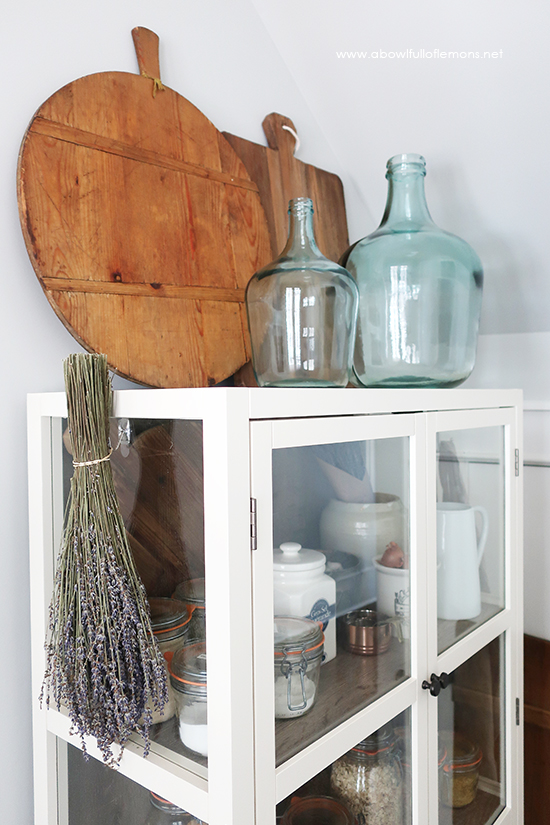 Here are several blog posts that are sure to inspire you to get your pantry organized.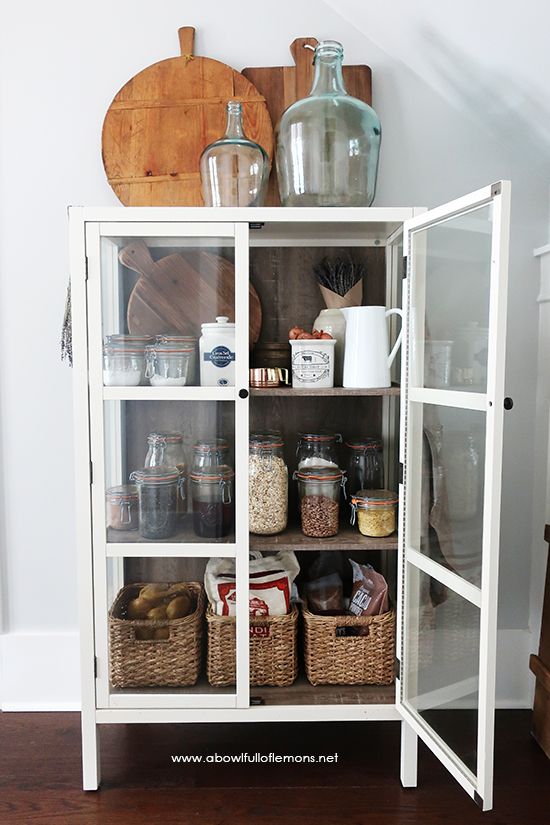 For the perfect companion guide to our challenge, purchase The Complete Book to Home Organization. It includes all 14 weekly challenges and will be your guide over the next 14 weeks, as you tackle your spaces. No need to log onto the computer for ideas, this manual has it all!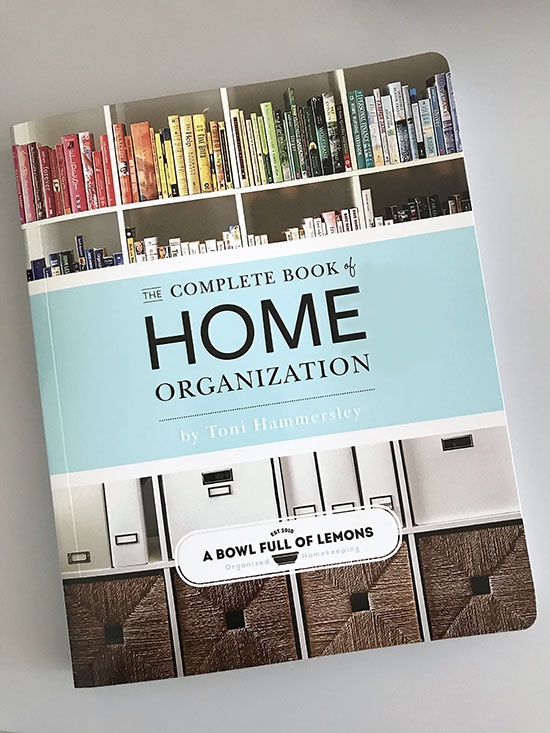 For help with cleaning your house during the challenge, be sure to get the complimenting book The Complete Book of Clean. It has tons of cleaning recipes, tips, and checklists that will teach you how to get your homes sparkling clean.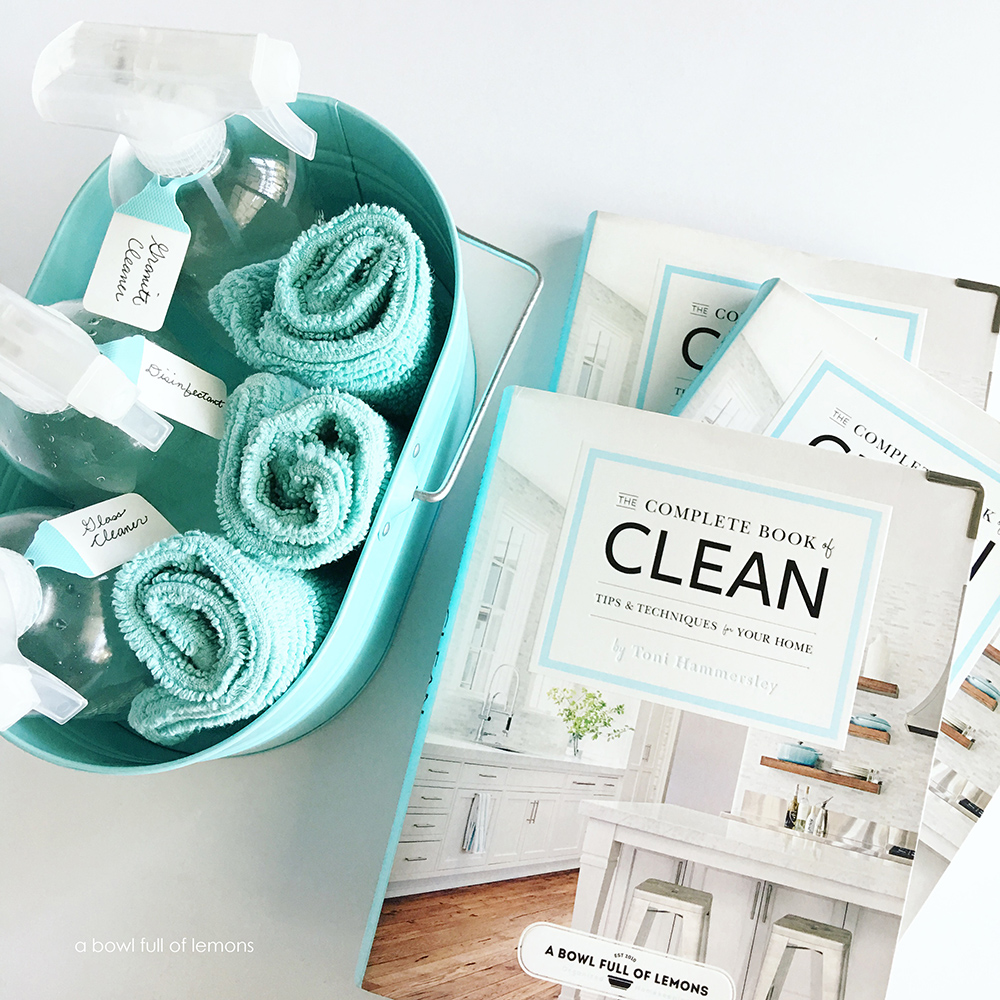 Concentrate on purging your pantry this week. Follow the process I've laid out for you. Make sure to set up organized zones for better functionality. If. you need more guidance, be sure to get my book. Try not to get side-tracked and don't move ahead until you are completely finished with the space.
Share your progress on Instagram using the hash tag #abfolchallenge, blog about the weekly challenges, and  share your before and after pictures over at my Home Organization FB group here.  Hold yourself accountable and finish all 14 challenges! I can't wait to see what you accomplish.  Good luck. I'll see you back next week for the week 3 challenge. Happy Organizing!
~Toni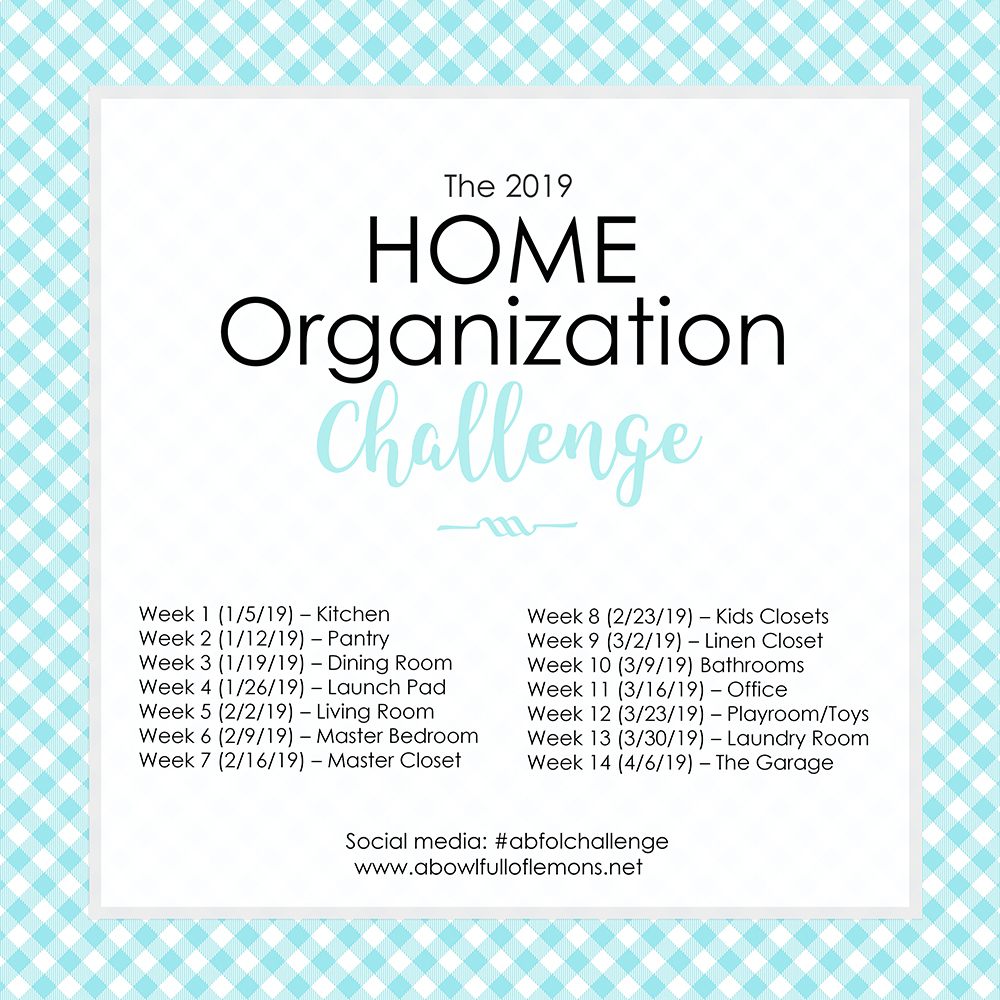 Disclaimer: You may find Amazon affiliate links within this post. Thank you for your support to A Bowl Full of Lemons.
Tags: 2019 Home Organization Challenge, kitchen organization, pantry, pantry organization
2019 Home Organization Challenge, 2019 Home Organization Challenge, Blog, Kitchen, Organize, pantry, pantry organization Posted in One comment