Budgeting & finances are not the most "exciting" task to accomplish.  But if you get your finances organized, it can be more bearable.  If you are struggling to pay your bills, or if you couldn't tell me how much you owe on your debts, you especially need to go through this series. This week, I will be teaching you the vital steps to an organized budget.  Yesterday, we assembled our Budget Binders.  Today we are gathering account information.
To visit Day #1, Assembling your Binder, click here.
Day 2 – Record of Accounts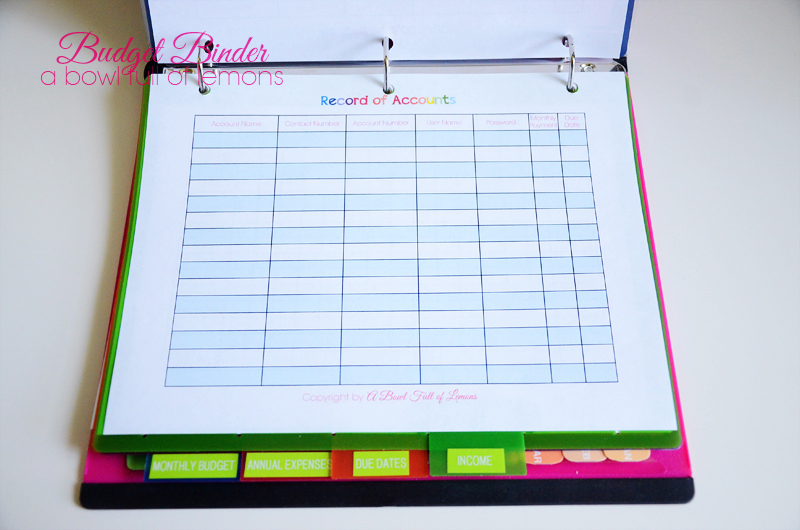 Today we are going to gather ALL of our debts/bills.  This may take some time, but time well spent.  The most recent statements will tell you what your current balances are. You want to collect those. If you cannot find your statements, call each company and get your balance as well as your account number and due dates.
Once you have collected all of your bills, now its time to gather the information from each of them.  Write down on one sheet of paper (or use the "Record of Accounts" printbale if you have ABFOL Budgeting System):
Account Name
Contact Number
Account Number
User Name (For online login)
Password
Monthly Payment Amount
Due Date
Balance (If any)
Now, with this information, Create a separate sheet labeled "Monthly Due Date Schedule".  (If you purchased ABFOL Budgeting System, This printable is called "Monthly Due Date Schedule". Just fill in the boxes).  This sheet is a collection of ALL bills owed each month & the dates they are due.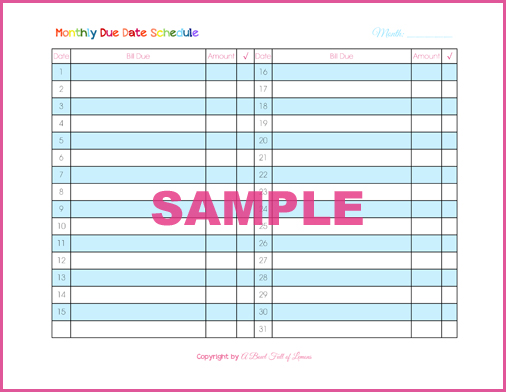 To create your own, write down numbers 1-31 in a column. Next, write down all of your bills on the designated due date.  If there are 2 bills due on the same day, just move one bill a day ahead.  It never hurts to pay a bill a day early, right? When you pay a bill, simply check off the date & write in the amount you paid.  If you already know how much is due, you can write it in ahead of time.  If the amount due fluctuates each month, you can leave it blank.  Once you receive a bill in the mail, you can write in the correct amount.   If you ever need to go back to see if a bill was paid, or what bills you have left to pay for the month, this page is a great reference.  I refer to it often.  It keeps me on track.
To summarize,  today we gathered up all of our account information & created a due date checklist.  Tomorrow, we will be working on income & debt trackers.
If you want to save yourself a lot of time, you can purchase A Bowl Full of Lemons "Household Budgeting System".   It's includes everything you need to create a successful budget.  This system goes hand in hand with my budgeting series.  Visit (here) & take a closer look at the system.  If you do not want to purchase, you can still follow along with the series and write out everything for your budget, on paper. It works just as well.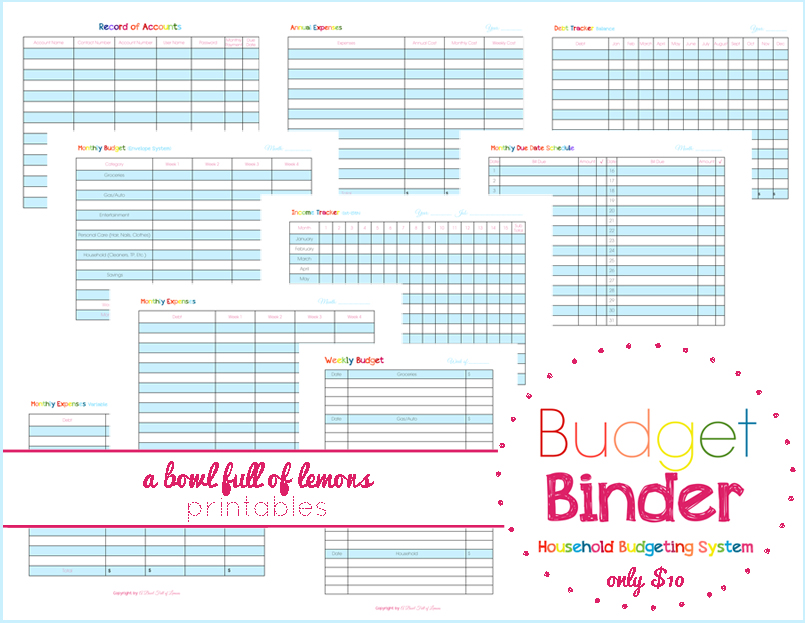 Happy Budgeting!
Tags: budget, budgeting, household budgeting
April 2013, Blog, Budget, Budget Binder Series, budgeting, finances, Household Budgeting Series, organize your finances Posted in 39 comments