Day 3 – Income & Debt Tracking
In order to manage your monthly budget effectively, you should have a good idea of what your income will be.  For some, this is difficult because your paychecks fluctuate.  Keeping a good record of your income for the year will help.   The best way to do this is by Income Tracking.
Income Tracker: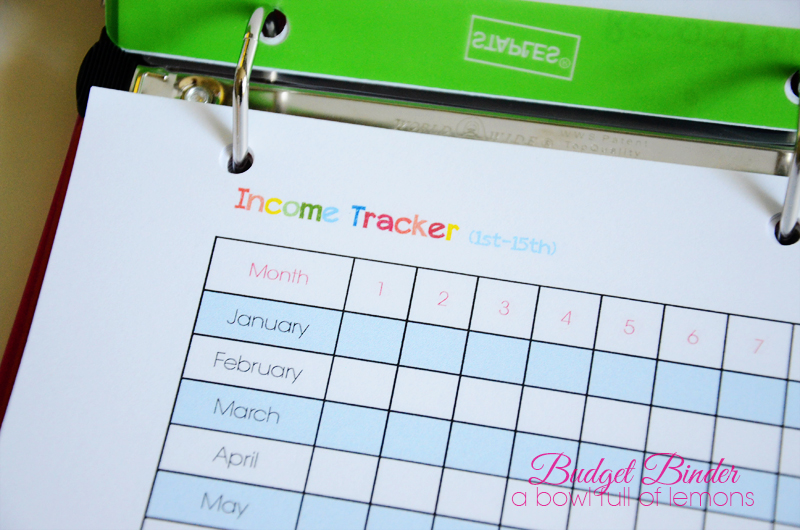 The "income tracker" organizes your pay checks from the 1st-31st of every month.  If you purchased this printable from ABFOL Budgeting System, its a 2 page layout.  Simply fill it out as you get paid. At the end of the year, add up each column (for monthly totals) then add the bottom row to show your net income for the entire year. Once you have this calculated, monthly budgeting will be much easier month after month.
My printed form is pretty detailed, but if you don't have it, you can still track your income.  It may be easier to designate one sheet of paper per each month of the year. To do this, take 12 sheets of loose leaf paper, write the month on top of each and number the rows from 1-31.  When you get paid, write in the amount on the designated date (1-31).  At the end of the month, add up the income and write it on the bottom of the sheet.  You can also try to fit it all on two pieces of paper.  Do whatever works best for you.
The purpose of these forms are to monitor and "average" your budget throughout the year.  This will help keep you on "track".  Place this sheet in the "Income" section of your binder.
Debt Tracker: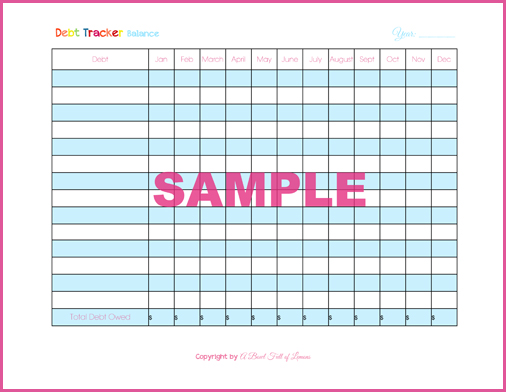 The debt tracker is an ongoing monthly "balance" of your debt.  When you are able to "see" what you are doing and how much you are paying down, you tend to want to do even more.
On a sheet of paper, create a column for your "debts".  Then create 12 columns (one for each month). (See my debt tracker sheet for the example).  Each month, write in the remaining balance that you owe on your bills, after they are paid.  This is my favorite budgeting sheet. I love seeing our debt disappear.   Place this sheet in the "Due Dates" section of your binder.
Tomorrow we will go over Annual & Monthly expenses.
To start at the beginning of the Budgeting series, click below…
Day #1 – Assemble your Binder
Day #2 –  Record of Accounts & Monthly Due Date Schedule
BUDGETING PRINTABLES
If you want to save yourself a lot of time, you can purchase A Bowl Full of Lemons "Household Budgeting System".
It includes everything you need to create a successful budget.  This system goes hand in hand with my budgeting series.  Visit (here) & take a closer look at the system.  If you do not want to purchase, you can still follow along with the series and write out everything for your budget, on paper. It works just as well.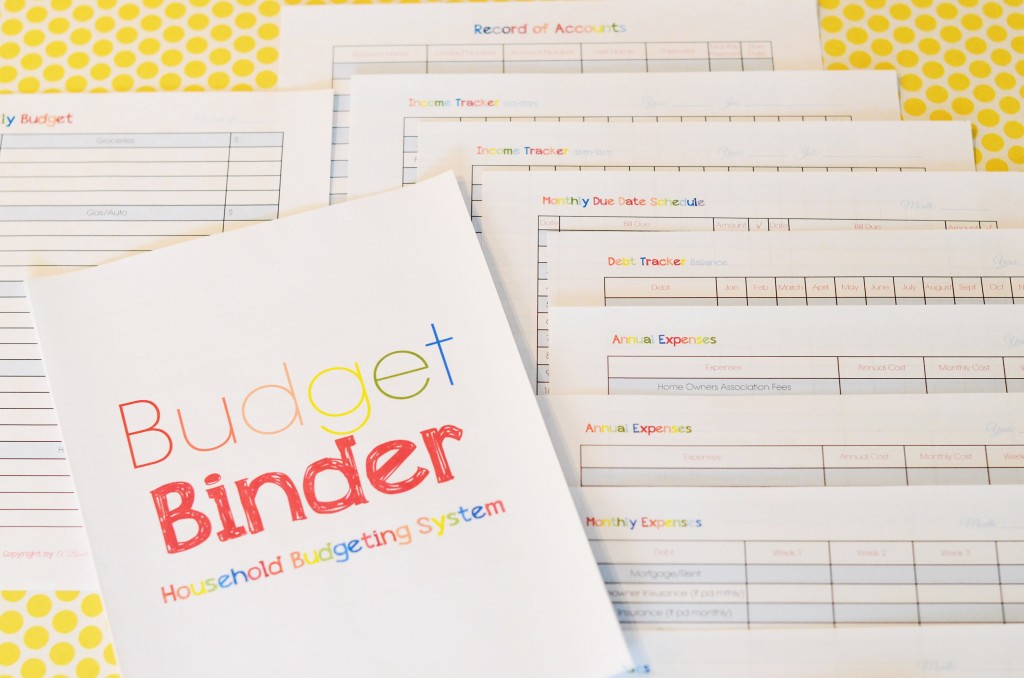 Happy Budgeting!
Tags: budget binder, budgeting, finances, household budgeting
Blog, Budget, Budget Binder Series, budgeting, finances, Household Budgeting Series, Organize, organize your finances, Planners & Binders Posted in 23 comments