The leaves are falling, the air is getting crisp, and football games are on TV. Fall time has arrived and it's time to prepare our homes for the cold long months ahead of us. There are a few things you can do right now, to freshen up your homes for fall. I've separated the tasks into two categories, inside and outside, to make it easier for you to check them off your list. I've also created a free printable for you to print out and refer back to as you work.
Outside:
Power wash the porch.  It's not necessary to power wash the entire house (especially if you did it this spring), but take a few minutes to spray down the porch, steps, and furniture. Clean the windows, wipe down the door, and shake out the rug. It makes a huge difference, trust me!
Hang a fall wreath on the front door. Make sure it's for 'outdoor use'.
Clean out the garage. Toss the trash, put things where they belong, hang bikes on the ceiling, sweep the floors and spray the perimeter of the garage to treat for spiders.
Take out window screens and store them in the attic or garage. This is a great time of year to give them a good cleaning.
Clean and put covers over patio furniture (or store away). Using 25% non chlorine bleach and filling the rest with water, spray patio furniture to remove mildew stains. Test an inconspicuous spot ahead of time.  Don't leave patio furniture outside over the winter. You spent a lot of money on it. By covering or storing, you'll extend the life by years.
Plant colorful mums (either in the ground or in planters). This is the easiest way to decorate for fall.
Clean gutters. Right before winter (after most of the leaves have fallen), hire a gutter cleaner (or save some money and do it yourself). You don't want to wait until spring to do this chore.
Mow leaves. Theres no need to rake leaves if you have a lawn mower with a mulching bag attachment. Simply mow over the leaves and empty them into a yard waste bag when the mower gets full.
Replace lightbulbs outside (if needed).
Store water hoses and winterize faucets.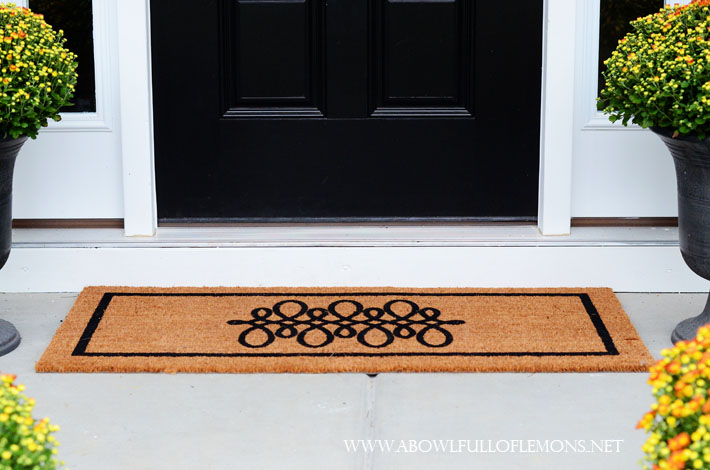 Inside:
Place a boot tray near the door. Cold weather brings leaves, dirt, rain, and snow into our homes. Eliminate these messes by implementing a no shoe rule in the house and place a boot tray by the most often used door to contain the elements.
Check weatherstripping around doors and windows and change air filters. These are great ways to save money on your gas and electric bills.
Lay weather resistant rugs at doors (front, back, garage). Shake them out weekly or as needed.
Change smoke detector batteries and make sure carbon monoxide detectors are working properly.
Rotate mattresses, wash pillows, and swap out summer bedding for warmer blankets, duvets, and sheets.
Burn fall time candles like cinnamon, pumpkin, and apple or diffuse cinnamon bark essential oil.
Vacuum under couch and chair cushions, then toss a few fall pillows & a warm knitted blanket on the couch.
Swap seasonal clothing and store out of season items in the attic or on the top shelf in a closet.
Clean out the pantry and take inventory of baking supplies (spices, vanilla, flour, sugar, etc). There's nothing worse than getting all of your supplies out to make a pumpkin pie just to find out that you don't have any pumpkin pie spice.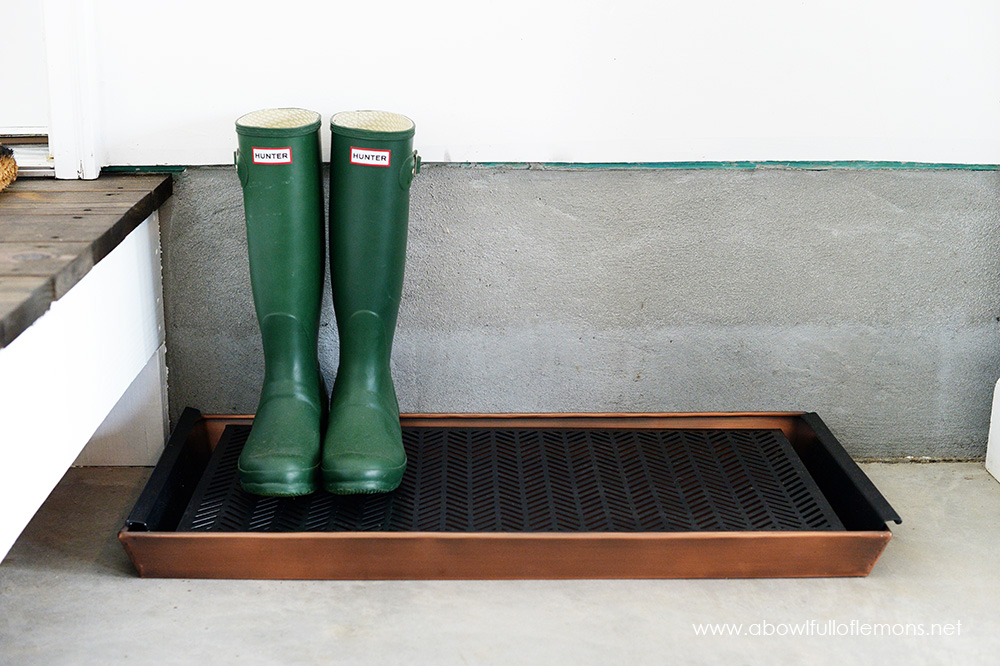 Print out the free checklist HERE and begin your fall freshen up!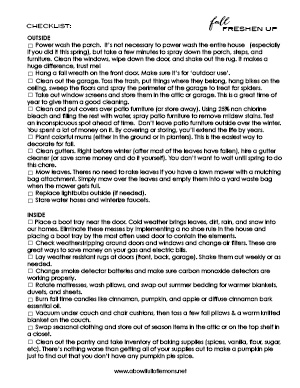 Tags: cleaning, fall cleaning
Blog, Clean, Cleaning, Fall Cleaning, Free Printable, September 2015 Posted in 9 comments