As we continue our Cultivating Financial Freedom series, we're moving on to part 3 – The Cash Envelope System. The cash envelope system is a way to manage your money that is conducive to saving. In place of credit or debit cards, you simply pay with cash. For some reason, when we do this, our brains tell us not to spend as much money. A red light goes on saying STOP – You don't need to buy that. I have used this type of system on and off for several years and when I am on it, I save a noticeable amount of money.  As I shared in our financial freedom journey last week, we made a goal to pay off our house in 2 years. So that means we are counting our pennies and living way below our means. The debit cards are out the window and we are a cash only family. We are serious about saving money.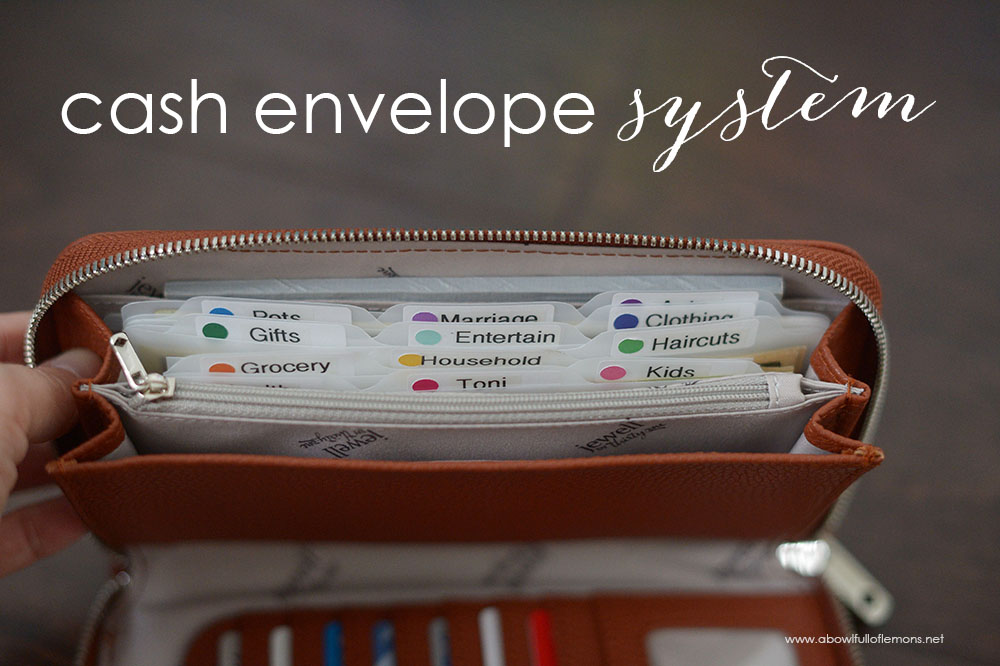 IS THE CASH ENVELOPE SYSTEM RIGHT FOR YOU?
If you are short on cash each payday, want to pay down your debt, or just want to save more money, this system may be the answer. It's straight forward and easy to follow! Try it for one month and see how much money you can save.  If you haven't created a written budget yet, visit this post and write one before starting the cash envelope system.  Once you have your written budget, each payday you can add the allotted cash to you cash envelope wallet. Once the cash is gone, your spending is done for the payday! Be diligent and stick with the plan. It's the only way it works.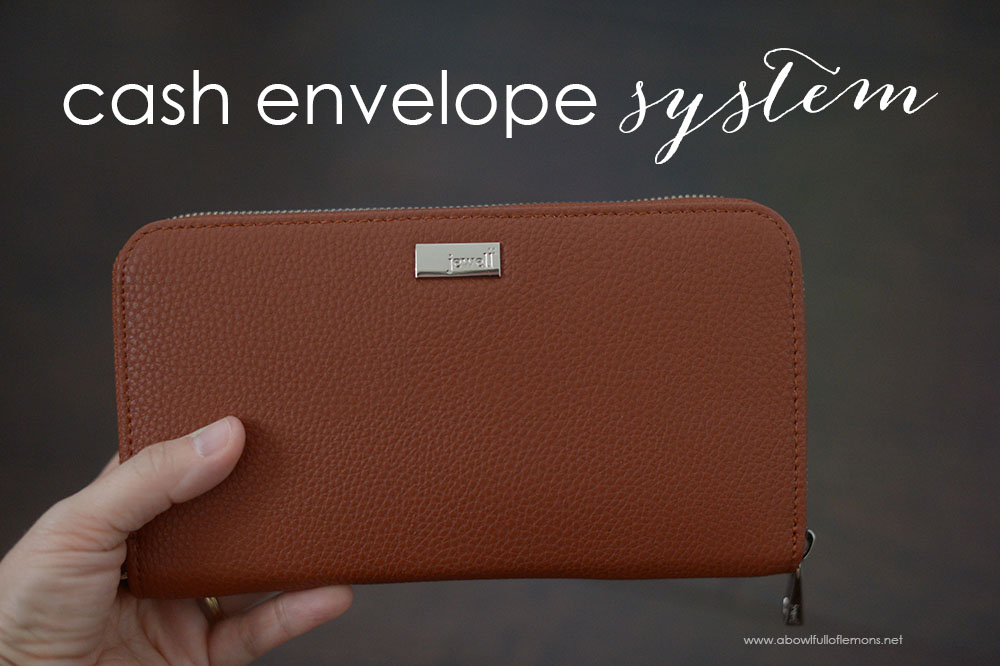 CASH ENVELOPE CATEGORIES:  I have 12 categories in my wallet.
Health

– I have a sinking fund for this category but I do keep a small amount in my wallet. I use it to pay for prescriptions, over the counter medications, and co-pays.

Toni

 – Personal Spending money.

Kids

– I keep a small amount for kids activities.

Grocery

– We budget $125 per week for groceries. Once it's gone, it's gone!

Household

– This category is for everything besides food (toilet paper, soap, etc).

Haircuts

Gifts

– I have a sinking fund for this category but keep $25 in my wallet for times when my kids are invited to birthday parties. I budget $25 for

each

party invite. The rest of the gift budget remains in the bank (Holidays, Family Birthdays, Anniversaries, etc) and I withdraw it as needed.

Entertainment

 – Movies, out to eat, festivals, etc.

Clothing

– I keep a small amount in my wallet and the rest in a sinking fund.

Pets

Marriage

– This category is for date nights.

Auto

– I keep a small amount in my wallet and the rest in a sinking fund (car washes, oil changes, etc).
*We use our debit card to pay for gas.
DIVIDERS & DOT STICKERS:  To categorize my cash, I use plastic dividers from A Time For Everything on Etsy.  My color coded dots are also from Etsy. I used my label maker to label the categories.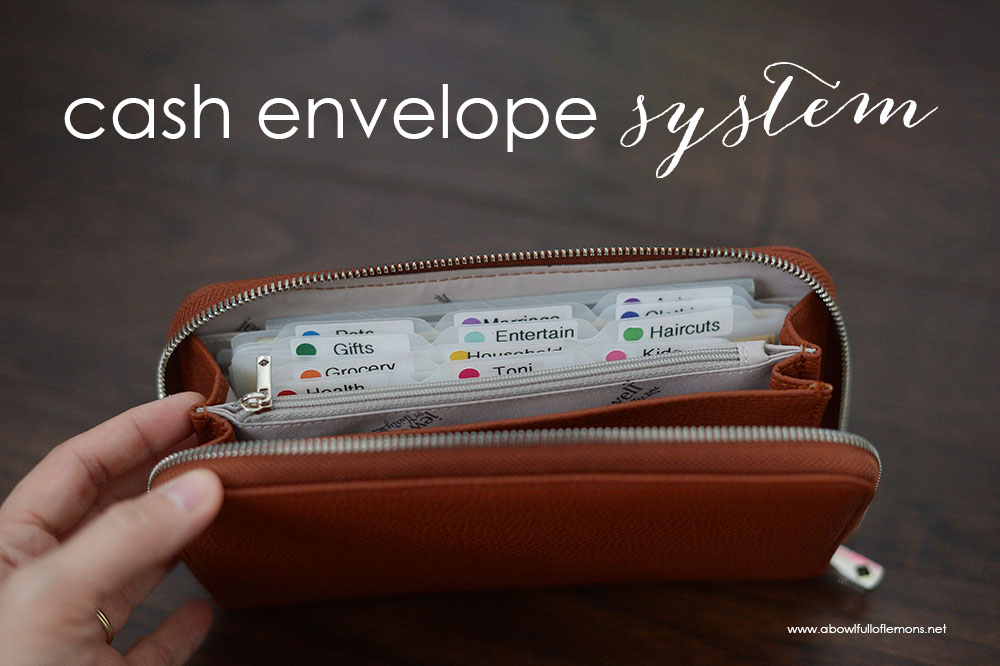 WHICH WALLET SHOULD I USE?
I am currently switching back and forth between my Jewell by Thirty-One "All About The Benjamins" wallet and my Savvy Cents wallet, which are the two most popular cash envelope wallets! I love them both. I will compare the two so you have a good idea of what each one has to offer.
ALL ABOUT THE BENJAMINS WALLET
The Jewell by Thirty-One "All About The Benjamins" Wallet is $48.  It's made of vegan leather. The wallet pictured is the color "cognac woods pebble". It has 12 interior card pockets, an ID window, flat pocket for bills, zipper closure and a D-ring to attach a Wristlet Strap. It comes in 8 colors. The size is 4.75″H x 8″L x 1″D.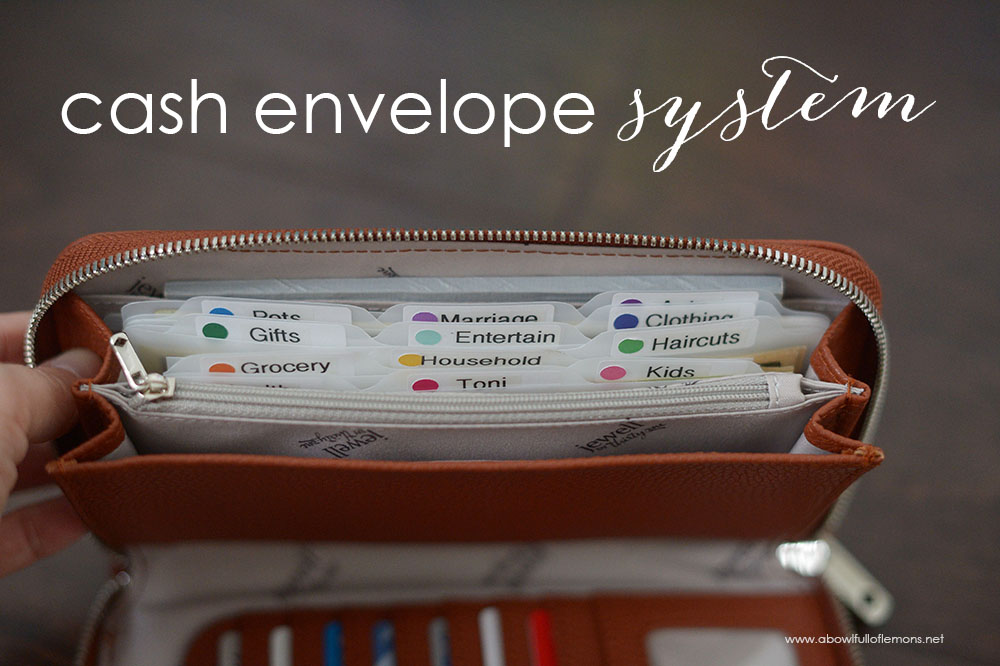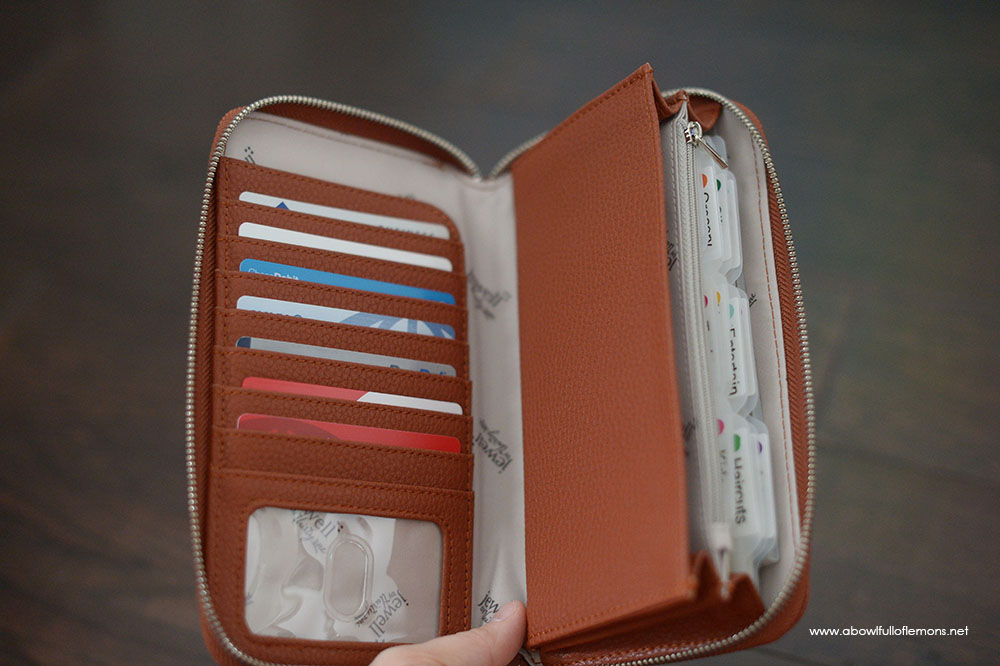 I also have the wallet in Gatsby Green. <3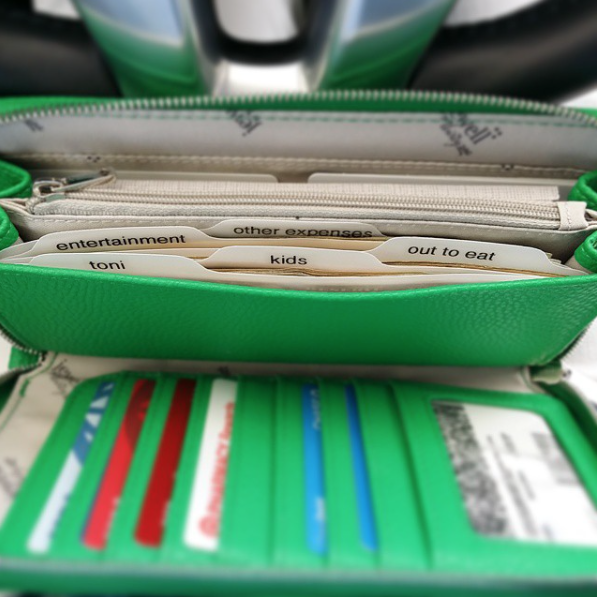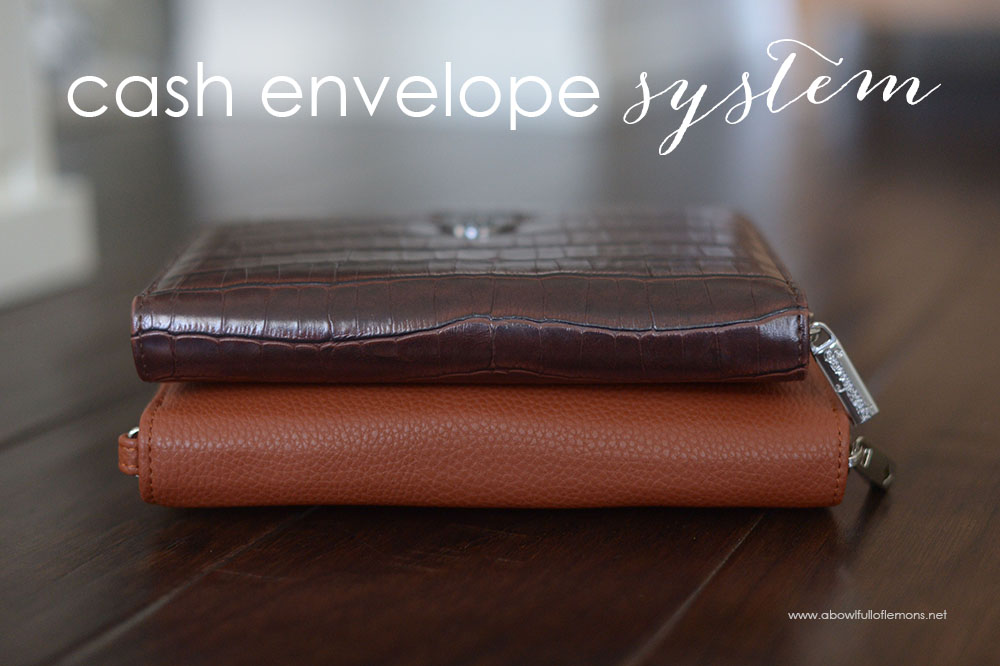 The Savvy Cents wallet is slightly smaller but they both hold a lot. Each one has their own special features and they are both great wallets. You really can't go wrong with either one.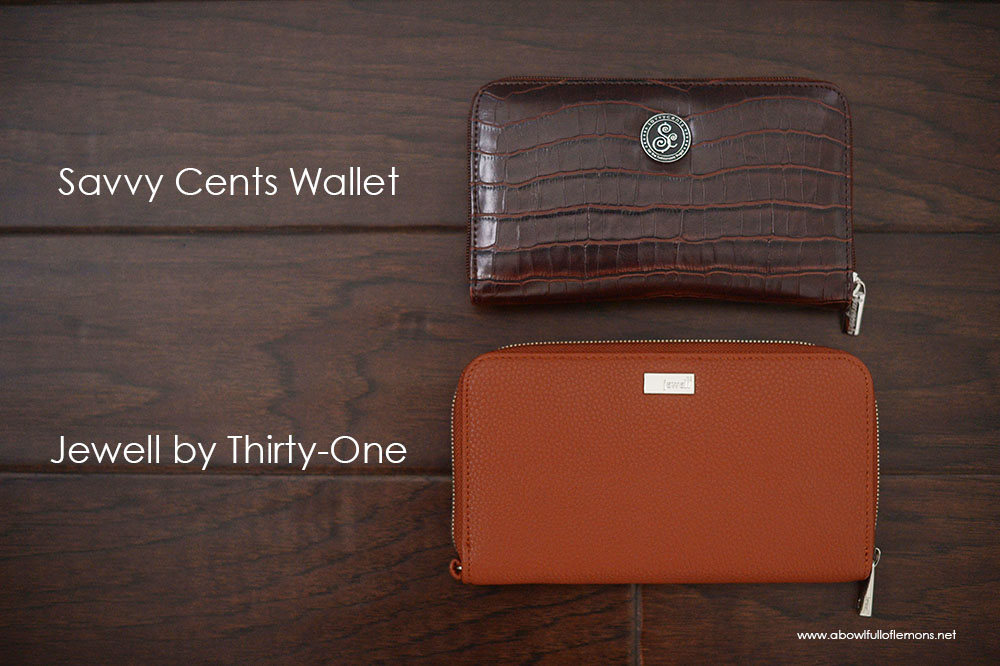 THE SAVVY CENTS WALLET
The Savvy Cents wallet is $29.00 (+$3.95 shipping).  It is made of synthetic material and comes in more than 8 colors and patterns (pictured below). The wallet shown is the color "brown". It has an accordion stye file system that's perfect for a cash envelope system. The wallet comes with pre printed and blank labels to customize the 5 sections. It has a loop for a pen. The wallet is 8″ x 4″. Get details and purchase here.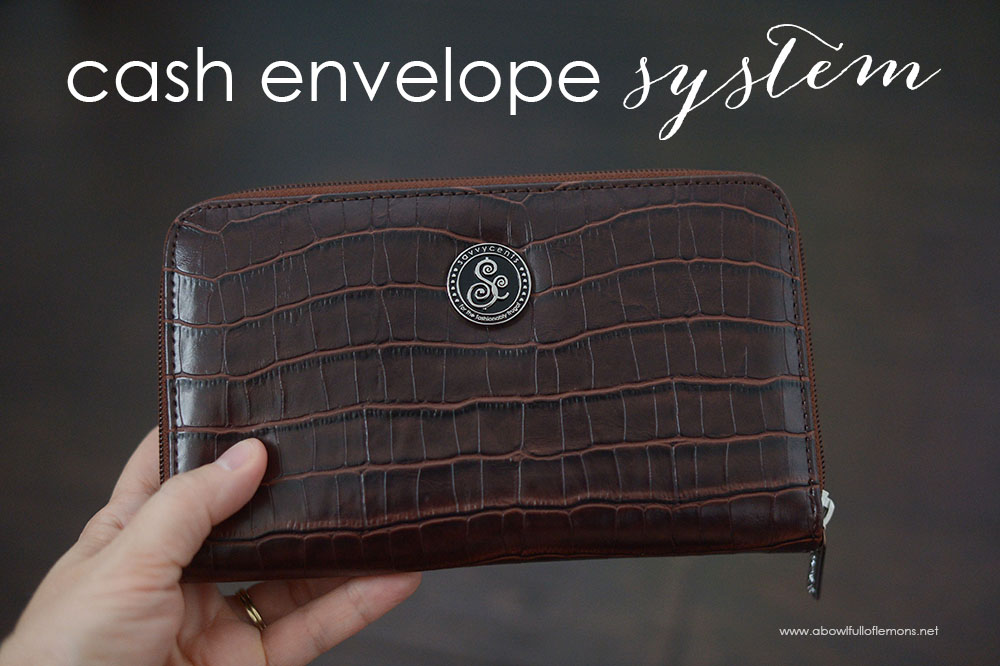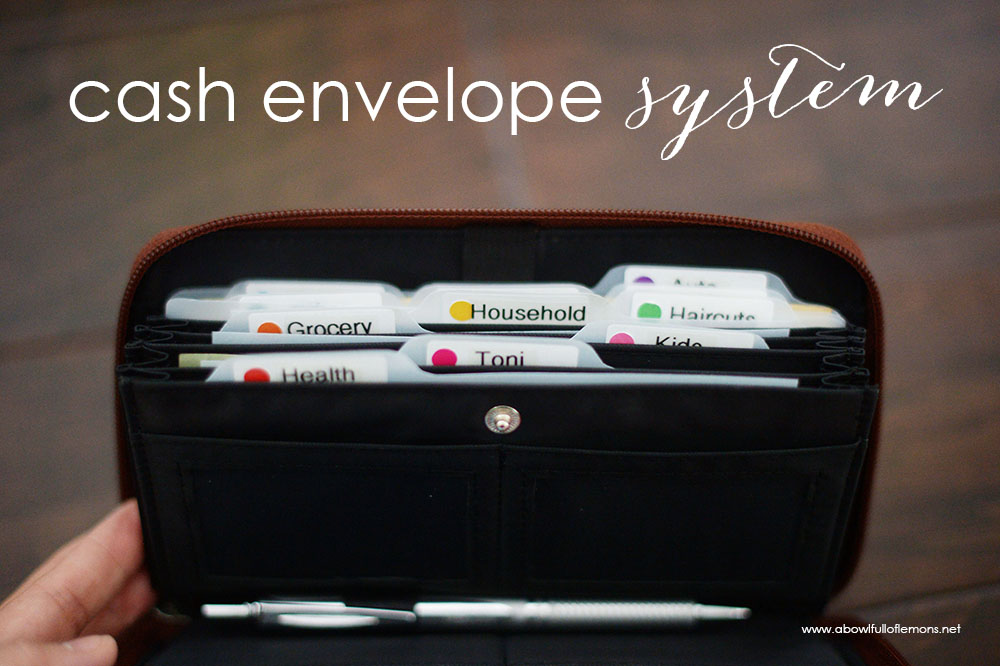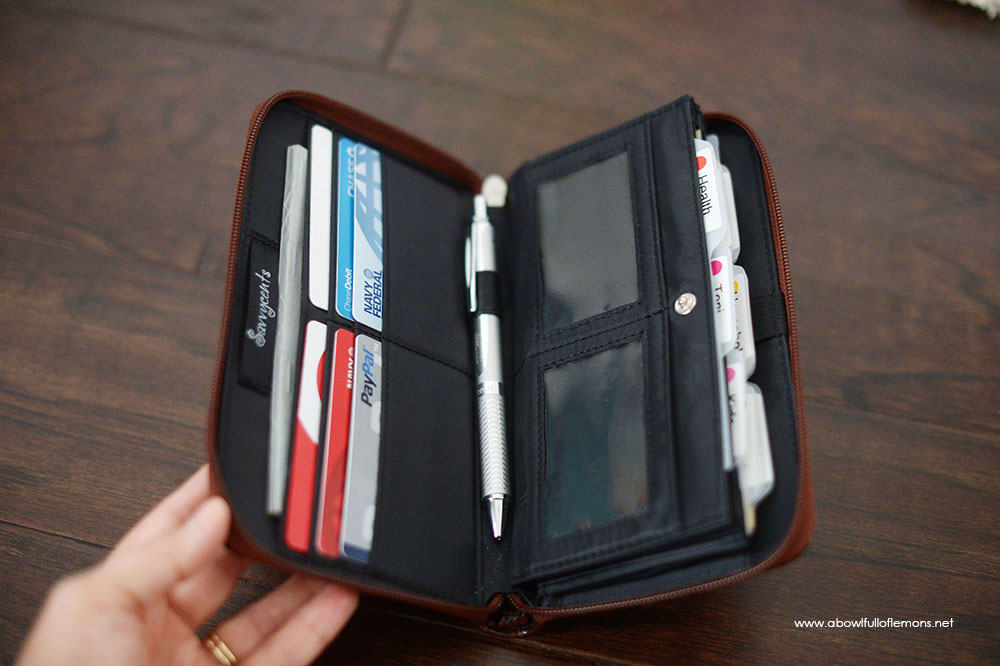 FREQUENTLY ASKED QUESTIONS ABOUT USING A CASH ENVELOPE SYSTEM
How do I pay for more than one category in a single purchase?

When you are placing your items up at the register, separate by category and pay for them separately. It only takes a few extra seconds and it will keep you organized.

How do I make online purchases?

Simply pay for the item using your bank account. Then go to your cash envelopes and remove the money from that specific category. Place the money in an envelope labeled "bank". When it's time to withdraw money out of the bank the next payday (to stuff your envelopes), take it from your "bank envelope" first.

How do I easily keep track of my purchases while I'm shopping? After you pay, place the receipt in the designated category slot in your wallet. Once you get home, you can write down your purchases on your budgeted expenses form and deduct the amount from your category total on the budget worksheet (If you are keeping track). Keeping track holds you accountable for where your money is going. Trust me, it works!
If you missed any of our Cultivating Financial Freedom posts, click here.  I'll be back on Sunday for more budgeting tips!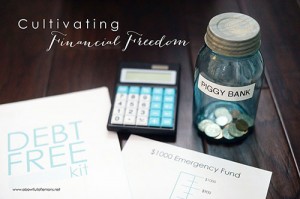 Disclosure: There are affiliate links within this post. Thank you for your support to A Bowl Full of Lemons.
Tags: budget, budgeting, cash envelope system, Cultivating Financial Freedom, Dave Ramsey, finances
Blog, Budget, budgeting, Cultivating Financial Freedom Series, dave ramsey, envelope system, finances, September 2016, thirty one Posted in 43 comments